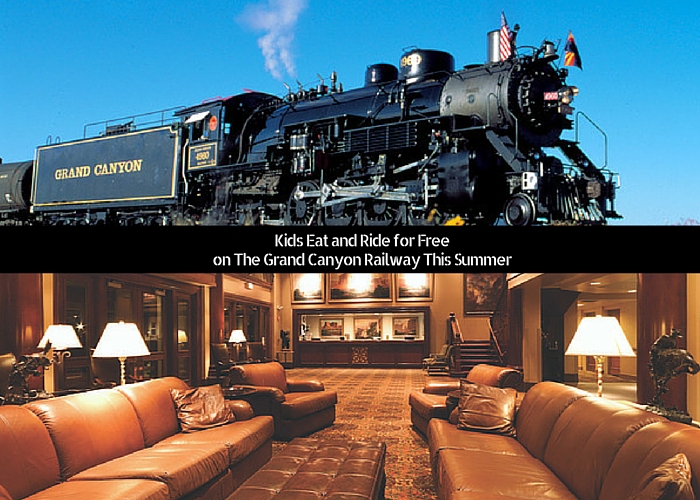 Take The Grand Canyon Railway This Summer
Need some ideas for summer vacation? How about taking the kids to Grand canyon? I have never been before so this is definitely on my bucket list. One of the easiest and most scenic route to get there is  The Grand Canyon Railway and they just announced that kids ages 2-15 will eat free and ride the train for free with a special two-night package originating out of Williams, Arizona, from Memorial Day weekend, May 27, through Labor Day, September 5.
Kids get a free round-trip ticket in Pullman class with a paying adult on the Grand Canyon Railway from Williams to the South Rim of the Grand Canyon and back, and two full breakfasts and two full dinners at the Grand Canyon Railway Hotel conveniently located adjacent to the historic train depot and a short walk to town located on iconic Route 66. A buffet will be served at the Railway's Grand Depot Café. This is a limited-time offer based on bookings and availability; other restrictions may apply.
What Days Does The Train Leave?
The Grand Canyon Railway is the most hassle-free way to get to the South Rim of the Grand Canyon. Trains make two daily departures from May 28 through Sept. 5; one at 9:30 a.m. and one at 10:30 a.m. The 65-mile ride takes 2 hours and 15 minutes each way. Trains return back to Williams at 5:45 p.m. and 6:45 p.m. Each train lays-over at the Grand Canyon (steps from the rim itself) for 3.5 hours. The ride features cowboys and western musicians and performers.
About The Train
The Railway offers six classes of service for visitors: Pullman, Coach, First, Observation Dome, Luxury Dome, and Luxury Parlor. Families can travel in other classes of accommodation on the train and a $29 value per child will be deducted automatically. Some classes of service include snacks and beverages. Luxury Dome and Luxury Parlor are limited to guests 16 years of age and older.
While the Grand Canyon Railway is normally powered with diesel engines, the fabled train will be pulled by a vintage steam locomotive this year on June 4; June 18 (national train day); July 2; Aug. 6, 24, 25, 25 and 27; and Sept. 3.
The Grand Canyon Railway Hotel
The newly refurbished Grand Canyon Railway Hotel in Williams features 298-rooms and is adjacent to the train depot and just a block away from downtown Williams and historic Route 66. The hotel offers a variety of amenities such as complimentary Wi-Fi, an indoor pool, dining options, a children's playground, and even a dedicated pet resort!
For more information about the Grand Canyon Railway, visit www.thetrain.com or call 1-800-THE-TRAIN (843-8724).