In a world where kids drinks often have lots of sugar and chemicals, AquaBall offers a healthy alternative to make hydration fun for kids and easy for parents. Kids are surrounded by juice boxes, sodas, and other drinks that appeal to their eyes and taste buds but aren't putting a smile on the parents faces. Aqua ball is the answer!
What is AquaBall?
AquaBall is a healthy, and fun drink in a fun shape that gets the nutrition kids need to stay hydrated. Its shape isn't the only unique thing about it — it's free of preservatives, sugar, artificial flavors and colors. Plus it's a good source of vitamins B3, B5, B6, and C. AquaBalls newest shape is perfect for little hands and now they fit perfectly in your cars drink holder!!
What Are The Ingredients?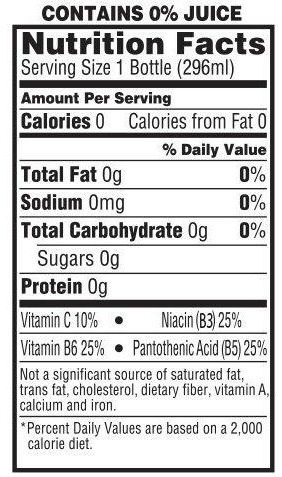 AquaBall is sugar-free, which means each one contains zero calories. It is naturally sweetened with Stevia, a zero-calorie sweetener derived from the leaf of the stevia plant, Stevia Rebaudiana. AquaBall flavors are naturally derived from fruits and berries to create tastes kids love without artificial colors or flavors. The AquaBall drink is enhanced with vitamins B3, B5, B6, and C to provide kids with the vitamins and minerals they need. But perhaps best of all is that Aqualball has eliminated preservatives with their new hot-fill process making AquaBall a truly clean-label product.
"The natural sweetener from the stevia plant contributes no calories, does not influence metabolism and protects your teeth. As stevia leaf extract is up to 200-300 times sweeter than sugar, small amounts of stevia leaf extracts are sufficient for satisfying your children's desire for the sweet tasting goods."
Flavors and Characters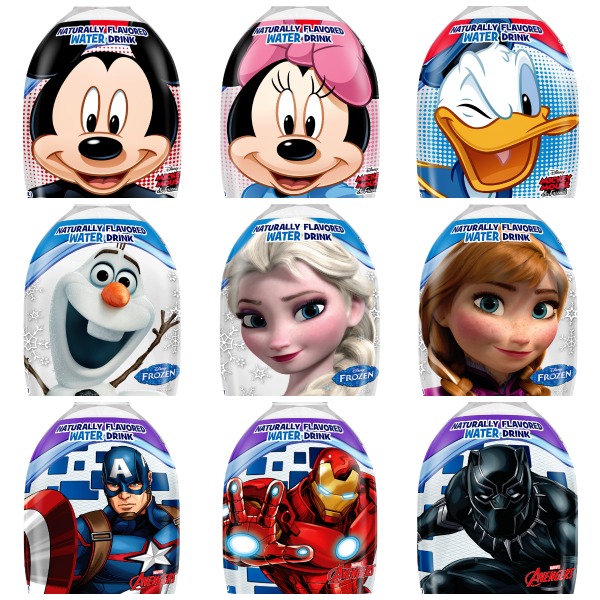 AquaBall is a Disney Licensee so they have many recognizable faces  your kids will love! (Not included in this collage are Princesses Ariel, Belle and Rapunzel). The flavors are as follows:
Berry Frost (Olaf, Elsa and Anna)
Fruit Punch (Mickey, Minnie and Donald)
Grape (Captain America, Iron Man and Black Panther)
Strawberry Lemonade (Ariel, Belle and Rapunzel)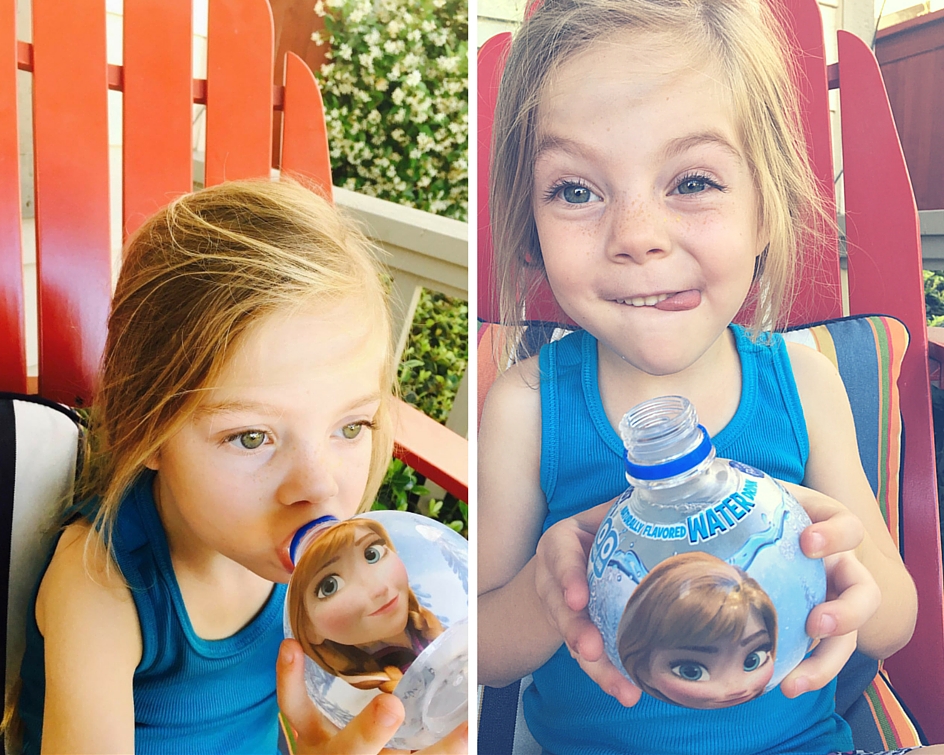 We have been incorporating AquaBall into our regular routines. After gymnastics once a week, my daughter loves to cool off with a cold bottle a Berry Frost and Anna. As you can tell from her pictures she loves it! For my son, I bring one to his tennis practices and I feel so much better knowing a don't have to use sports drinks that are loaded with artificial colors and additives. I also stock our fridge with them so when the neighborhood kids come over they can help themselves to something healthy.
Where can I find AquaBalls?
AquaBalls are carried in almost every store that you frequent such as Target, Costco, and  tons of grocery stores. Here is a list of all of the retailers currently carrying AquaBall. Soon, you will also see them on the shelves of your local Whole Foods. How awesome is that?
Something Exciting Is Coming
As an AquaBall Ambassador, I am excited to tell you that there will be an AquaBall Pledge available soon to parents and kids. By participating, kids can take the pledge to make one healthy choice per day in order to reduce sugar in their diets. More details will be coming soon so stay tuned!
Win a case of AquaBall
Enter to win your own case of AquaBall. You can you them at soccer games, birthday parties or for a refreshment by the pool. However you use them, be sure to pat yourself on the back for cutting the sugar but keeping the fun! #CuttheSugarAB #KeepTheFun