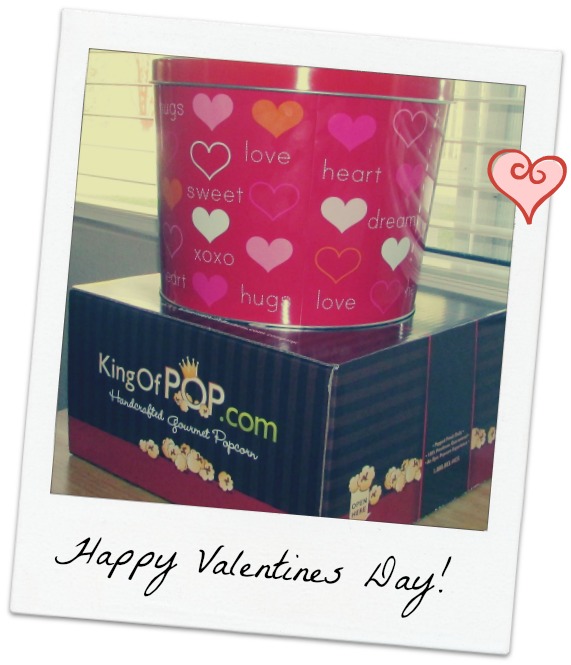 I came home from a Cub Scout meeting last night and look what I found! These 2 giant packages were at my desk. They came from a company called Gourmet Gift Baskets. I opened up the boxes and found a super cute tin and a huge box.  If I were to take a guess I would say there is popcorn in that box!! And everyone knows I love popcorn! As for the tin I was excited to find out what goodies were in there for me.
GOURMET GIFT BASKETS DELIVERS GOODIES FOR YOUR SWEETIE!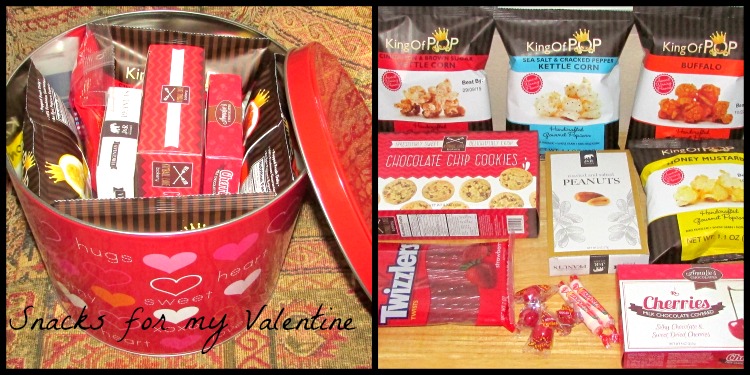 When I opened up the adorable tin there were TONS of yummy delicious things. Not only was there popcorn (as I mentioned popcorn is a favorite of mine) but there was an assortment of other treats. Here is a list of everything that comes in the Snacks for my Valentine tin:
Honey Mustard Popcorn
Cinnamon & Brown Sugar Kettle Corn
Buffalo Popcorn
Sea Salt & Cracked Pepper Kettle Corn
Twizzlers
Chocolate Chip Cookies
Milk Chocolate Covered Cherries
Roasted and Salted Peanuts
Smarties
Atomic Fireballs
I was in snack heaven!! Seriously what could be better than this? Well just wait……the next box was even better.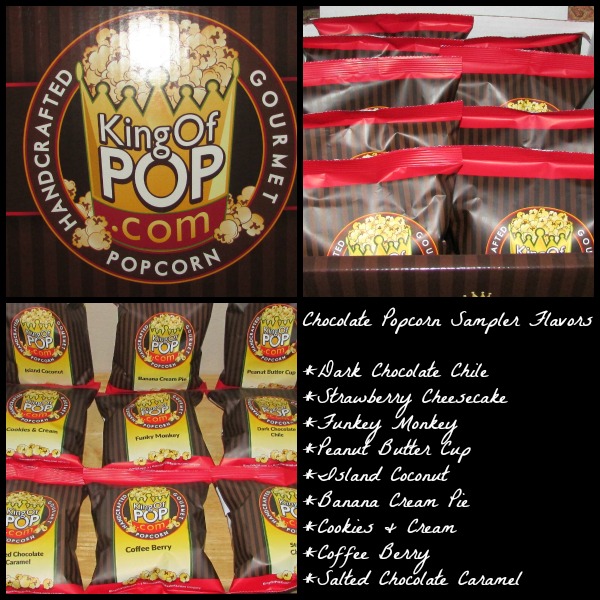 The box came from King  of Pop and it was their Chocolate Popcorn Sampler! chocolate is a girls best friend and when paired with popcorn it is the best! There were 9 different sample bags in the box. Each bag contained a little over an ounce of popcorn which I can eat in one sitting. My husband even got in on the chocolate popcorn action and tried some of the flavors. His favorite is the Funky Money and my favorite is the Peanut Butter Cup. I haven't decided if I am going to share with my kids yet!
So this Valentines Day get something totally awesome and super delicious from Gourmet Gift Baskets!
About Gourmet Gift Baskets: GourmetGiftBaskets.com was founded with family values and the desire to provide exceptional gifts for all of life's special occasions. Through years of working in his family's flower shop in New Hampshire, President & CEO Ryan Abood naturally realized an opportunity to provide handmade, high quality gift baskets. What began with two family members in the basement of a flower shop has exploded into a multi-million dollar company recognized multiple times by Inc.500, Internet Retailer, Enterprise Bank, and more, while still remaining true to its core values of exceptional gourmet ingredients handcrafted with care. As this entrepreneurial family spirit continues in the next generation with the birth of the youngest Abood last spring, this proud family business will continue to exceed gourmet gifting expectations.