I am slowly and I mean very slowly trying to move to a gluten-free diet. Cucumbers are one of my favorite snacks and they are low in saturated fat, and very low in cholesterol and sodium. Here is a gluten-free snack that is perfect for the middle of the day munchies.
Gluten Free Cucumber and Turkey Snack
First cut your cucumber in half lengthwise. The take a spoon and de-seed the cucumber.

Next,  add some mustard to one side of the cucumber. I used spicy but I think next time I would prefer plain old yellow mustard.

Add some laughing cow cheese to the other side.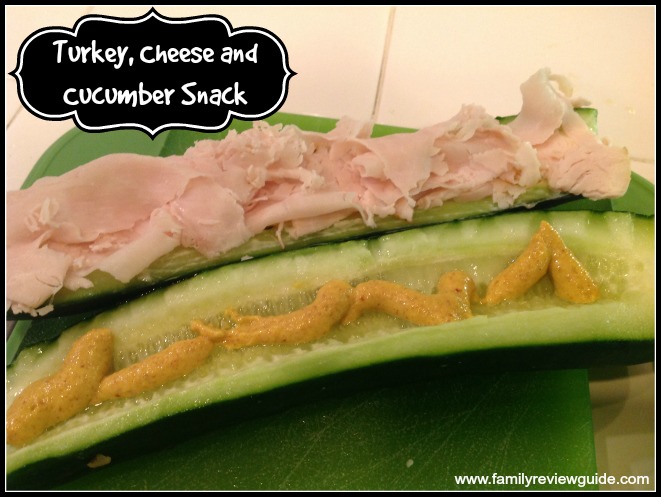 And put the halves together. Now you have a delicious and gluten-free snack.
Gluten Free Cucumber and Turkey Snack
Ingredients
1

Large Cucumber

Mustard

(any flavor)

Laughing Cow Cheese

(any flavor)

Turkey

, Nitrate Free like Boars Head
Instructions
Half the cucumber lengthwise

de-seed it by dragging a spoon along the insides

Spead mustard on one half of cucumber

Spread cheese along other side

Add Turkey on top

Close cucumber halves and enjoy!