Thank You To Fresh & Easy for sponsoring this post and keeping my meals quick and healthy!

Meal time in my house is a complicated event. My husband and older son eat completely gluten-free and myself and my other two kids do not. Often times we eat totally different meals so my husband does a lot of the cooking. However on the nights that we all dine together I try to make a meal that we can all enjoy together. That is where the store fresh and easy comes into play. They are right near my house so I can run in there while I am doing errands and grab a Fresh and Easy pre-prepared and healthy meal that my whole family will enjoy. Easy and quick meal solutions are high on my priority list.
Fresh & Easy thinks that fresh, wholesome food should be accessible and affordable to everyone. They offer a range of their own brand products and freshly prepared meals, in addition to other favorite top name brands.
Among many other things, Fresh & Easy offers:
Fresh bread, fresh meat, fresh fish / Daily deliveries
Meal solutions for the time-starved or those who don't know how or don't like to cook (Ready to Cook & Kitchen To Go)
If it has the Fresh & Easy name on it, it's guaranteed to be free from artificial colors and flavors, trans fats, high-fructose corn syrup or any other hidden nasties that are out there.
Stores are smarter and smaller. They have everything you need without any of the stuff you don't. Their self-checkouts get you in and out quickly. But they also have friendly staff to help if you need a hand.
Feature Wild Oats Organics – the first and only USDA certified organic to-go salads and sandwiches!
This trip I grabbed a seasoned Lemon and Herb chicken, a bag of lettuce and some corn on the cobb. Everything was ready to go! The chicken was pre-seasoned, the corn was nearly shucked and the bag of lettuce already had toppings like carrots and cabbage. Talk about making my life easier!

All I had to do was throw the chicken on the grill when I got home and turn it over a few times.
The corn just needed to be boiled and it was amazingly sweet.

The chicken turned out perfect. It was tender and juicy and the skin was crispy. Just the way I like it!

I was able to feed my whole family a fresh, wholesome, gluten-free meal that everyone loved.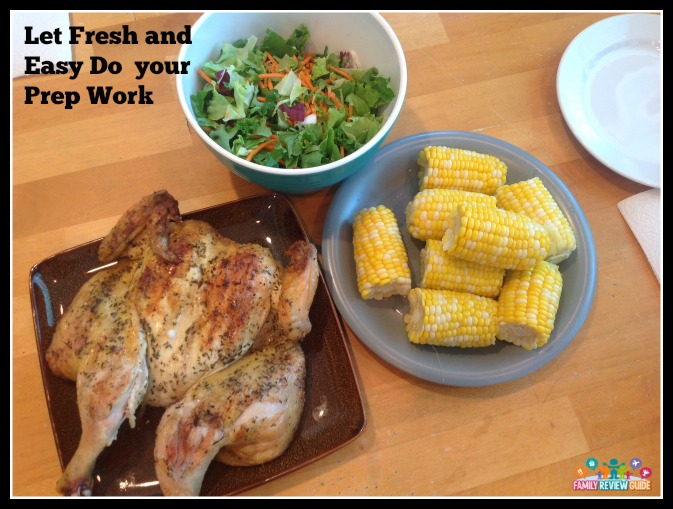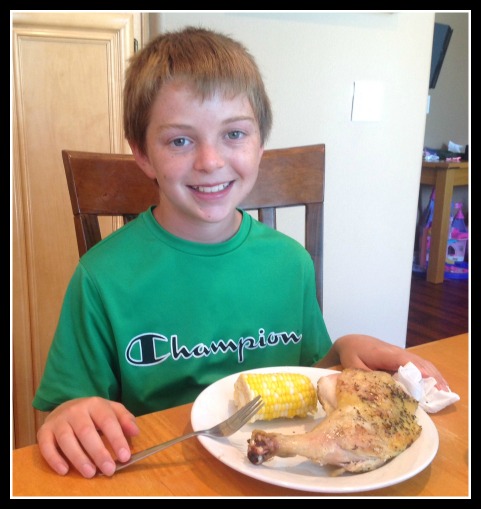 Success! Smiling faces = a great dinner. Fresh and Easy Neighborhood Market is the one stop shop for all your mealtime solutions. Don't forget to visit the Fresh & Easy site to locate a store near you!
The Fresh & Easy Neighborhood Market is located in CA, AZ, and NV.