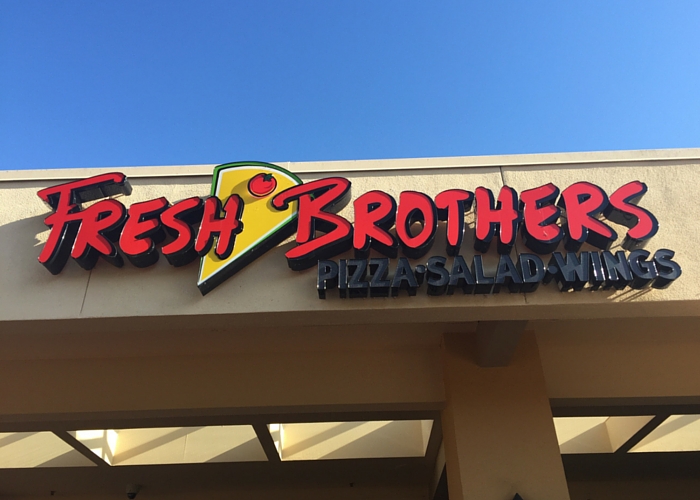 Looking for an easy way to host your kids next birthday party? Fresh Brothers Pizza has all the ingredients to make your next party a success! Just add kids and they will take care of the rest.
We recently held a celebration for my two boys who are turning 14 and 10 at the Fresh Brothers Pizza in Newport Beach, and it was really a fun experience. It was convenient, I did not have to clean the mess at the end and best of all the kids had a great time!
A few days before your party, someone from the store will e-mail you asking you for your preferences and asking about allergies. Fresh Brothers is extremely Gluten-Free friendly which was a huge plus for us.
Fresh Brothers Decorates
When we first walked in I was seriously in awe at how cute the place was decorated. I had no idea this was even part of the package. They had blown up about two dozen balloons and many of them were hanging from the ceiling. It was so festive and  you could even see the customers smiling when they walked in.
Decorate a Pizza Box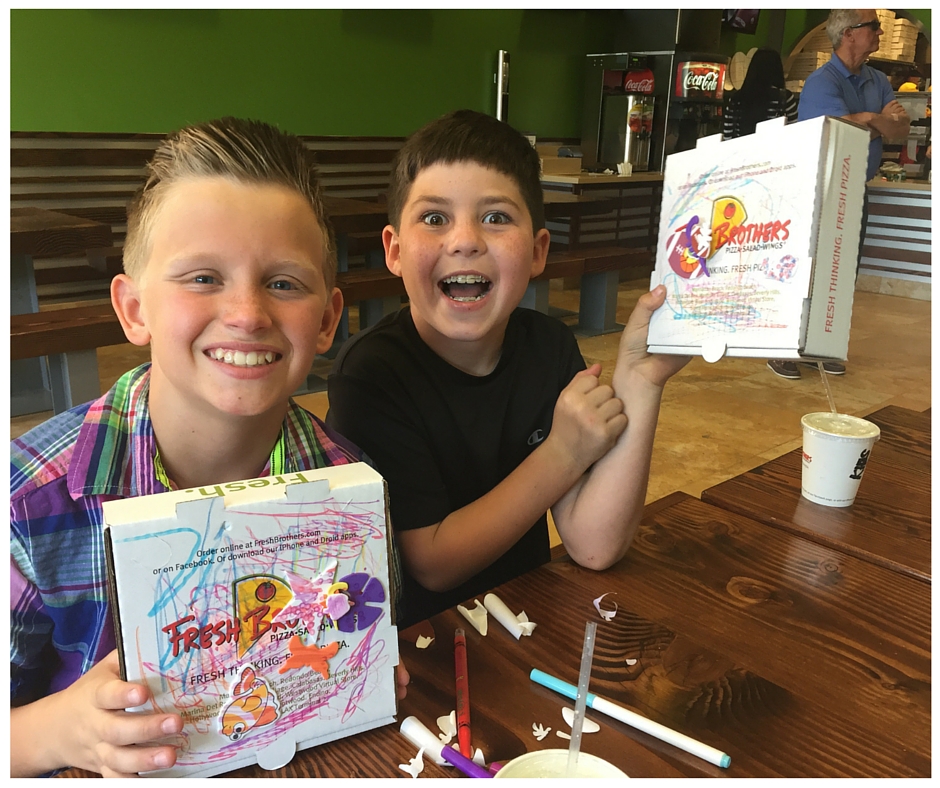 The first thing they arrange at a Fresh brothers Pizza party is to decorate your own pizza box. They have markers and crayons and stickers and the kids can go to town.  We had our very own assistant named CJ who helped my little one out by applying temporary tattoos on her arms, and on the rest of us. She was so patient and friendly and even cracked a few jokes with my older one.
Create Your Own Personal Pizza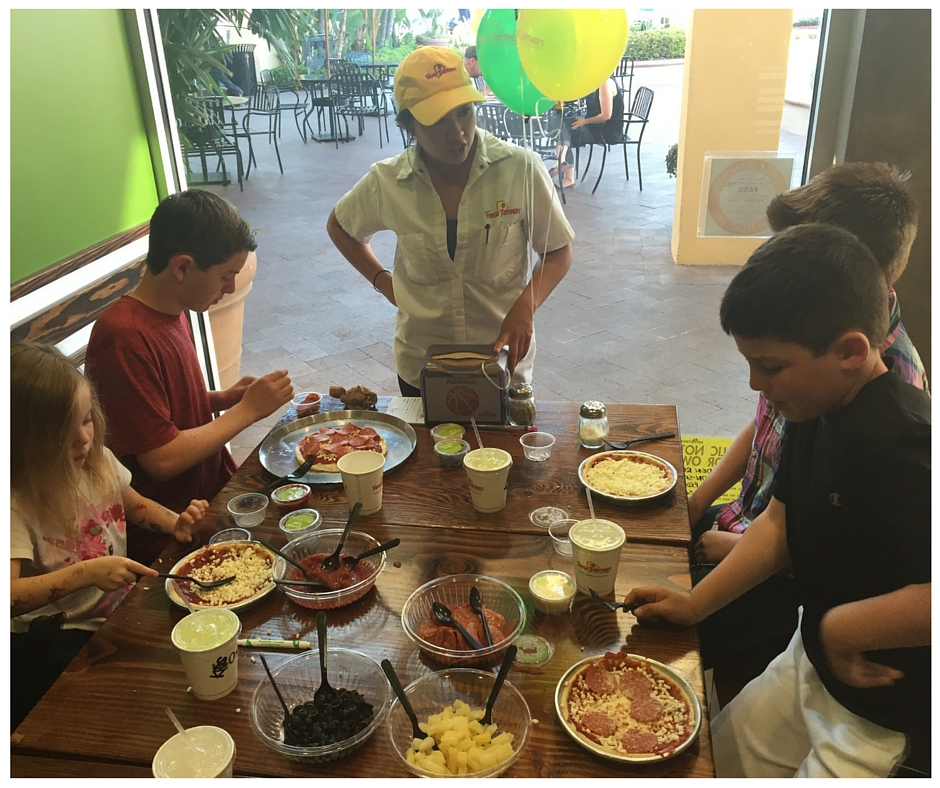 Next up, the kids create their own pizzas. They bring out pizza dough which the kids will aerate the dough with a fork, and then they will spread on some  sauce, add cheese and then finally all of their toppings. I think they felt proud of their creations and couldn't wait to see what they looked like after they came out of the oven.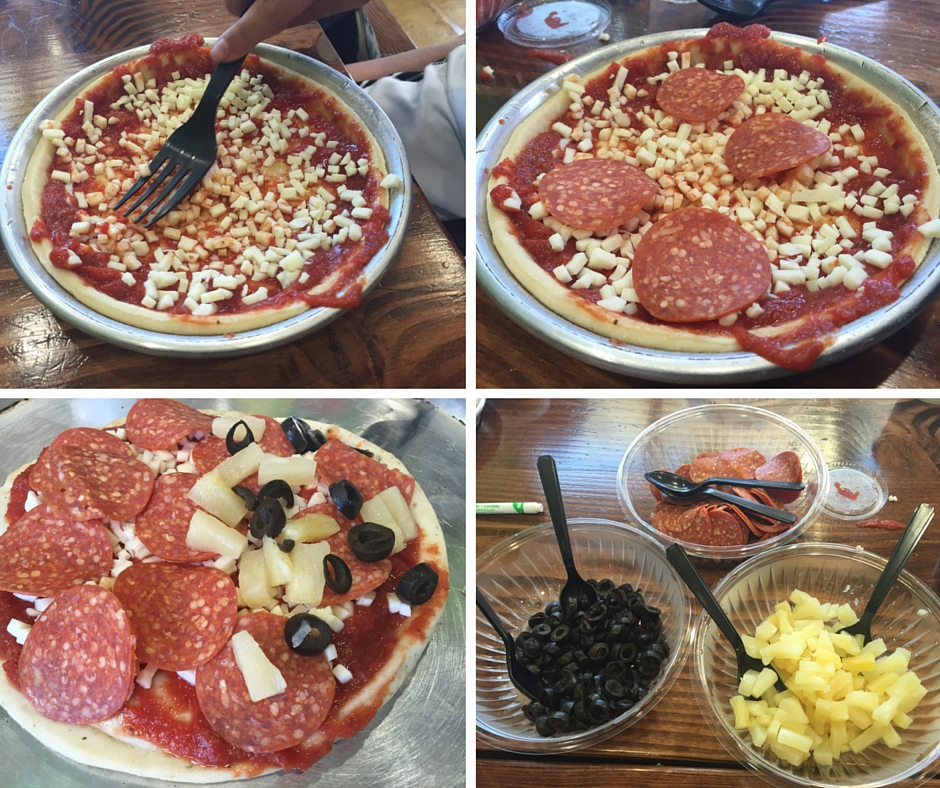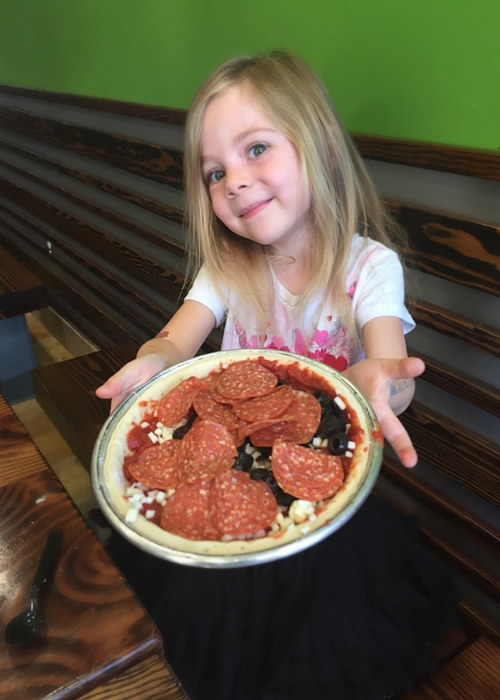 Dough Shapes
While the pizzas were cooking, they brought out some more dough and also some cookie cutters so the kids could make shapes and then have those baked as well. I loved how tactile this party was. So many things to keep their hands busy.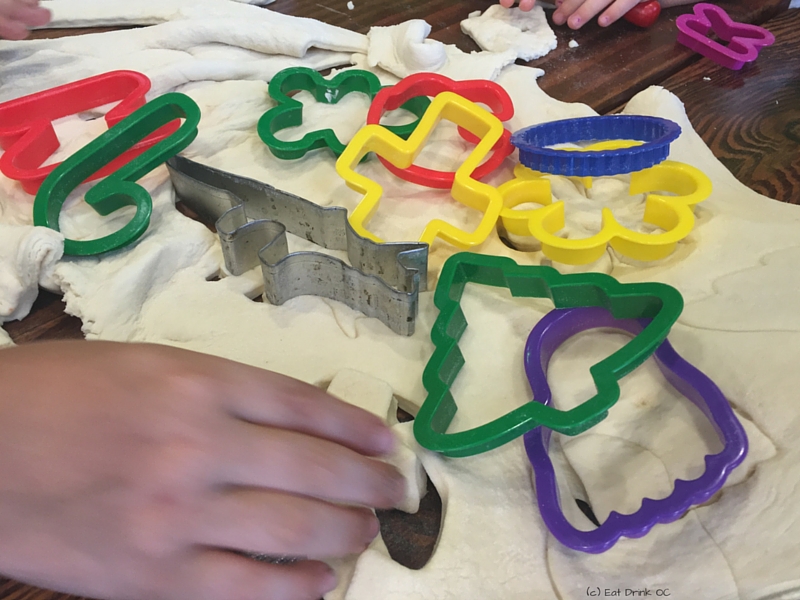 Finally, it was time to eat their pizzas! Don't they look awesome? My husband and I chose to have some wings (which are baked and not fried) and an antipasto salad which was more than enough for the two of us.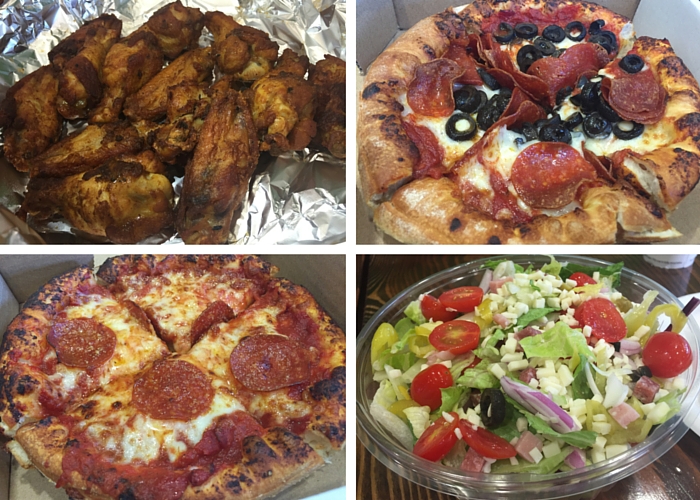 After dinner, the kids got to decorate cupcakes. You get your choice of vanilla or chocolate and they supply the frosting and all of the toppings. This was probably my favorite part of the party because the kids were cracking themselves up by putting frosting on their faces and then adding sprinkles and chocolate.
Decorate Cupcakes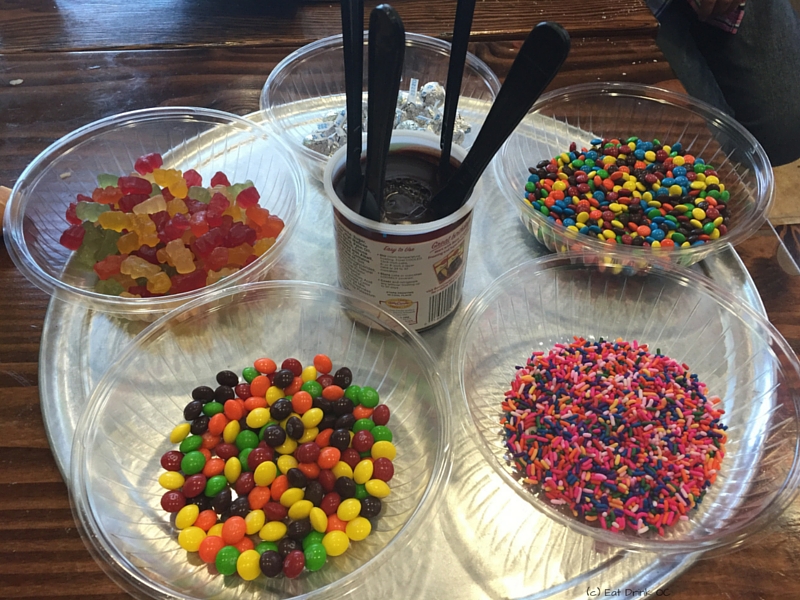 This one is my 5-year-olds that she made all by herself.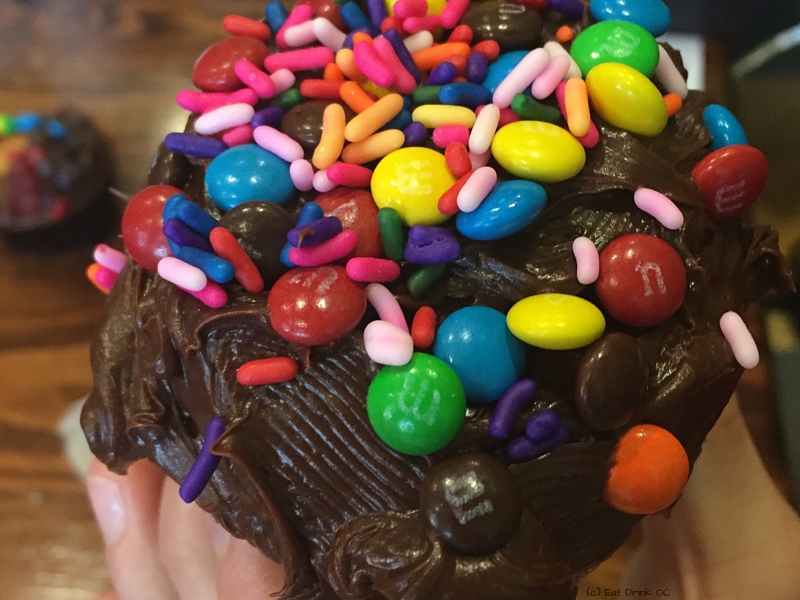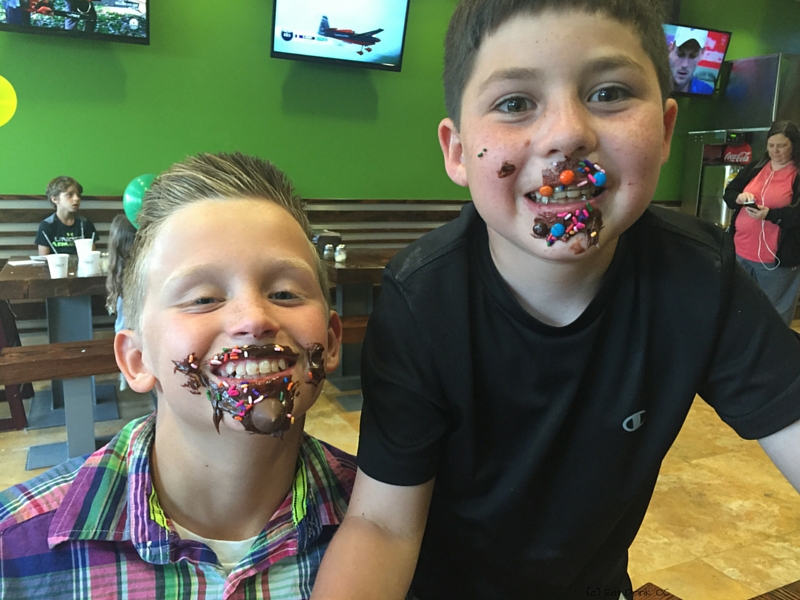 At the end of the party, all of the kids get a fresh brothers pizza t-shirt to take home (after they wash their hands). And there you have it! The entire party took about 1.5-2 hours and we had full bellies and happy kids. Can't ask for much more than that!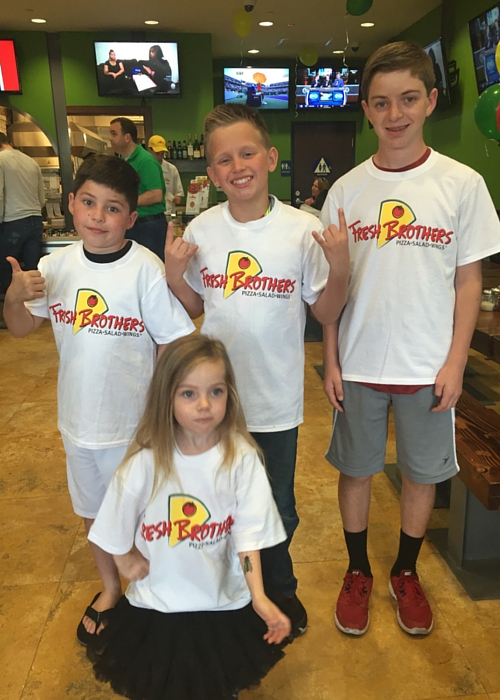 To see prices for individual Pizza Parties click here.  Face painting and Balloon artists are also available. Ask them about pricing for smaller or larger groups. They are super flexible. They also put together special events for youth groups, Mom's Clubs, sports teams and many other types of non-profit groups. sSo what are you waiting for? Locate your nearest Fresh Brothers Pizza and get started on your next pizza party!