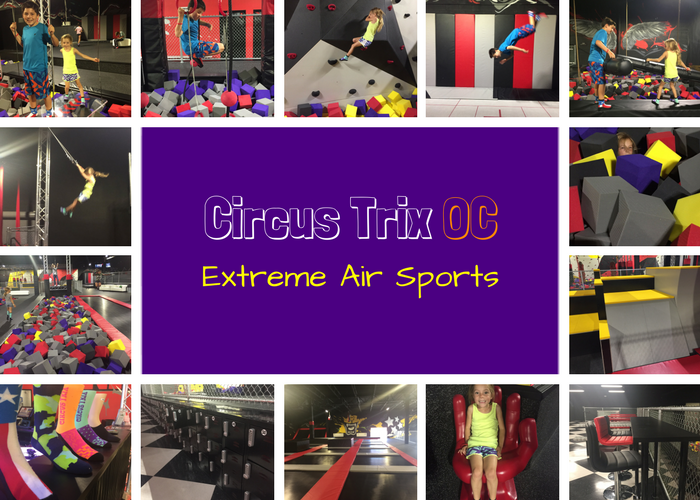 The city of Laguna Hills just got a little more interesting! After several years of vacancy in a large warehouse that was formally a borders book store, and then a Wickes furniture that spot has now been permanently filled! Circus Trix OC is officially the new tenants and you all should be super excited. This place is off the hook. It enormous, it's clean and its so much fun!
Think of a giant trampoline park, then add in parkour, circus stunts, basketball, ziplining and aerial silks and you have Circus Trix OC.
Watch Video of Circus Trix OC
Not only is this a great place to come after school and on the weekends but it's the perfect place for birthday Parties! Listen to the general manager Casey talk about birthdays at Circus Trix OC. The best part is you can bring in ANY food you want! That's right, it doesn't have to be pizza. You can do sandwiches, you can bring in crock pots or you can bring in your own salads.iI love how flexible they are.
How Much Does It Cost?
Tickets for open jump vary depending on if there is an event going on during certain times. Check the ticket page and choose the day you want to attend for a price.
Do I need socks?
Yes, but you cannot bring any from home. Circus Trix OC has a selection of grip socks you can choose from.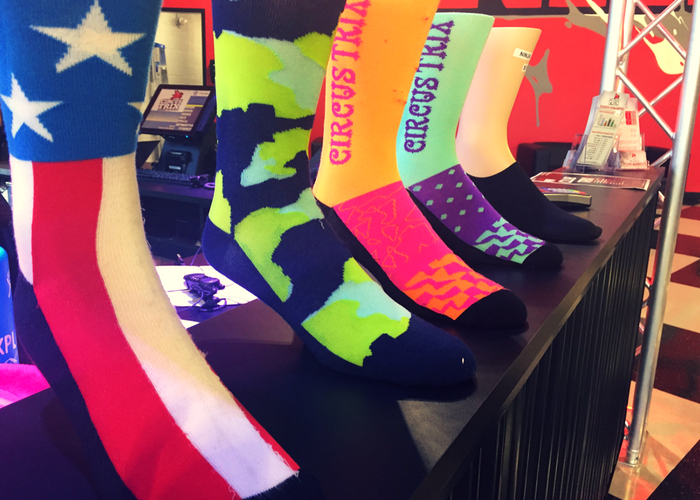 They Host Sleepovers For Birthday Parties!!!
Circus Trix OC invented the Extreme Slumber Party! Enjoy the entire park all night long……good luck getting any sleep! Bring your favorite music playlist, food, and sleeping bags.
Chaperons are required, and must be provided by your group. Flight Crew Members will be present to provide supervision. Lock-Down will begin one hour after check-in is complete and guests will not be allowed to leave the park, who would want to anyway….right?
(Monday-Thursday 11pm-7am, Friday's 12:30am-8:00am)
Call for details.
Your Kids Will Get Exercise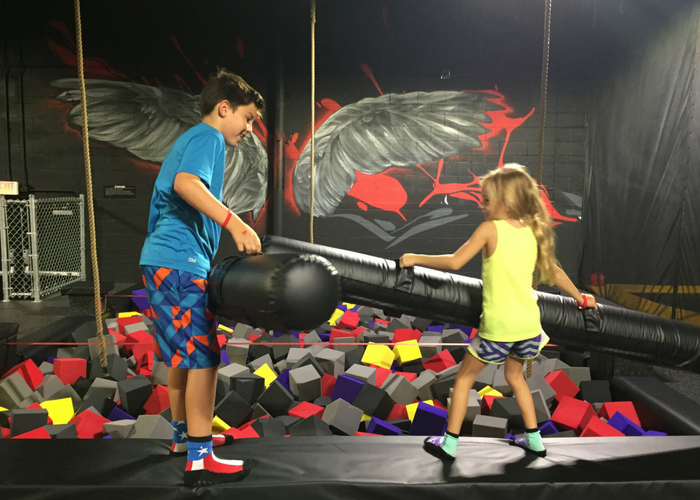 Between the Jousting, The jumping, the running, the climbing, the swinging, the laughing, the dancing and so much more your kids will be exhausted by the time they are finished.
Also you can buy bottled waters in a vending machine while you are there and the machine takes credit cards!
My kids had a blast and I can almost guarantee you 1 hour of jump time won't be enough. They also have extras that you can purchase like playing in an inflatable wheel or using one of their trampoline surfboards.