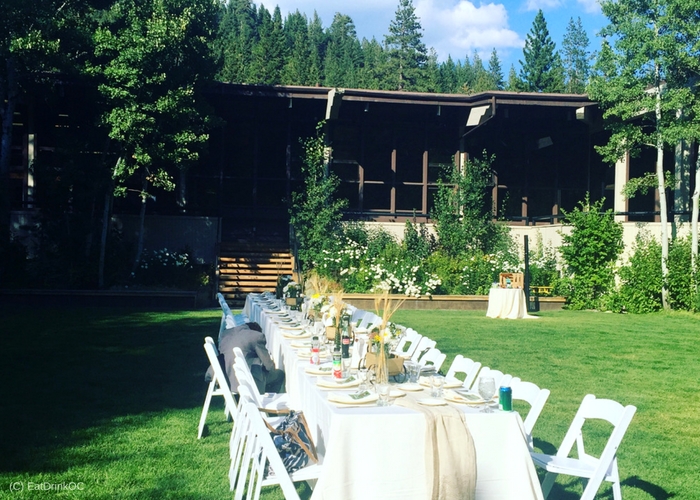 Dining out on vacation is not only exciting, but it is also a chance to experiment with local cuisines and flavors. Imagine being able to eat an entire meal that is sustainably sourced with bountiful ingredients…A meal where you can treat yourself to a true culinary experience that will entertain your palate…This kind of meal can be achieved at the Farm To Table Dinners in Squaw Valley Alpine Meadows.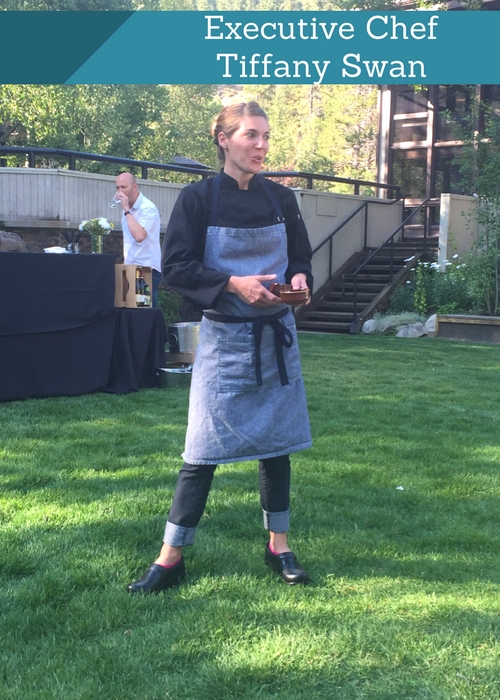 On a recent visit to the Olympic Village Lodge Garden, we feasted on a creative gourmet menu prepared by executive chef Tiffany Swan. Chef Swan sources much of her food from the Tahoe Food Hub, a local nonprofit dedicated to connecting small farms within 100 miles of North Lake Tahoe to small restaurants and markets in the Tahoe area.
Dinners and wine parings are served on KT Base Bar, an outdoor sun deck. Chef Swan she prepares all of the food in the MTN ROOTS food truck which focuses on unique food creations made with locally sourced ingredients that will make your taste buds feel good.
**Due to a changing menu the food featured below may not be the same menu in your farm To Table experience.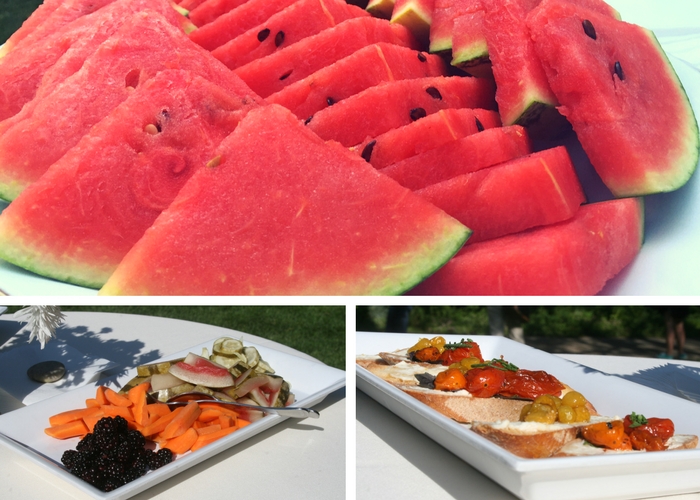 We started out with appetizers including vibrant red, juicy watermelon, plump blackberries, tangy pickles, crisp carrots, and fragrant bruschetta. Everything was so fresh and light.
Hopefully you will be lucky enough to try the Heirloom Tomato Salad made with sweet red onions, olive oil, and green leaf lettuce. This was by far the freshest salad I have ever had in my life. Seeing this salad up close is incredible because it is looks like a colorful burst of healthiness overflowing on a plate.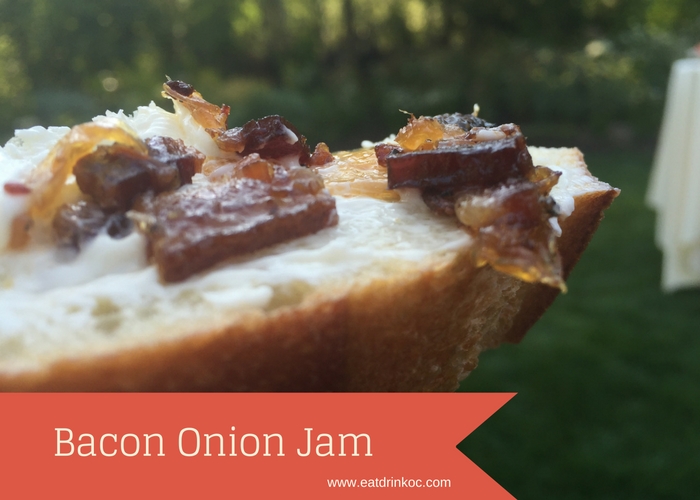 Bacon Onion Jam was another one of chef Swan's creation and our whole table raved about it. Spread some sweet butter on a piece of crunchy french bread and you might just hear angels singing in your head.
Credit: Caryn Bailey of Rockin Mama
Protein lovers will enjoy Mary's Chicken which is brined and roasted, with natural jus, and fresh herbs. Tender is the key word in this dish.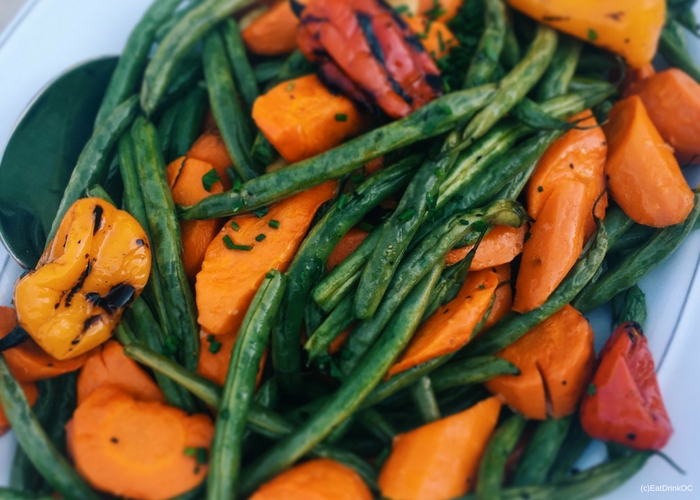 As you can see in this Roasted Haricot Vert, Sweet Pepper and Carrot dish, only premium quality vegetables are used. The flavors are bold and the colors are bright.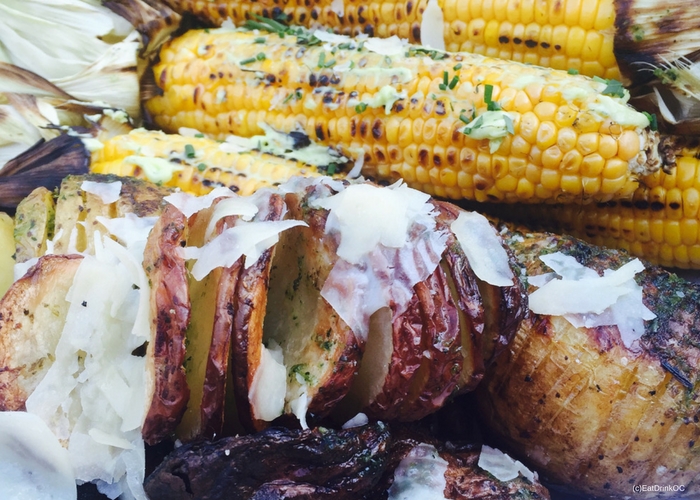 Whether you are a carb lover or not, you will thoroughly appreciate the sweet corn with melted herb butter and hassleback potatoes. Shredded parmesan cheese give these decadent sides a complete balance of flavor.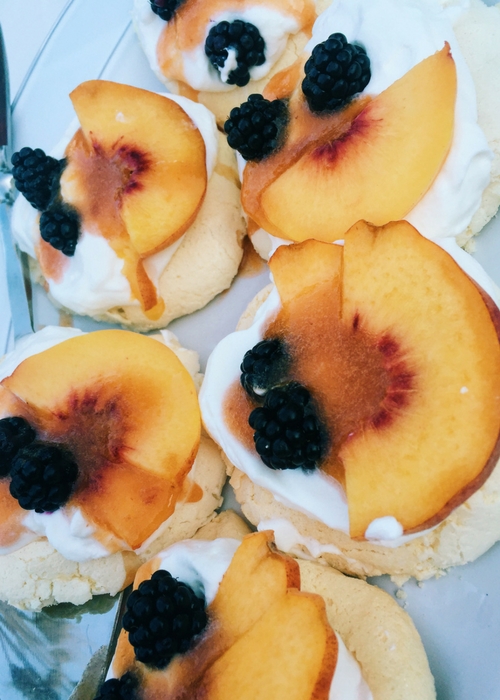 Finally, came the best part of the meal – Peach Meringues! Chef Tiffany's desserts are outstanding and I ate several of these fruit pillows. I am sure you will too!
Farm to Table Dinner Prices
Price*
Adult – includes (3) 2 oz pours of wine for pairing $54
Child (4-12) $29
Child (3 & under) Free
*Tax and gratuity not included. Cash bar available for featured wine, beer and nonalcoholic beverages.
Limited space available, reservations required. Reserve online or by calling 800-403-0206