Disclaimer: I received a free code to facilitate this review. All thoughts and opinions are my own.

Last week we had our very first experience with stitches! I have 3 kids ages 12 (boy) 8 (boy) and 3 (girl) and you'd think it was one of the boys but nope, it was my little girl. She was doing somersaults in the park and smacked her chin on the cement. After a handful of stitches (of which she slept through) we settled in for a very long week. Unfortunately she wasn't allowed to go to school as the doctor didn't want her to bump it and advised her to take it easy. There is also a sandbox at her school so we didn't want her to get any sand in it either.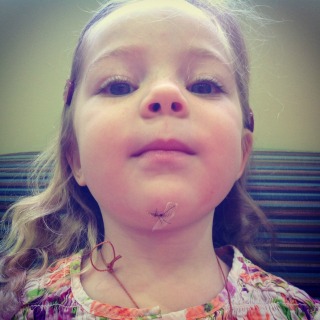 So with no school, no gymnastics and no parks I had to think of some ways to keep her busy. She is a whiz on my ipad and she really enjoys books so remembered I had a free code to try out FarFaria. After a simple download we were ready to try it out!

FarFaria is an iPad app that provides the perfect story time experience. With more than 600 amazing children's stories—and five new ones added each week—story time has never been easier. It is created for children ages 2-9 so my daughter was the perfect age to play with it. You begin by entering all the different islands of FarFaria. The islands are actually genres of stories you will find. She chose "Preschool Playground".

The neat thing about FarFaria is that all of the stories can be sorted by reading level. We began with level P and worked our way up to level 1 and 2. After the story has downloaded it will ask you if you want to have the story read aloud to you or if you prefer to read it by yourself. The voice that reads the books aloud is quite pleasant. You can also make a list of all of your favorite books so that they are easy to find each time you return! My daughter really enjoyed every story and liked the pictures in all of the books.
After a while of reading with her I went to the kitchen to make some lunch. I wanted to see how well she could navigate the app on her own and sure enough it was a piece of cake for her. She entered other lands and read other stories that kept her fully engaged, I even heard her giggle a few times as well as repeat the stories out loud. I loved that she was learning new words.
FarFaria was a great resource for us and I highly recommend it to every mom I know. Not only did it help pass the time but it did it in a fun and educational manner that my daughter and I both benefited from. We bonded a lot this week and I loved all the snuggle time FarFaria brought us.
FarFaria Features:
Unlimited reading from their library of more than 600 stories.
Five new, engaging stories added every week.
Interactive experience is fun for kids and easy for parents
Every story can be read aloud with a Read-to-Me feature.
Reading-level badge on every story cover.
Offline access to read Favorite stories
No advertising. No hidden fees.
Try FarFaria for Free
Download FarFaria and read one story every day for free with no obligation to pay. For access to unlimited stories and offline reading, subscribe for just $3.99 a month and cancel anytime.
For more information visit Farfaria on Facebook and on Twitter.