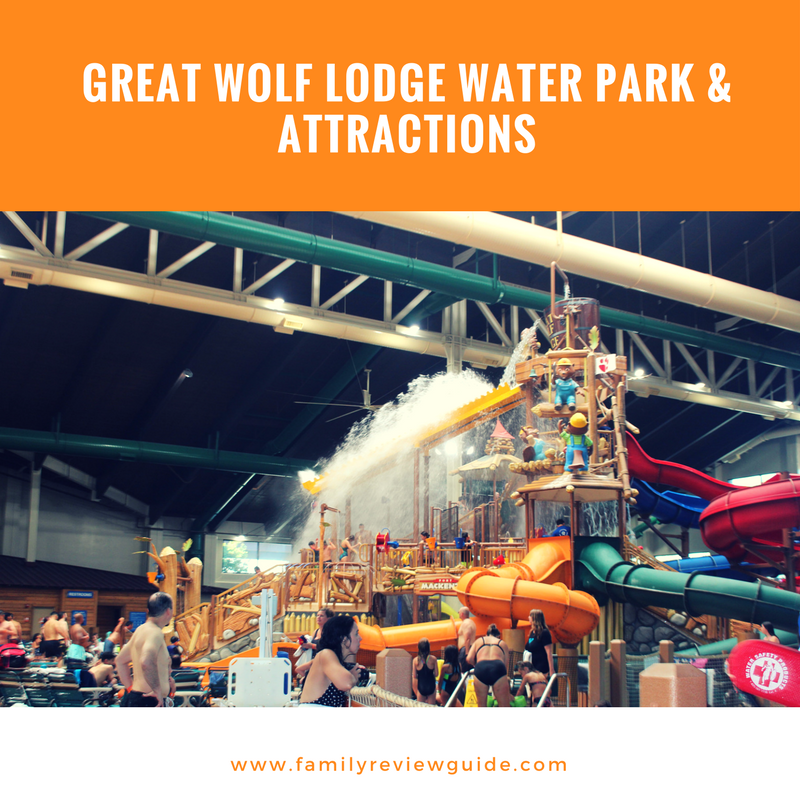 READ PART 1. The Water Park At Great Wolf Lodge Garden Grove is an astonishing 105,000 square feet and is exclusive to resort guests. The only exception to this rule is if you know of someone who is already staying there then you can get an extra wrist band for $50. There are 16 water play areas for kids to enjoy and safety is taken very seriously here. Here is a list of safety rules to abide by.
Life Jackets Provided
US Coast Guard approved life jackets are available for anyone who needs one and they come in different sizes. I found these to be super helpful during our visit because sometimes there is quite a strong  pull in the water from many of the rides and I didn't have to feel worried or stressed about my daughter not being a super strong swimmer.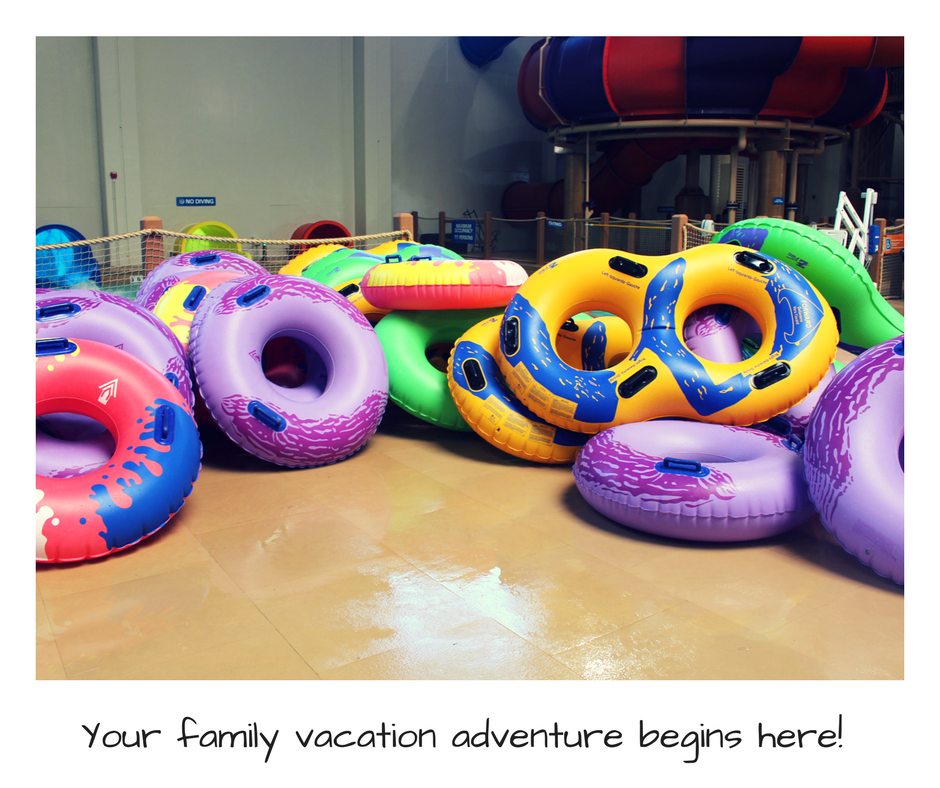 List Of Attractions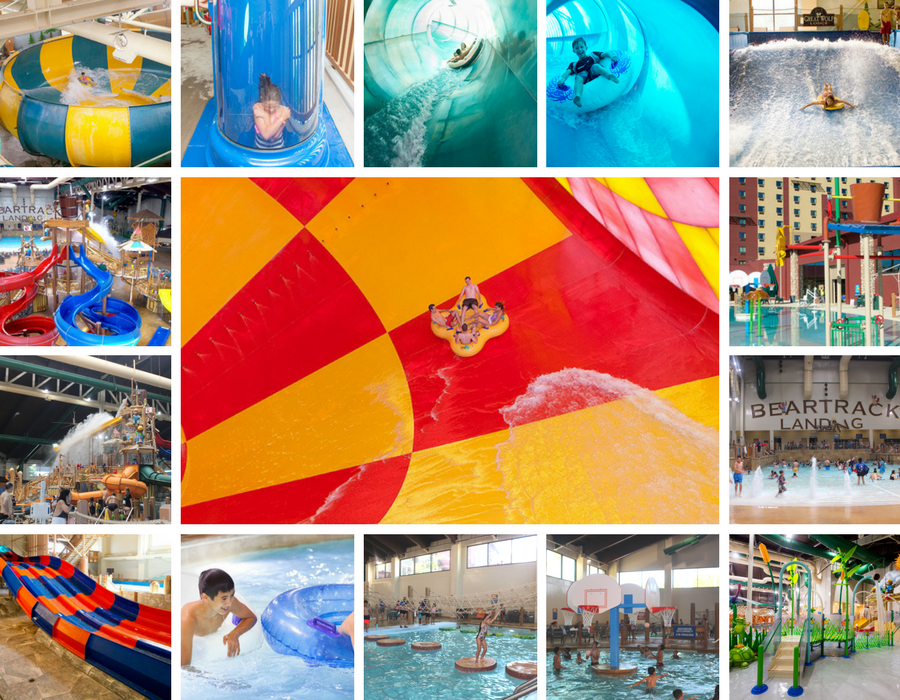 With over 9 thrilling slides and 7 water play areas there is something to make everyone happy! The best part is they have double rafts so you can ride with your family members.
Howlin' Tornado –  A six-story funnel of fun. See how high you can ride up the walls before you shoot into the last tunnel for an unforgettable splashdown.
Coyote Canyon – Has a 40-foot drop into a water-jet-fueled vortex. How many times will you swirl in the whirling basin?
River Canyon Run -Twist and dip over this slide's curves and bends with your whole pack on this family raft ride.
Wolf Tail –  This is for taller people who want to experience high-speed thrills
Alberta Falls- Travel four stories of exhilaration on this tandem tube ride and experience four times the fun!
Wolf rider Wipeout –  Indoor surf simulator
Totem Towers – You choose your escape from Fort MacKenzie before climbing back up to do it all over again
Fort Mackenzie –  Water fort tree house with slides and toys
Mountain Edge Raceway – Race your Wolf Pack and the clock on our toboggan style, mat-racing extravaganza!
Raccoon Lagoon – Our outdoor activity pool has fountains, water basketball, water slides and plenty of fun for all
Slap Tail Pond – No water park is complete without everyone's favorite wave pool – catch a wave for family fun
Crooked Creek – Need a break from the slides? Grab a tube and float your way around Crooked Creek
Big Foot Pass – Challenge yourself to cross these large, floating lily pads using only cargo nets for help.
Chinook Cove – This activity pool gives you the chance to swim, splash and play with basketball, floats and fun!
Whooping Hollow – Your little pups will howl with glee as they splash and play in this perfectly sized playground.
Cub Paw Pool – Your little pups will splash and play in this pool, loving the fun activities it has to explore.
Evening Events & Services
Coming soon….Movies by the pool
Coming soon, guests will be treated to family flicks in the outdoor pool. Every Friday and Saturday evening, families can enjoy various popular movies while relaxing in the zero-depth entry activity pool, Raccoon Lagoon, with popcorn and specialty cocktails available for purchase at Grizzly Jack's Bar and Grill in addition to the restaurant's daily menu offerings. There is no set date on this activity but we will update you on this when we find out.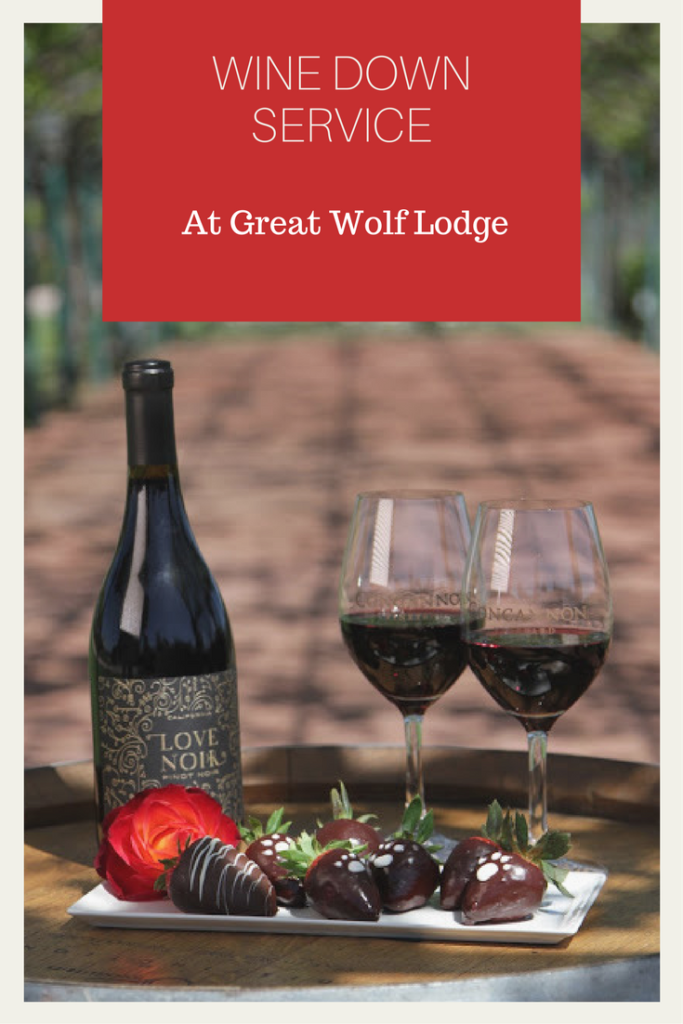 After a full day in the water park the kids are exhausted and so are the parents. Imagine how great it would be if you could just snap your fingers and wine and cheese would arrive at your door.  Well, it really can happen! Great Wolf Lodge's new Wine Down Service allows you to choose from wine/cheese/fruit packages that will be delivered straight to your room. Featured pairings include the Kids Snoring, More Pinot Noir-ing which pairs decadent chocolate truffles and a velvety Pinot Noir, and the Rekindle the Bonfire, which pairs luscious dark chocolate-covered strawberries with a bottle of Chloe Prosecco. And get this……Instead of a knock on the door, guests will receive a text message from Great Wolf Lodge to let them know the delivery has arrived to avoid waking children mid-slumber. Win/Win!
Jammie Jamboree, Story Time and Hustle & Howl
Dance,  listen to a story and take a selfie if you are not ready to hit the hay with a variety of fun evening activities.
 Frequently Asked Questions
Can I bring a cooler to the Water Park? You can bring a cooler to your room, but it has to stay there. Coolers are not allowed in the waterpark.
Are towels Provided? Towels are provided for your family in the water park as well as bathing towels in your suite. Blogger Tip: The towels are really small . I would suggest bringing your own.
Can I rent a Cabana? Yes, Indoor and outdoor cabanas are available to rent daily for your family's comfort and convenience in the water park. A cabana has seating for six with lounge chairs, a 20″ flat screen TV with satellite access, a safe and Great Wolf Lodge playing cards. There is also a mini refrigerator with an assortment of non-alcoholic beverages.
Can I bring a Gopro Camera? Yes and you should. The chest mount works great for the waterslides with tubes! A waterproof case for your cell phone is also a smart idea.
For more information visit Great Wolf Lodge on Facebook and Twitter.