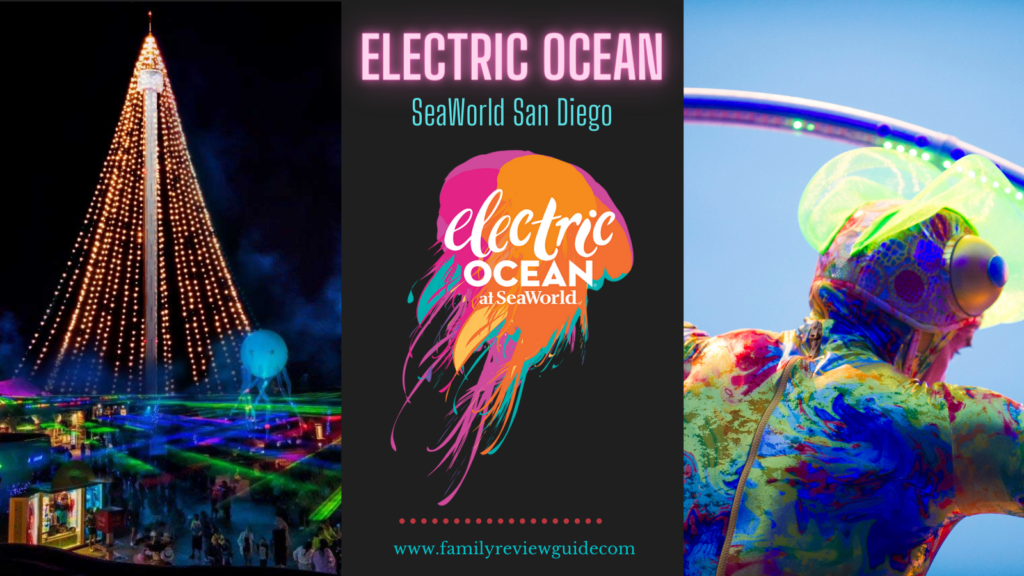 As a theme park junkie I can't resist a day packed full of adventure and adrenaline. This is why I love SeaWorld San Diego so much! It has the best of both worlds with shows, rides, interactive exhibits and so much more. But summertime at SeaWorld brings a whole new level of excitement, thanks to Electric Ocean!
Electric Ocean is both a day and night event and it transforms the park into a sea of glowing color and energy. Guests can voyage into an exotic underwater world filled with dazzling lights, electrifying dance music, and a brilliant evening energy that sparks after the sun sets. Electric Ocean is included with park admission and takes place select days and nights from June 4th-August 14th.
Here is a little teaser on what it looks like:
Tips to make your day flow smoothly
Arrive Early. If you own an electric vehicle this is extremely important as there are only 4 EV chargers so it's first come first serve and no one moves their car after it's finished charging. However, the EV chargers are very very close to the park entrance.
If you like going on rides like me I highly suggest ordering a quick queue add on to your ticket. They are super reasonable at just $19.99 per person. Quick Queue entitles you to single-day unlimited front-of-the-line access at participating rides, including Manta®, Electric Eel, Journey To Atlantis and Shipwreck Rapids®. On a summer day when lines are long and weather is hot this is an absolute lifesaver. We literally walked onto almost every ride.
Bring Cooling Towels – This will make your day much more bareable in the heat.
Bring a change of clothes AND flip flops. (If your kids like to sit in the front row of the shows to get wet, put them in flip flops before hand so their shoes and socks do not get soggy.
There is a charging station for your phone at the Sea Lion exhibit/ Manta bathrooms. So convenient.
Download the app! There no no more park maps, it's all gone digital.
Get to the shows 20 mins early! They fill up very fast.
ELECTRIFYING ENTERTAIMENT:
All New! Summertime Concerts – Bayside Amphitheater, SeaWorld's popular performance venue, is reopening this summer with an incredible lineup of concerts for guests to enjoy evening music on select Saturdays during Electric Ocean.
All New! ADRENALINE! – Guests will be on the edge of their seats in this maximum- energy show of extreme stunts featuring America's Got Talent Star and renowned daredevil Annaliese Nock. Known for holding the Guinness World Record Holder for most somersaults on a Wheel of Death in one minute, this fearless entertainer and cast of performers will have hearts racing as they maneuver through various acts in this all-new exciting show.
All New! ElectroBlast – A high-energy bioluminescent percussion show that creates a sensory electronic rhythmic dance atmosphere that captivates audiences of all ages! The rhythm and beats will inspire guests to move and groove to the hip-notic sounds of this energized, immersive musical experience.
IGNITE Fireworks: A fireworks spectacular that brings the brilliant colors of the sea to the skies above the park. The fireworks can be seen from all around SeaWorld's 100+ acre park.
Club Sea Glow—The party amps up after dark where a DJ will be mixing dance music all evening leading up to the start of our fireworks finale. Party goers are invited to join this family-friendly dance party and get on the dance floor.
Electric Floating Acts: Imaginative characters, artists, acrobats, and entertainers roam throughout the park with illuminating costumes and high-energy atmospheric acts.
Showtimes vary during Electric Ocean evenings. Guests are encouraged to check the park schedule for times.
Glowing Illuminations
Laser Reef Light Show: SeaWorld San Diego caps off the night with a canopy of colors that submerges guests below the ocean in a dazzling display of color and sound.
Light Tunnel: This cosmic light tunnel invites park visitors to feel the vibe and music and dance into the vast depths of Electric Ocean and all that it has to offer! A photo-worthy walk-through with immersive lights changing in various bright colors.
Sea of Life
Illuminous fish sculptures to explore and view as they appear to swim and come to life through the landscaping, riding high above exotic plants and grasses.
We are obsessed with this show! It was high energy, fascinating, colorful and it had great music! There is so much to see so be sure to take it all in.
Ignite Fireworks: Surf the wave to a whole new level with Ignite, a fireworks spectacular that brings the brilliant colors of the sea to the skies above the park. The fireworks can be seen from all around SeaWorld's 100+ acre park. Showtimes vary during Electric Ocean evenings.
BEST VIEWING AREA IS EXPLORERS REEF OR NAUTILUS AMPHITHEATER
Club Sea Glow: Get the excitement started with high-energy music as our DJ leads an all-ages dance party beneath the waves. The DJ will keep you moving all night, leading up to the start of our Ignite fireworks finale. Enjoy plenty of space to spread out and feel the music at Club Sea Glow!
TIP: There is a food cart there that serves mini corndog bites, funnel cake fries and soda and water. 
Electric Floating Acts: Come face to face with the currents of Electric Ocean: imaginative characters, artists, acrobats, and entertainers roaming all throughout the park. You will be amazed at what you see, hear, and feel!
Let's Play Together: Come share an interactive play date with your favorite Sesame Street friends. Elmo, Abby, Rosita, Grover, and Cookie Monster will dance, play and sing their way to your hearts all while sharing some wonderful experiences about friendship
.
LIVE MUSIC:
 Static Shock Rock Show: Covering pop, rock, Latin and R&B hits through the decades, this band's captivating, high-energy, electric performances, and magnetic vocals will have you swept up in the tide of musical memories.
High Voltage Brass Band: In the style of Stomp and Blast, you'll be immersed in a spectacle of music and motion ranging from techno-pop to rock and jazz. These energized performances will have you mesmerized and captivated from the very first note!
SUMMER EATS AND GLOWING ILLUMINATIONS: 
All-New! Glow Bar:  Electric Ocean goers ages 21+ are invited to recharge at this vibrant outdoor lounge. Luminous cocktails, alcohol-infused fruit sorbet, and other treats will get your taste buds dancing!
All-New! Anemone Avenue: Vibrant inflatable anemones glimmer and shimmer along the pathway, revealing the not-so-secret entryway to the hottest street party in town – Club Sea Glow!
Moon Jellyfish Canopy:  Playful moon jellyfish will tantalize you with their magical tentacles as they slowly drift through the currents.
Laser Reef Light Show: SeaWorld San Diego caps off the night with a canopy of colors that submerges guests below the ocean in dazzling display of color and sound. This show is easily watched right near the exit and sharply follows the fireworks spectacular!
Giants of the Deep: You'll be in awe as you find these marvelous, larger-than-life animal installations swimming throughout the park.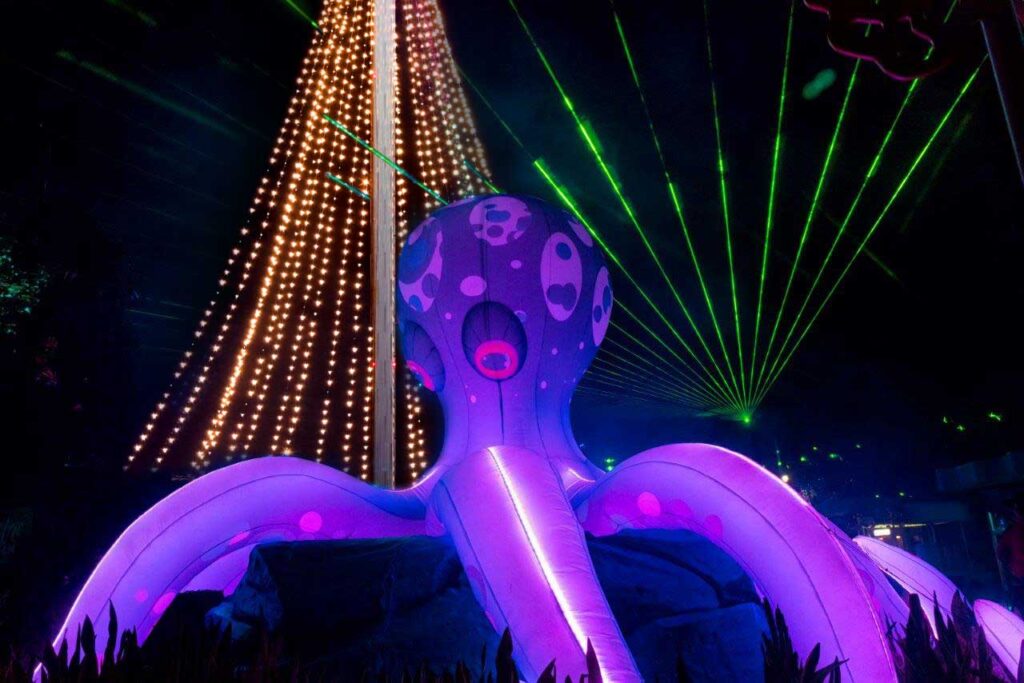 Time-Surf Tunnel: Surf through time and space to the soundtrack of SeaWorld shows past. This cosmic light tunnel invites you to dance into the vast depths of Electric Ocean and all that it has to offer!
During the Day
Tip: Ride the roller coasters first thing when you get there. Later in the day means much longer lines. 
Tip: Journey To Atlantis does not open until noon time
I am an adrenaline junkie so I love a good roller coaster. My daughter who is only 10 rode electric Eel with me about 4 times and she loved it. Then we hit up Manta, Journey To Atlantis and Shipwreck Rapids.  However, during the summer lines are wicked long so I splurged on a quick queue for both of us.  It was literally worth it's weight in gold. It made all the difference in our day. I was more relaxed and she had more fun not standing in lines.
Need to calm down after that ride? Head to the Ray Aquarium near Journey To Atlantis! It's so soothing to watch the rays. They always look like they are smiling.
Want to cool off? Sit in the front row of any animal show. My daughter did in the dolphin show and she got drenched! But she loved it!
FREE Admission to U.S. Military Veterans
SeaWorld San Diego is offering free tickets to U.S. military veterans for themselves and three guests to visit the park. The veterans offer has been available since April and due to its popularity and the park operating at full capacity, the offer has been extended allowing veterans more time to visit. This offer is part of SeaWorld Parks & Entertainment's longstanding Waves of Honor program, which salutes active-duty military members, veterans, and their families by offering special pricing and promotions throughout the year.
U.S. military veterans and retirees must register online at www.WavesofHonor.com in advance and verify their proof of service through the ID.me qualification process. SeaWorld works with ID.me to provide an online verification of former military personnel in a secure and privacy-enhancing manner. Once veterans and their guests have registered online, they can bring their e-tickets directly to the park's entrance turnstiles.
Waves of Honor additionally provides any U.S. active-duty military, activated or drilling reservist, or National Guardsman one complimentary admission for themselves and up to three dependents per year to SeaWorld. As an added thank you, veterans and active military service members can also purchase up to six additional tickets at 50% off. Service members and their direct dependents must have a valid active military ID to participate.
For more information, park hours and to purchase tickets, visit SeaWorldSanDiego.com. Events and times are subject to change. Follow SeaWorld San Diego on Facebook and Instagram for the latest park updates and information.