Disclosure: Diono provided me with 1 Radian RXT Convertible Carseat to review. All thoughts and opinions are my own.

When it comes to car seats, comfort and style were two things that I had a hard time finding for my kids. Either the pattern was really unattractive while the car seat was really comfortable or the pattern was gorgeous but the car seat itself seat was hard or too much of a bucket seat. Then I found the Diono Radian RXT and I couldn't believe the most perfect piece of equipment was staring right at me.
Diono Radian Design
Not only is this convertible car seat attractive with its sleek and slender design, but it is solid, versatile, and plush. My daughter loves to sit in it. The first thing that grabbed my attention with this car seat was the fact that it sits really low. Since there is no pedestal on the base my daughter can get in and out of this car seat with ease.  It also features a folding design, so storing or transporting the seat is easy. The car seat is FAA approved for use on airplanes and the cover is machine washable.

There are 5 color options to choose from: Shadow, Storm, Rugby, Cobalt and Plum. We chose the color Plum and it is absolutely gorgeous.  It's a true plum color and pretty accurately depicted on Diono's website. The fabric is microfiber and is very soft to the touch. It wipes clean and is not slippery like the nylon fabrics. If you go to Diono's website, it describes what kind of fabric is used for each of the color options.
Comparison Of Radian Prints And Fabric Materials.
Daytona – Micro-Denier Nylon & Mesh
Cobalt – Micro-Denier Nylon & Mesh
Plum – Ultrasuede & Mesh
Rugby – Micro-Mesh Velour
Shadow – Micro-Denier Nylon
Spring – Micro-Fiber Velour
Storm – Micro-Mesh Velour
We also are using the Ultra Mat that sits under the car seat. This protects your car upholstery from scratches and dents from the car seat.  It has top and bottom grip surfaces to prevent car seat slip and a handy front organizer pocket. It's  waterproof and washable and is easy to care for. I highly recommend this product as it catches crumbs, crayons, stuffed animals and any other objects my daughter drops.
Diono Radian Installation
Installation might seem a bit daunting at first when looking at the directions but it was a snap once you just get into the car and do it. Some sections of the user manual include bar codes. If you scan these codes with your smart phone (you need to install a QR bar code reader ap), it will take you to a short online video that shows you how to do that particular step. This was very useful.
Diono Secure SuperLatch System
Diono's SuperLATCH system allows LATCH use up to the full weight capacity of the car seat.* The SuperLATCH connectors are successfully crash tested at 45 pounds rear-facing and 80 pounds forward-facing. In vehicles with LATCH anchors SuperLATCH is a safe, convenient way to install the RadianRXT and provides a proper installation every time. Rubber bottom grips ensure the seat won't slide after installation and also protect your car's upholstery.
My daughter is 3 and a half and can sit forward facing but for those that have little ones that are still backwards facing you will love that this car seat is easily adjustable. The head support offers 12 height settings to ensure the right fit for your child and provides additional side impact safety. One thing I will recommend is purchasing the inexpensive angle Adjuster. You can find it here.

The straps on the Radian are very easy to loosen and tighten. You just pull the tether for a more snug fit or lift the clip and pull to loosen. They are also nicely padded and won't leave marks due to the soft padding around them. They are made with Safestop® energy-absorbing material. My daughter naps frequently in the car and I don't have to worry about her head flopping because they are secured by the headrest.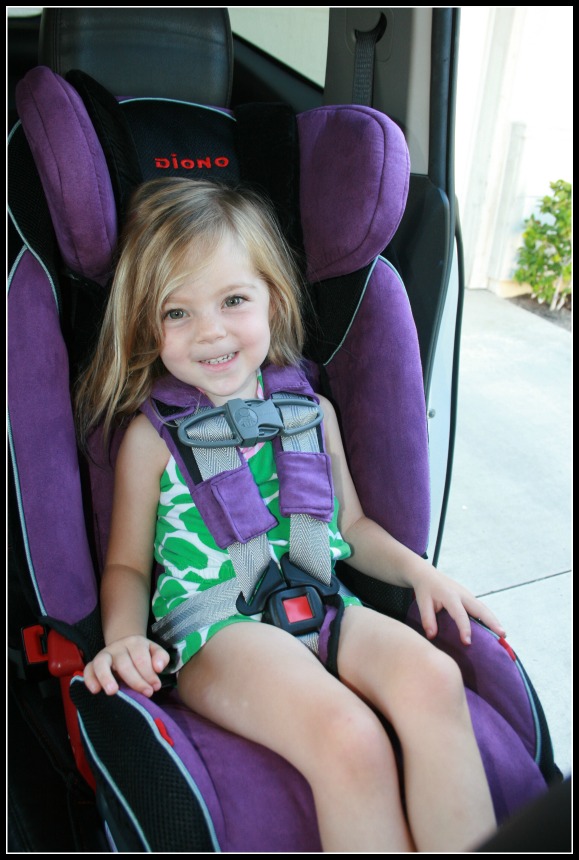 Diono Radian RXT Features and Advantages
The Radian features a 5-point Harness from 5-80 pounds: The 45 lbs. rear-facing weight limit is currently the highest on the U.S. market. The high 80 lbs. weight limit means that heavier children will be able to stay in the seat longer before moving to a booster.
Can Fold Up flat for carrying. The seat's foldable design makes it easy to transport or store. You can purchase a carrying strap here. Keep in mind this car seat is a little on the heavy side so it won't just be like throwing a backpack over your shoulder.
Sleek design allows 3 across in most mid-size vehicles.
Overall this is an excellent seat and we really love all the safety features and the design itself.  I couldn't be more happy with this seat. My daughter loves going in her purple seat and it's also one of her favorite colors.
Where can you buy Diono Radian RXT and Accesories?
 Get Social With Diono
Facebook – Twitter – Pinterest – Instagram