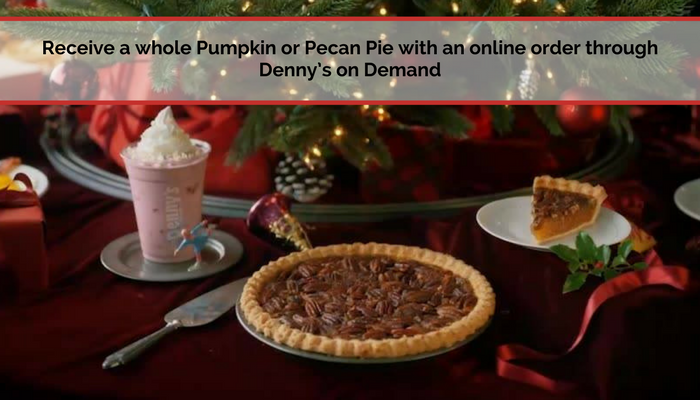 Do you love a good pie around the holidays? Dennny's is dishing out holiday spirit in true diner fashion by offering a free whole Pumpkin or Pecan Pie through Denny's on Demand, the brand's online ordering platform. Beginning Monday, Nov. 27 through Monday, Dec. 25, while supplies last, guests who use the promo code FREEPIE when placing a mobile or online order of $20 or more will receive a free whole pie in the flavor of their choice, for in-store pickup or delivery where available.
What is Denny's On Demand?
Denny's on demand is a platform where fans can order the diner food they crave, wherever they crave it. It offers guests a quick and easy way to place a mobile or online order for takeout or delivery* of their favorite menu items. Whether it's pancakes by the pool, burgers on the beach or coffee on the couch, Denny's is bringing the diner right to your door, 24/7. 
Step 1: Click on Denny's On Demand
Step2: Type in Your Zipcode
Step 3: Choose your location and click "order now"
Step 4: Select your food and add it to your bag
Sep 5: check out (you may need to create an account)
Step 6 : Pay
There are nutritional facts on every item and you can customize your order.
Denny's is also offering guests a delicious variety of holiday-inspired dishes from its new "Flavors of the Season" menu, available to order both in-store and online. Featuring festive dishes such as the New Pumpkin Cream Pancake Breakfast or the New White Chocolate Raspberry Pancake Breakfast, alongside more traditional family favorites including the classic Turkey & Dressing Dinner with tender carved turkey breast, savory stuffing, turkey gravy and cranberry sauce.
 Denny's is open 24 hours a day, 365 days a year and will continue to welcome guests into its booths throughout the holidays, including Thanksgiving and Christmas Day. For more information about Denny's or for full promotion details, please visit www.dennys.com.