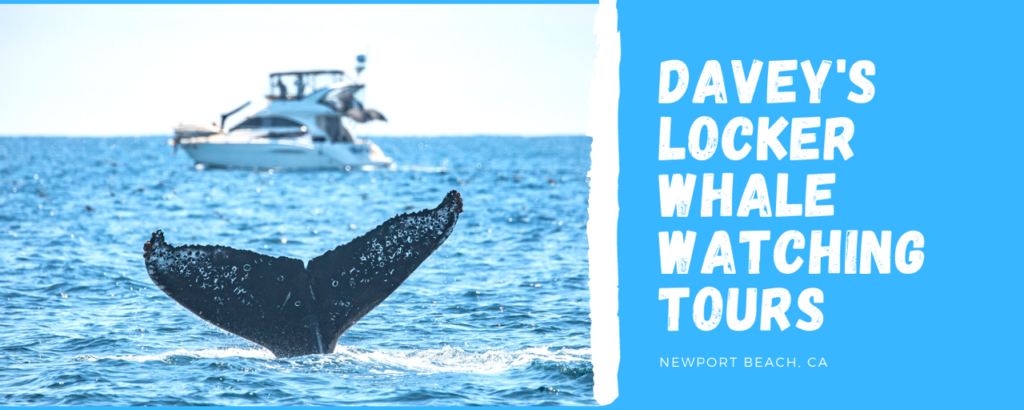 Looking for a low risk yet fun and outdoor activity to do as a family? 
Newport Landing Whale Watching 
in Newport beach offers daily tours and family-friendly experiences to view whales and marine life off one of the most beautiful coastlines in California. We recently took a tour on one of Davey's Locker Whale Watching boats and we had an absolute blast! One of the coolest things about their tours is that they have a professional photographer on board so you don't have to stress about getting the perfect photo or video. You can actually live in the moment. Imagine that?! Newport Landing is taking very strict precautions with the following:
Large passenger reductions (50% capactiy).
Social Distancing, and protocols for cleanliness and disinfecting.
Face masks are required to be worn at all times by crew and passengers during the whale watching cruise
Additional sanitation measures are in place during and in between cruises
This is a highlight reel of what a typical experience on a whale watching tour with Newport Landing loos like. You will hopefully see whales, dolphins, seals and birds. There is always a professional photographer onboard and there is also a galley with snacks and drinks. I was super impressed with our experience because the captain took extra precautions to keep a safe distance from all of the whales and dolphins giving them the space they needed to enjoy their natural habitat. We saw a lot of recreational boats that were not doing this. Here are a few professional photographs that Delaney Towbridge, naturalist and wildlife photographer took:
Check out the damage to the fluke of this whale's tail. I believe we were told a boat accidentally ran over it.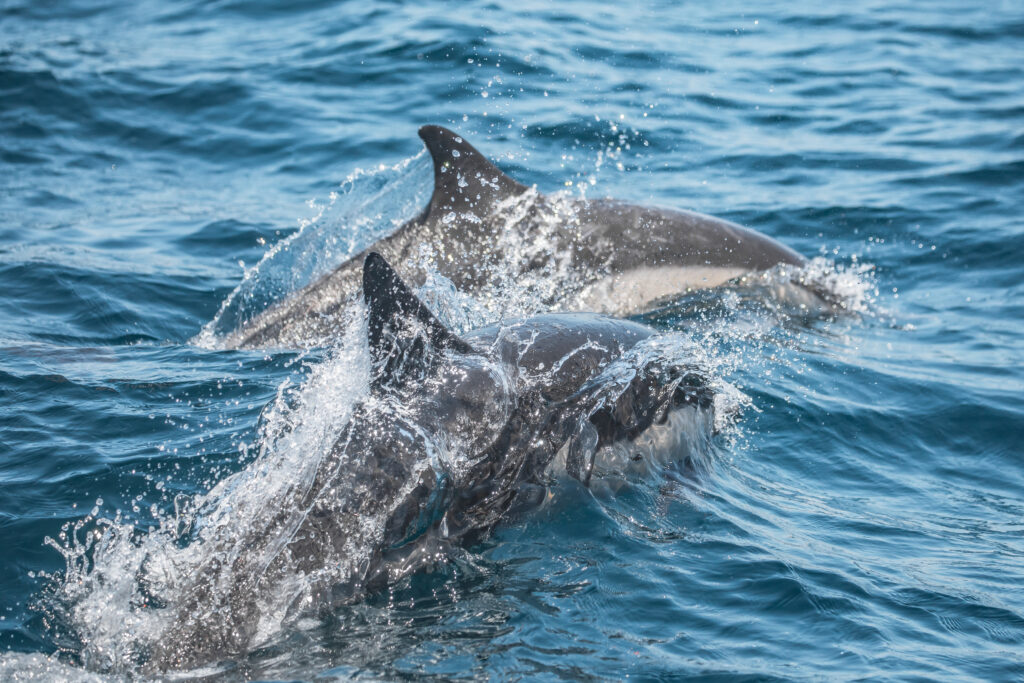 We saw pods of dolphins too! There were so many leaps and twists and the audience on the boat cheered for every single one! They are quite curious and mesmerizing to watch.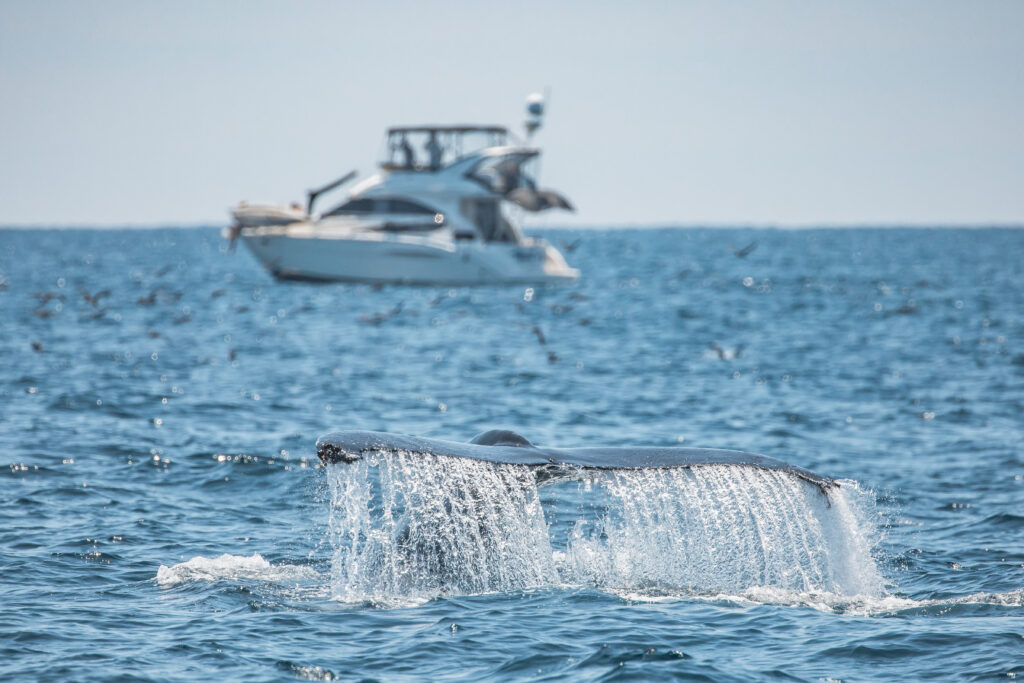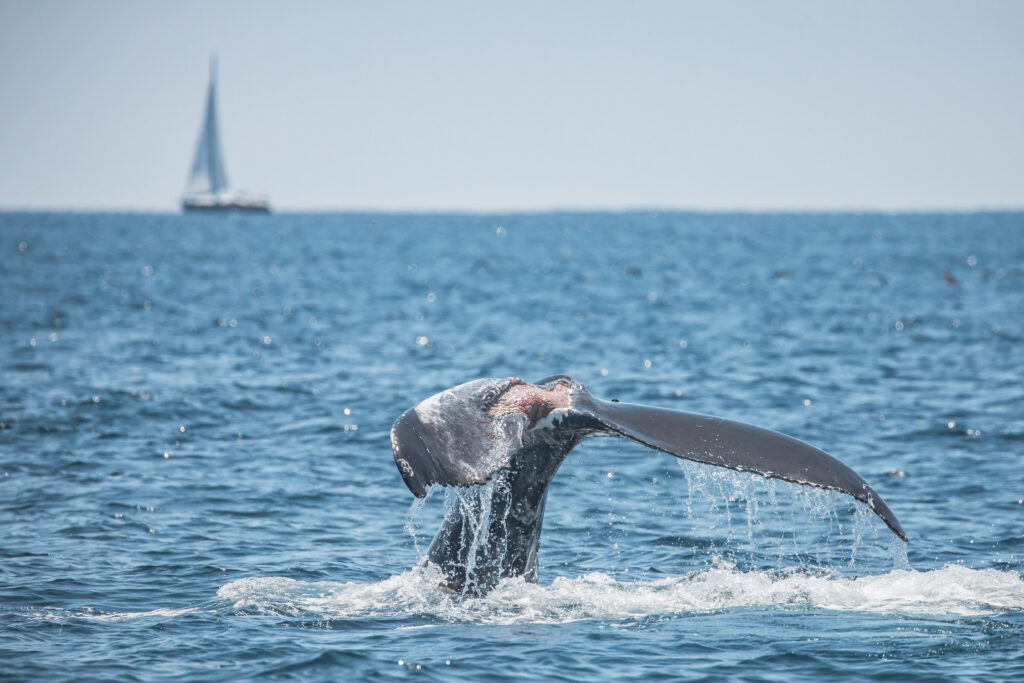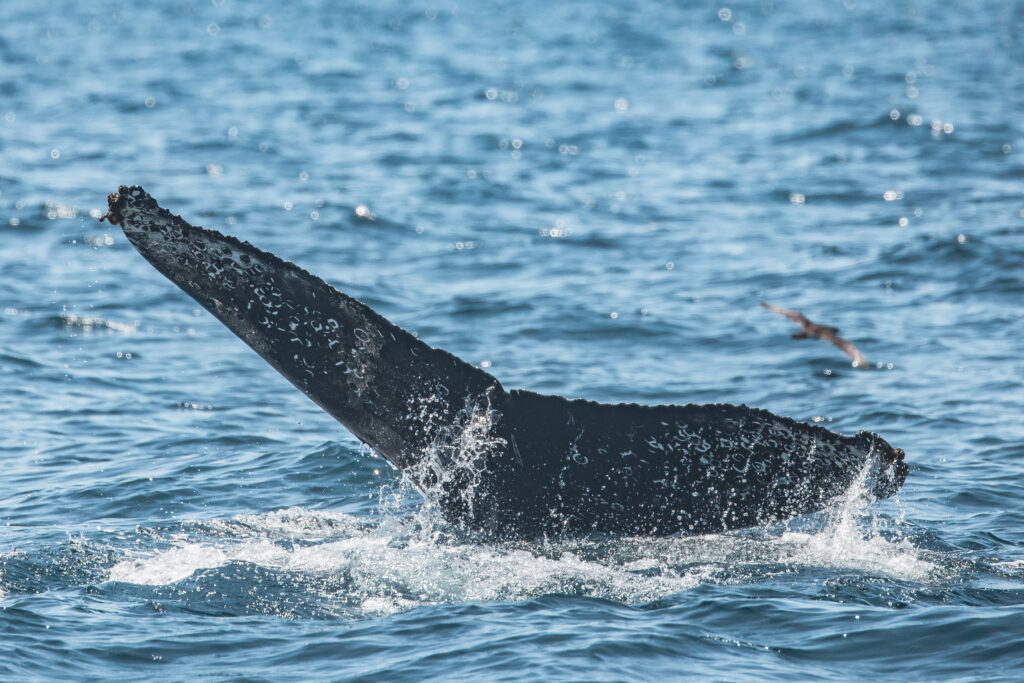 These gentle giants have tongues that outweigh elephants and their hearts can outweigh cars. We learned a lot of cool facts from Delaney on our visit. We learned the difference between blue whales and baleen whales. We also learned about how they communicate as well as their migration patterns.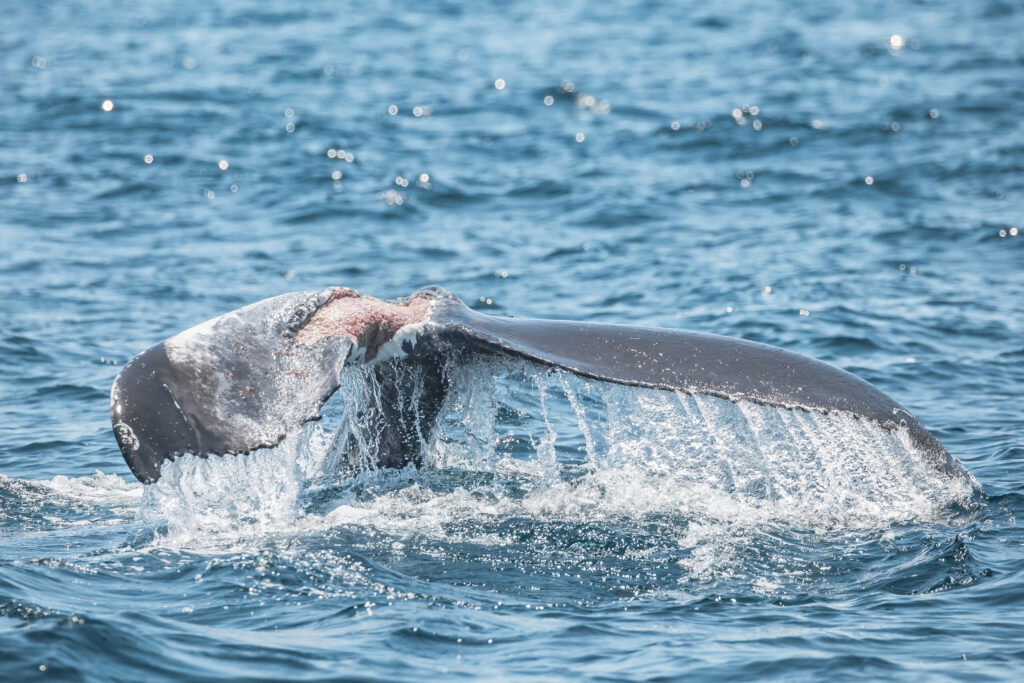 Get a 50% off Promo Code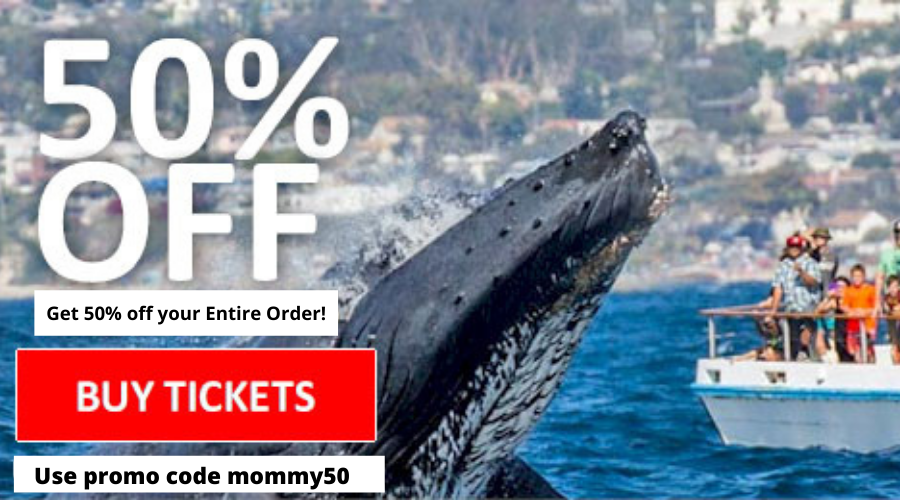 Are you ready to book your tickets? 
All you have to do is Call Newport Beach Whale Watching at 949-675-0550 or book online atwww.newportwhales.com, after you've chosen a date & time use promo code 'mommy50' in the 'promo code/ voucher code' box and it will take 50% off your entire whale watching order for whale watching in Newport Beach.
Frequently Asked Questions
How far in advance do I have to arrive? At least 45 minutes prior to your scheduled departure time. Traffic and parking conditions can be unpredictable and they want you to have enough time to arrive, check in, and board the vessel prior to departure.
How Long is a typical Whale Watching Tour? Newport Landing whale watching tours depart in Southern California all year long. The tours are 2-2.5hrs in length with multiple departure times each day.
Is there a snack bar onboard? Yes! All vessels have a snack bar and beverage service on board for your convenience. Concessions on board the vessel are cash only. You are welcome to bring food and beverages aboard the vessel but  they do ask that you do not bring ice chests, coolers, glass containers, and alcohol on board.
Where do I park?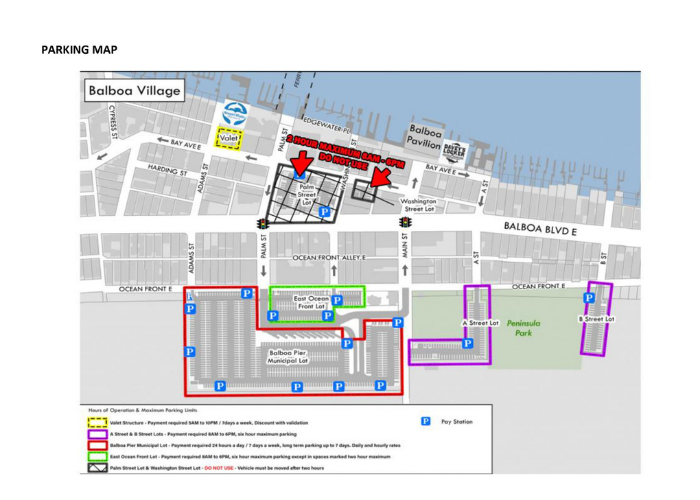 You will park in the Balboa Pier Municipal Lot. A parking map and directions are located above however, if you are using a GPS to find our location please be sure to program your device to avoid toll roads and ferries. Default GPS settings will take you onto Balboa Island (across the harbor from us) and you will need to take an auto ferry to get to our location. The auto ferry can only take three cars at a time. This may cause up to an hour delay in your arrival during peak season. Please remember if at any time you need assistance with directions or details of your trip to call (949) 673-1434. One of their customer service representatives will be happy to assist you. Balboa Pavilion building at 400 Main St. DEPARTURE ADDRESS: 400 Main Street – Newport Beach, CA – 92661
What happens if I don't see any whales or dolphins on my visit?
If by chance you do not see any marine life on your visit sometimes (but not always) the captain may offer coupons at his discretion for a $7 re-ride or return for free.
Are there any other additional prices I will see?
There is a supplement charge of $8.50 applies for cruise times Monday – Sunday 10am – 5pm. No supplement charge for all other cruise times.  There is also a $4.00 per person charge for weekend cruise times.
Get Social
To learn more, and get access to more exciting, educational, and fun content check out their social media pages below!