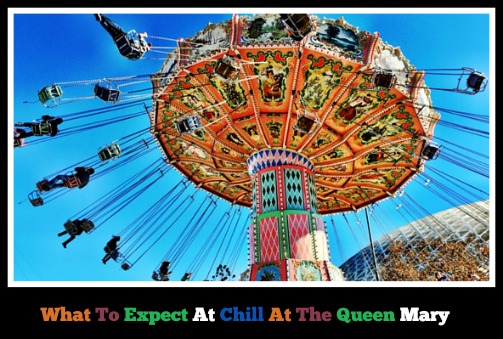 Last Week we spent a fun-filled day at Chill At the Queen Mary and I wanted to share a few ideas with you so you know what to expect when you go!
What will I see?
The main attraction of Chill is the Ice Kingdom. Housed in the giant dome – once home to the legendary Spruce Goose – The Ice kingdom is a giant igloo and an awe-inspiring 13,000 sq ft walk-thru exhibit featuring larger-than-life ice creations some towering over 2.5 stories tall and made using over two million pounds of ice. It's is truly spectacular to see these sculptures up close due to the intricate detail of each one.  Artists from all over the world spend hours, days and weeks carving out these masterpieces. Don't forget to grab a parka and gloves – temperatures drop to a numbing 9-degrees inside the Ice Kingdom.  Below is another video of all the neat things Chill has to offer!
Ice Tubing
Ice Skating ($15 extra-includes skate rental. $5 extra for a skate Bobby)
Breakfast with Santa ($19 Kids Under 12, $39 Adults)
An Ice Bar (21 and older- additional fees apply)
Gingerbread Houses
North Pole Village
Enchanted Garden
Candleshop (additional fees apply)
Polar Paintball ($10)
Claus Cottage  $15 – One print in a frame with digital download $20 – Gingerbread USB with 5-7 photos $30 – For both Hours: 12 PM – 9 PM
Characters
Largest Rockinghorse in the world
Swingin Sleigh Ride ($5 or free with Elf pass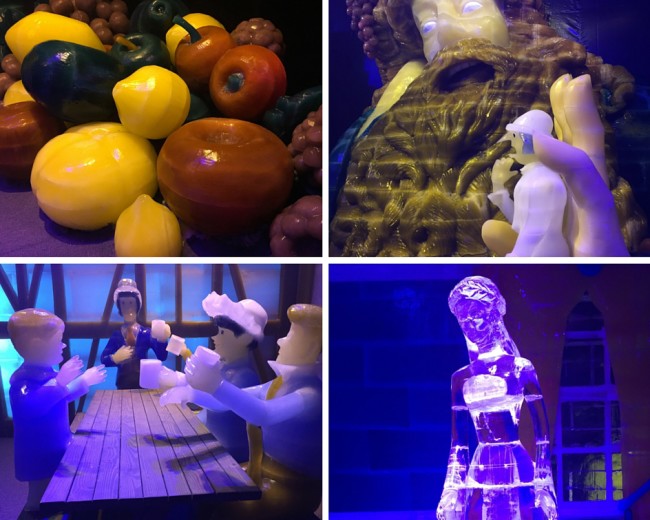 How much does it cost?
I'm not going to lie, a day at Chill can be pretty pricey, but there are ways to have a great time there without breaking the bank.
Adult General Admission Pricing: 
$34.99 – Nov 23-26; Dec 1-3, 8-10, 14-17 ($39.99 day of and at the door)
$39.99 – Nov 20-22, 27-29; Dec 4-6, 11-13, 21-24, 28-31; Jan 7-10  ($44.99 day of and at the door)
$44.99 – Dec 18-20, 25-27; Jan 1-3 ($49.99 day of and at the door)
Child (4-11) Admission Pricing: 
$24.99 – Nov 23-26; Dec 1-3, 8-10, 14-17 ($29.99 day of and at the door)
$29.99 – Nov 20-22, 27-29; Dec 4-6, 11-13, 21-24, 28-31; Jan 7-10 ($34.99 day of and at the door)
$34.99 – Dec 18-20, 25-27; Jan 1-3 ($39.99 day of and at the door)
Upgrade to an Elf Pass
E.L.F. (Express Lane Fast) Passes are available for $15! E.L.F. Passes give you priority entry into the Ice Kingdom as well as the Ice Tubing lanes! Plus get access to our Swingin' Sleigh Ride – regularly priced at $5 per ride! Please note: there are a limited number of ELF Passes available each day, so get yours today!
Are there discounts online?
Yes you can find discount tickets at the following locations:
Tips for Chill
If you p

ark in downtown Long Beach (The Pike, for example), you can take the free Passport bus straight to the QM and save the $20 parking fee. However, some places in downtown LB are a bit scary so you have to ask yourself if it is really worth it.
Bring gloves and a hat and wear pants. Even if it's 75 degrees out. It's less than 9 degrees in the ice kingdom and f you ice skate you do not want to be wearing shorts.
Do NOT wear flip flops,  sandals, heels , or any open toed shoes
Try and go early in the day (opens at 10 am). The lines are a lot shorter
Eat a good meal before you go.  It'll minimize your food spending
Bring your own ice skates if you're planning on skating
Penguin skating assistant rents for $5.  They're not free even if they're available
Most enjoyable at night with Christmas lights and carolers
Carpool and split parking costs
Definitely Visit The Enchanted Garden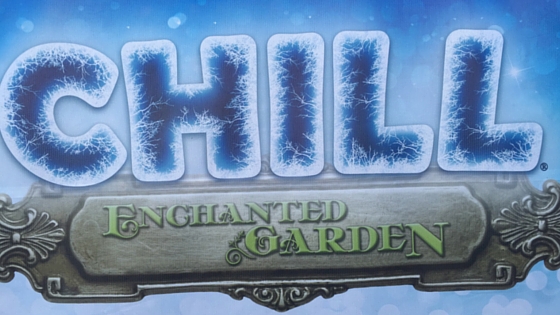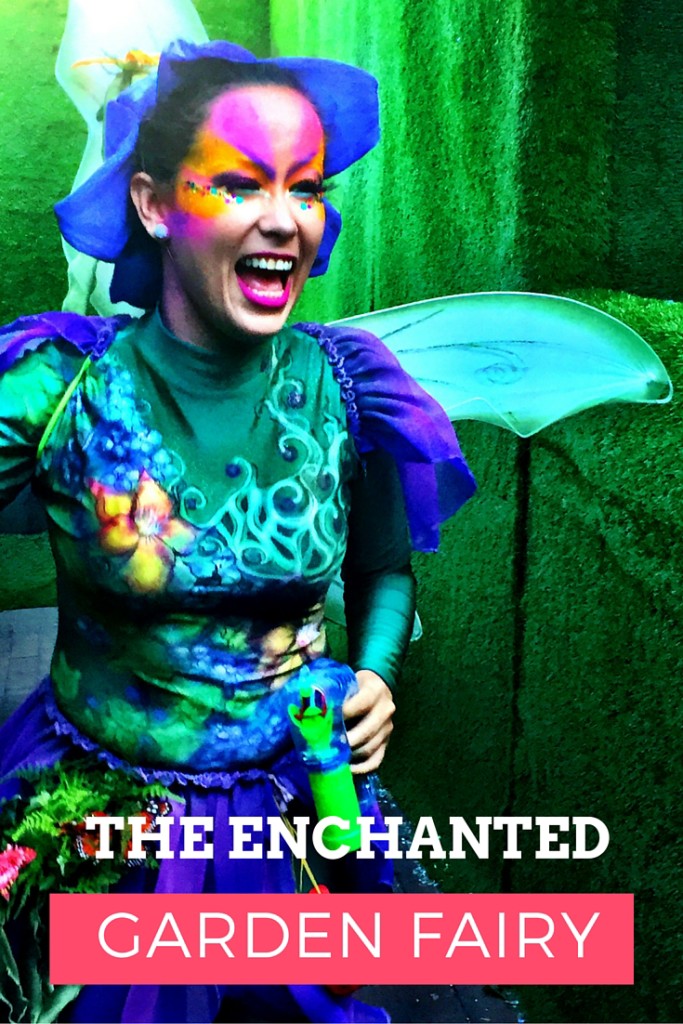 The Enchanted garden is just as you would imagine. fairies and lights and pixie dust galore! Have a look at our video and see just how whimsical the Enchanted Fairy Garden is.
For more information visit Chill on Facebook.