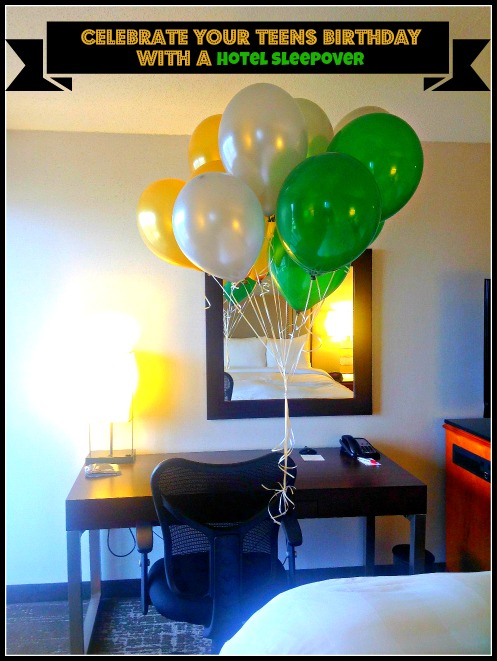 The Anaheim Marriott Sleepover
My oldest son turned 13 this week. I can't believe it, but I guess I have to accept it anyway. We celebrated his birthday with the best kind of teen party this weekend – We had a fun hotel sleepover with his best friend! It was such a hit that I know I will have to do something similar for my middle child next year. Being that we live so close to Disneyland and Anaheim has so much to do, it was an easy choice to pick the hotel. We are very loyal Marriott fans so we chose the Anaheim Marriott. I have never had a bad experience at a Marriott and this weekends sleepover only further solidified that.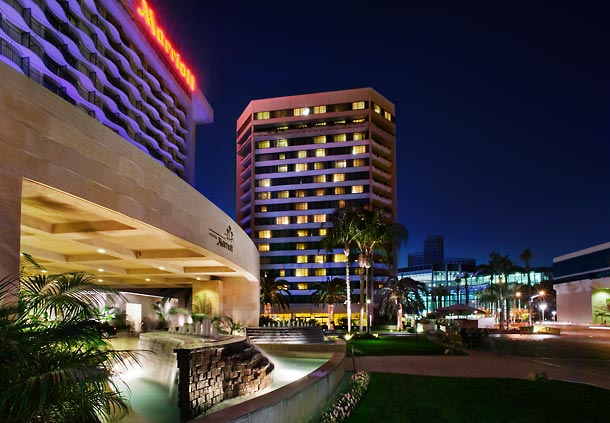 One of the great things about this hotel is it's proximity to Disneyland. The Anaheim Marriott Hotel is conveniently located in the heart of the city, directly across the street from the Anaheim Convention Center. Everything from parking to valet is a breeze and there are signs everywhere directing you where to do. There is even a beautiful courtyard in the middle where receptions can be held.
Prior to our arrival at the hotel I took my son to a late lunch at Bubba Gumps. We had an amazing meal and walked around the Garden Walk after. His friend was being dropped off that evening so we headed back to check in.
Check-In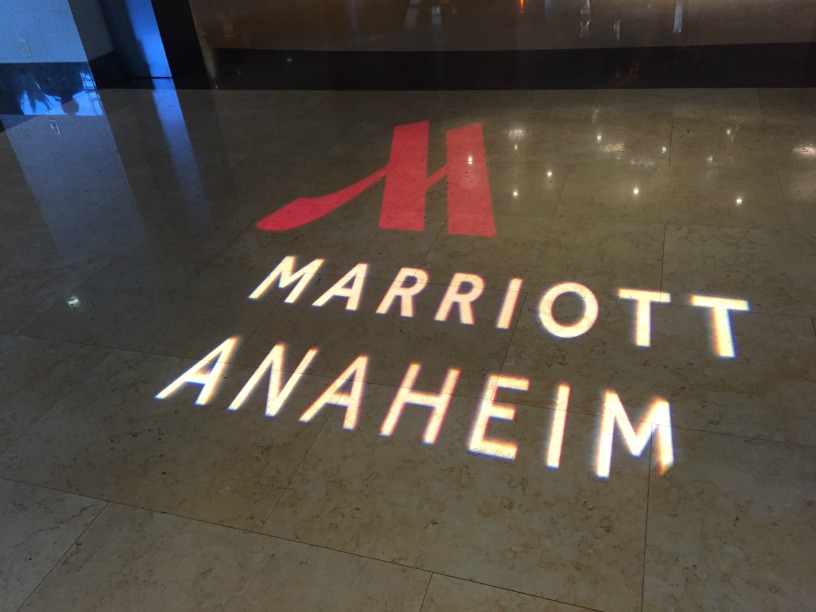 While my son was checking out the property I got us all checked-in. I couldn't believe how easy and seamless it was. The staff was super friendly and efficient. They were also very accomadating. I had mentioned that it was my my 13-year-olds birthday and asked if there was place nearby to grab some balloons. She told me not to worry and that she would take care of it. I got the feeling like she really wanted to make our stay special and I appreciated the genuine interest she took in us. My husband and I are Marriott Rewards Platinum members and they really go out of their way to make their elite members, as well as all of their guests, feel welcome.
Technology and an upgrade
The Anaheim Marriott hotel recently finished a $15 million renovation of its 1,300 guest rooms and suites, using lighter paints, pretty carpeting, new desks and mattresses, plenty of outlets and pretty photography on the walls. They also added some state of the art technology such as high-tech elevators.  You enter the floor number that you want on a key pad in the elevator lobby and it tells you which elevator door to go to.  Then you go to the elevator door and it opens right away to take you to your floor.  There aren't any buttons inside the elevator and it seems a little strange at first, but it is faster than a regular elevator.  Also, your room keys do not get inserted into the door. They are Radio Frequency IDentification cards so you just hold them up to the white box next to the door handle and it opens that way. Below is a video of how the elevator works:
Rooms
I reserved two adjoining rooms (a double and a king) so that my son and his buddy could have their own space. Plus I got my own room all to myself (hello bathtub and robe)!!! We did not go straight to our room after check in, rather we went to the gym to check out all of the equipment and have a look at the pool. When we finally did come back to our room we were happily surprised to see they had brought 13 balloons to the room. Not only did they bring balloons but they also brought a tub of popcorn filled with sodas, waters, candy and a voucher for a complimentary movie and pint of haagen dazs.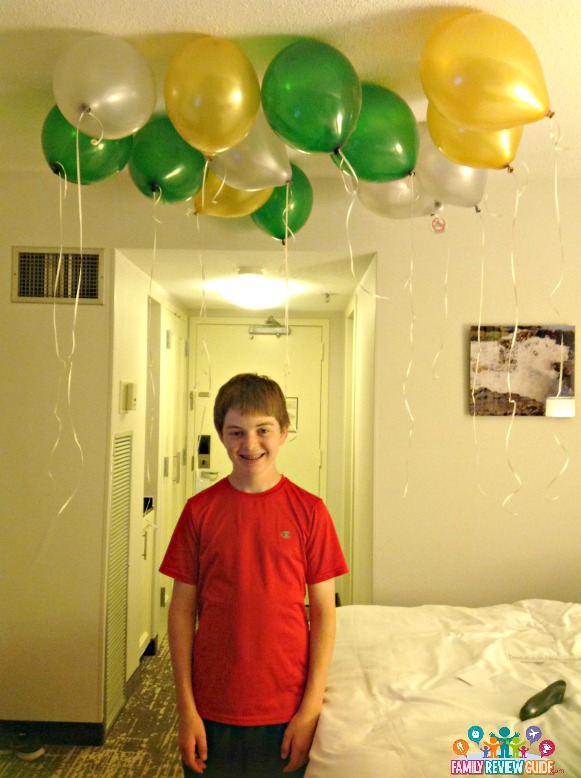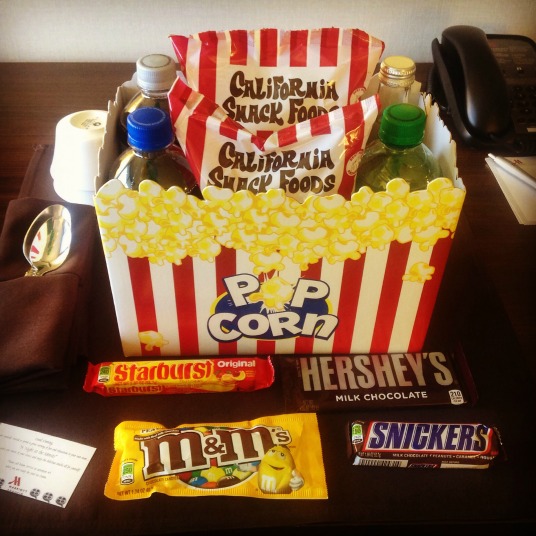 The 2 rooms were identical and had a beautiful balcony with endless views overlooking the pool. There was a huge TV and the room was spacious and clean.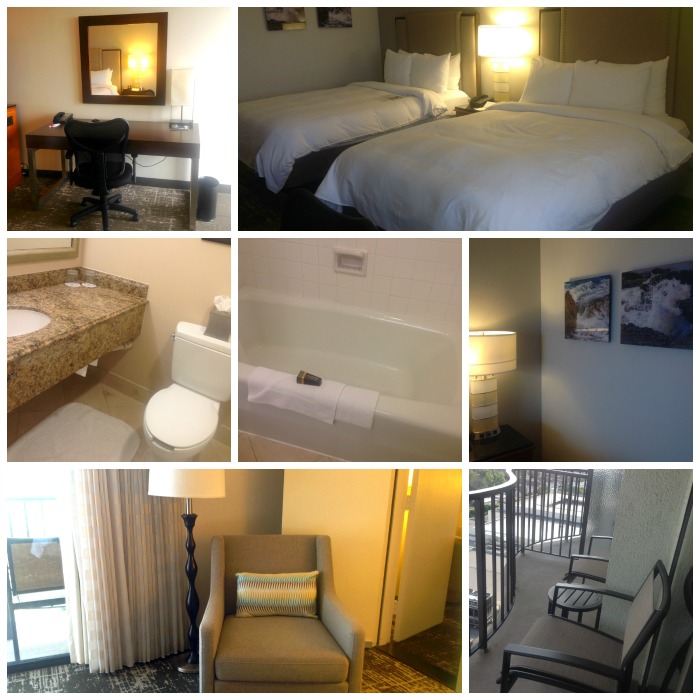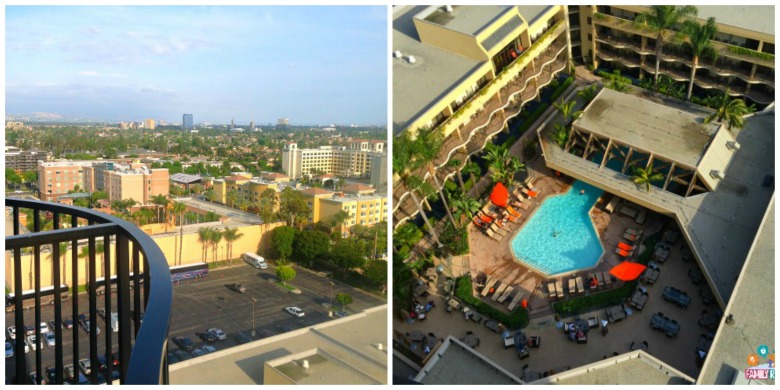 But before I go any further let me take a moment and preach to you about Marriott beds.  Sleeping on a Marriott bed is an unforgettable experience. Seriously, in my opinion you have not lived until you have slept on one. These pillowy, fluffy clouds are so comfortable and the linens are always bright, crisp and pure. I believe Marriott beds are the best thing in any hotel worldwide. Tell me you don't want to just plop down in one right now? I know I do. Actually, you can buy one of their beds online here. I just sent that link to my husband (I'll let you know what he says).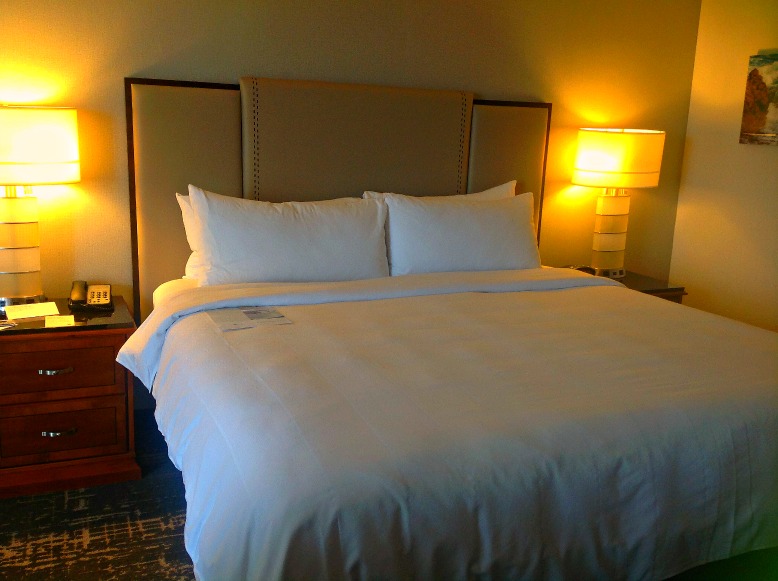 The Pool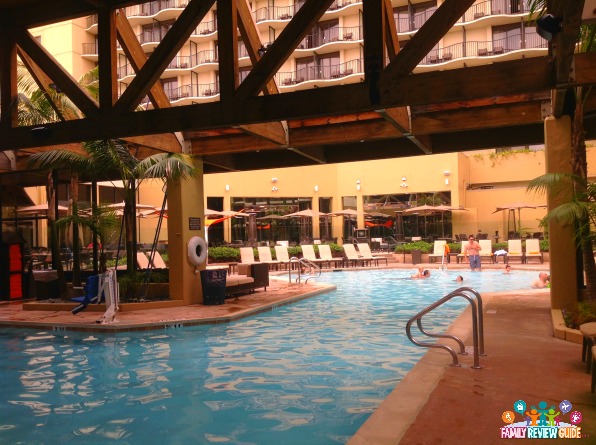 The boys had a blast swimming in the outdoor pool. The water temperature was perfect and there is a section of the pool that is covered which is great if you want to stay out of the sun. I sat in one of the plush lounge chairs while they played. The amount of laughter coming from those two was infectious!
After they dried off we got dressed and headed out to Downtown Disney for some Dinner and games at the ESPN Zone.  When we got back the boys dug into the ice cream they had left for us. Plus they sucked the helium out of a few balloons and cracked themselves up with their high pitched voices. They also had a pop corn toss, worked out in the gym, ran around the room like banshee's, had a pillow fight, told dumb jokes, stayed up til 2am and acted like teenage boys having a good time.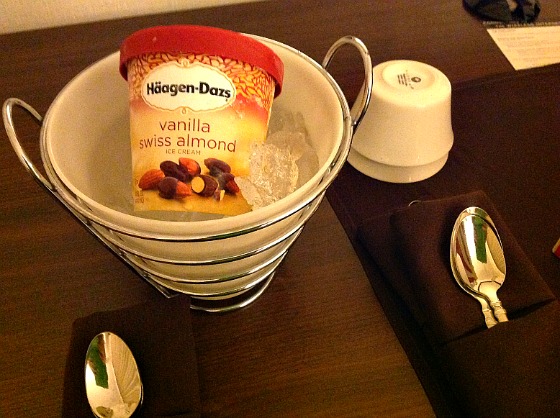 If you are really ambitious you can have a hotel scavenger hunt. I found this scavenger hunt from Moms and Munchkins and although we never got around to it, I think it would be really fun!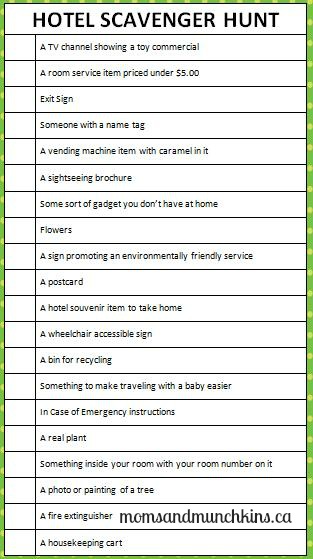 Concierge Lounge
After we woke up for the morning we headed to the Concierge lounge for a delicious complimentary breakfast. That is one of the perks of being a Platinum member. The concierge lounge also provides snack and beverages throughout the day. The breakfast buffet had pastries, bagels, toast, eggs, bacon, sausage, fruit, oatmeal, pancakes and all the toppings you could ask for. There was also a refrigerator with juices, milk, water, and soda.
The concierge Lounge is on the top floor so the view from the room is breathtaking. There is also a business desk with computers, a fax machine and more in case you need to get some work done.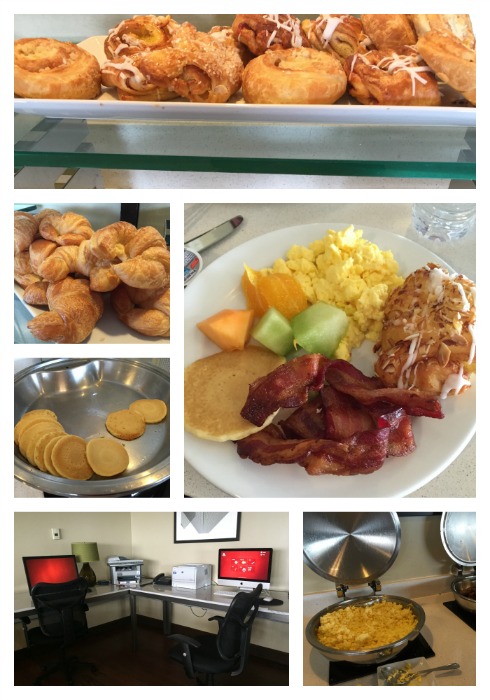 For those that are not Marriott rewards member, the hotel has a great restaurant called nfuse where kids 12 and under can eat for free with each paying adult.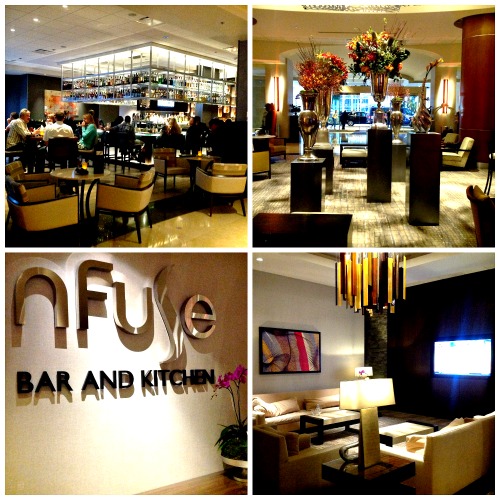 My son loved celebrating his birthday this way as it was unique and different and he enjoyed a change of scenery from the typical laser quest, trampoline party.  I also found this type of party to be much more simple and cheaper.
Here are some Tips for when you have your own Hotel Sleepover:
Tips for a fun party
Make a trip to the grocery store beforehand  to pick up some snacks for the room.
Ask upon check-in or even before then if there is anything special the hotel can do to make your overnight memorable
Bring some board games
Have a frank discussion with them about behavior and respect. A  hotel stay is SO much fun, but they need to be respectful of other guests in the hotel.
If you do not want to go out for dinner order pizza in the room (The Anaheim Marriott has a Pizza Hut and a Starbucks on their grounds)
I recommend no more than 2-3 kids. We only had 1
Have you ever had a fun sleepover in a hotel? Share with us.
For more information visit the Anaheim Marriott on Facebook and on Twitter.