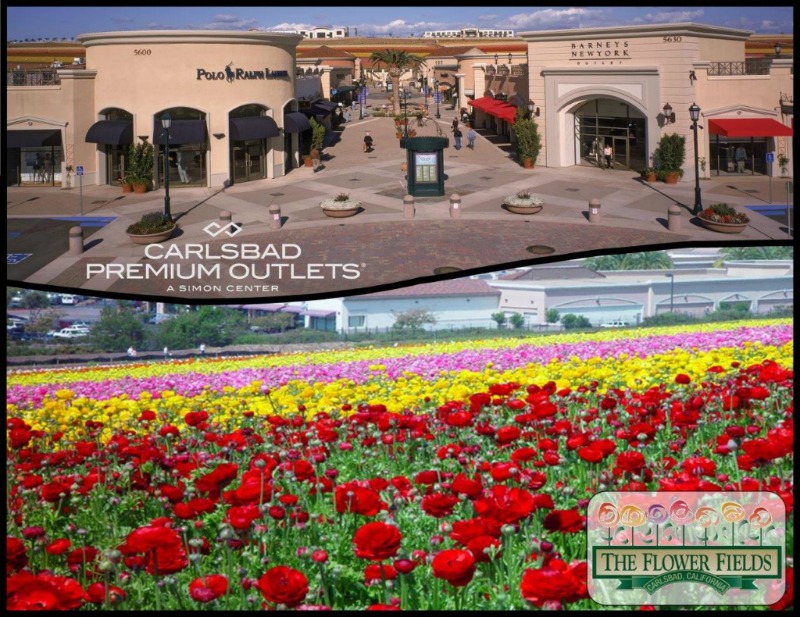 Carlsbad Creates a Season of Savings with a Breathtaking Backdrop
From beautiful blooms at The Flower Fields to price-saving purchases at Carlsbad Premium Outlets, you can get a double dose of beauty and fun just off the I-5 freeway.
These next-door neighbors may seem like the odd couple, but I beg to differ. They both blew me away; one by its sweet-smelling spring bloom, and the other by its tantalizing price-is-right draw. It's the perfect setup for some serious retail and aromatic therapy.
The Flower Fields
From March first through May eighth an explosion of color befalls Carlsbad, Calif. when 50-acres of Giant Tecolote Ranunculus flowers bloom for 10 weeks on a hillside overlooking the Pacific Coast.
Located halfway between Orange County and San Diego, this bountiful blend of beautiful blooms is a sight to be seen and a scent to inhale. For more than 30 years The Flower Fields has boasted one of the largest ranunculus cut flower and bulb production operations in Southern California, and is the only one open to the public.
Red, yellow, green, blue and everything in between – colors you never knew existed – fill this luscious land and create a breathtaking backdrop for any and all selfies. It also serves as a pretty incredible wedding and event location.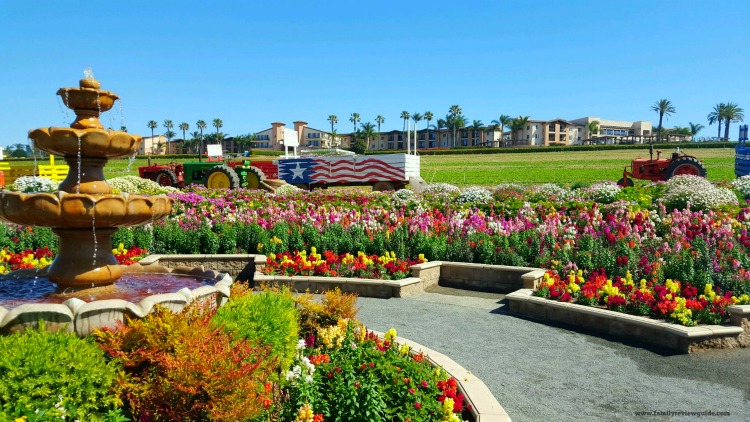 It is estimated that each seed sowed yields an average of 10 blooms, which equates to more than two million blossoms per acre. At the field's floral peak, there are more than 80 million flowers waiting to welcome visitors from places near and far. To keep the flowers fresh and to maintain supply and demand, bulbs are planted every two weeks on three and a half to four acres.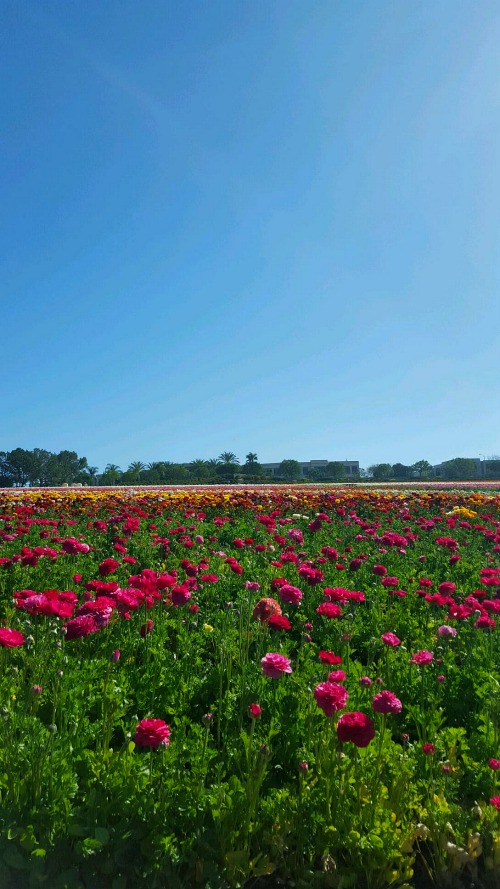 For me, the highlight of my flower-filled adventure was the American flag plot. At nearly 279 feet long and 147 feet wide, The Flower Fields is home to an American flag that blooms with nearly 19,000 red, white and blue petunias across a one-acre plot. This floral masterpiece has been planted every year since September 11, 2011, and is a tribute to the memory of those who were lost.
Kid Stuff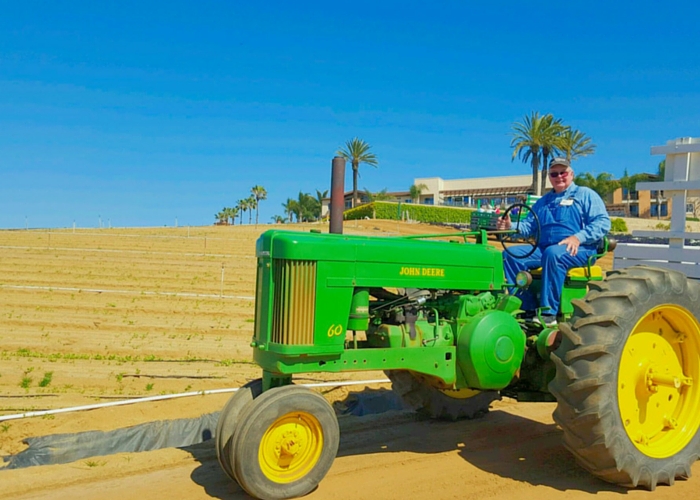 Kids can star in their own mining adventure at Carlsbad Mining Co., set inside The Flower Fields, where they will sift through five pounds of dirt to discover the semiprecious treasures that await (guaranteed). They can also climb, hang and slide their way through Santa's Playground or navigate their way through the Sweet Pea maze. The entire family can also take in the sights aboard an open-air wagon pulled by an antique tractor while listening to The Flower Fields' history via audio commentary ($5 for adults, $3 for children 3-10).
Admission:
Adult – $14
Seniors (60+) – $13
Children (3-10) – $7
The Flower Fields are open to the public seven days a week from 9 a.m. to 6 p.m.
A Brief History from The Flower Fields' Website
Today, the fields are a direct result of over 85 years of floral cultivation that began when Luther Gage, an early settler, and grower settled in the area in the early 1920's. Mr. Gage brought Ranunculus seeds to the area and began growing them in his fields next to Frank Frazee's small vegetable farm in South Oceanside. This started a business called "Luther Gage Giant Tecolote Ranunculus bulbs." The name "Tecolote" came from the owls that nested on his property.
And you know I couldn't leave you without this little bit of advice: Take time to stop and – literally – smell the flowers. It's worth it.
Carlsbad Premium Outlets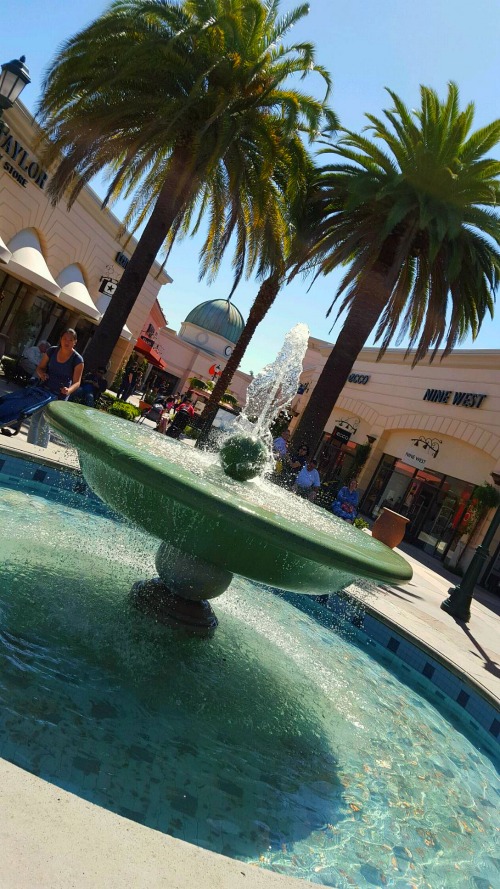 Oh, Carlsbad Premium Outlets…how do I love thee? Let me count the ways…
While perusing the perimeter of the Carlsbad Premium Outlets looking for the best spot to enter, I began to think of my favorite childhood jump rope game: Double Dutch. "Which outlet entrance was safe to enter? Would I be hit with stores I could not resist, or prices I couldn't pass up?" I decided the best idea was to create a strategy and budget, then formulate a plan of attack that I could execute with precision.
Want to guess how long that lasted?
Armed with incredibly comfortable walking shoes, cash I allowed myself to use for purchases, and an emergency "fashion" credit card kept hidden deep in the depths of my purse (to be used in case of only the most severe fashion must-have emergency), I took a deep breath…and stepped inside.
Somewhere between Barneys New York, Coach, and Kate Spade, my cash flow spontaneously combusted and my emergency funds stepped into play. With three stores down, I dusted myself off and headed back into my wardrobe wonderland where only 87 stores were left to conquer. Seriously.
At some point in the day, I had to stash my card for fear of another combustible episode, so I made my way down to Blaze Fast Fire'd Pizza. Here, my credit card cooled off and somehow I mustered the strength to order an "Art Lover" pizza – with pepperoni and extra garlic, naturally – and asked the cashier what the wait was like. "Three to five minutes," she replied. It was at this point I realized that I was much more delirious from shopping than I had originally calculated. I asked her to repeat herself, and her answer was the same. Sure enough, about five minutes after putting my pie in the oven, it was sitting on my table, itching to get in my belly.
The rest of the day went by in a haze; the next thing I knew, Nike, Michael Kors, The Disney Store and more had infiltrated my shopping schedule and left me begging for more. With the soles of my shoes running clear down to my socks, I decided it was time to call it quits for the day. Don't get me wrong – I most definitely will be back. Most likely to tackle ASICS and Under Armour first to stock up on gear that will better equip me for the adventures that await during my next visit!
Now, while the judges are out on whether I may or may not have developed an unhealthy obsession with the outlet center (my wallet said "NO!" but my head said, "Yes! Buy one of everything, in every color imaginable!"), I did manage to pry myself from the clutches of that fashion-packed place on my own accord to make the uneventful hour-long drive home.
It was worth every minute of the trip.
*For those unfamiliar with the semi-torturous game, the setup is like this: two "friends" whip two jump ropes back and forth, while you try to find an opening that won't leave you, well, whipped.