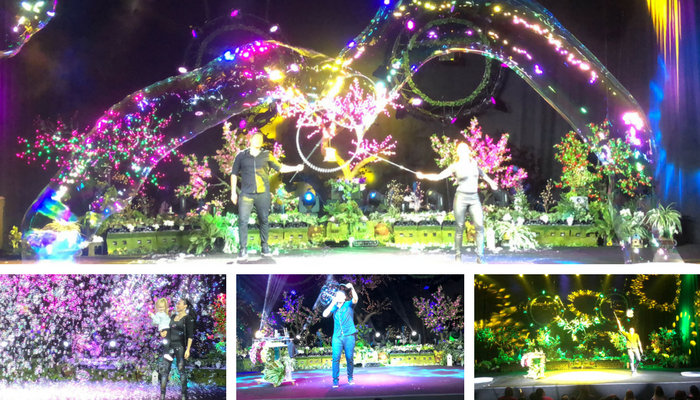 Spring break is in full swing so get some air and head over to The Discovery Cube to see the best show in OC- Bubblefest! This annual bubble extravaganza features interactive bubble exhibits, Bubble Artist Deni Yang, his sister Melody Yang, and the Mega Bubblefest Laser Show. The festival is open daily beginning March 24 through April 8.
Bubblefest Activities
The "Mega Bubblefest Laser Show," featuring world famous bubble artist Deni Yang and his sister, Melody Yang.
The bubble packed "Bubble Zone"
Bubble lab with science lessons on: surface tension, elasticity, hexagonal bubbles and more!
Giant-sized water spheres allowing guests to "walk on water"
Cube Jr. Playground with obstacle courses and mini bubble making stations
Water Sphere Zone
Watch your kids walk on water inside these cool water spheres. This line gets long so do this one early!
BubbleZone Activities
Learn about gravity and buoyancy with  Bubble Zone Teachers! Kids can also blow giant bubbles and do bubble art.
Watch Bubble Fest Show
WHEN: Bubblefest runs daily from March 24 through April 8, 2018. There are four Mega Bubblefest Laser Shows daily: 11:00am, 12:30pm, 2:00pm, 3:30pm.
WHERE: Discovery Cube Orange County – 2500 N. Main Street, Santa Ana, CA 92705
WHY: Discovery Cube inspires and educates young minds through engaging science-based programs and exhibits to create a meaningful impact on the communities they serve. Their mission is brought to life through the cornerstones of their four core initiatives, including: STEM Proficiency, Early Learning, Healthy Living and Environmental Stewardship. This event represents their evolving commitment to expand STEM proficiency by creating dynamic and entertaining ways to educate and stimulate young minds.
Get Tickets Here
Tickets for Bubblefest are not included with General Admission. For Bubblefest tickets and information, please visit oc.discoverycube.org.