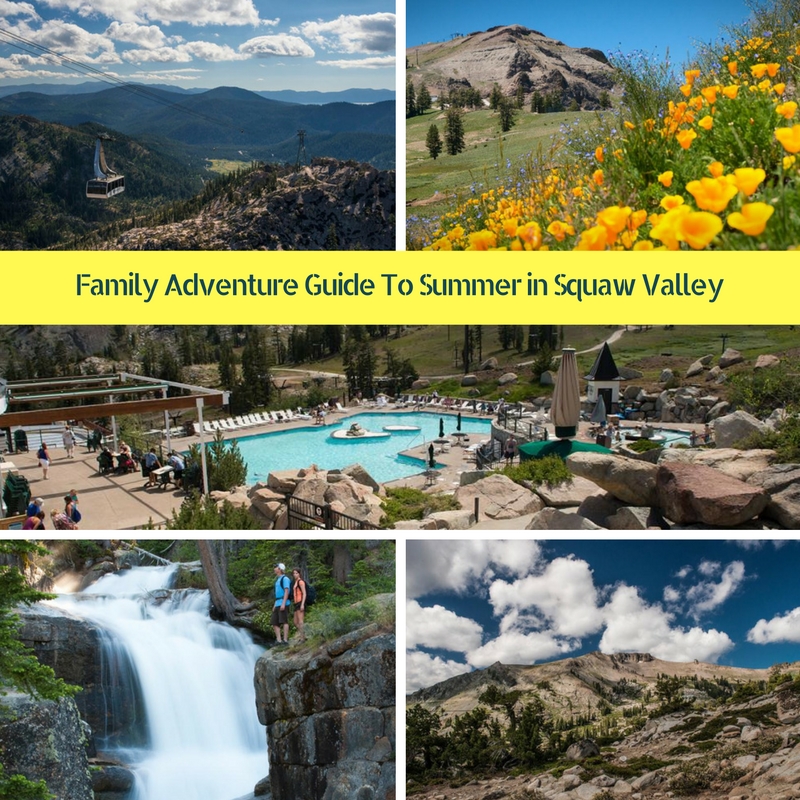 Located off Highway 89, between Truckee and Tahoe City, on the North Shore of Lake Tahoe, lies a gorgeous mountain resort called Squaw Valley.  Squaw Valley offers an amazing selection of activities for the whole family, even when the mountains are not blanketed with snow.
Adventure awaits you with over 10 outdoor activities that are fun, therapeutic and suitable for nearly everyone in your family!
Let's start with taking the Tram to High Base Camp because there are several activities and you can spend the entire day up there. High base camp is a mountaintop playground for the whole family!
Aerial Tram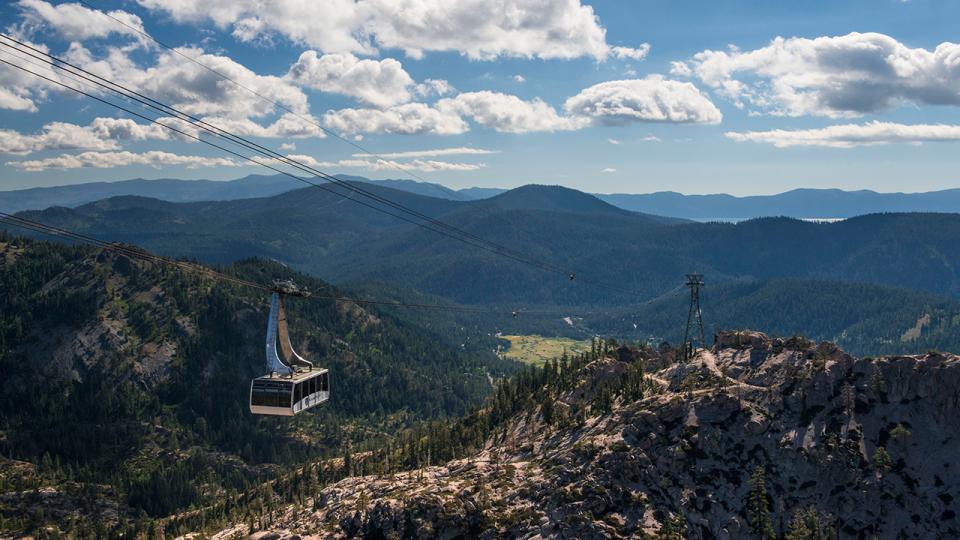 Video of Tram Ride
In order to get to high base camp you will need to take the Aerial Tram. This panoramic 10 minute ride climbs 2,000 vertical feet and soars above a mountainscape of granite rock, waterfalls and the iconic Tram Face.  Once you reach your destination at High Camp, located at 8,200′,  you will breathe in the fresh mountain air and immerse yourself in the High Sierra.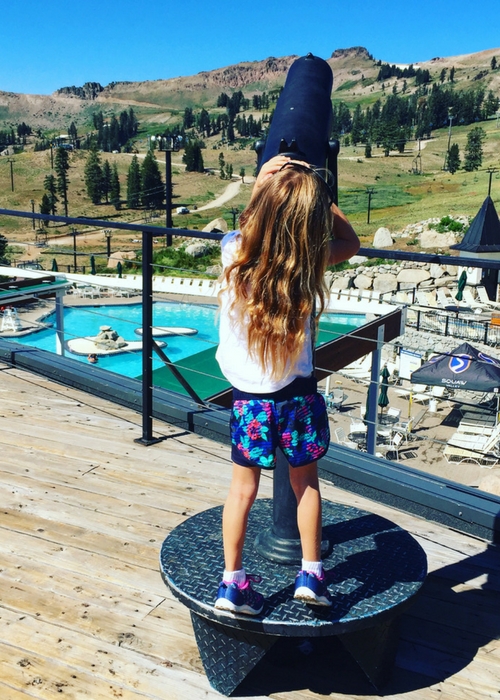 Now that you are at high base camp lets talk about all the fun activities. First up is Roller skating! Kids and adults alike will love feeling the wind on their face as they skate at the top of the valley. The skating arena offers unmatched panoramic views of the Squaw Valley Meadow, beautiful Lake Tahoe and the surrounding Sierra Nevada mountain range.
Roller Skating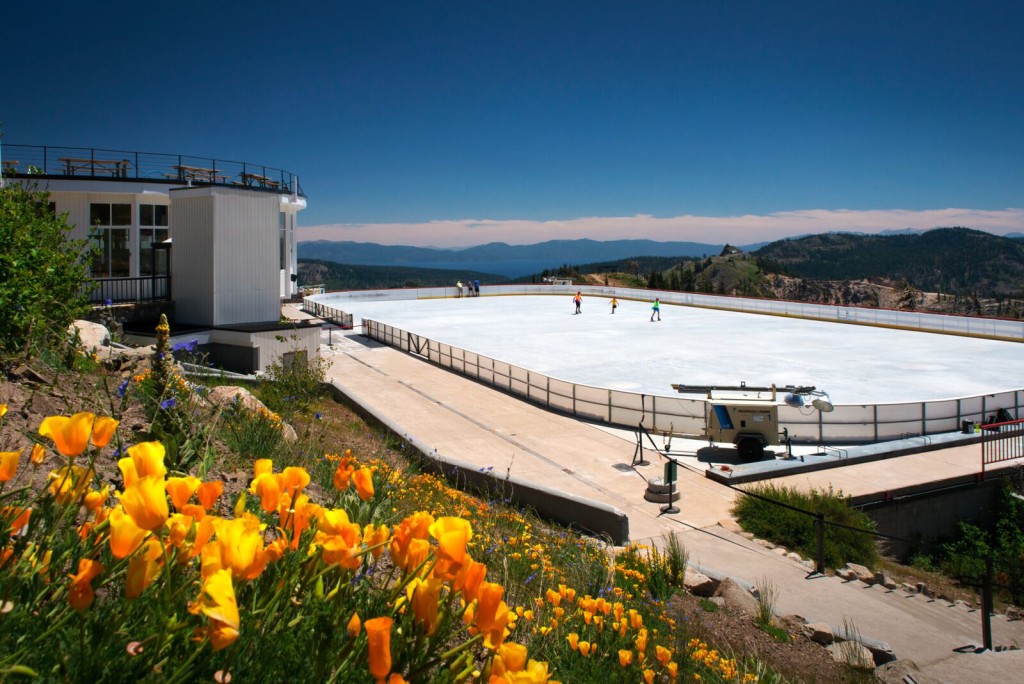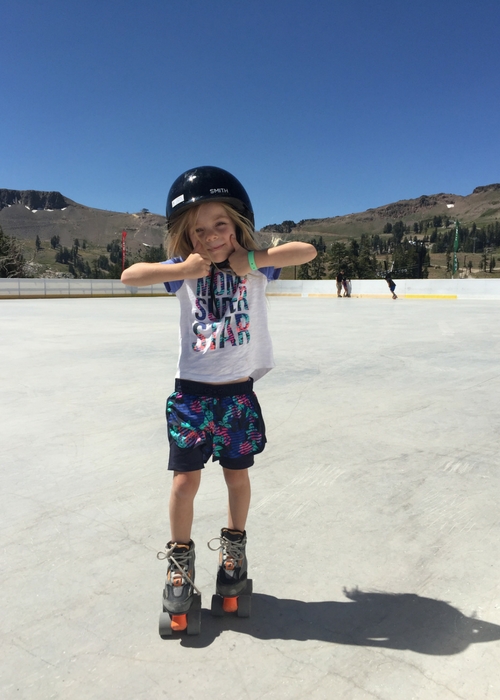 Video of The Skating Arena
Next up is the High Camp Pool and Hot Tub. Soak up the sun at the beautiful oasis in the sky. There are changing rooms, and a bar, and 1 towel is included with entry. Our kids were enrolled at Squaw Kids (more on that in another post) and the counselors were extremely vigilant about watching them in the water.
High Camp Pool and Spa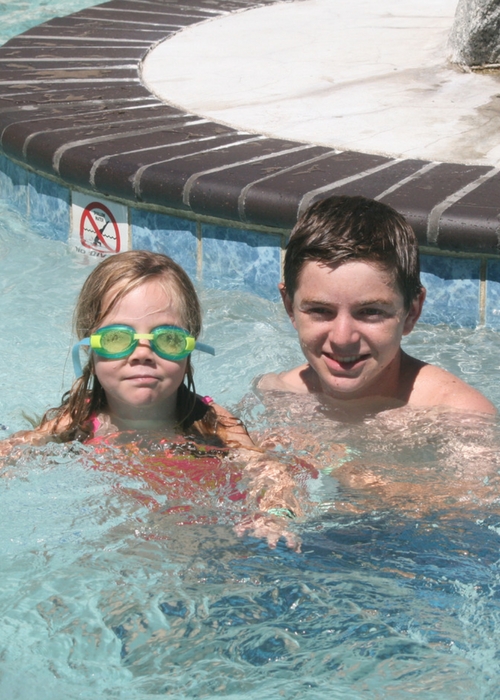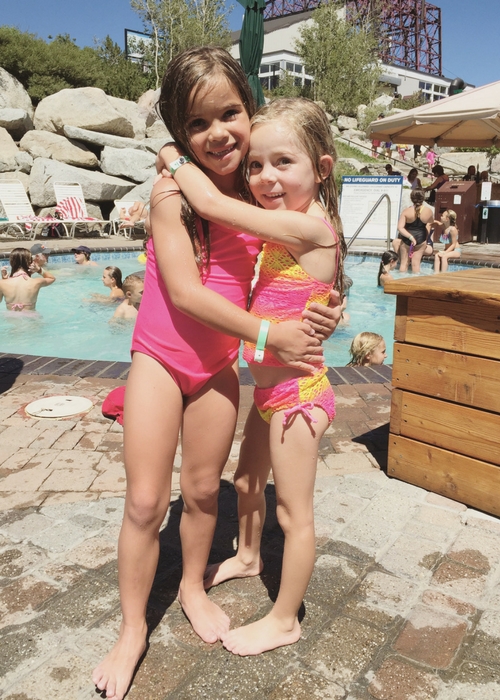 Blogger Tip:  Get a waterproof case for your cell phone if you do not want to bring your DSLR. They are inexspensive and you can take pics without worrying about your phone getting wet.
Olympic Museum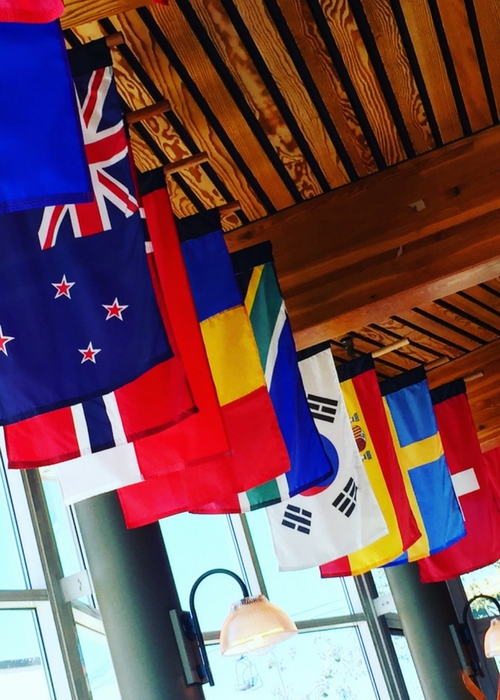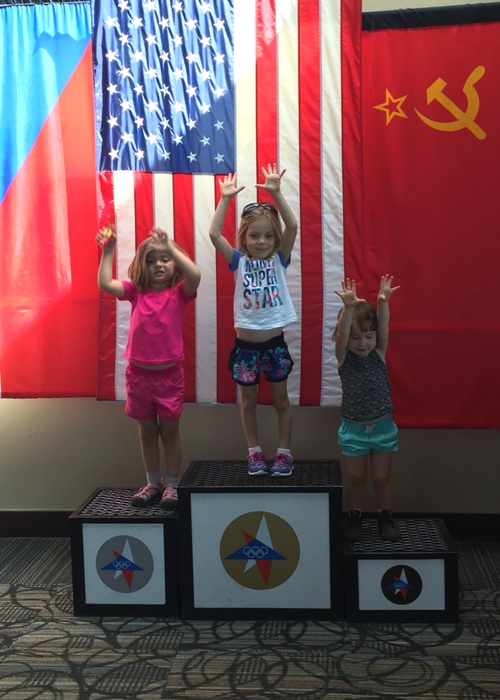 Take a trip back in time and learn about the 1960 Winter Olympics that took place at Squaw Valley. The recently renovated Olympic Museum, located at High Camp showcases a unique collection of memorabilia, news articles and video presentations detailing the many magical moments that took place at Squaw Valley. Admission is free with your Aerial Tram ride.
Other Activities at High Base Camp:
Activities at Low Base Camp
Now, lets visit some activities at Low Base Camp.  There is so much exciting stuff to do at the base of the Village that you may even need 2 days to do it all.
Ropes Course
If there is only one activity you do during your stay in squaw Valley, please please please do the ropes course. It is the single most exciting and challenging activity I have done on vacation in a very long time. You can conquer your fears on this course and really get to know yourself.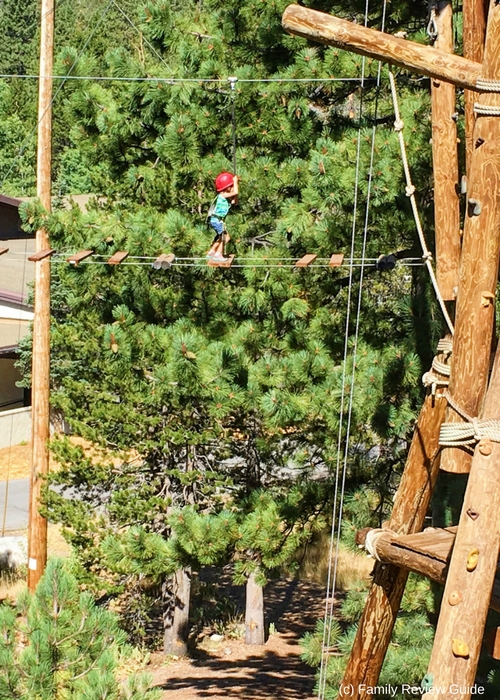 You see that red speck up top in the picture? That is my 5 year old daughter conquering the ropes course like a boss! She had no fear and was really proud of herself. The minimum age is 5 so if you have kids under 5 they cannot participate but there are other things for them to do.
Blogger Tip: Invest in a gopro camera for this trip.  This kind of vacation is what go-pros are made for. (action, adventure, etc..) You can mount it to your helmet for first hand footage.
Dates:  Open Daily June 21 through September 1, 2014. Open May and October for groups of 8+ by reservation.
Hours:  2 hour sessions start hourly from 9 am to 5 pm daily
Price:  Youth 5-12 $40, Adult 13+ $50
Video of Ropes Course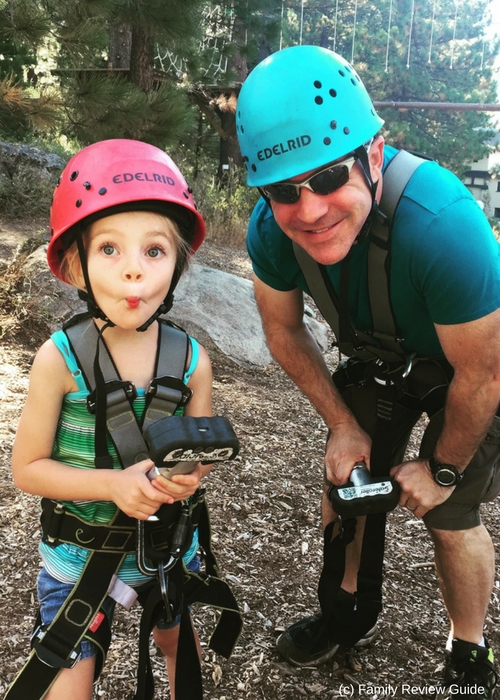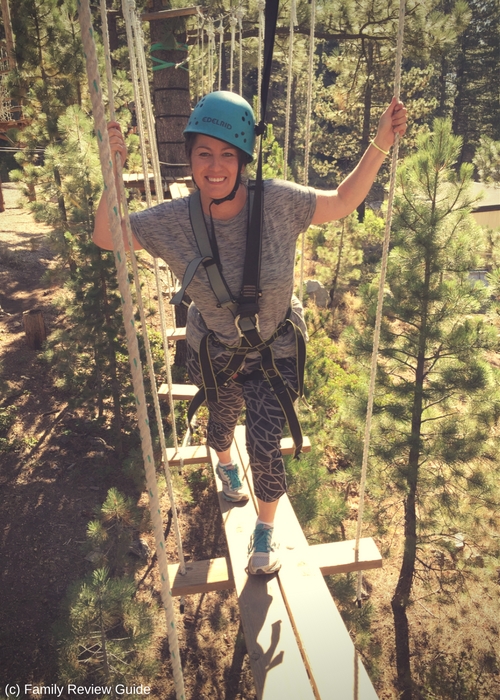 Miniature Golf
This one-of-a-kind 18 hole miniature golf course winds throughout the Village at Squaw Valley. Custom built for the Village at Squaw Valley, this course is open during the summer and incorporates many of the fun elements from other courses and fits perfectly into the beautiful scenery in Squaw Valley.
Fun for the kids and challenging for adults, try a round on this course!
Sky Jump Trampoline
The Sky jump is a great activity for anyone between 20 and 220 lbs. All ages are welcome. The friendly staff gives tips and pointers to anyone wanting to learn how to do a front or back somersault.
Video of Sky Jump
Hiking
There are easy to moderate, and moderate to difficult hikes from Base Camp. We took three kids ages 14, 10 and 5 on a two mile hike up some rocky terrain and saw a spectacular waterfall. It is such a nice way to breath in the fresh mountain air and take in some beautiful sightseeing.
If your kids are at Squaw Valley Kids Summer Camp, the counselors there may even take your kids on a hike. They are so patient and playful with the kids.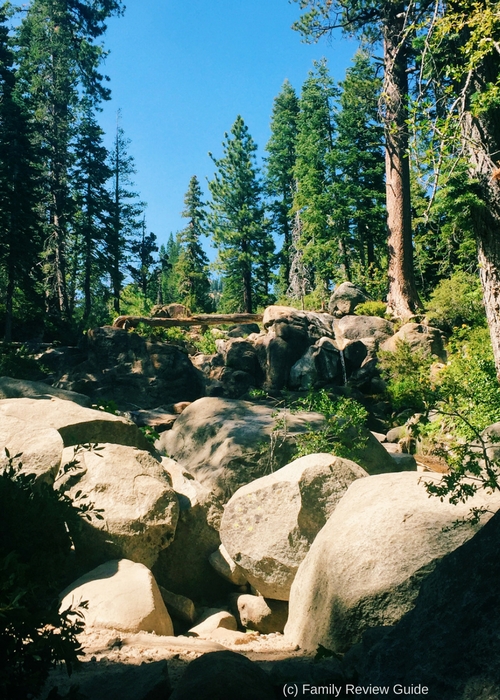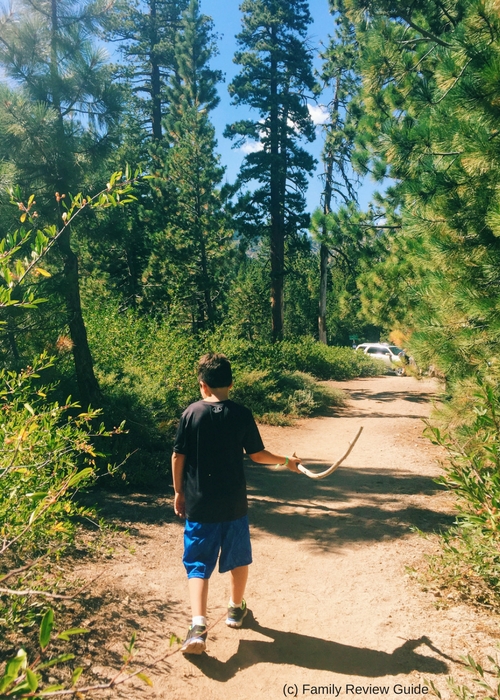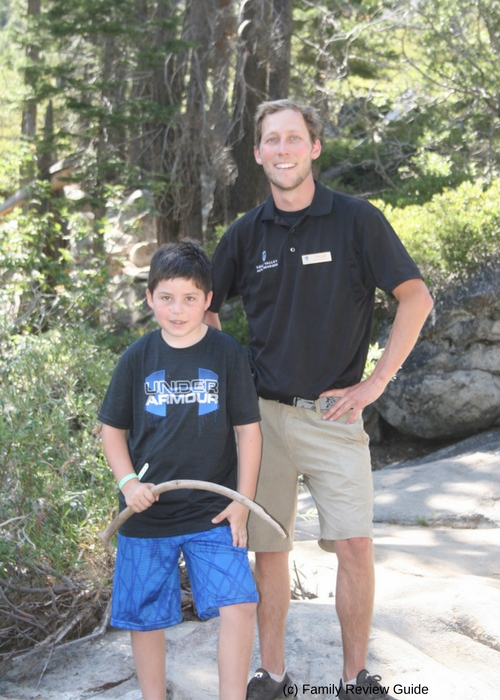 Other Activities at low base camp:
For more information about Squaw Valley/Alpine Meadows visit them on Facebook and on Twitter.