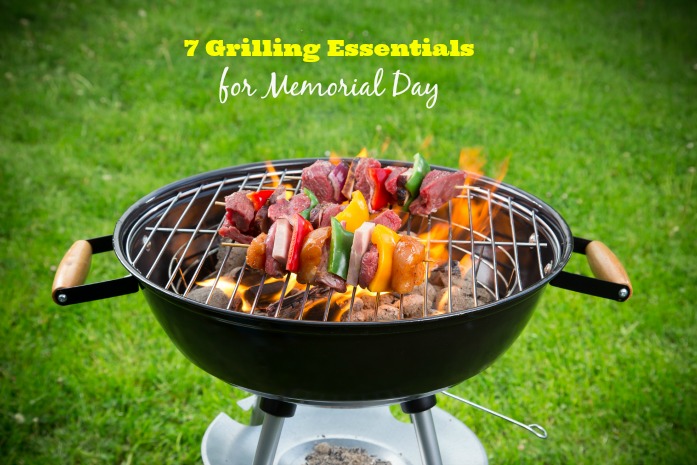 One of my favorite things to do on Memorial Day is grill. Whether it's in my backyard, or a campground, or by the pool nothing makes it feel more like a holiday than a good ol' BBQ. Give me some steak,chicken, and veggies and I'll make you a meal that will have you asking for seconds.
Recently while shopping for grilling stuff I made a list of several grilling essentials I think everyone should have.
1. Weber One Touch Silver Charcoal Grill from Walmart – The ultimate grill for BBQs both big and small.
2. Sweet Baby BBQ Sauce from Soap.com – Meat, meet your new best friend, the fastest growing BBQ sauce in America.
3.Ladder Ball Game Set from Meijer.com – What's a BBQ without lawn games?  Get the party started with a friendly game of ladder golf (water hazards not included).
4. Iced Tea Maker from Macy's – The perfect way to stay cool and hydrated on a warm summer day.
5. Pizza Stone with Stainless Steel Frame from Sur La Table – Not all BBQs have to begin and end with burgers – I love this pizza stone for making pies right on the grill.
6. Plastic Wine Glasses from Rakuten.com – A must-have item for any outdoor party that is often overlooked.
7. Cintronella Candles from Amazon – Keep the bugs away and the guests will stay!
For more great Memorial Day grilling ideas, be sure to check out my fellow Chosen Chix bloggers:
7 unique Memorial Day grilling recipes by November Sunflower
7 Easy Grilled Shrimp Kebobs Recipes by Philzendia
7 Things That I Want To Eat At Your Next BBQ by Another Day… Another Diaper…
7 Grilling Recipes to Sample this Summer by Happy Healthy Hip Parenting
7 Kid-Friendly Ways To Celebrate Memorial Day Weekend by Afropolitan Mom