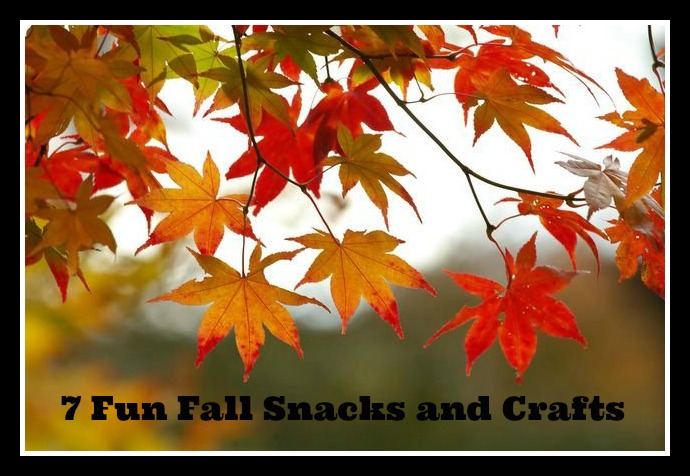 Fall is in full swing and it's the perfect time to bake with your little ones. If baking isn't your style we have also included a few fun crafts. Either way these activities will have you smiling.
DEEP SPACE CUPCAKES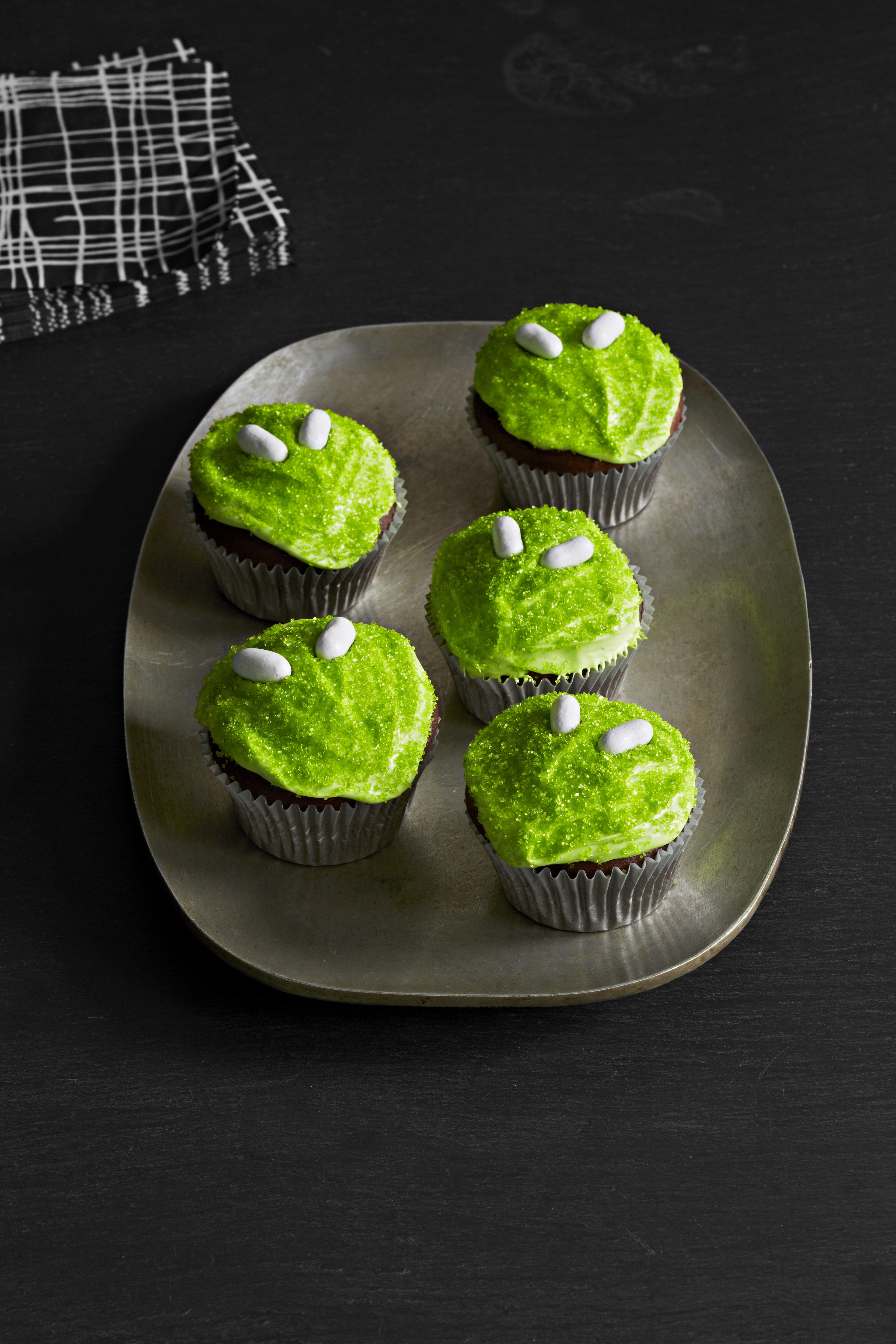 Credit: Family Fun Magazine
When these aliens invade a classroom party or family gathering, earthlings will cheer. To make them, prepare a batch of your favorite cupcakes. Tint prepared white frosting with green food coloring, then top each cupcake, using the spreader to form a pointy chin. Roll the frosted tops in a bowl of green sugar sprinkles. Add white Good & Plenty candies for the eyes.
PIZZA NIGHTMARINARA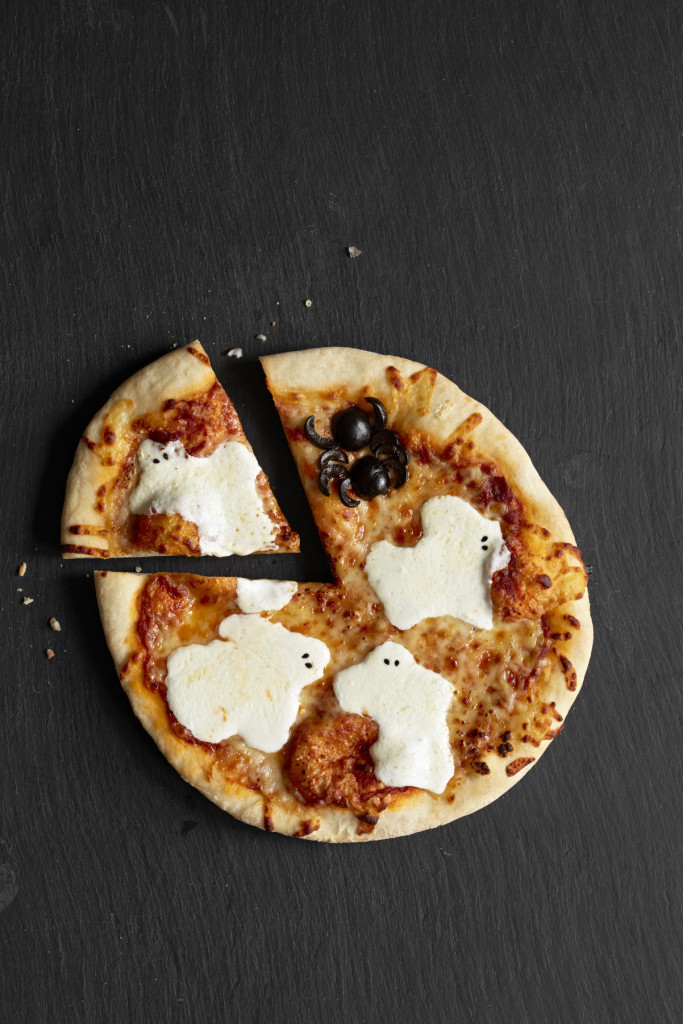 Credit: Family Fun Magazine
Here's a hauntingly tasty idea for Halloween dinner. First, top a premade pizza crust with pizza sauce and shredded mozzarella. To make the spider, cut a pitted black olive in half lengthwise. From another olive, cut 8 thin slices for the legs. Set the spider pieces in place (tweezers make this easy). Bake the pizza according to the instructions on the crust's package. Meanwhile, cut a ball of fresh mozzarella into ¼ inch-thick slices. With a paring knife, trim away bits of cheese to form head and arm shapes. With 3 minutes of cooking time left, set the ghosts on the pizza, then finish cooking. Remove the pizza from the oven and add bits of olives for eyes. Serve warm.
GREMLIN GRINS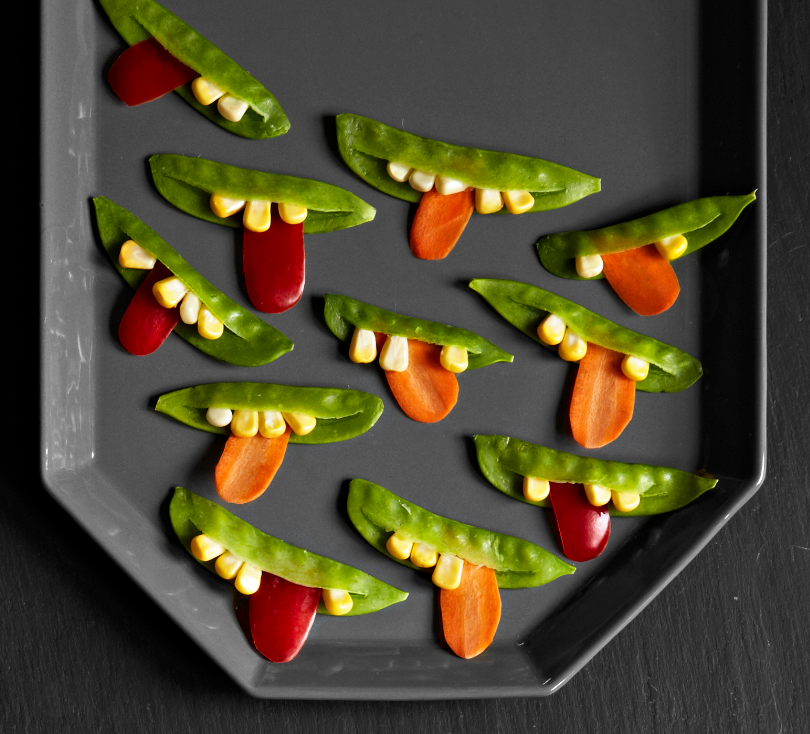 Credit: Family Fun Magazine
Counteract candy overload with this veggie-packed Halloween snack. To form a mouth, cut a slit along one side of a snow pea, beginning and ending about 1/2 inch from each end, as shown. Cut tongues from red bell peppers or carrots sliced on the diagonal, then slide them into the slit. Insert fresh or frozen corn kernels for teeth.
SPOOKY SUSHI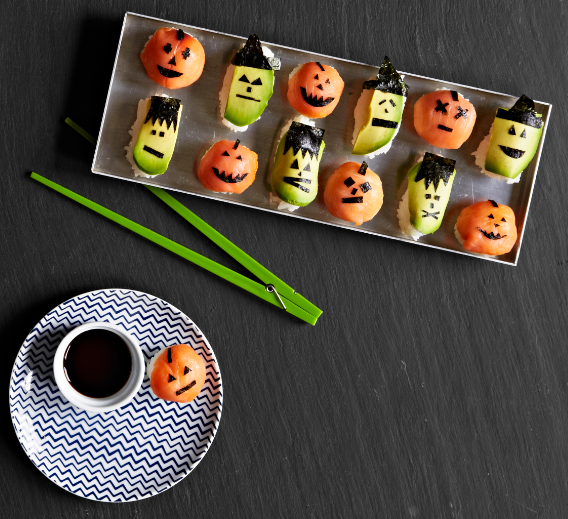 Credit: Family Fun Magazine
These monster morsels, topped with slices of smoked salmon or avocado, let your family enjoy a feast of sushi without a scary restaurant tab. Serve them with soy sauce for dipping. (Specific ingredients and directions available upon request.)
SPEWED FRUIT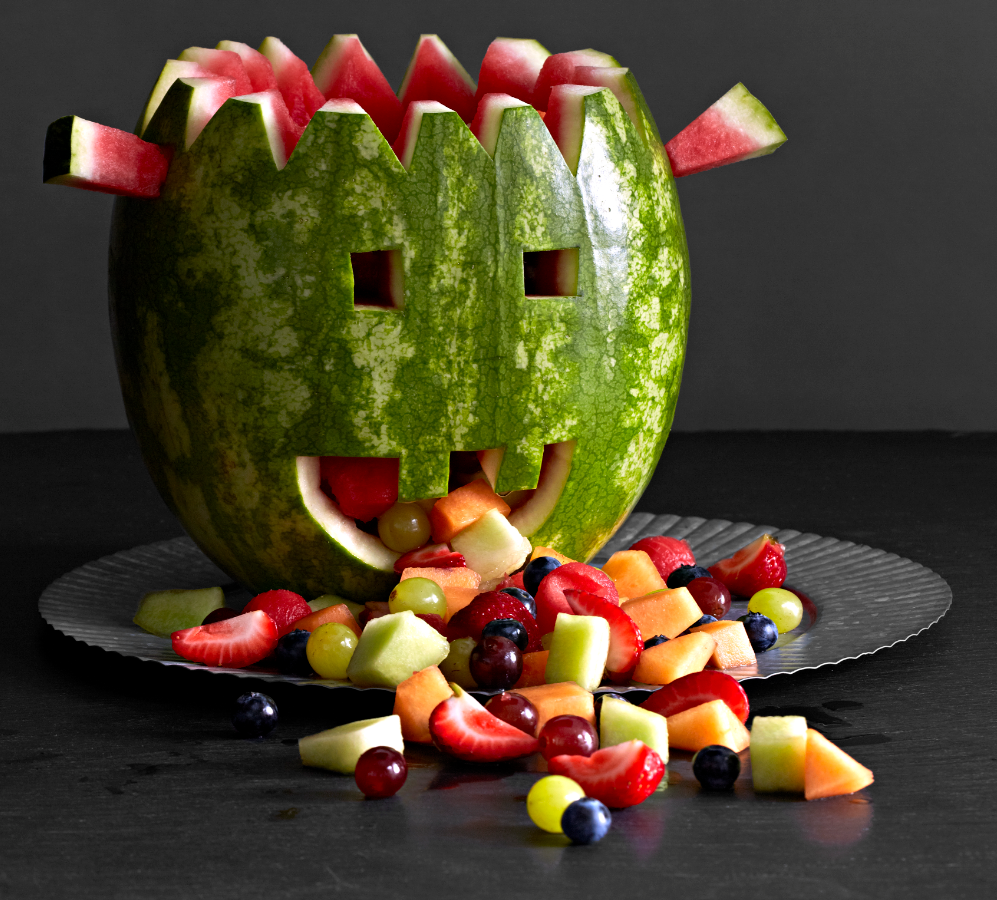 Credit: Family Fun Magazine
Let this melon monster make a scene at your Halloween bash. To create it, cut open one end of a watermelon and scoop out the flesh with a large spoon or melon baller. Trim a zigzag edge along the top, and cut eyes and a mouth. Add horns by securing leftover melon pieces with toothpicks. Fill the head with bite-size fruit—we used melon cubes, sliced strawberries, blueberries, and grapes—and add more pieces spilling out of the mouth.
Cat Lights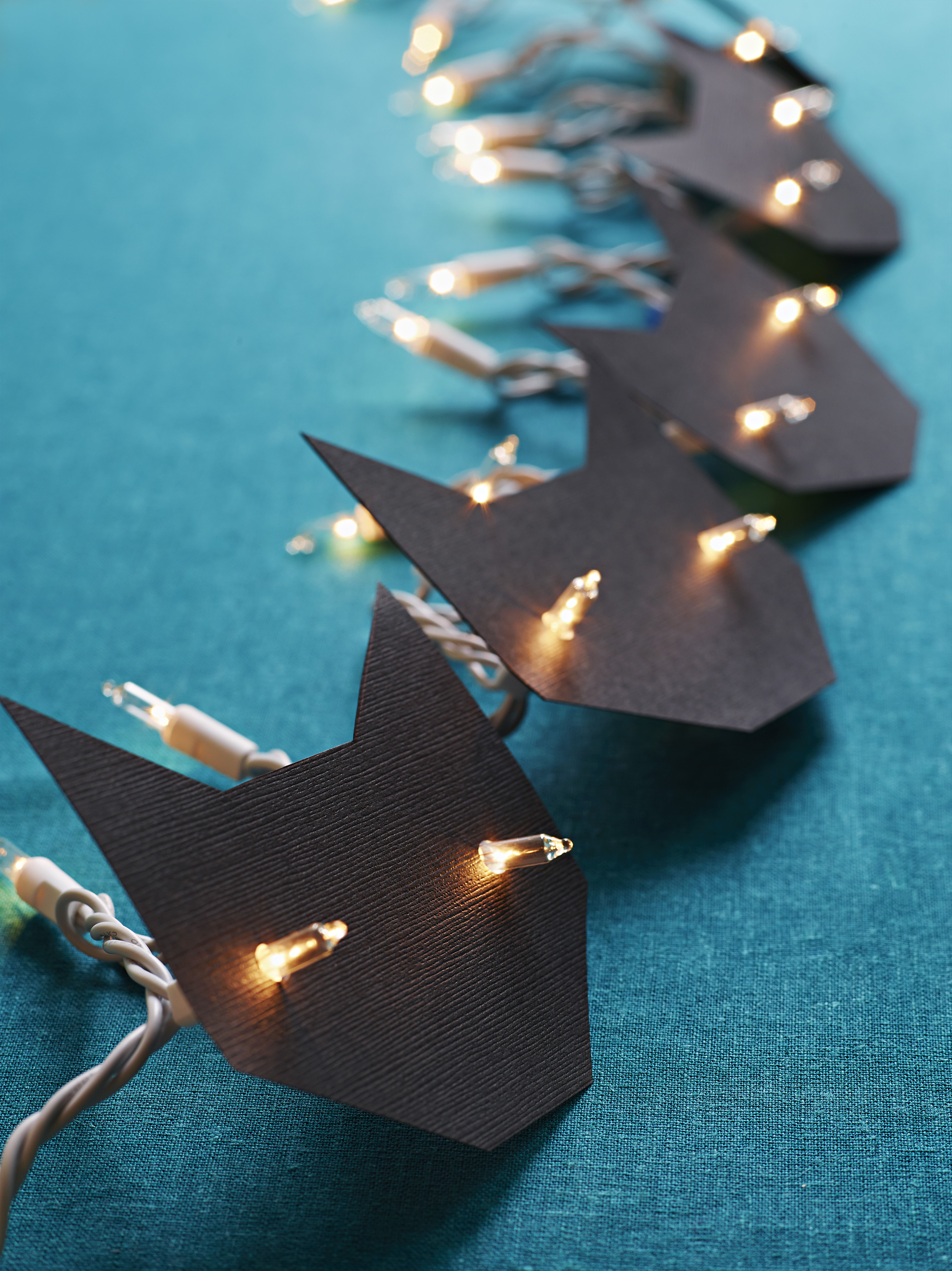 Credit: Family Fun Magazine
These cat light are the perfect thing for your fireplace mantle. Download a template from FamilyFun magazine (familyfunmag.com/printables) and trace the cat-head shape onto black card stock (marking where the eyes are). Cut out several heads and use a hole punch to make the eyes. Insert bulbs from a string of electric lights into the holes. Laminate the black-cat cutouts against weather, or hang the lights indoors so they're viewable from outside.
Monster Craft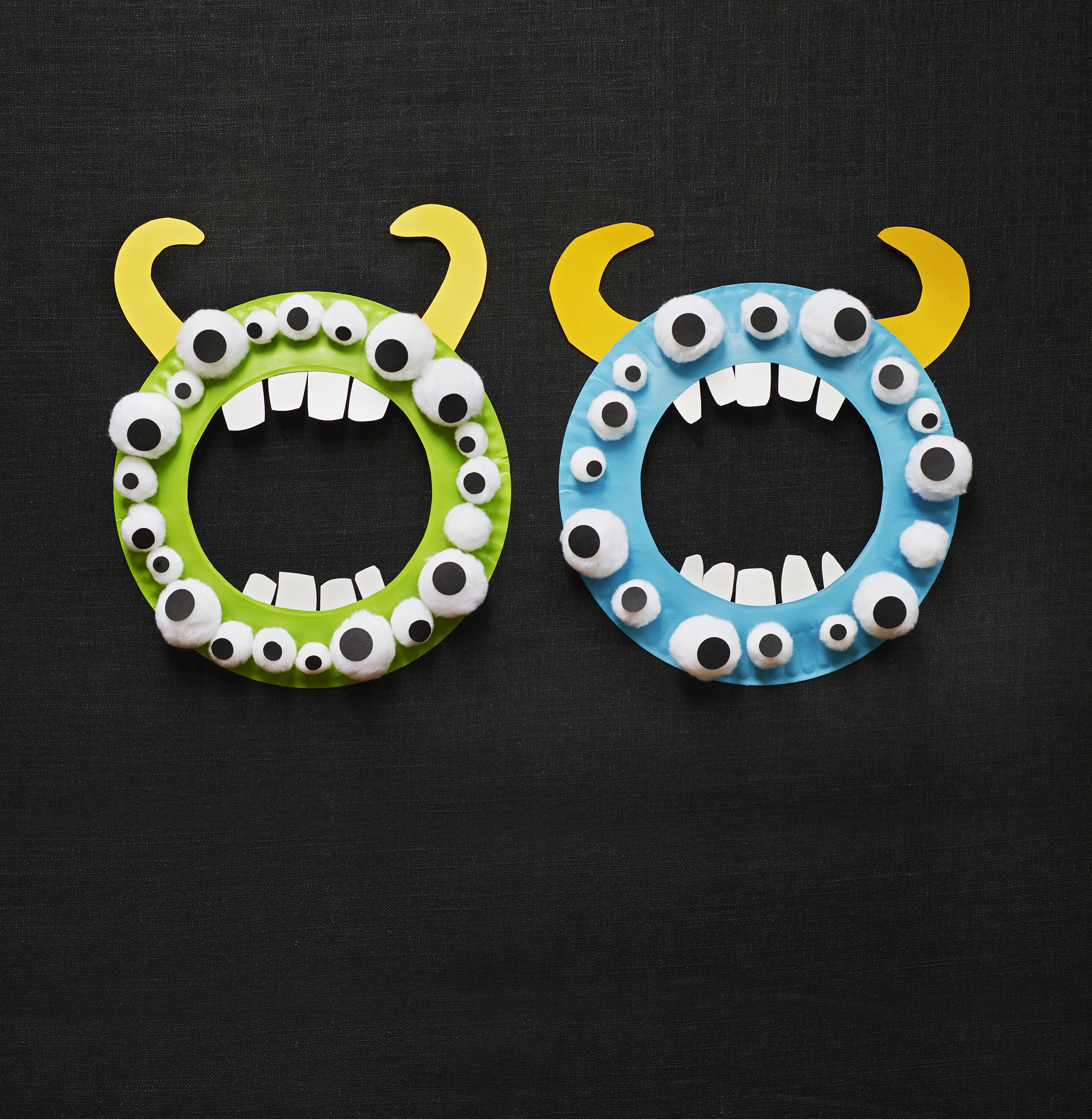 Credit: Family Fun Magazine
This monstrous wreath will keep an eye (or ten) on your kids. Cut the flat center from a plain white paper plate. Cut teeth from the center. Paint the outer piece of the plate and let it dry. Glue the teeth to the inside of the ring. Glue on white pom-poms, then glue black paper circles for pupils on the pom-poms. Cut out and glue on two yellow paper horns.
For more great posts about fall, be sure to check out these awesome posts written by my fellow Chosen Chix bloggers:
;