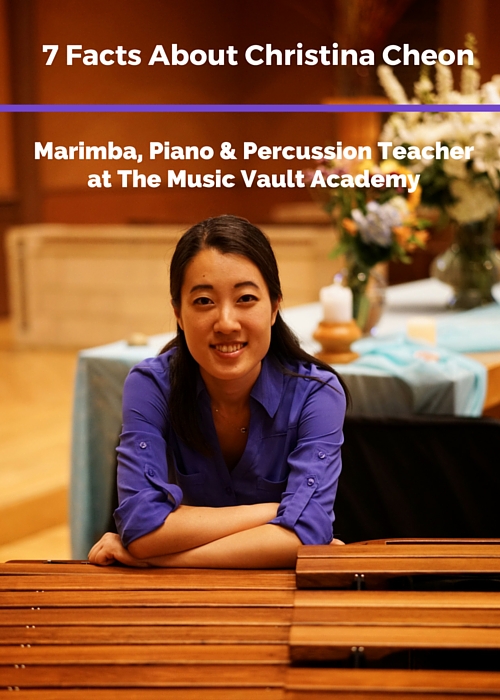 Christina Cheon is The Music Vault Academy's newest Instructor. She teaches Marimba, Piano and Percussion. Based in Orange County, California, Christina has won multiple competitions and awards such as the first prize of the 2014 Sigma Alpha Iota Scholarship Competition in Pasadena, CA, the scholastic grand prize of the 2009 Southern California International Marimba Competition, and many many more!
Here are 7 facts about Christina:
Christina has had six years of music teaching experience ranging from proficiency on various instruments to music theory and history, ear training, and chamber music, as well as solos and excerpts.
Some of her former students have gone on to pursue music at schools such as UCLA, Eastman, and CSULB. She has also taught masterclasses and coached front ensembles at nearby public schools such as Woodbridge High School and Sunny Hills High School.
After high school Christina also continued her piano studies with Julliard alumnus Karen Knecht and performed in several piano recitals during her college years.
While completing her master's degree at Boston, she has actively performed as soloist and chamber musician with other musicians, such as performing with marimba artist and composer Gordon Stout as a duo for the 2015 Zeltsman Marimba Festival at Rutgers University in New Brunswick, New Jersey.
She was later invited to perform in a trio that included marimbist Ayami Okamura for Gordon's recital later that year at Ithaca College, New York. At Boston, she was involved with the Korean American Cultural Foundation (KACF) as soloist and chamber musician with cellist Yumi Bae and pianist Chase Morris, along with a handful of other local musicians who also performed in the concert.
Other performances included a recital for the Oasis Café Concert Series in Brookline, MA, a community outreach concert for patients with multiple sclerosis, music for an ordination service at the First Church in Cambridge, and a quartet concert titled Marimba Four Hands with percussionists Tyler Tsunekawa, Daniel deSimone, and Ayami Okamura. The quartet had their debut performance at the Boston Conservatory and also performed at Chapman University in Orange, California this past summer.
In the summer of 2014, Christina founded the Southern California Marimba Concert Series (SCMCS), a non-profit organization dedicated to providing high-quality concerts for the benefit of the local community and performing artists in the area.
For more information on Christina, Please visit www.muscvaultacademy.com
Watch Christina In Action