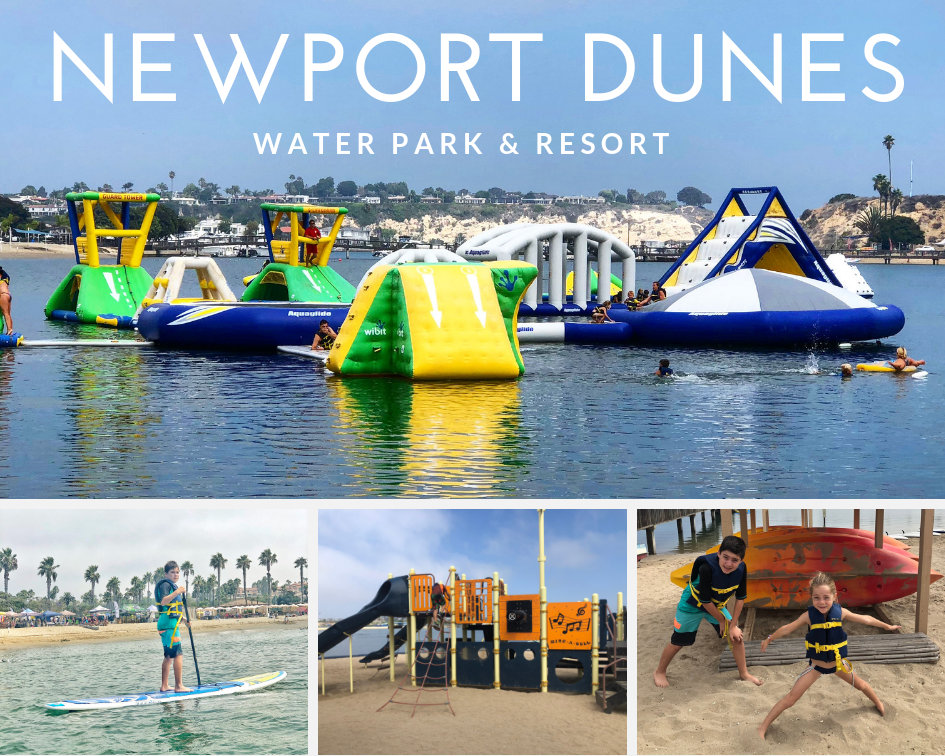 Growing up in Huntington Beach I would often venture to Newport Beach to visit Fashion Island, play on the beach or go out for dinner. I have vague memories of  "The Newport Dunes" where my family used to take me to in the summer. All I remembered was there was a blue whale that I used to swim to and that I was always super happy when we went.  Well that was many many many moons ago and now I get to take my own kids and make new memories!!
So this past week I packed up my kids and it was like taking a trip down memory lane! The Dunes is a HUGE resort. There is a large RV Park and Marina with luxurious RV's (A few are nicer than some houses in OC) and lots of camping and tents. Guests can enjoy the mile of beach front with swimming and a playground right in front of them! We are totally not a camping family but after seeing all the tents and how much fun everyone was having I was thinking I may have to reconsider it.
Then I saw the COTTAGES. Sign me up please! These are the cutest things ever. They have large cottages and camping cottages and some have a loft! Many of them are beachfront or really close to beachfront. You can read more about them here.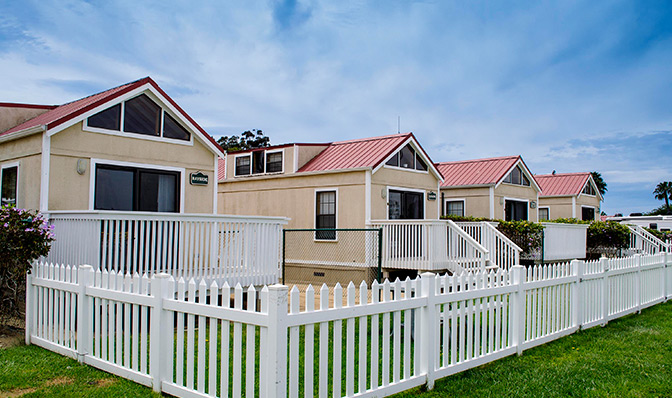 RV Camping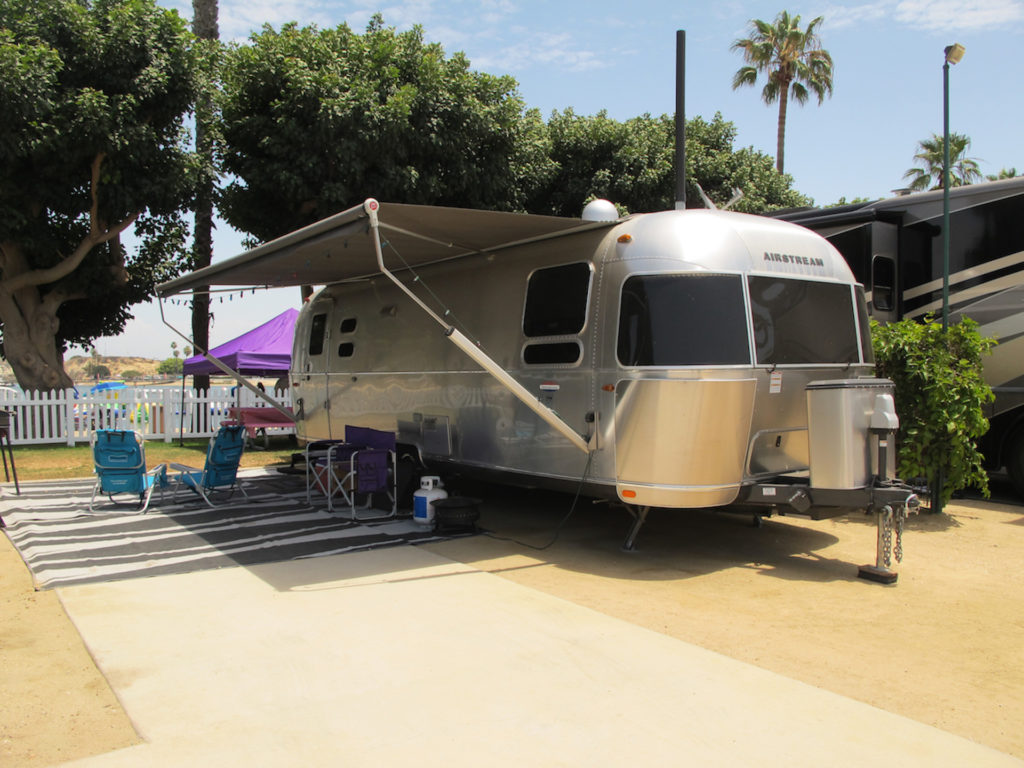 One of the perks about camping at The Newport Dunes is that there are beachfront campsites literally steps from the water. The campsites overlook the beach and feature a grassy lawn in front of the site. They are half dirt and half concrete. Size is 25 ft. x 50 ft. Pull-in and back-in RV beachfront sites are available. Full Hook-Ups and picnic table. For RV or trailers only.
If you are not picky there are also less expensive sites:
Super sites – These first-class sites are our largest available at the Dunes and feature a grassy lawn in front of the site. They are half dirt and half concrete. Size is 35 ft. x 45 ft. Pull-in and Back-in sites available. RV or trailers only. Full Hook-Ups and picnic table are provided.
Select Sites – Size is 25 ft. x 40 ft. Full Hook-Ups and picnic table included. A walk to the beach takes only 60 seconds. Concrete pads available in the Premium and Deluxe sections of the park only. Sites are for RV or trailers only.
Preferred Sites – Dirt site. Site size is 25 ft. x 40 ft.
Large Sites –  Large sites are dirt. For RV or trailers only. Size of RV site is 25 ft. x 40 ft. Full Hook-Ups and picnic table are included.
Small Sites – small sites are dirt site. RV, trailers or tents allowed. These sites are back-in sites.
Find more information about RV Camping here.
Rent A Cabana
For those that like privacy or a home base if you will, you can rent a beachfront Cabana. You can rent one for $100 for the whole day or after 3pm they are $50. They include 2 lounge chairs and a table. They are very shady and they have a net that you can zip up to keep bugs out. Guests will love being able to retreat back to the cabana to have lunch or just relax in the shade after playing in the sun!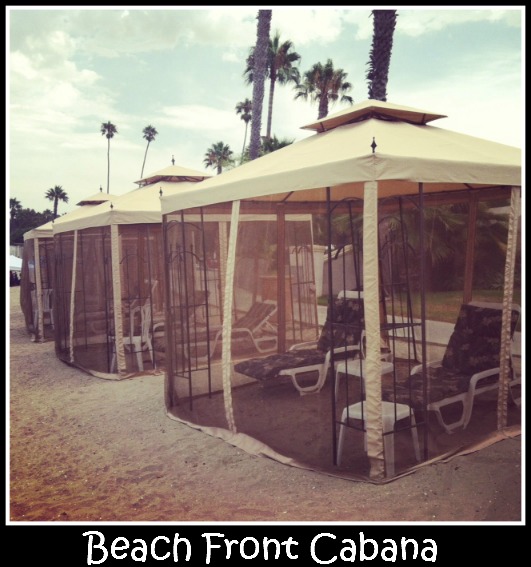 Newport Dunes Water Park
This water park puts most playgrounds to shame! No joke, you have not experienced fun until you have played on this water playground. There are slides, a water trampoline, a rock wall and a really fun inflatable where several people get on and you rock it until people fall off! The laughing we heard from the water so so infectious!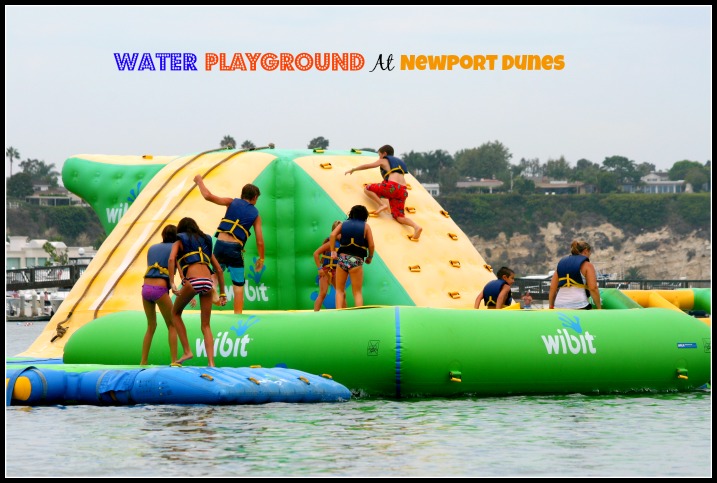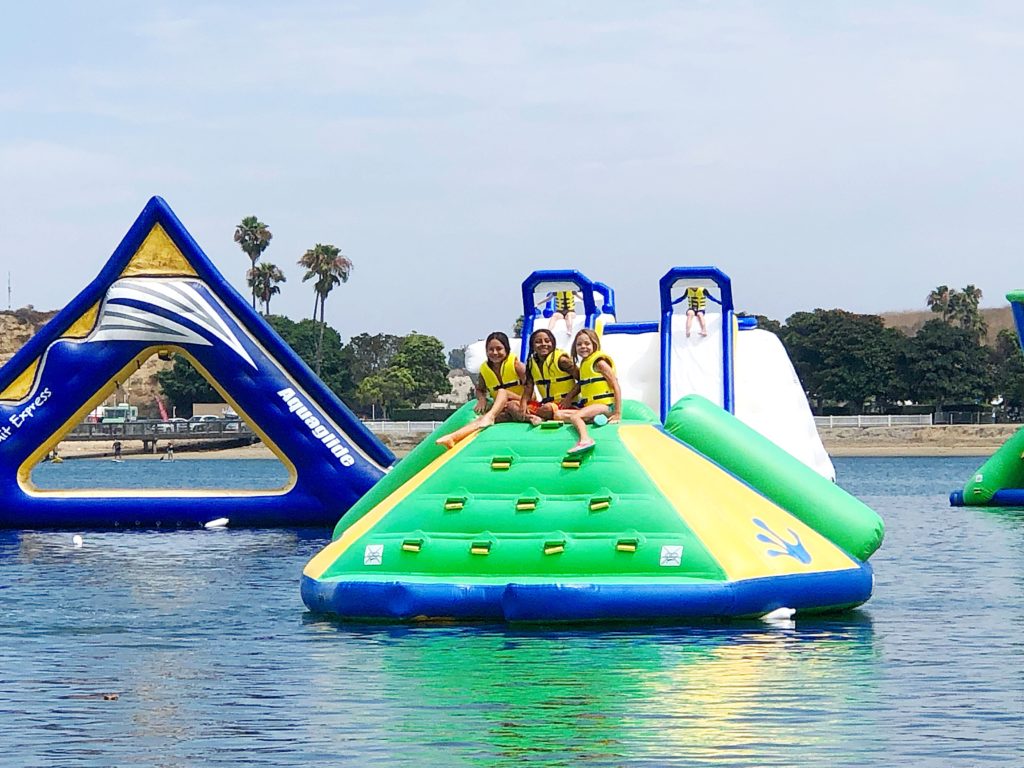 See the Water Park In Action
Playground
After the kids swam themselves silly, we had some lunch (you can bring your own coolers, food and drink)  then headed over to the playground. They had some really fun things the kids could climb on, like a spider web climber and a blue whale.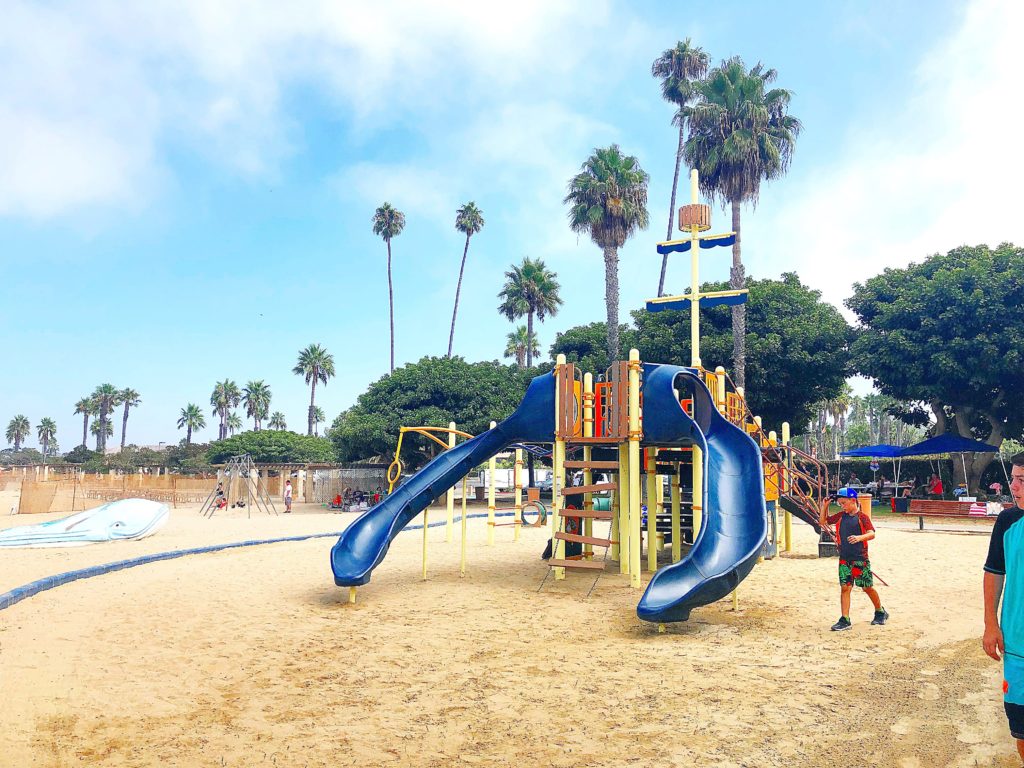 Water Sports
Do you love to go kayaking or paddle boarding?  Guests can rent equipment from MoB's watersports. Everything from sailboats, kayaks, electric boats, pedal boats and Stand Up paddleboards. Water park and rental discounts apply for RV Park guests. We decided to try stand-up Paddle Boarding and some kayaking. Talk about an awesome abdominal workout!!  What a blast this was!!! I am now obsessed with stand up paddle boarding and cannot wait to do it again. Here are the rental rates for any of the water sports.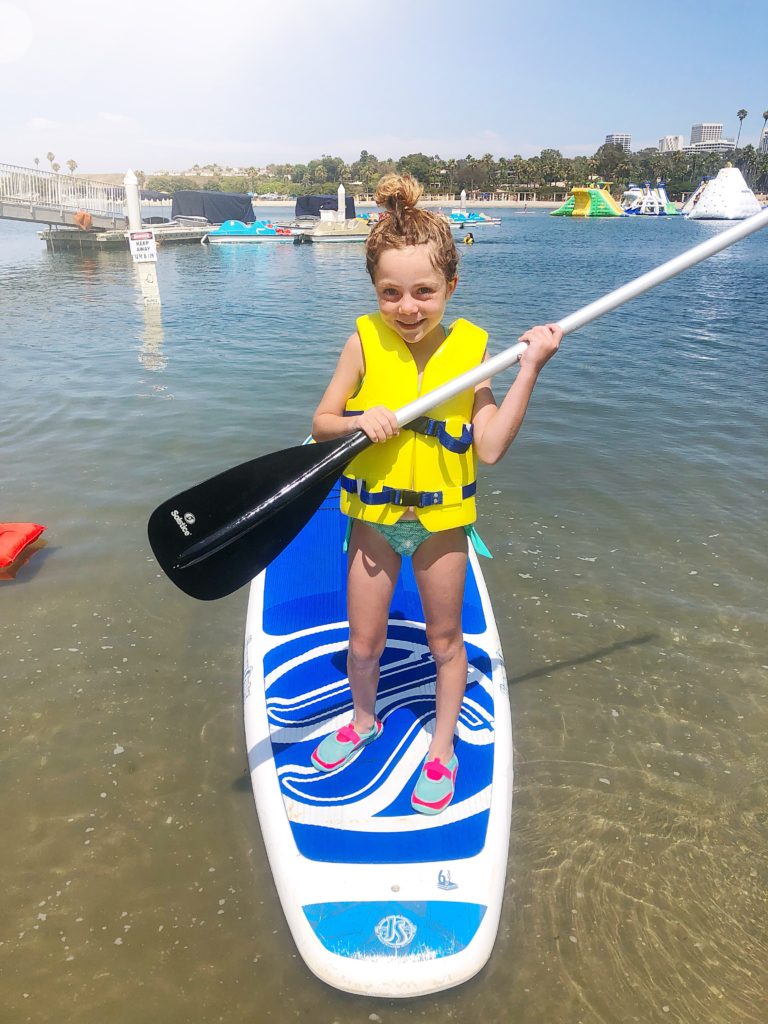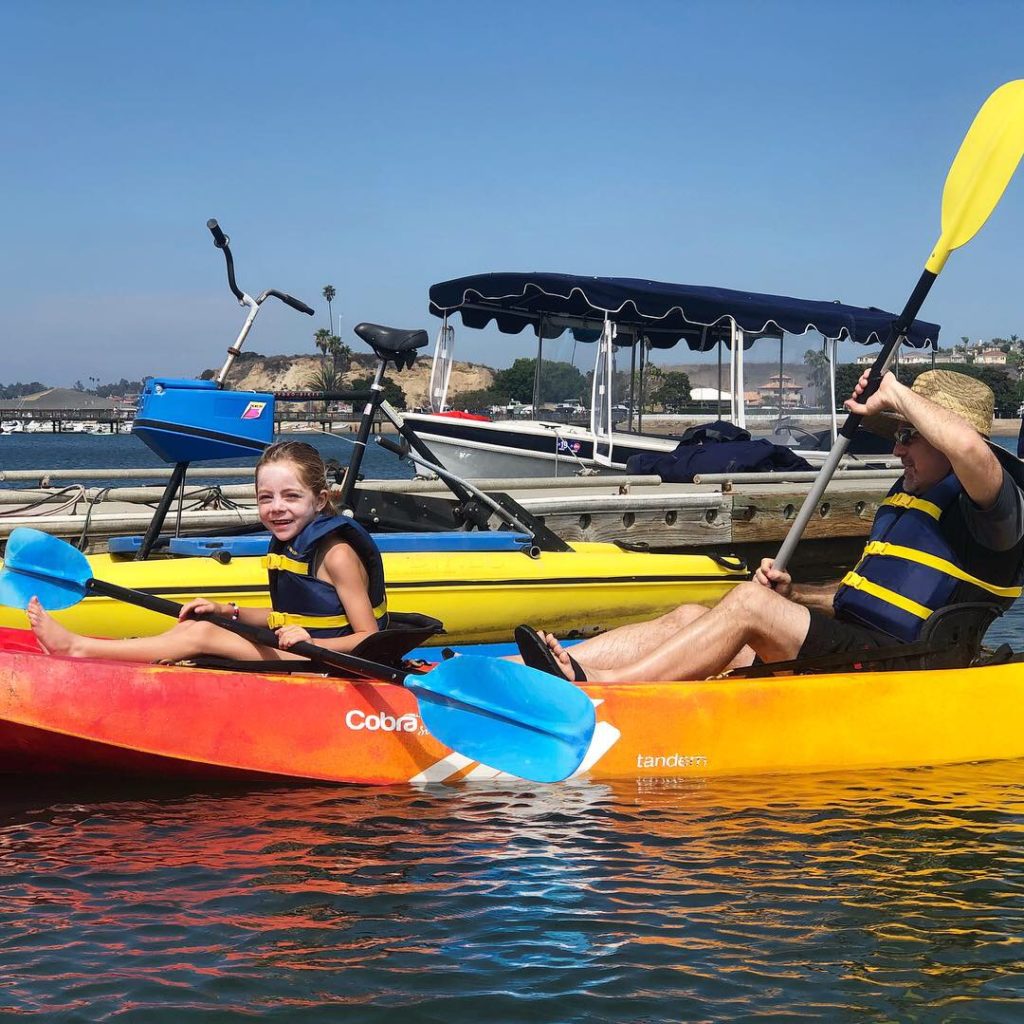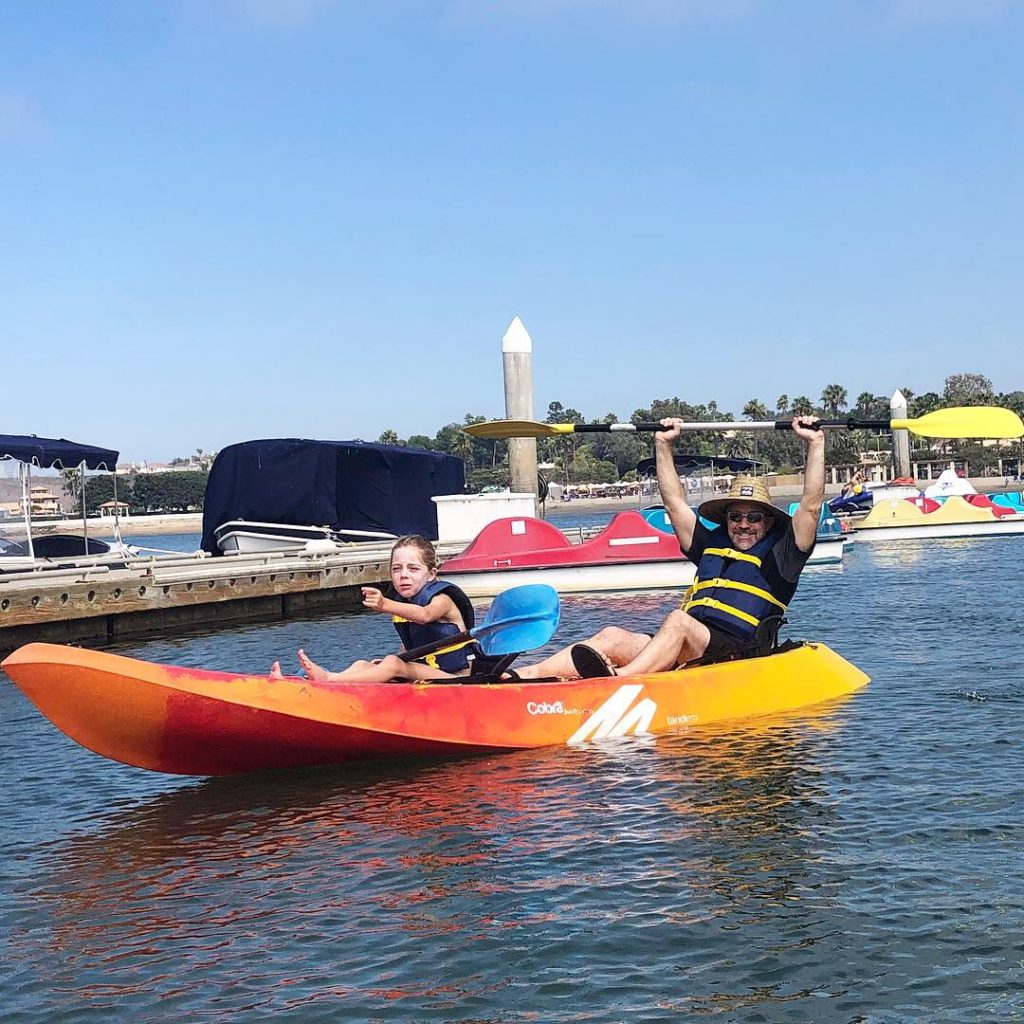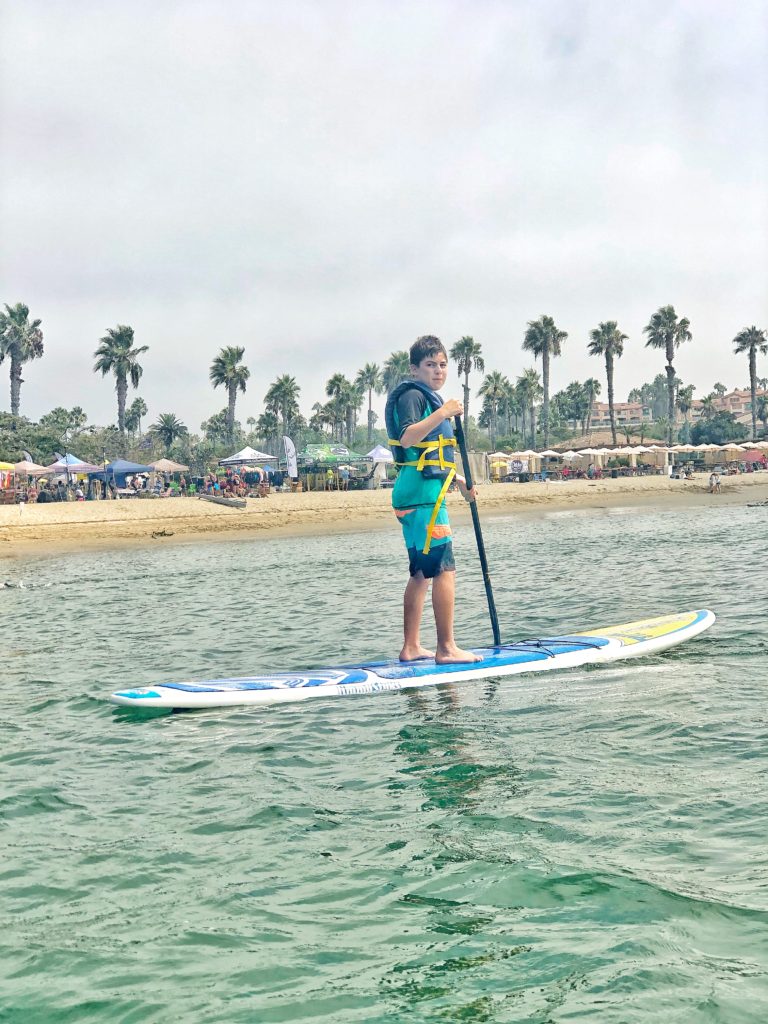 Resort Pool
If you are staying overnight at the resort there is a pool to swim in if you prefer that over the bay. There are bathrooms, changing rooms and showers where you can rinse off all the sand before you get in the pool as well as wash your hair or change your clothes.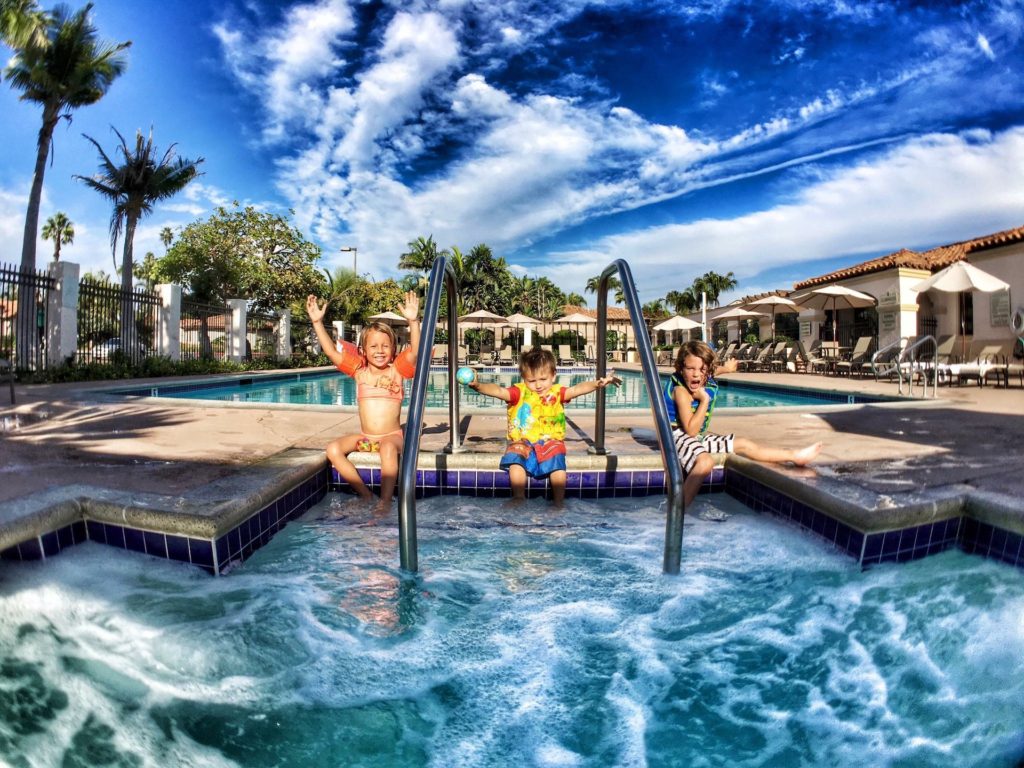 The resort also has a fun game room that has arcade games, ping-pong, pool and various activities like bead making for kids. Seriously, no screens are needed when staying at the Dunes! It's a parents dream come true!

S'mores
There are giant campfire rings on the beach at the dunes. All you need is wood,  all the s'mores fixings and some long sticks. It's the perefect way to wind down the day after several hours of swimming and fun.  Just add some chairs and you can even tell stories when it gets dark!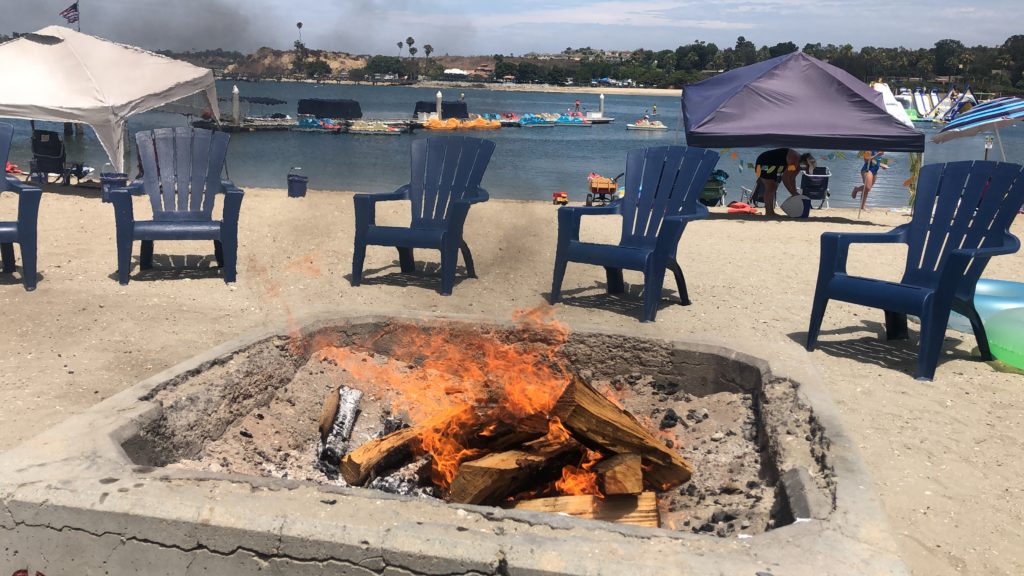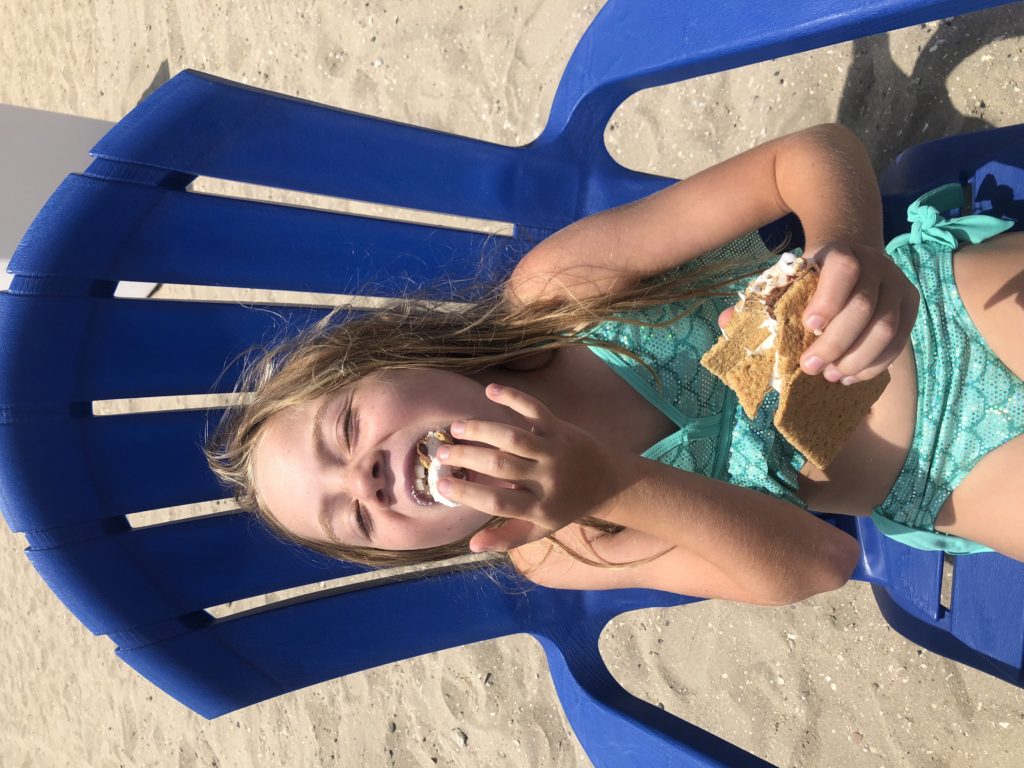 On-site Restaurant

If you are not in the mood to cook and just feel like being served you are in luck! Back Bay bistro restaurant is nearby just on the other side of the day near the boat launch. And this isn't just any restaurant. Back Bay bistro has a great mission which is to serve delicious and sustainable food with a laid-back luxe ambiance by a friendly staff and high quality, yet fair-priced foods. They offer more than 50 varieties of meat, produce and seafood annually, sourced from organic ingredients and ethically-raised meats. They also have strict standards to ensure everything on your table leaves the lowest carbon footprint possible and 100% free of GMOs, synthetic chemicals and hormones. Everything is made fresh-to-order to ensure maximum quality and taste.

Map Of Resort

Limited Hours: The Water Park will be open through September, but only on weekends beginning after Labor Day.
We had a magical day filled with lots of memories, and laughter and smiles and I highly recommend The Dunes to everyone.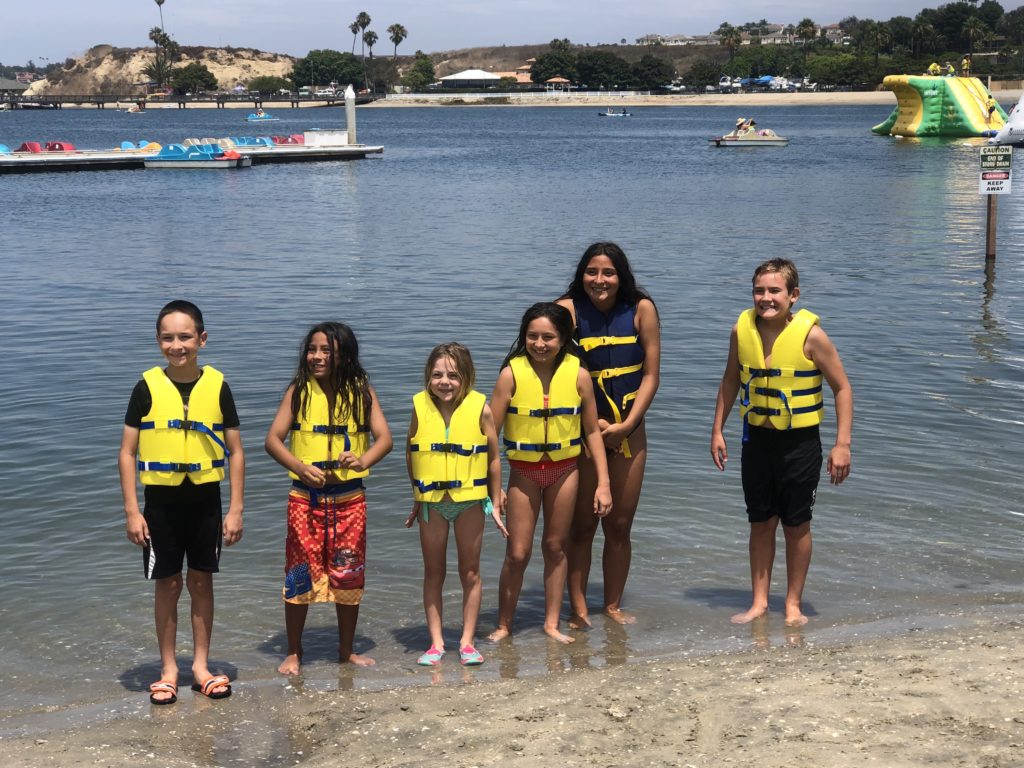 Don't Miss The Newport Beach Luau

Experience an authentic Hawaiian Luau without the plane fare. The 1st Inaugural Newport Beach Luau will feature traditional island entertainment, including male Kane dancers, fire-throwing, ladies with their hula dances and so much more. Learn about the history of the luau told through music, dance, drums, and chants. Enjoy a delicious Hawaiian-style dinner under the stars with grilled chicken teriyaki and fresh pineapple, and Kalua pulled pork. Watch the traditional Samoan pig ceremony! Get your tickets here.
Top 5 Reasons to Visit The Newport Dunes
So here are the top 5 reasons to visit the Newport Dunes!
LobsterFest  –  Usually takes place in August each year. Spend the morning at the Newport Dunes Beach and then head on over to Lobsterfest in the late afternoon. LobsterFest is a celebration of summer designed for fun, entertainment and most importantly to raise funds for deserving charities.
Pacific Wine and Food Classic- Also takes place in August 17th and 18th 2019. This is a new entertainment and Live Music experience for coastal Orange County, benefiting Surfrider Foundation. Get tickets here.
Movies On The Beach. Here is the schedule through September. Movies start at dusk.
You can pitch a tent beach front and BBQ with your family.
Cardboard Boat Regatta & Camp James – An awesome summer camp and fun event.

Aside from those top 5 reasons you should know that the Newport Dunes graces a scenic waterfront stretch of the Upper Newport Bay Nature Preserve and encompasses 50,000 square feet of event space. The resort can accommodate weddings, corporate events, meetings, team-building, trade shows, and many other special occasions.
For more information visit the Newport Dunes on Facebook and on Twitter.