Disclaimer: I received samples of these products to review and to keep. All opinions are my own. – See more at: http://www.allbeautifulmommies.com/blog/entry/3726259/make-brushing-fun-for-your-child-with-firefly-toothbrush-products-review-and-giveaway#sthash.FIZPbJT4.dpuf
Disclaimer: I received samples of these products to review and to keep. All opinions are my own.
Getting kids to brush their teeth is often times a struggle for many families. When my boys were younger they would protest anything important I wanted them to do. Fortunately they grew out of that. But then came along my daughter.

She is 3 and trying to brush her teeth before bed is no easy task. There are often times tears and stand-offs and time outs. However, recently we tried using some new toothbrushes by Firefly Toothbrushes that made tooth brushing fun for everyone!
Firefly Toothbrushes come in a variety of different types and themes. My kids all love Angry Birds so that is the theme we went with. However, they also have Avengers, Barbie, Bat man, CareBears, Hello Kitty, Hot Wheels, Peanuts, Spider Man and Strawberry Shortcake.
As for  Type, we had the best luck with the light up timer toothbrushes. For older kids, the Ready Go Light up timer toothbrush is a good match. It has:
A Fun, flashing traffic signal design encouraging children to brush for the recommended 2 minutes/
A Flashing sculpted handled toothbrush with soft bristles and a suction cup bottom
It Flashes for 60 seconds and turns off automatically signaling children to stop brushing the top row of teeth and begin brushing the bottom row
The Batteries included last the life of the toothbrush and cannot be replaced

For Little Ones the Light Up Timer Toothbrush  works great.  It is a smaller version of The Ready Go light-up and has almost identical features. The flashing lights make it really fun for them and they love the anticipation of the light stopping.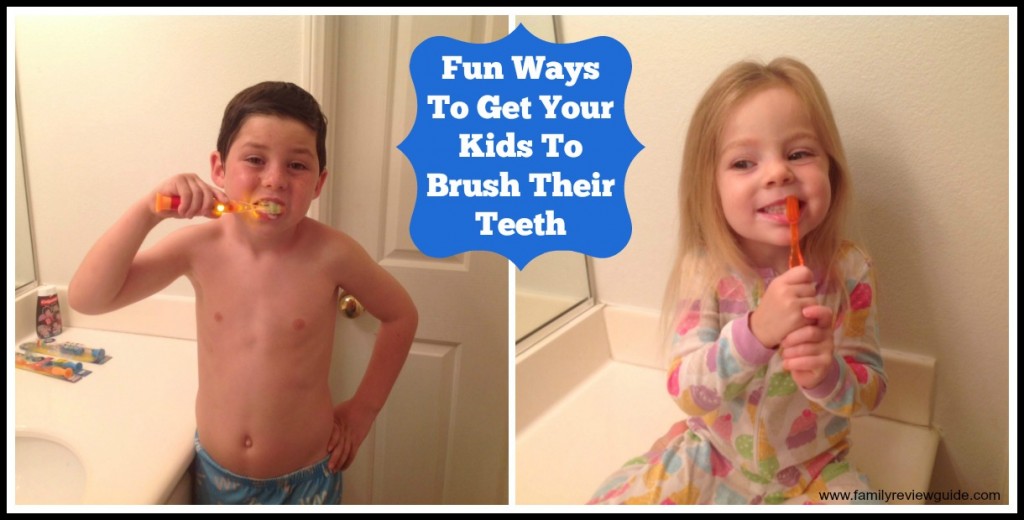 Other Fun Ways To Encourage Teeth Brushing
Super Hero. Make a cape of your child's favorite super hero. Explain to them that brushing their teeth in the only way they can defeat the evil germs. By purchasing a tooth-brush with your kid's favorite superhero or character can encourage them to participate in the game and get excited about fighting cavities.
Brush Together. Kids love to imitate. Be Silly and make it fun!
Make a score sheet for brushing different parts of the mouth and assign higher values to problem area.
(For Younger Ones) Brush in the Bathtub.
Sing The Tooth Brush Song.
The Toothbrush Song
(to the tune of "Row,Row, Row Your Boat").
Brush, brush, brush your teeth
Brush them everyday.
We put toothpaste on our brush
To help stop tooth decay.
Floss, floss, floss your teeth.
Floss them every day!
Using the string to clean between
Keeps the plaque away!
Clean, clean, clean your teeth.
Clean them every day!
Your teeth will sparkle for years to come
In the most beautiful way!
Brush, brush, brush your teeth.
Brush them every day!
Happy, healthy teeth you'll have
If it's done this way.