Disclaimer: Thanks to Drive Shop and Hyundai, I was given the opportunity to test drive the 2017 Hyundai Santa Fe Sport for seven days.

2017 Hyundai Santa Fe Sport
The 2017 Hyundai Santa Fe  was a car that was rather hard to say goodbye to. We road tripped the heck out of this car and it was so incredibly good to us! I was concerned as a family of 5 that it might be a bit tight on our road trip to Vegas, but I had nothing to worry about. The Santa Fe was agile, comfortable, and maneuverable PLUS we got so many compliments on it! The color was called nightfall blue and it practically shimmered in the sunlight.
The fact that we took it so so many different places and put a lot of miles on was a great way to see if it would work for our family. I have a 14 year old teenager, a 10 year old tween and a 6 year old girl so the age gap is large and every kid has different needs.
The first place we took it to was Long Beach to see Christmas Lights in the Canal.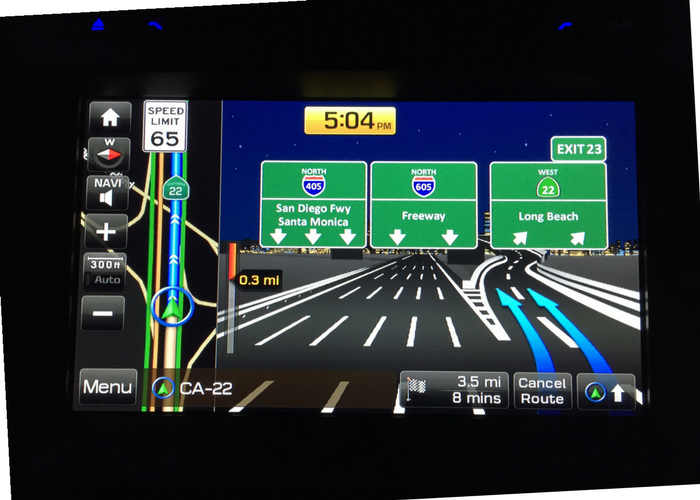 The navigation in the Santa Fe Sport is incredible. It has a true 3D rendering of 3D City Buildings, 3D Lane Assist and guidance, 3D Exits, Real Junction views and real signposts, and real Countryroad shields. The screen was bright and all of the buttons were visible and self explanatory.  I loved how the nav system had proximity, road condition and speed limit alerts.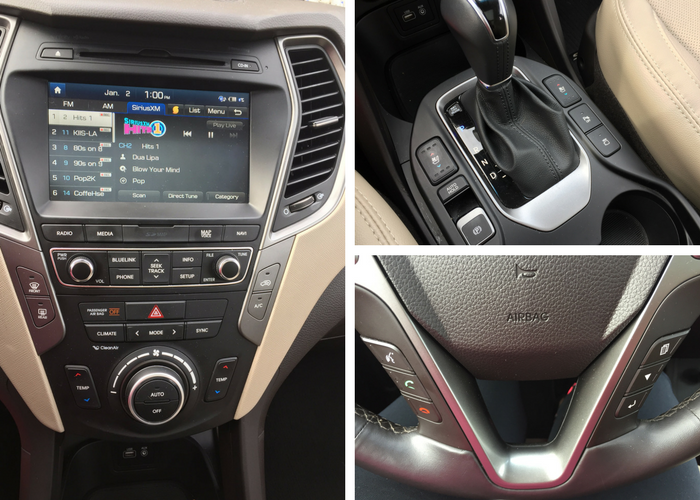 The next place we took the Santa fe was all the way to Las Vegas. It's a 4-hour trip but the amenities in the car made it such a pleasant drive. My teen and Tween never fought the entire time because each of them had their iphone or ipad and they were able to keep them charged with the various USB & Auxiliary ports and ipod playback.
As a driver I loved how loaded the Santa Fe was with safety features. Everything from Automatic Emergency Braking, Lane Departure Warning, Blind Spot Detection with Rear Cross-traffic Alert and Lane Change Assist.
I really liked having Steering wheel controls and Voice Commands at the touch of my finger and the Bluetooth and audio streaming also made for an enjoyable ride.
But the one thing that I couldn't stop talking about was the smart cruise control feature. This was by far the coolest thing I have ever seen in a car. When this feature is activated and it detects a vehicle in your lane ahead, it automatically slows the Santa Fe down maintaining a safe distance with the vehicle ahead and will even come to a full stop, then start again without driver input. Crazy right? It was awesome using that feature on the 15 freeway.

The last place we took the Santa Fe was on another road trip to Venice Beach, CA. I grew up in a beach town so I love taking cars to the beach! The salt air, the wind and the sun was a perfect way pull in this sweet ride!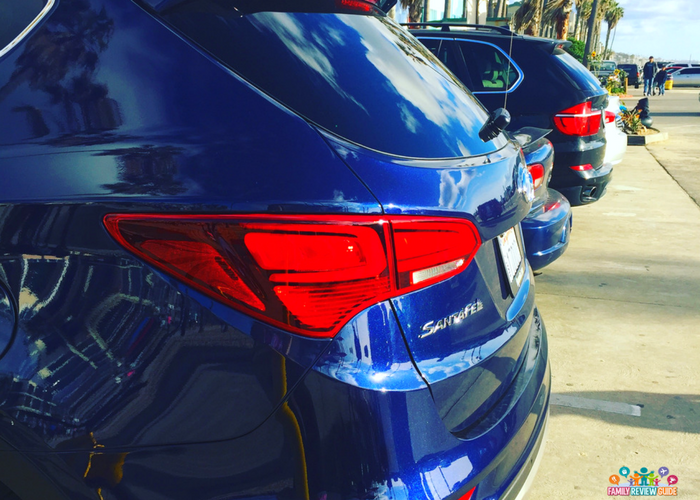 An update of Hyundai's Fluidic Sculpture design gives Santa Fe power and strength. It's seen clearly at the rear of this sleek SUV with a new fascia and tail lights plus a new lower bumper exhaust design.

Video of Panoramic Sunroof
Video Of Automatic Trunk
We loved this car and thought it would be the perfect car for my teenage son to drive next year. It had plenty of trunk storage for sports bags, groceries and even small pieces of furniture. The next time I am in the market for a new car we will definitely be considering a Hyundai.
For more information please visit Hyundai on Facebook and Twitter.