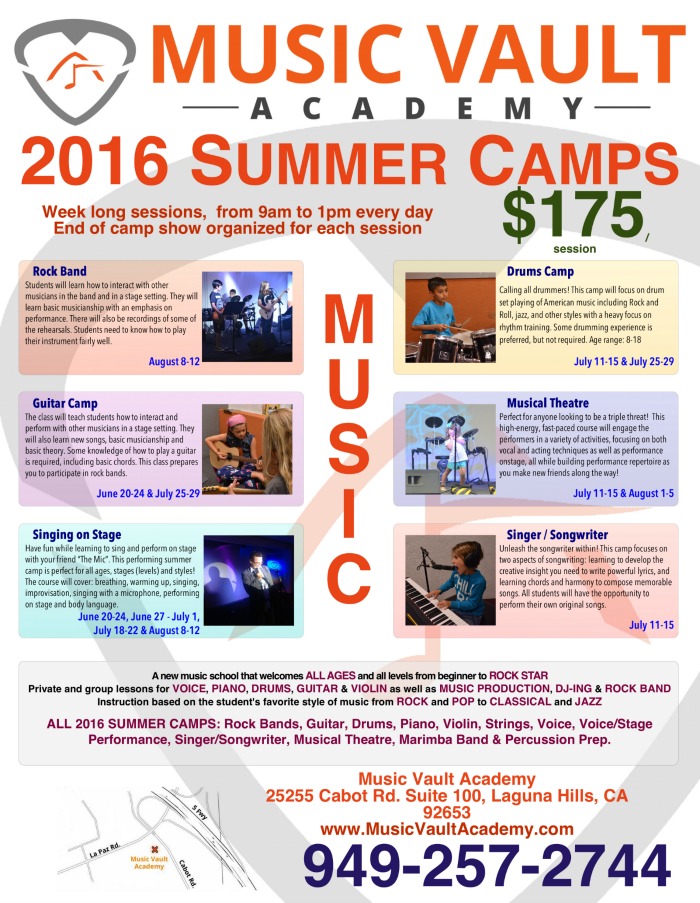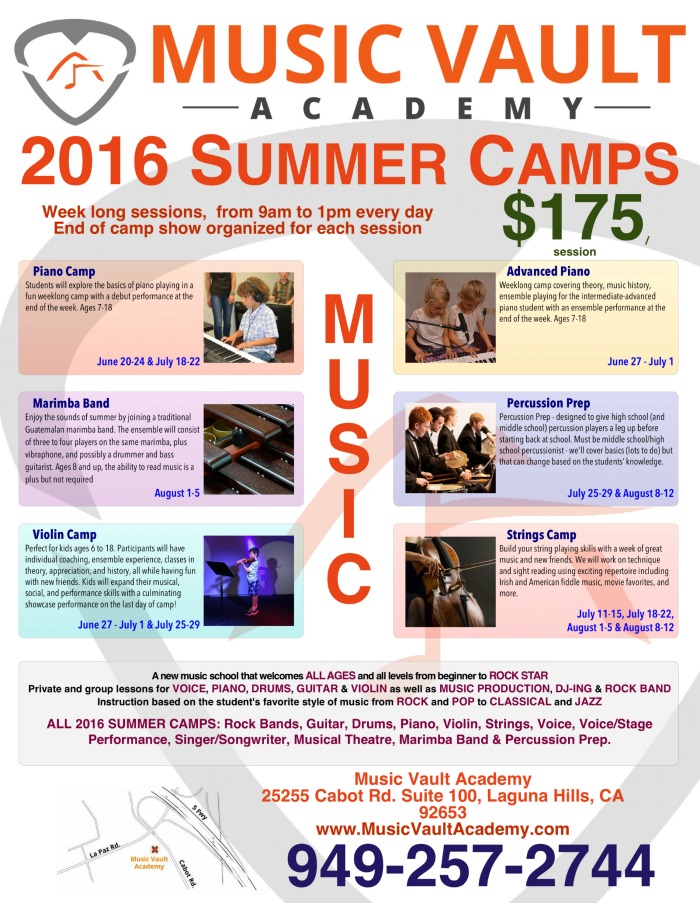 The Music Vault Academy in Laguna Hills, CA is one of the most prestigious Music Schools in all of Orange County. All of their teachers have many years of teaching, playing and performing experience; with most being graduates of, and having master degrees from, some of the best music conservatories and universities in the country: Harvard University, Cleveland Institute of Music, Rice University, Texas Christian University, Southern Methodist University, Boston Conservatory, and University of Southern California.
Recently, The Music Vault rolled out their summer camp options which include 12 popular music sessions from everything including Piano camp, to drum camp, to violin camp to even singing and songwriting.
Why should I sign my child up for music summer camp?
If your child plays an instrument at school, practicing over the summer is a huge benefit. Of course, your child wants (and needs) a break. But while it might be good to take a week or two off mid summer, it is not good to take the whole summer off. By the end of the school year, your child is learning new fingerings, playing techniques, and other skills. None of these have become muscle memory yet, and breaking for months will cause your child to have to relearn all these skills that were already largely learned. This will make the fall frustrating and the spring a waste of time. Whereas, playing over the summer will not only cement the new skills, but your child can advance even further. And (thankfully) there will be many students playing over the summer, so if your child doesn't practice, your child will fall behind. If your child is competitive, you may want to remind him or her that other kids will get ahead.
How long is each camp?
All camps are 4 hours long from 9am to 1pm in the afternoon.
Where can I find a description of each camp?
All camps have a brief description detailing what will be covered in each class. Click here to read them.
Can I pay online?
Yes! We want this to be as easy as possible for you so we have set up online payment for each individual camp. Just enter the quantity, enter a credit card and click register. you will then get an e-mail with a receipt. ASlternatively, you can also come into the music Vault Academy personally and pay .
Get Social
For more information visit the Music Vault Academy on Facebook  and Twitter.