No compensation was received for this post. Media tickets provided.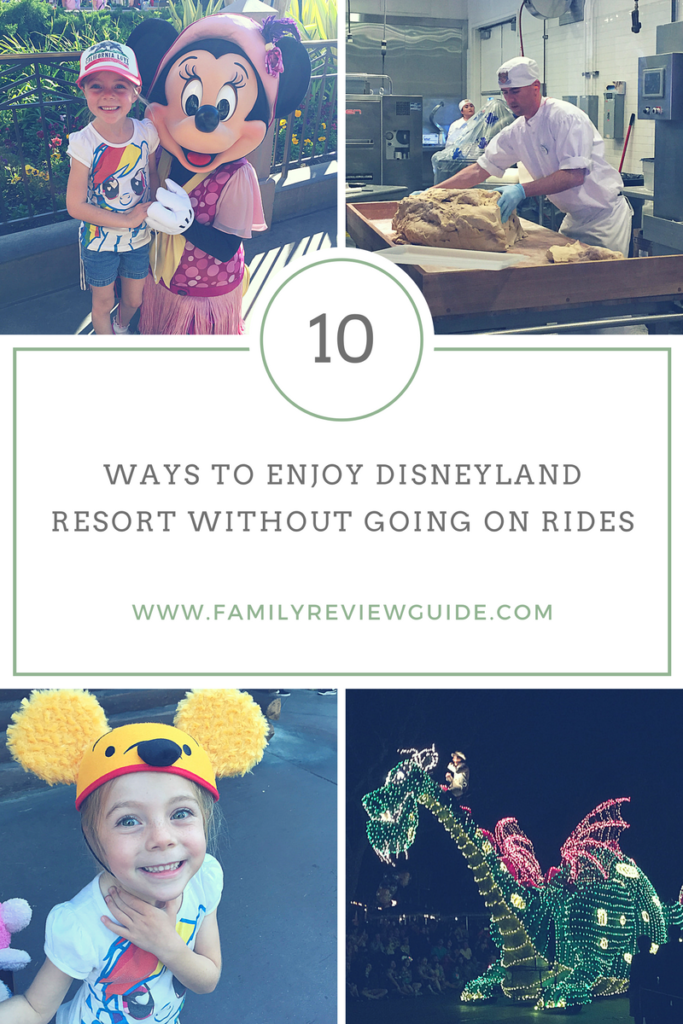 Disney has mastered the skill of providing a complete entertainment experience. While some people measure their Disney enjoyment by the number of rides that they go on, many people can have a magical Disney experience without ever waiting in a line for a ride. Here are 10 additional ways to enjoy the Disneyland Resort.
Character Experiences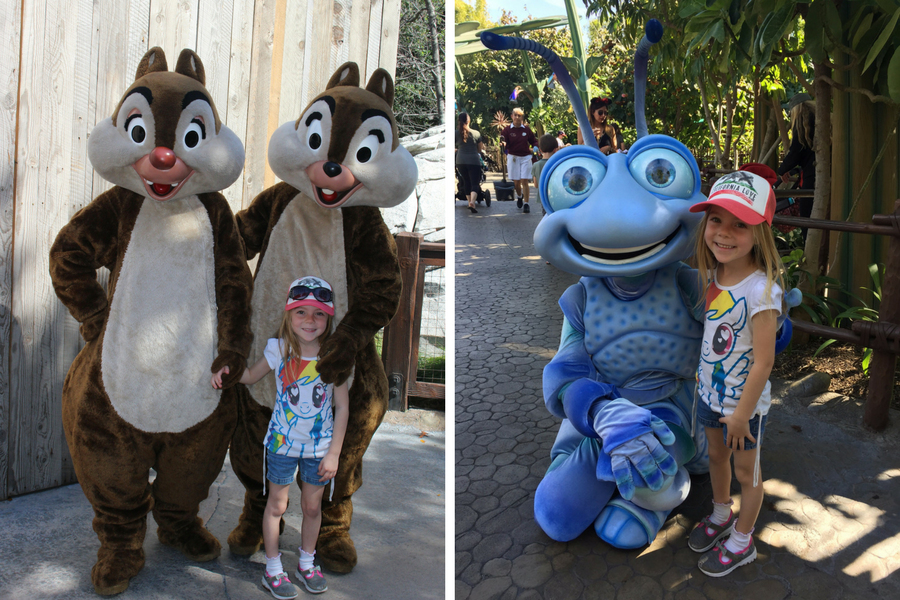 Whether you have a girl or a boy, Character experiences can be the entire highlight of your childs visit to the Disneyland Resort. You can meet and greet friendly Disney Characters and snap a photograph to capture the memories forever. They have professional photographers at most of the meet and greets, but they will always take a picture for you on your phone if you ask them! For an added experience, parents can purchase collectible autograph books that some of the characters will sign with their famous signatures. Click here for a list of all the characters available.
Operation: Playtime! At California Adventure Park
The Green Army Men from Disney-Pixar's Toy Story cruise Paradise Pier in a jeep on a quest to find new recruits. The Army Men stop periodically to train guests (the potential recruits) on critical skills like "fun" and "play" by exhibiting their percussion and chanting skills. They will invite your kid to come up front and play freeze dance during a silly comical routine. The music sounds great and it is a fun little routine to watch your kids laugh and giggle.
Watch Frozen: Live at The Hyperion
Seeing Frozen Live on Stage was so enchanting for my 6-year-old daughter who loves all things Princess! Here eyes were as wide as saucers the entire time and she just watched in awe during the 1 hour-long show. Frozen – Live incorporates elaborate costumes and sets, stunning special effects and show-stopping production numbers. It's truly an unforgettable theatrical experience that will captivate your entire family. The costumes are absolutely incredible in this show.
Tip #1: Arrive no later than 1 hour before the show as the line can get extremely long. You can choose to line up for Orchestra, Mezzanine or Balcony seats.
Tip#2 Go to the bathroom before getting in line because there is no restroom in the theater or line.
Go on The Boudin Bakery Sourdough Tour
Not only is the Boudin bakery tour a great place to escape the heat on a hot day or the rain on a wet day, but the building smells absolutely amazing. The aroma of fresh-baked bread wafts through the air and you will get a sample of bread when you first start the tour. Charming guests, Rosie O'Donnell and Colin will be your host as they explain the process of creating one of the most luscious loaves around. Behind glass walls, watch expert bakers turn dough into the same piping hot bread that's pleased San Franciscans for over 150 years! They are super friendly too, just give a wave and they will smile and wave right back!
Tip: There is a restaurant in the same building where you can get sourdough clam chowder bowls and salads!
Jedi Training- At Tomorrowland Terrace
This super interactive stage show will leave any stars wars fan grinning from ear to ear. Young Jedi's will train in the ways of the force and put their skills to test to defeat the dark side. Kids will be taught how to handle a light sabers like a boss (in secret at ancient Jedi temples) before they come face to face with Darth Vader—and now a new villain, the Seventh Sister Inquisitor from the popular Disney XD series Star Wars Rebels.
Tip: you MUST register before the show. You must be between 4 and 12 years of age to participate and the kiosk to register is located outside the exit to Star Wars Launch Bay.
Watch The Disneyland Name Painters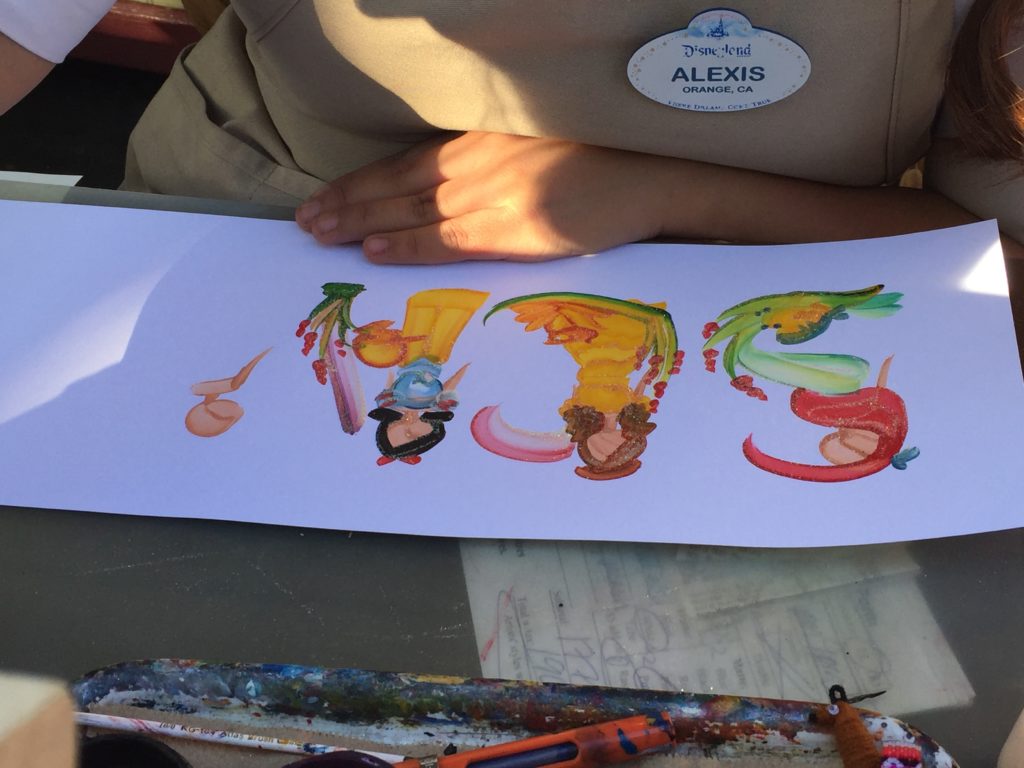 In Disneyland adjacent to the Matterhorn and also at a kiosk in Downtown Disney, you can watch and purchase an artist paint a watercolor painting of your name. The price is about $5 per letter. and each letter is illustrated to look like a certain Disney movie or Disney character. One letter name squares are also available. It is really fascinating to watch these artists. Each brushstroke is so detail oriented and the end result is beautiful.
Play in ToonTown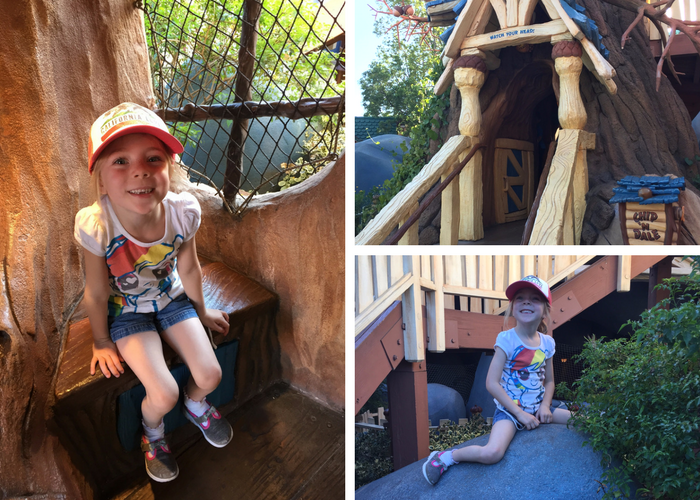 Mickey's Toontown is fun spot where kids can climb, and play in an interactive space full of topsy turvy architecture and screwy sculptures. Kids visit the charming houses of Mickey, Minnie and and get a photo and an autograph at the end. If this is your child's first visit the Disneyland I highly recommend this as the place to meet Mickey Mouse.
The town is packed with surprises, such as the Police Phone where you can eavesdrop on "Toontown's Finest." There is Chip N Dale's treehouse kids can look out from and even Donald Ducks giant boat they can explore on. For some hands on fun, check out the Fireworks Factory. Push the plunger for all kinds of explosive results! There is nothing crazy or over the top in Toontown. The "Clockenspiel" whistles, hammers and shrieks every half hour, and Goofy's Gas Station stands by to goof up your car most any time.
Tip: There are lots of places in Mickey's toon town you can get a quick and healthy snack for your little ones.
Visit The Golden Horseshoe For a Snack and a Show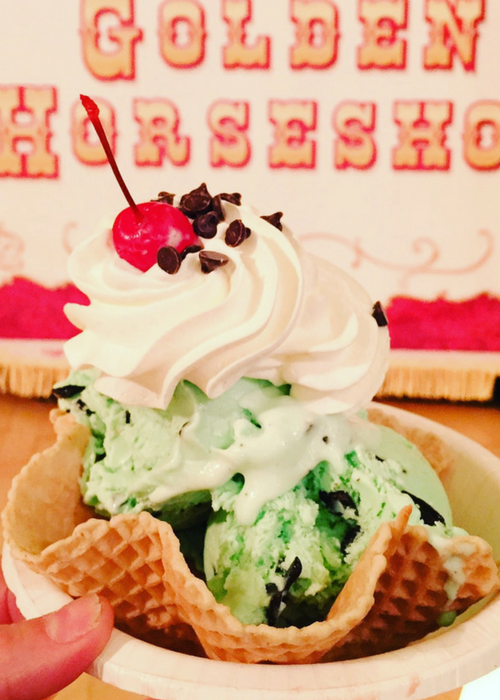 Tickle your taste buds with some cool and creamy ice cream sundaes at the Golden Horseshoe Saloon. Then sit down and enjoy a spirited 1850s-style stage show of slap stick comedy and singing. The show is an audience member participation show, so females, beware, cause you may be chosen to play the damsel. Seating is first come first serve so get there early so you have enough time to get your food before the show starts. There is a second level with a balcony and I found that to be a good place to watch.
Turtle Talk with Crush
Turtle talk with Crush is a must do and it doesn't matter your age because It is fun for people of all ages. Through a unique window into the Pacific ocean, you can interact with the sea's most awesome sea turtle Crush from Finding Nemo. Crush is super energetic and full of questions for the human dudes so that he can educate his youngest offspring out of 65 named Squirt. In return for your answers, he'll also answer any questions that you may have so get your hand in the air and maybe he'll call on you. Have you kids sit on the floor in front so Crush can easily find them.
I have seen this show so many times and no show is ever like the others. Each one is unique because the questions and people are always different.
The Main Street Electrical Parade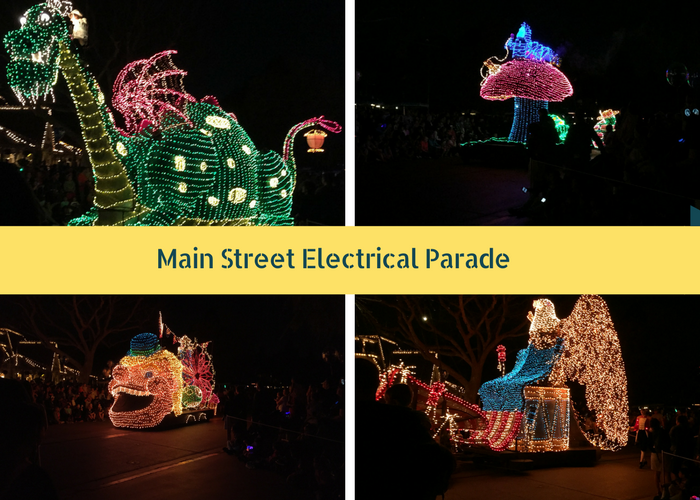 If you only do 1 thing during your visit to Disneyland, watching the Main Street Electrical Parade should be it. After a 20 year hiatus, the parade has returned which means that nostalgic fans and newbies will get to experience this whimsical and glittery event. All of your favorite characters will be riding a float or prancing down the street. Towards the end of the parade guests will salute to America featuring dancers in patriotic dress and a majestic bald eagle fashioned from brilliant golden lights.
Tip #1: The crowds for this are intense. They are very strict about where you can stand and you must be inside one of the roped off areas.
Tip #2: Consider purchasing the dining package where you dine on a 3-course meal at the "Blue Bayou" and then head to a reserved seating area for the parade. Less stress = a more enjoyable time in the park.
For more information visit Disneyland on Facebook and Twitter.