I was provided with a gift card in order to shop and eat for this post. All opinions are 100% my own
Back to School is kind of like an Olympic event for me since I have three kids and three different schools. It requires a lot of planning, a lot of driving and a lot of stops at different stores. Luckily, West Covina Mall isn't too far from me. There are three major department stores at West Covina Mall plus pretty much any other specialty store you can think of, so you know you're going to find what you need there. (including two full service restaurants (Lucille's and Lazy Dog Cafe so that you can recharge and get energy in between shopping)!
Crocs, Journey's Kizs, Payless and Sketchers
On a recent trip to the mall I couldn't help but giggle because  some of the latest trends were ones that were popular when I was going to school in the 80's. I saw a lot of bright, neon colors like pinks and oranges and blues as well as lots of shoes that were very sparkly and shimmery. A lot of the shoes now are made with comfortable foam, or easy slip ons, like crocs, or velcroe shoes for little ones that cannot yet tie their own shoes.
Vans were also very popular and now a lot of the shoes come with fun graphics on them like, 101 Dalmatians, flamingos, Disney characters and more.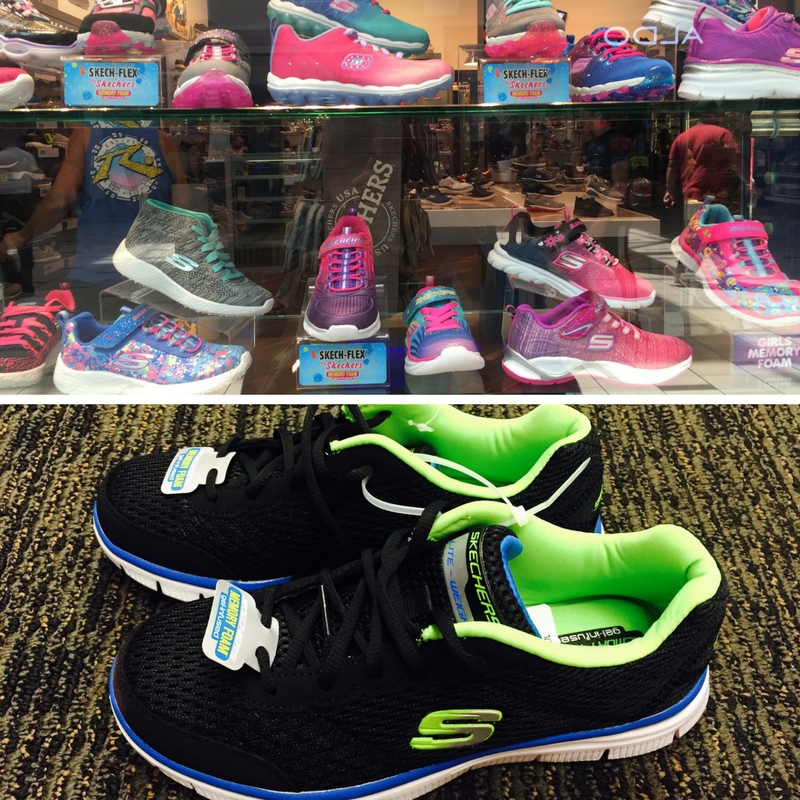 I found a great pair of affordable Sketechers for my son that were black and matched all of the outfits I bought him.
JCPenney, The Children's Place, H&M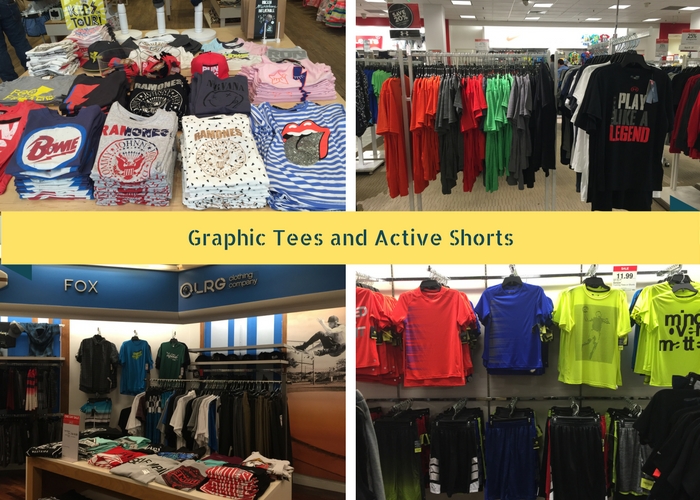 Shopping for a teen can be a challenging especially if said teen is not with you at the time. But with Stores like JCPenney my shopping mission was made much easier. Boys tend to like elastic shorts, graphic tees and high knee socks and I saw a lot of the bright neon colors and comfortable Nike wear. I liked that I could mix and match several of the shorts I found with various shirts. I was also able to pick up a lot of the basics like underwear and, undershirts and basic white socks.
See JCPenney Back To School Video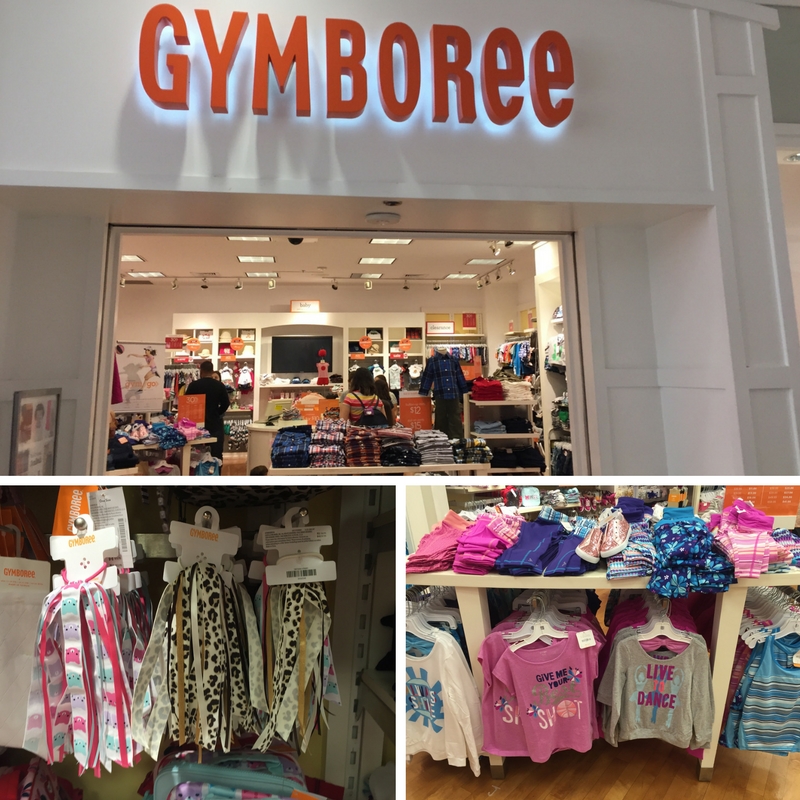 Gymboree, H&M, Crazy 8
Now shopping for a little girl? That is a piece of cake! Stores Like Gymoree, Crazy 8, H&M, and more have so many cute little girl fashions that well make you say "awwww" when you see them. Active/Dance clothes seem to be the hottest trend in that age group right now. I saw a lot of yoga pants and tanks as well as matching accessories for hair. Cheer hair pieces seem to the all the rage – Big giant hair bows and long ribbon elastic bands. So many stores are having back to school sales and I was able to pick up lots of fun summer dresses for under $20.
Oh So Simple Rewards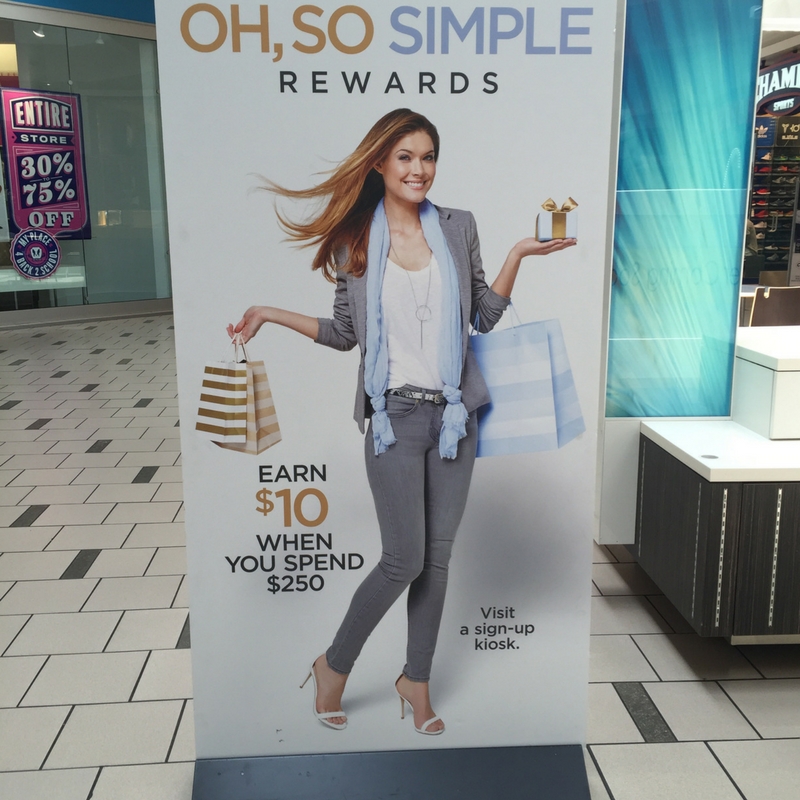 This year, The mall is offering a new Oh, So Simple Rewards program which allows you to earn $10 for every $250 you spend at any mall retailer. Additionally, special offers and ongoing exclusive benefits await Oh, So Simple Rewards members. You should definitely sign up at https://www.shoppingplazawestcovina.com/rewards or at the mall during your visit.
Feed your Hunger At Lazy Dog Cafe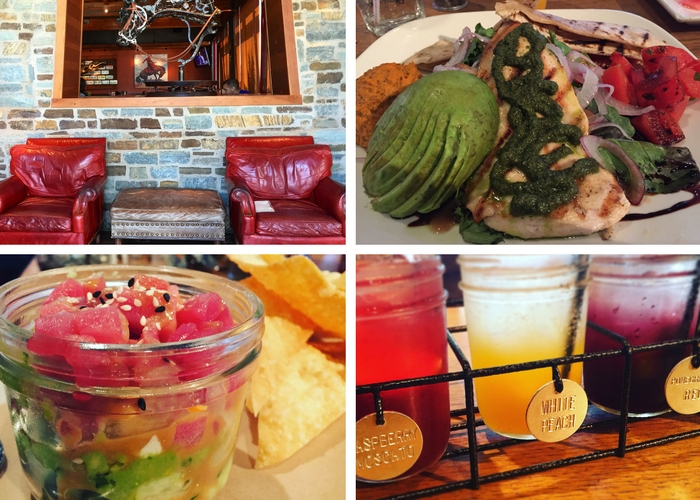 After a full day a shopping, the best way to rest your weary feet is with some delicious food and drink from Lazy Dog Cafe. I eat here as much as possible because their menu is full of variety and chef Chris serves up tasty entress and beverages. Plus the decor is so adorable with pictures of cute dogs and puppies under a rustic, log cabin feel.
The Sangria flight is a great way to relax and refresh ad pairs perfectly with the Poke Jar. Sashimi grade ahi tuna is tossed with sesame peanut vinaigrette, layered with avocado, pickled cucumber salad and wasabi dressing served with crispy wonton chips.
I also loved the chicken and hummus plate because it is light and full of protein. The sundried tomato hummus is to die for!
Win a $50 Gift Card To The Children's Place