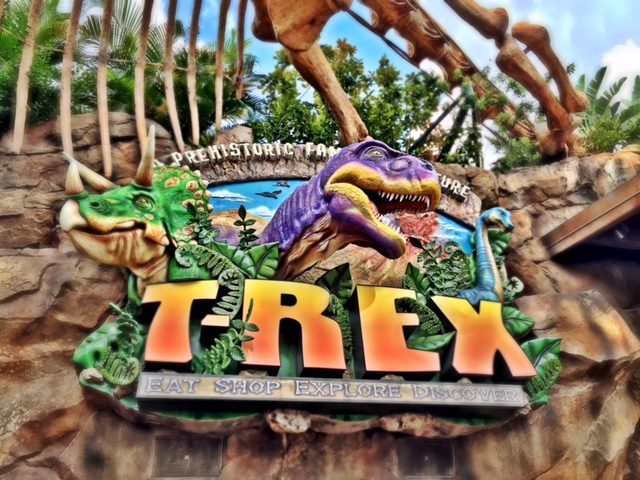 Dining with dinosaurs is an experience you aren't going to forget. And that is exactly what will happen at the Trex Cafe in Downtown Disney, Orlando Florida. My family and visited this themed restaurant and really enjoyed ourselves. The food, the atmosphere and the service were all top-notch.
Trex Cafe Entrance
The first thing that catches your eye at the entrance to Trex Cafe is the giant dinosaur fossil above your head. There is also a large jeep where you can take photos. Trex is owned by the same people who own Rainforest Cafe so it is a similar concept, but with Dinosaurs and a prehistoric theme.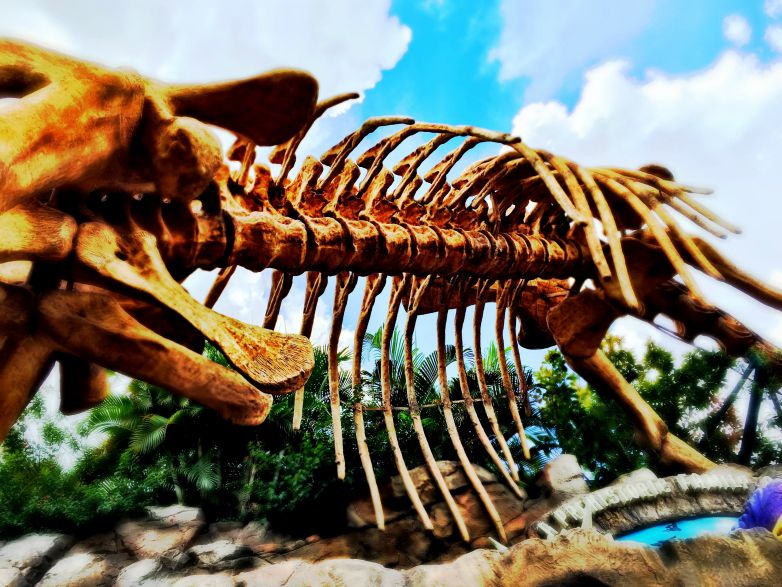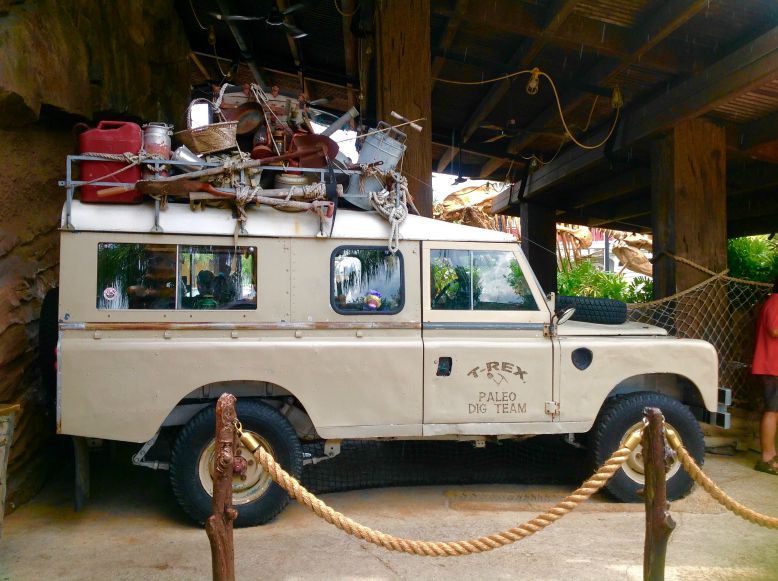 While you are waiting for your table guests can browse the store and do a little shopping for souvenirs.  They have a unique selection of apparel, educational toys and other prehistoric merchandise as well as build-a-dino (similar to build-a-bear).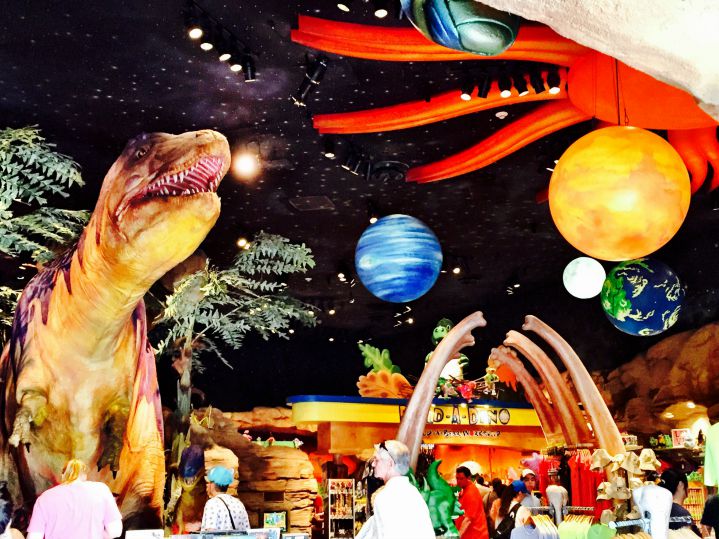 Trex Cafe Bar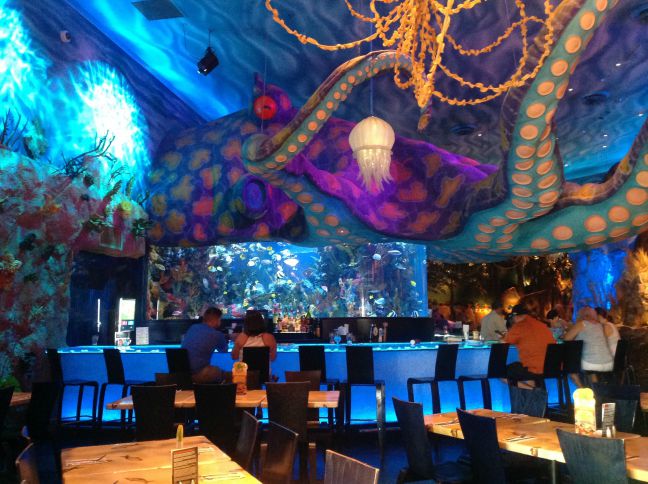 The bar area is a big aquarium with a large octopus that moves above your head. The tentacles move up and down and there are glowing jellies that light up the room. Guests can watch the tropical fish swim in front of them as an added bonus while they sip on lavish cocktails such as a"Cotton Candy Cosmo".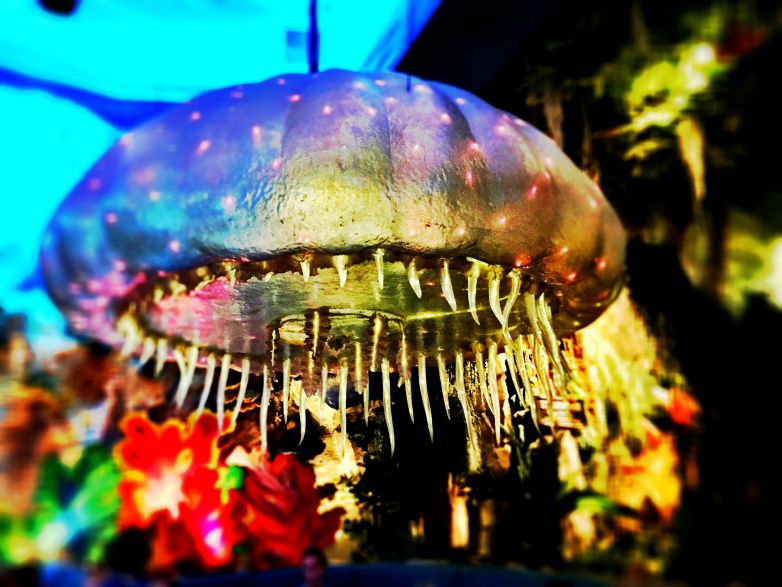 Trex Cafe Food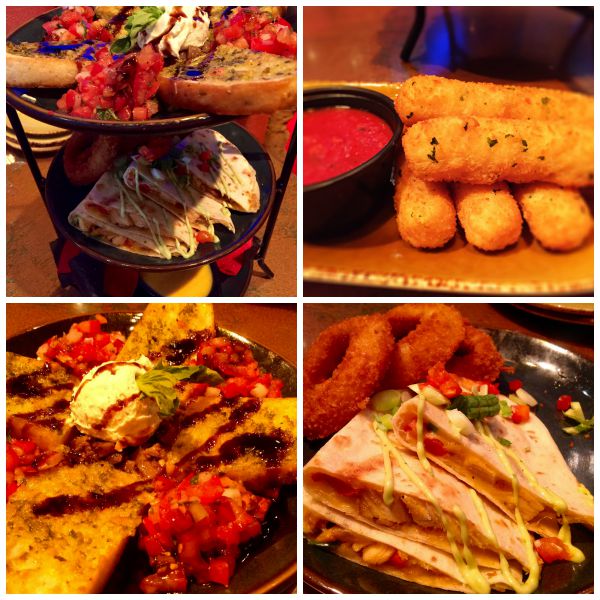 Bring your appetite because the Trex menu is packed with exciting items for explorers of all ages. Feast on mouth-watering items like ribs, chicken, pasta and pizza. My family and I started off with a "supersaurus sampler" and it was more than enough for our family of 5. It had chili con queso dip, bruschetta, quesadillas and onion rings.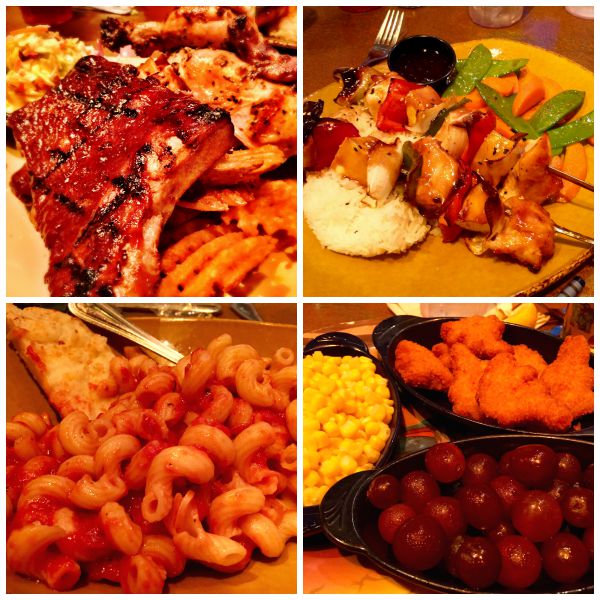 For our main entrée my husband and I actually shared an entrée because it was so big. The "Bonyard Buffet" had fire roasted rotisserie chicken and a delicious mess of pork ribs served with waffle fries and a green salad. I commented on how tender and moist the chicken was and our waitress told me they have a rotiserrie in the back where they cook nearly 200 hundred chickens a day.
For dessert a popular one is the "chocolate extinction" which is chocolate fudge cake served with ice cream, fudge and caramel sauce,  then sprinkled with butterfinger crumbs. It is big enough to feed 4 people. However, we chose to order the Ice Age indulgence for two. It had layers of ice cream sandwiches in between layers of fudge sauce and was topped with whipped cream and butterfingers.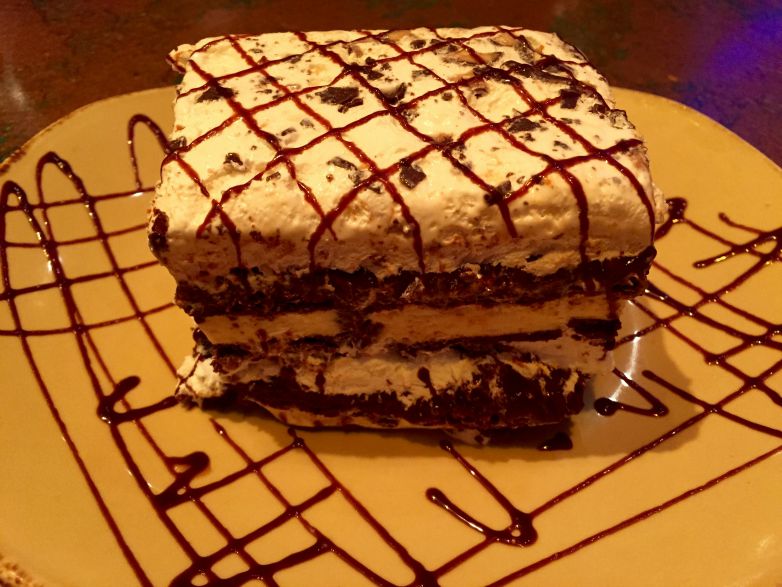 Trex Cafe Meteor Showers
One of the coolest features of this restaurant are the meteor showers that happen about every 20-30 minutes. During these showers the lights flicker and the dinosaurs react. Images of meteors are projected on the ceiling and the dinosaurs go crazy! It is really fun to watch and the show definitely keeps kids entertained. Here are a few clips to see how they look:
Trex Cafe is perfect for a family meal, a celebration or even by yourself. For more information please visit Trex Cafe on Facebook and on Twitter.