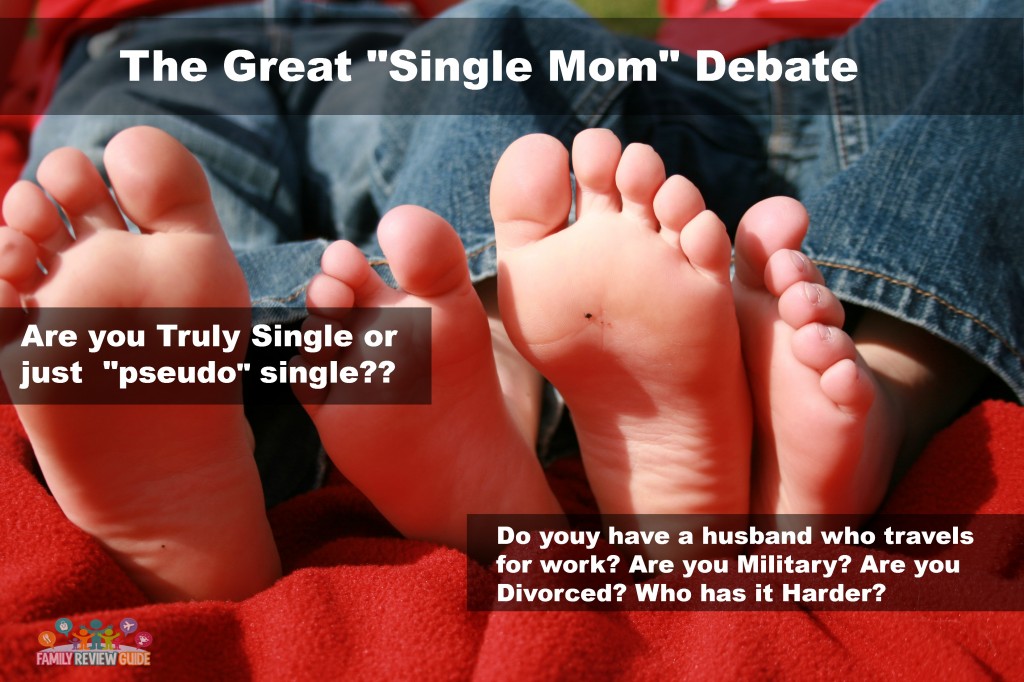 The other day I was checking Facebook and I came across a status on a message board from a mom (whom I didn't know) that was single (no husband). It basically said that she was really bothered when she see's posts on her feed about women referring to themselves as being a single parent for a few days or a week when their husbands are out-of-town. She said that if you have a husband, you are not a single parent and that it is not the same thing. She even went as far as to say that it was insulting and belittling to her. Of course, this made me raise an eyebrow because I am the wife of a fabulous husband who unfortunately travels a lot for work. It got me thinking that maybe I need to re-examine my own situation. I will admit that I am guilty of using the term "single parent" on occasion when I have had a particularly tough couple of weeks on my own or if I am really stressed out. But, after reading the woman's status it made me open my eyes a little that maybe I shouldn't be using that term. Maybe I should find a better way of expressing how tired I am and how exhausting it can be with no support network, other than a long distance phone call from my husband when he is gone. (My parents are elderly so they are of no help when it comes to watching my kids).
This girls argument was that just because our husbands are away we still stay at home, we still have money coming to us, we still have emotional support, and so on and so on. As the thread progressed this girls anger increased ten fold. She was getting more and more furious the more people responded. She had bitterness oozing from her pores and I began to feel really bad for her. It made me realize that maybe referring to myself as a "single parent" on occasion also isn't fair to my husband because he works really hard to provide for us and allow me to stay at home with my kids.
With that being said, I also feel that if that is how I am feeling at that moment then why should it matter to anyone what I call myself?? It has no direct impact on their life right? I am not saying that I have it harder than anyone else or that someone else's struggles are less than mine. Isn't it all just semantics when you really break it down?
I have many single mom friends and I see that they have no one else to depend on but themselves when it comes to income, taking care of the house, meals, bedtime routines, discipline, paying bills, insurance, car maintenance, taking the trash out, chauffeuring kids around…the list is endless. And constant. On the flip side, I also see that some of my friends send their kids to their dad's every other weekend and are kid free for a week. Some of them have tons of help with their parents and some have none. Some get child support AND alimony and some get neither. So who's more single?
When I think of all the things my husband does to contribute to our family (even when he's traveling) and then try to imagine not having any of it ever, I get a little anxiety. Yes, it would be disappointing to not get that phone call from my husband at the end of the day or feel the excitement of picking him up from the airport & feeling relieved because I know I will be getting a break. But what about these moms who are technically married but married to an emotionally absent husband? A "single mom" might have it easier than someone married to an emotionally absent man. Maybe we all just get too caught up in titles.
We all have our own struggles, and as moms and women we should empower one another instead of trying to win the who has it worse game. I have the utmost respect for truly single moms and I always amazed at how strong they are as women. Too many times people look at the negatives instead of positives.  It seems like there are positives to all sides.:
Married and your husband is gone, you feel like you're doing it alone. But there is an end in sight and you have the support of your spouse.
Single momma around family, you might not have a partner, but it takes a village.
Single momma completely on your own, at least you have the strength to survive that your children will admire one day.
We all have our path in this lifetime and we should be looking at the blessings we have and not take things for granted.
So the question is: Do I start referring to myself as "flying solo" or saying I am "married single parenting". Or am I just Pseudo single? What about calling myself a work widow? Wouldn't I be offending a real live widow who may have just lost their spouse? Would love to hear your thoughts on this!