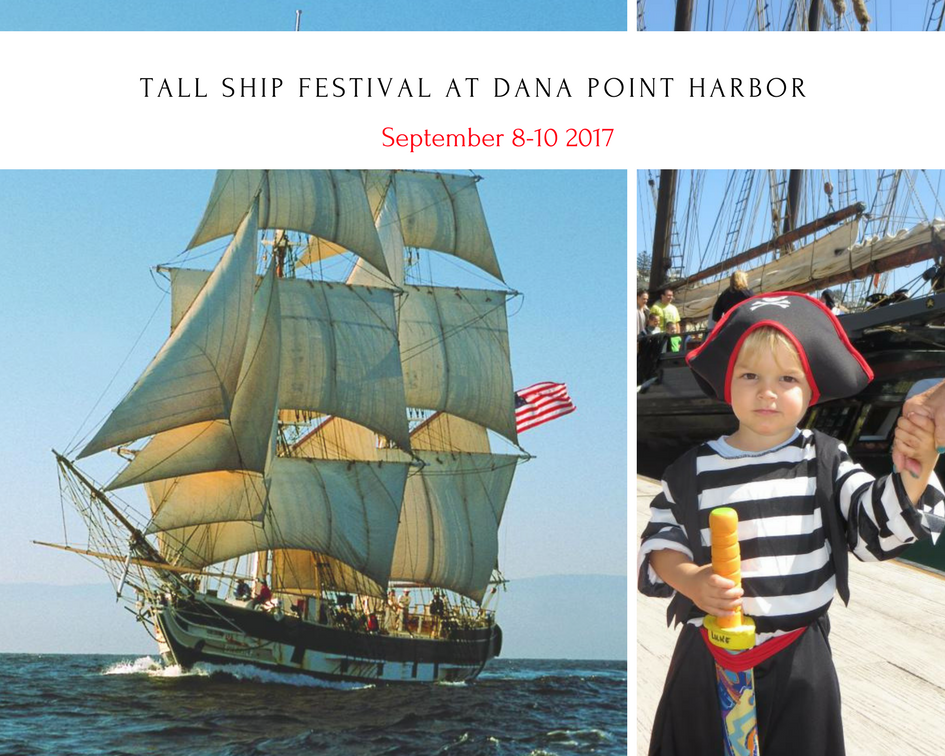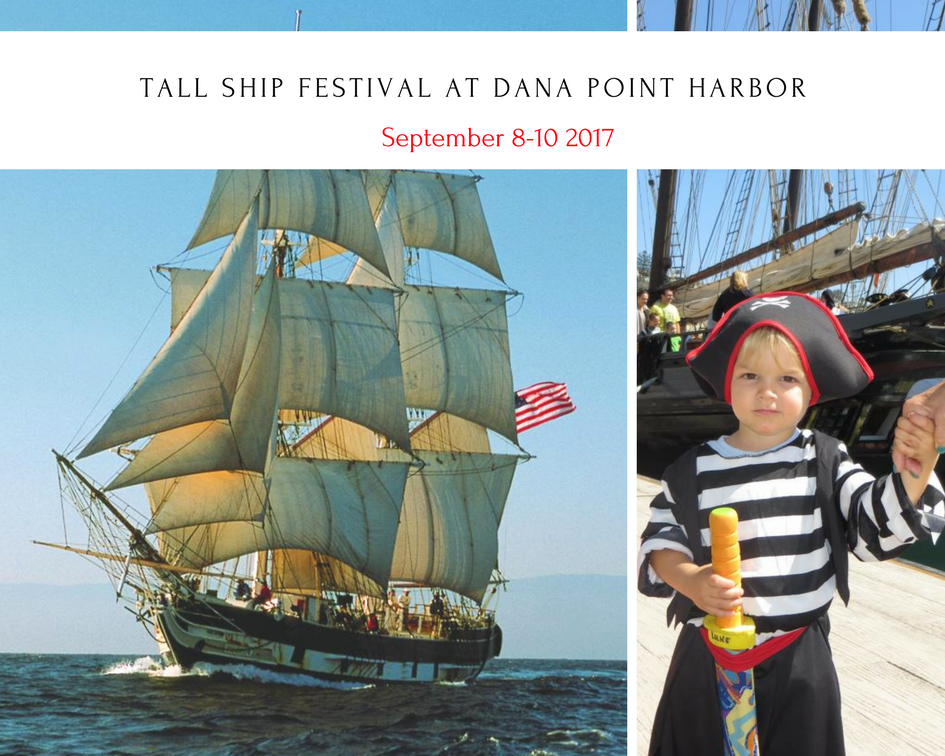 A'hoy Matey's! Get ready to walk the plank! The County of Orange and OC Parks in partnership with Ocean Institute, invite YOU to celebrate California's rich maritime history during the Ocean Institute's Tall Ships Festival in Dana Point Harbor.
How long Is The Tall Ship Festival?
The Festival runs from Friday, September 8 – Sunday, September 10 
What Kind of Activities Will There Be?
Kids will love the ship tours, Pirate Adventures, mermaid encounters, Cannon Battles, story times and climbing demos!
Schedule of Events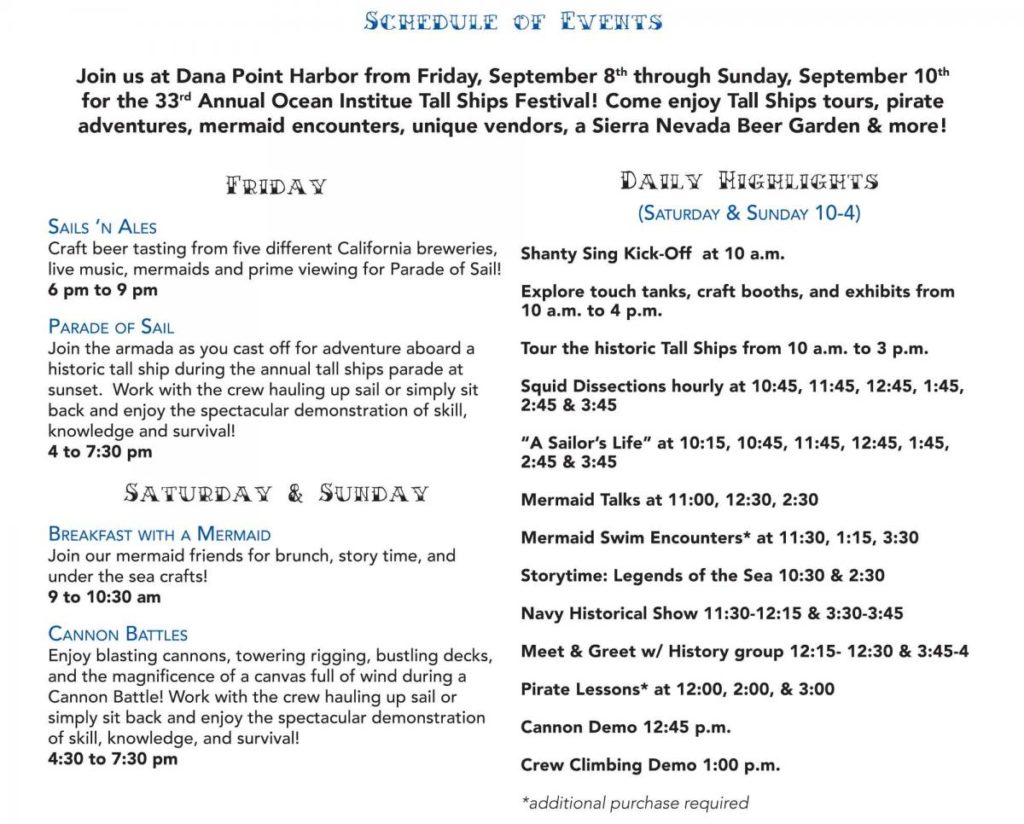 Where can I park?
Free parking is available at the designated shuttle lots located at Strand Vista Park and Dana Hills High School with free shuttle rides to the festival. Shuttles will run from 8:30 a.m. to 8:30 p.m. from all lots.
How Much Are Tickets?
Under the sea Mermaid breakfast is currently sold out but you can join a waitlist.
Tall Ships Festival Adventure Pass – Includes All day admission to the Festival, Tours of the Brig Pilgrim, the Spirit of Dana Point, and all visiting vessel, Access to vendors, food, pirate encampments, exhibitions, crafts, activities, Sierra Nevada Beer Garden, live music, and more.
Members: $9 / adults (15 years and up), $7 / child (ages 3-14)
Non-members: $10 / adults (15 years and up), $8 / child (ages 3-14)
Family 4-Pack: $30.00 Register Here.
Sails 'n Ales Tall Ships Festival Kickoff Party – Tickets include admission, souvenir tasting glass, unlimited tastes,
live music, and free parking.
General Admission Pre-Sale: $30.00
4-Pack Pre-Sale General Admission: $100.00
Kids Ticket (18 & younger)/Designated Driver: $20.00 Register Here.
Sunset Parade Sails – Join the armada as you cast off for adventure aboard a historic tall ship. Sing sea shanties, haul up sail, or simply sit back and enjoy the spectacular demonstration of skill, knowledge and survival! Minimum age is 4.
Adult (Ages 15+):$50.00
Child (Ages 4-14 years): $40.00   Register Here.
Cannon Battle Sails – Enjoy blasting cannons, towering rigging, bustling decks and the magnificence of canvas full of wind. Work with the crew hauling up sail or simply sit back and enjoy the spectacular demonstration of skill, knowledge and survival! Must be 4 years old to board.
Tickets are between $35-$70 Register Here.
What Ships Are Participating? 
Credit: Ocean Institute
There are 6 ships participating in the tall ship festival that explore Maritime history.
The Brig Pilgrim
Spirit of Dana Point
America
Californian
Curlew

Exy Johnson And Irving Johnson
OC Parks, Dana Point Harbor and Ocean Institute welcome guests to enjoy an unforgettable seaside adventure during the Tall Ships Festival September 8-10. For more information on activities, events, tickets, and parking visit https://www.ocean-institute.org/tall-ships-festival.