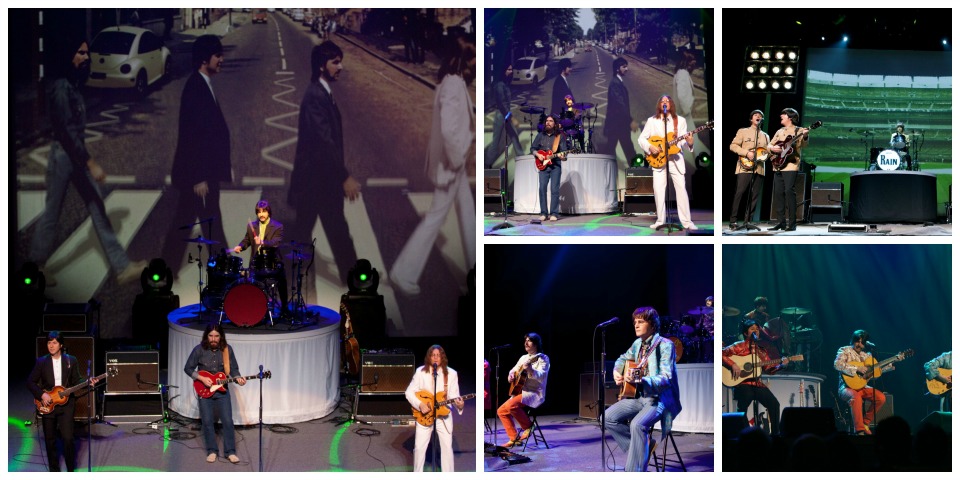 The Beatles are back! Direct from Broadway, RAIN is coming to The Segerstrom Center For The Arts  April 25 – 26, 2014. The cast for the Orange County engagement includes Paul Curatolo as Paul McCartney, Steve Landes as John Lennon, Ralph Castelli as Ringo Starr and Joe Bithorn as George Harrison. Chris Smallwood joins as the keyboardist. Single tickets, which start at $30, are now available online at SCFTA.org, at the Box Office at 600 Town Center Drive in Costa Mesa or by calling (714) 556-2787.
Beatles themselves recorded in the studio but never performed for an audience. In addition, new songs are being included with the launch of the 2013 tour.
Together longer than The Beatles, RAIN has mastered every song, gesture and nuance of the legendary foursome, delivering a totally live, note-for-note performance that's as infectious as it is transporting. They perform songs from the early hits to later classics such as:
"I Want To Hold Your Hand,"
A Hard Day's Night,"
"Sgt. Pepper's Lonely Hearts Club Band,"
"Let It Be,"
"Come Together,"
"Hey Jude" and more
This adoring tribute will take you back to a time when all you needed was love and a little help from your friends. Reminiscent of The Beatles, the onstage members of RAIN are not only supreme musicians, but electrifying performers in their own right.
For more information call (714) 556-2746
RAIN – A TRIBUTE TO THE BEATLES
April 25 & 26, 2014
Friday at 7:30 p.m.
Saturday at 2 and 7:30 p.m.
Segerstrom Center for the Arts – Segerstrom Hall
600 Town Center Drive, Costa Mesa, CA