For the past 8 years I think we have gone through 20 or so lunchboxes. No joke. They always come home smelly, sticky, dirty and gross. And let's not forget about when the kids leave them in the car under the hot sun with leftover food in it. Oh those are lovely. Sure, you can wipe the lunchboxes down with a Clorox wipe but the smell ALWAYS comes back. It's like it is embedded in the material. I cannot tell you how many times my husband has picked up one of the kids empty lunchboxes, smelled it and said that we needed to throw it away.
Well, I can tell you now that my Lunchbox woes are over. I have found the most amazing lunchbox on the market from Erin Condren Designs. Every piece of this lunchbox is dishwasher safe. Not only that but it is super stylish. This lunchbox  has a clean, smooth modern design that makes cleaning a cinch. There are no tiny compartments where food can hide, and even the edges of the food containers are straight without a lip that normally catches food in the cracks. You can customize the face cover on your lunchbox and have it say your child's name.

It even comes with an icepack that was made to fit perfectly in the lunchbox. This is a huge relief to me because before this I was buying those cool gel packs and they always leaked. The kids lunch boxes would come home with that blue gel in them that had oozed out and then I would have to throw hem away or put the packs in a zip-lock bag which was not only wasteful but a huge inconvenience. These ice packs from Erin Condren Designs stay cold for a long time and most importantly do not leak.

The Deluxe Lunchbox set comes with 1 plastic sandwich container and 2 snack container. Here is an example of how you can pack your child's lunch in these lunch boxes. I packed this for my 2 year old daughter to take to preschool. I put some turkey meat and cheese in the sandwich container , some carrots and hummus in one of the snack containers and cookies in the other snack container. There may be enough room in the box for a juice box but I have not tried that yet.

Then I sent her on her way to preschool with her sippy cup in tow.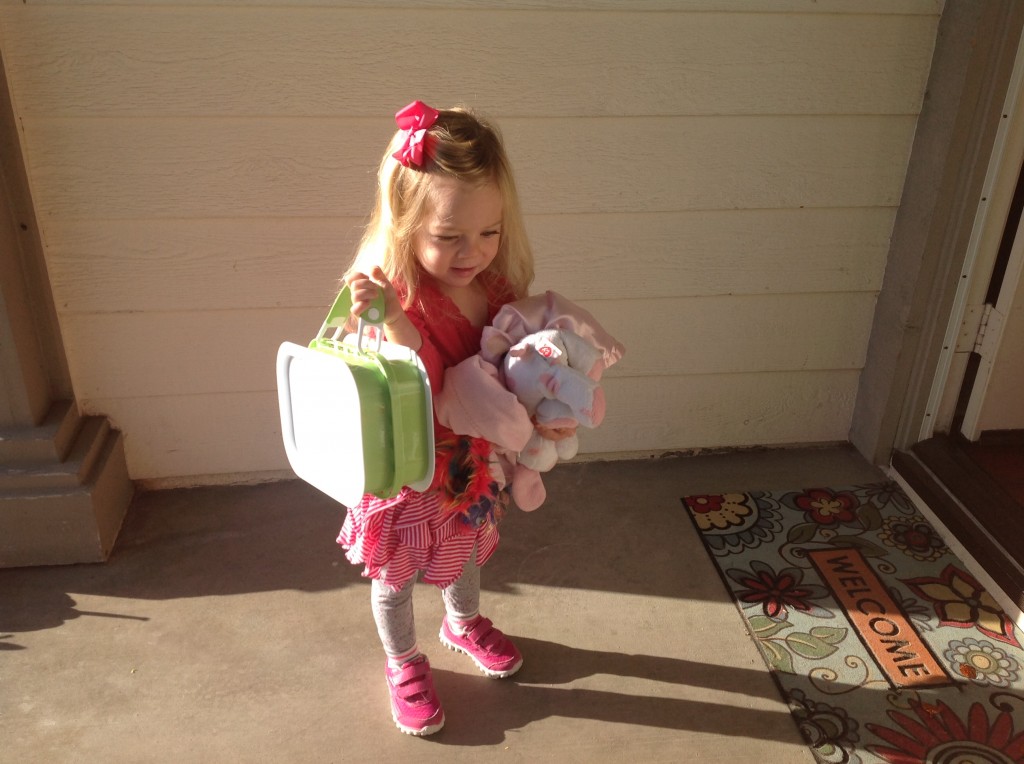 The Deluxe Lunch box set includes the following:

1 lunch box with removable silicone handle. 

Box measures 6.75″ tall x 9.75″ wide x 3.5″ deep.

1 plastic sandwich container measuring 5.75″ tall x 5.75″ wide x 2″ deep.

2 plastic snack containers measuring 2.875″ wide x 2″ deep.

1 ice pack

1 set of personalized lunch box faceplates.

1 set of personalized container stickers.

Price is $48
You also have the option of purchasing lunch box notes. These darling mini-notepads are perfect for including a sweet note in your child's lunchbox!

For more information on these fabulous lunch boxes visit www.erincondren.com
Disclaimer: I received a sample lunch box for review but all thoughts and opinions are my own.