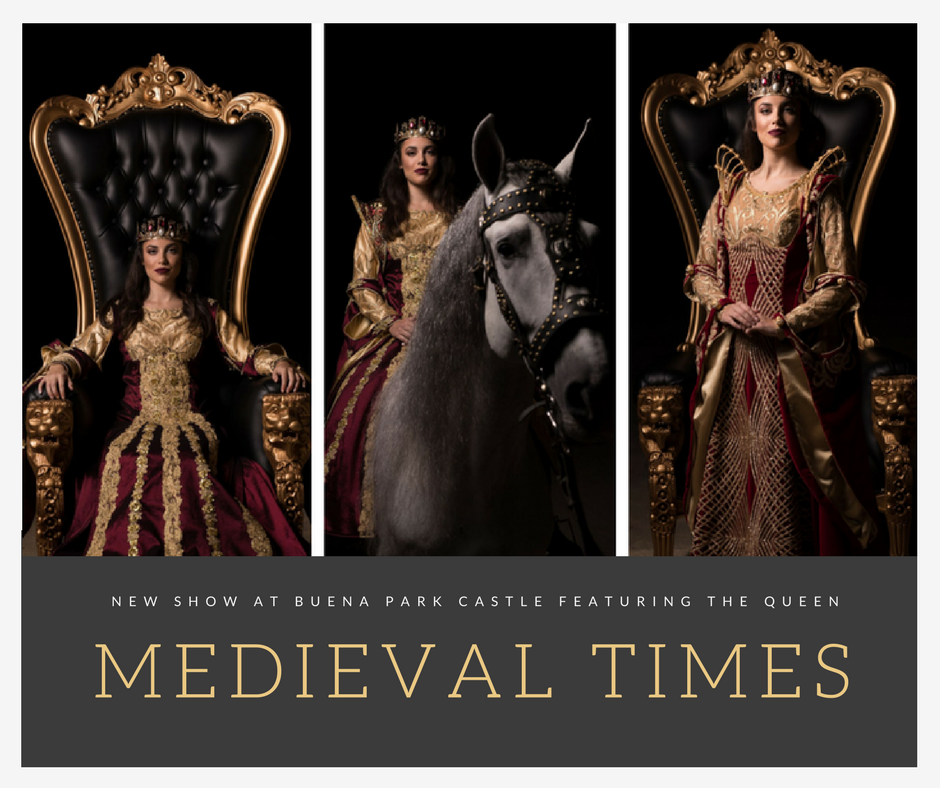 For the first time in Medieval Times' 34-year tradition of having a king as the sole ruler of the land, a female character is making history in the company's newest show now debuting at the castle in Buena Park.  This is exciting news on all fronts because "historically, female characters have held strong supporting roles in the production but now they are showing a woman in charge who is respected throughout the kingdom for her authority, leadership and incredible strength" says Pedro Goite, Medieval Times Buena Park General Manager.
The new show is fun for the whole family. From the moment you drive up you already feel like you are entering the 11th century. The dinner show is in a building that looks just like a castle and there are flags, shields, gates and crawling ivy that really make it seem like you are in the medieval time era.
What is New In The Show?
In addition to the debut of the queen character and storyline, the new production features:
Two hundred new suits of armor, shields and helmets, all custom-designed and hand- made at a dedicated armory in Florida.
More than 350 team members and 225 horses who have rehearsed new lines and fight scenes for three months while still presenting the current show.
 This include the queens undergoing an intense two months of training to become experts at riding the impressive Andalusian stallion for the new show.
New music composed by Dr. Daniel May, the composer and jazz pianist who scored "Everest" and other films, and has worked with notables such as Sting and The Moody Blues. He directed and recorded Medieval Times' new show composition in Kiev with the National Symphony Orchestra of Ukraine. This includes directing the choir in Ukraine with lyrics written by notable poet and choir member Solomia Gorokhivska.
A live-action film score precisely synchronized with every element of the show, from lights to fights; jousts to jabs; the Queen's entry to curtain closings; and more.
A sound and light production featuring 120 hours of programming with 300 new music cues and 500 new lighting cues. Buena Park is one of several castles installing and programming a new LED lighting system that offers 256 colors versus the old 14-color system. The system is powered by 10 miles of cable and an estimated $1 million upgrade.
Check-In
Upon check in they will give you a color coded card. This will be the color of the knight you will be cheering on. You walk through the courtyard into a room where you will be given a crown and have your picture taken with the king! From there you have the option to walk around and buy some souvenirs get a drink, see the horses or check out the museum of torture. (fee is $2 for the museum).

We spent a majority of the time before the show checking out the horses and watching them get their hair knotted and saddled up. My kids really enjoyed seeing the horse handlers brush their hair and get their harnesses on. There are several souveneir shops where you can purchase horse trinkets or stuffed animals as well as a variety of other swords, shields, capes and more.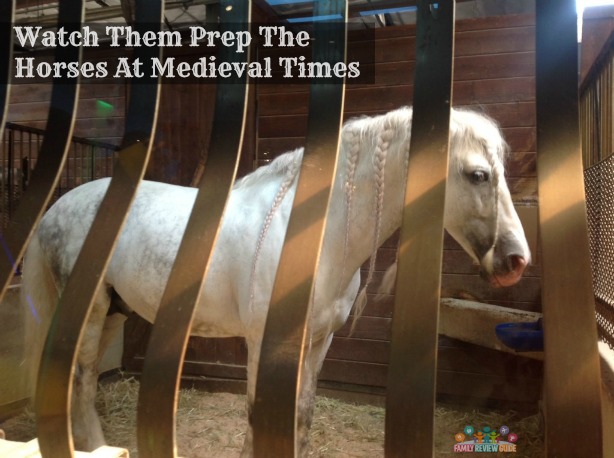 Another fun thing they do is something called the knighting ceremony. For $20 they "knight" your child or a loved one in front of everyone (putting them in a cape), and then they make a birthday, wedding, graduation, etc.. announcement during the show. It is well worth it.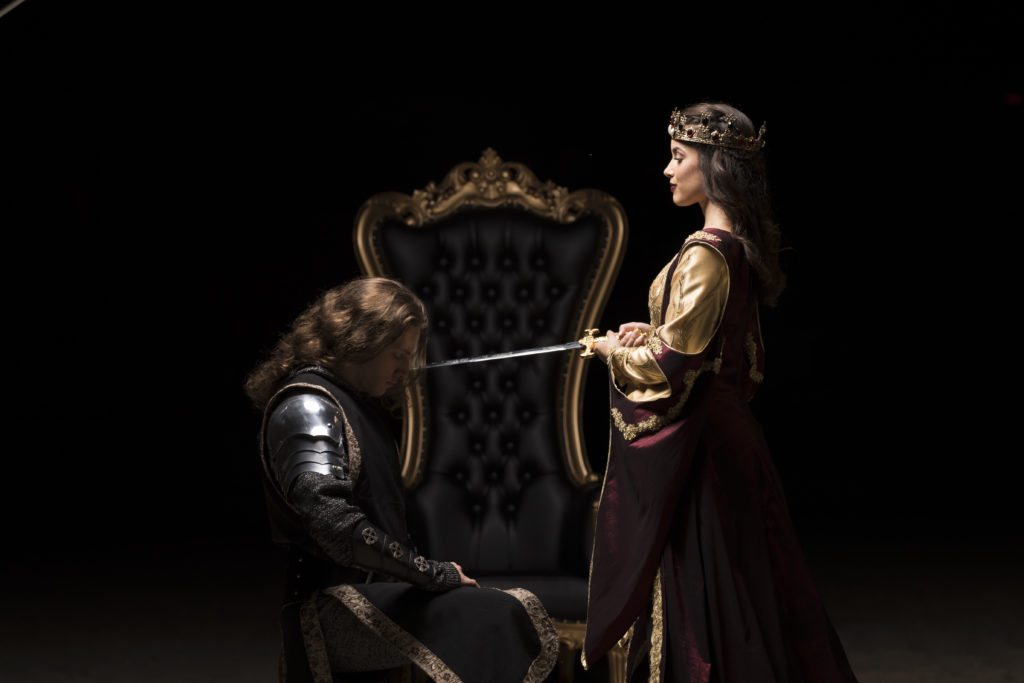 Food At Medieval Times
 Finally it was time to enter the arena for the show. The arena is huge and your seats are sectioned off in colors. Once you sit down your server will ask you what you would like to drink. Non alcoholic beverages include, Pepsi, Diet Pepsi, Iced Tea, Water and Coffee.
The food was amazing. There is no silverware so be prepared to eat with your hands. You start with a tomato bisque that is served steaming hot with a slice of garlic toast. Then you get a half chicken, a big potato wedge and a cob of corn. For dessert you will get a slice of lemon pound cake. If you are a vegetarian you have the option of Hummus and pita bread with carrot and celery sticks, and a 3 bean stew and brown rice. While you eat you will get to watch horses dance and prance. It is so fun to see. I was really impressed at how majestic the horses were. There is also a part in the show where a falcon will fly over your head several times.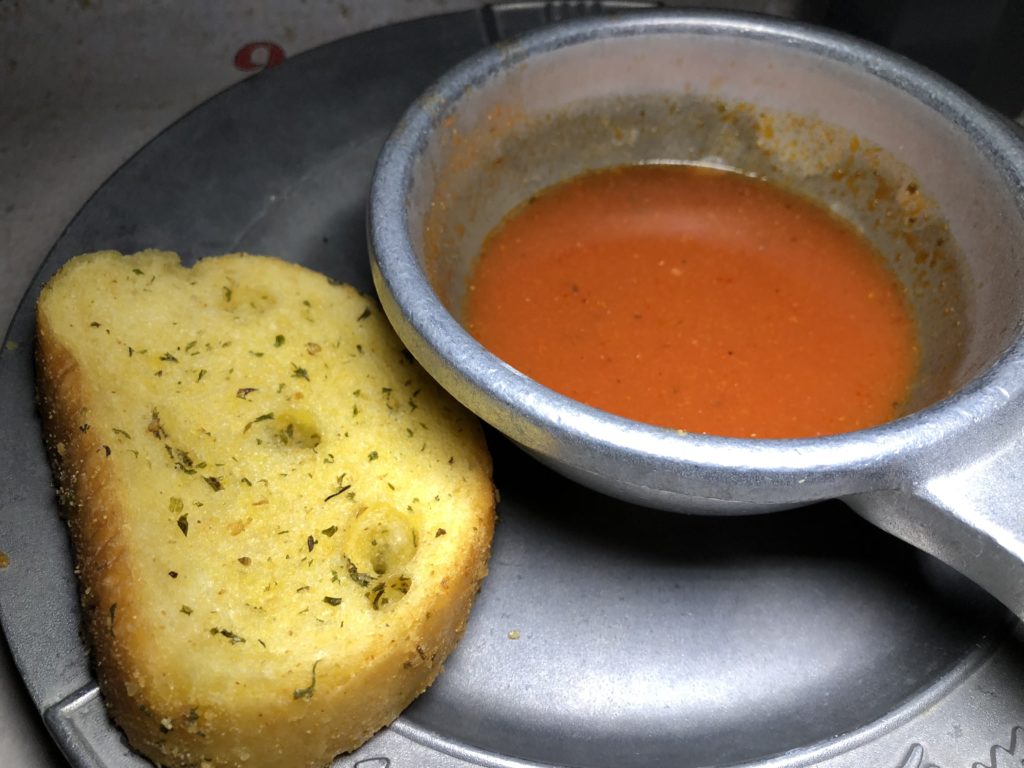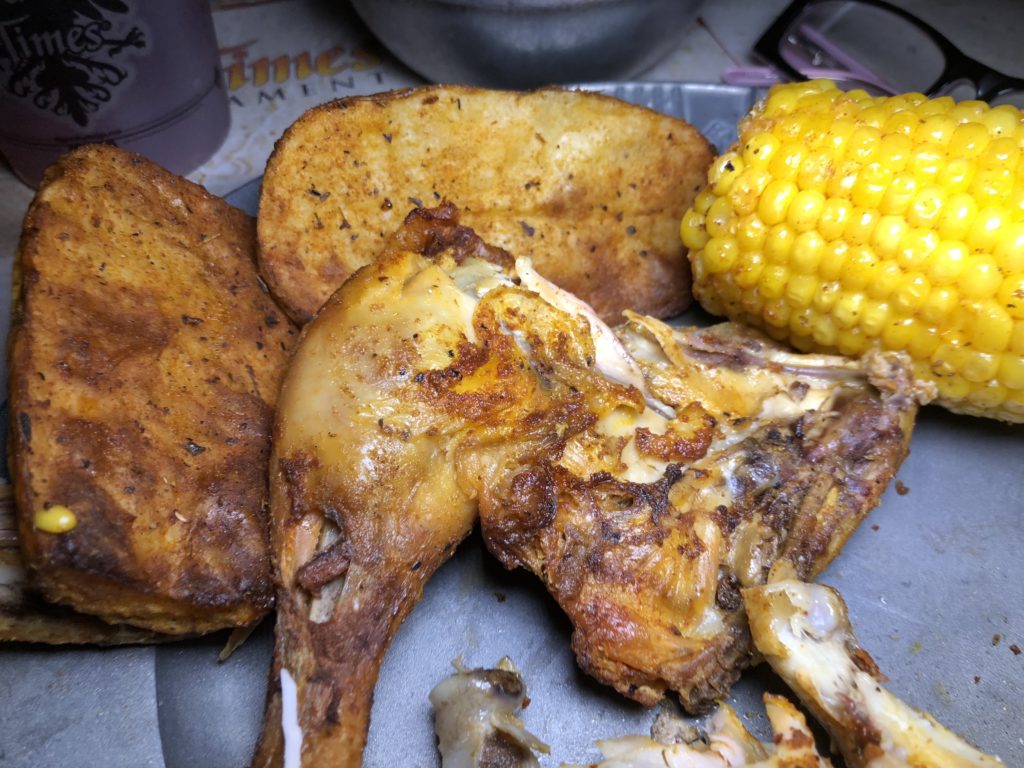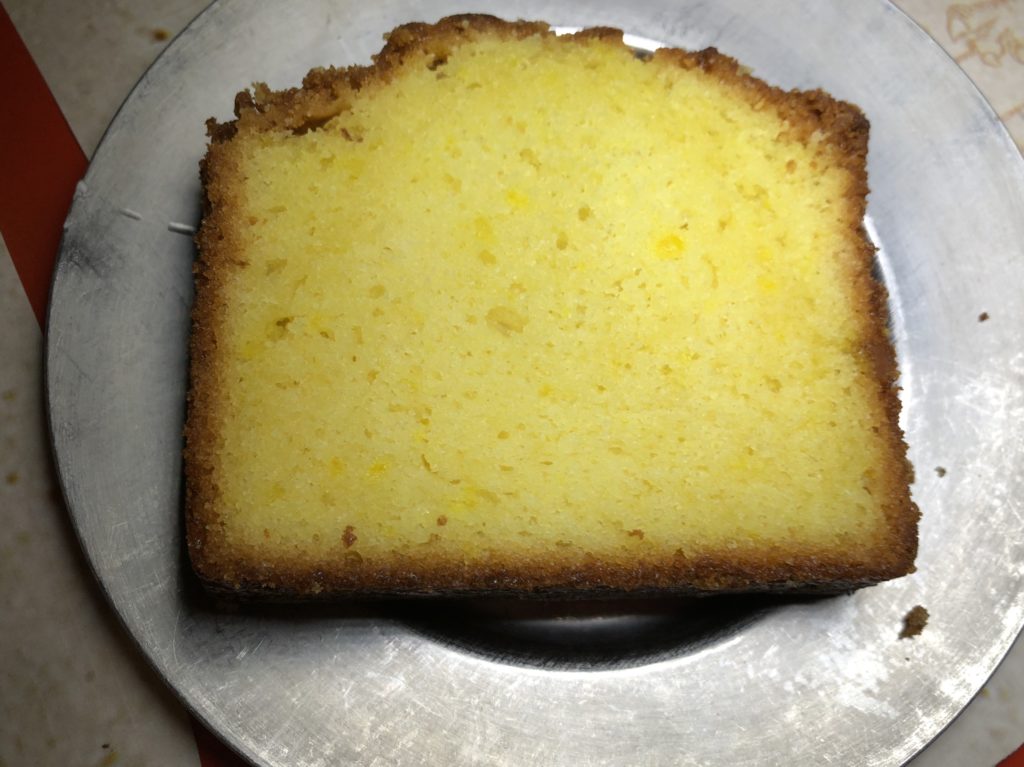 The show itself is really fun and high energy. You will watch jousting as well as lots of great horsemanship. The costumes are really intricate and the knights do a great job of interacting with the audience. Kids can wave their flags and cheer on their knight and the knights even throw out carnations to the audience.
New Costumes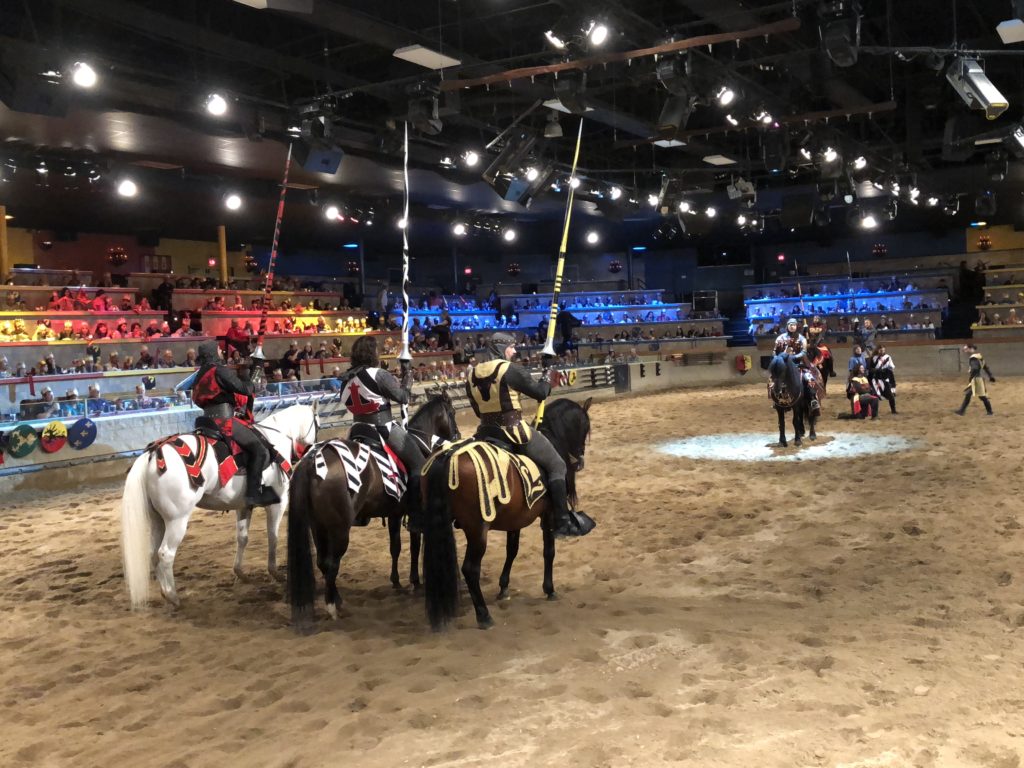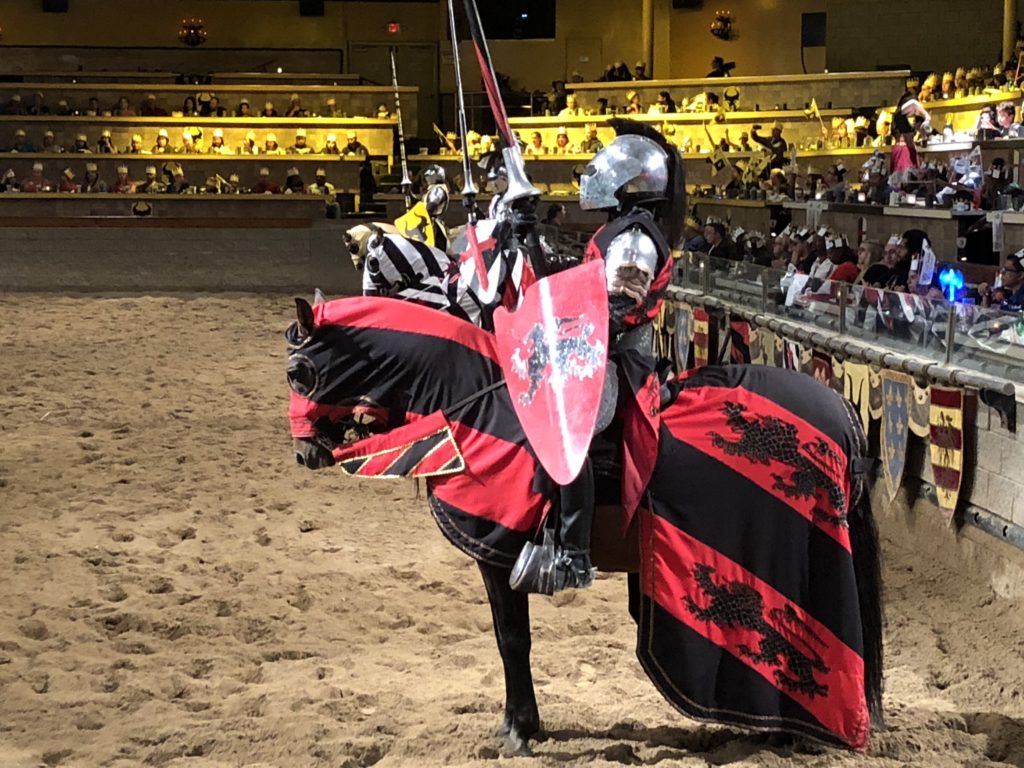 Video of the show:
We had such a blast and it was so great to see so many families be together! Ticket prices start at $30.95 for kids and $42.95 for adults using the code SB18. for a spring discount.
For more information visit Medieval Times at www.medievaltimes.com or find them on Facebook or on Twitter.