All Hallows' Eve is one of the nights when the veil between the worlds is thin – and whether you believe in such things or not, those roaming spirits probably believe in you, or at least acknowledge your existence, considering that it used to be their own. Are you ready to face those spirits? Because Knott's Scary Farm is just around the corner and we have all the info you need to know!
New For Knott's Scary Farm 2019
Wax Works – Mysterious lights and strange noises have begun to emanate from the eerie abandoned wax museum. The once prominent plastic surgeon, Dr. Augustus Scratch, has been seen tinkering at night and is now ready to show off his beautiful yet terrifying life-like masterpieces of hot molten wax and bloody flesh. It's rumored that blood-curdling screams can be heard echoing through the halls of Wax Works as victims are horrifyingly submerged into a scorching hot cauldron of bubbling wax. Take a closer look at his gruesome works of art and try to escape his deadly grip or become the newest masterpiece to add to his collection.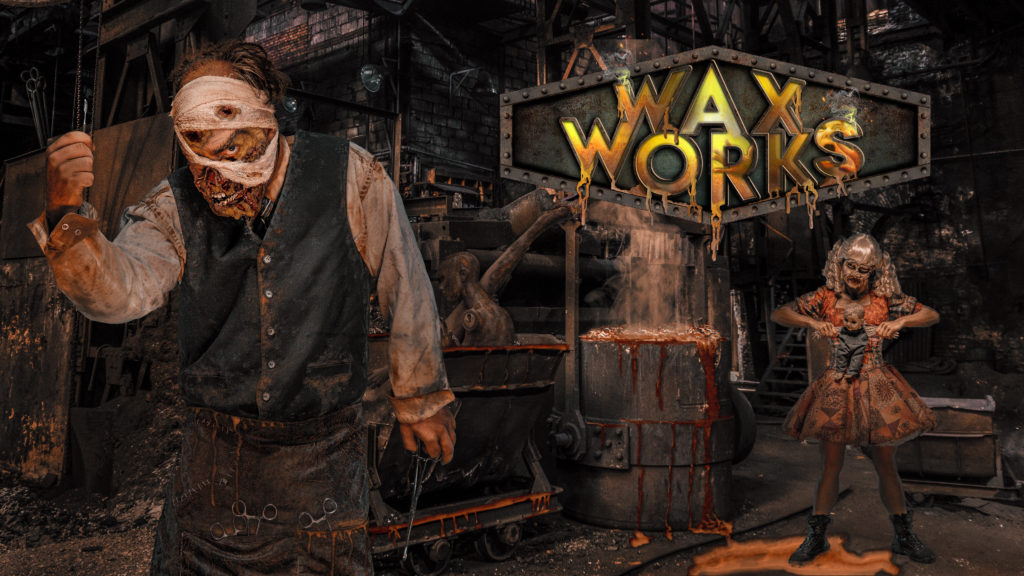 Origins: The Curse of Calico – Pierce the veil of time and discover the secret of the evil fog that hangs over Knott's Scary Farm in Origins: The Curse of Calico. Unearth the sinister paranormal activity that plagues the town as Sarah Marshall is put on trial for her suspected crimes of witchcraft. All will be unveiled when the Green Witch rises up and curses the townsfolk, transforming all who have accused her into a wicked horde of malicious creatures with an eternal quench for the living.
Puppet Up! Uncensored – Exclusively performing nightly at Knott's Scary Farm for the 2019 season, Puppet Up! Uncensored is an outrageous, off –the-cuff live show featuring a combination of improvisational comedy and the magic of puppetry performed by a cast of world-class comedian puppeteers from The Jim Henson Company. Created by legendary puppeteer and award-winning director Brian Henson and directed by Patrick Bristow (Ellen, Seinfeld, Curb Your Enthusiasm, Whose Line Is It Anyway?), Puppet Up! – Uncensored is no ordinary puppet show. In true uncensored form, the content is driven by audience suggestions and participation, topped with the zany antics and naughty shenanigans of the colorful and brazen puppet cast. Puppet Up! – Uncensored will be performed three times each night at Knott's Scary Farm and is intended for mature audiences. Watch the clip below for a sample!
Returning Favorites:
Shadow Lands – A fulfilling life ensures a souls safe passage into eternity but what happens to the souls of soldiers slain in battle? Enter the hair-raising Shadow Lands maze and fight off demon samurais whose souls are cursed to rot within the depths of purgatory. Guests will embark on a quest through a sacred shrine, an ancient Japanese temple and into the midst of the shadow lands.
PARANORMAL, INC. – The Haunting of Hayden Hill: Paranormal Inc. maze once again reopens its doors to those brave enough to uncover an eerie and supernatural adventure. Guests investigate a haunted hospital where the patients were tortured for decades by deranged doctors and nurses. Demonic spirits of the murdered victims have been detected throughout the mysterious halls, while evil medical staff prowl for new patients to torture.
Special Ops: Infected – Enlist to fight the zombie apocalypse in an all-out war against the undead in the interactive experience, Special Ops: Infected. Armed with specially designed laser guns, brave groups of guests embark on a mission of navigating through the city in a quest to find the infection cure. Take your last shot at saving mankind as this heart-stopping attraction is going out with a bang of new surprises, including two brand-new show scenes and characters for its final year at Knott's Scary Farm.
Pumpkin Eater – Survive the wrath of the murderous 7-foot tall creature that haunts the old woods surrounding The Hollow in the Pumpkin Eater maze. The notorious creature is on the prowl hidden within the dark confines of the haunted town he once terrorized. To escape the sinister Pumpkin Eater's wrath, all who enter must go on a quest through the silent town of victims, face a cave of crawling insects and solve the labyrinth of thorns that blocks the way out.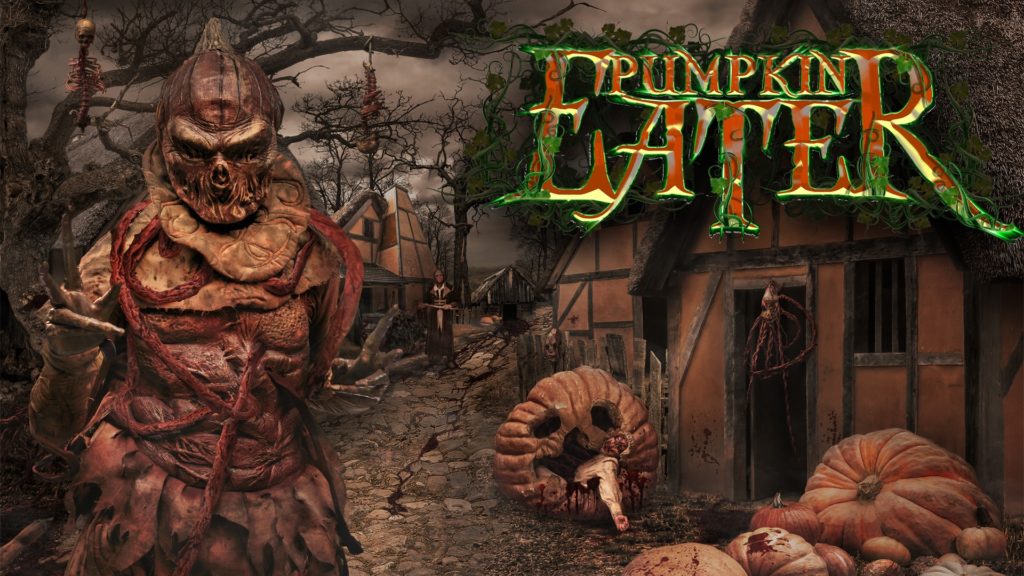 Dark Ride – Journey through an abandoned carnival ride where cruel carnie folk still linger in the shadows in Dark Ride: Castle of Chaos. The carnival has become a refuge for freaks and carnies. Now those shunned performers have created a dark world of terror which they plan to unleash on those who enter. Dark Ride will lead brave visitors through a treacherous path and into the bowels of a long- neglected attraction, as sinister shadows and horrifying scenes cast the gloom over the once pleasant ride. It's everyone's worst nightmare, being helplessly trapped inside an abandoned carnival ride without a way out. New for 2019, Dark Ride will be debuting a brand-new ending show scene where guests can walk through the rides attached Gift Shop and come face to face with Smiley Sam and Baby Fool.
The Depths – A heavy fog drapes over an abandoned port village where ancient creatures lurk inside the pitch-black underground caves hidden below the seaside shores. The Nightwatch Mining Crew has mysteriously disappeared and village rumors point to the eerie tunnels the town sits upon. Myths of the terrifying horrors that lurk within the cave have often been whispered but never confirmed. Did the crew meet their demise at the hand of vicious creatures that live within the cave? Journey into the ominous caverns to discover if the superstitions revolving around the cave is true or not. But be warned all who have entered have never resurfaced.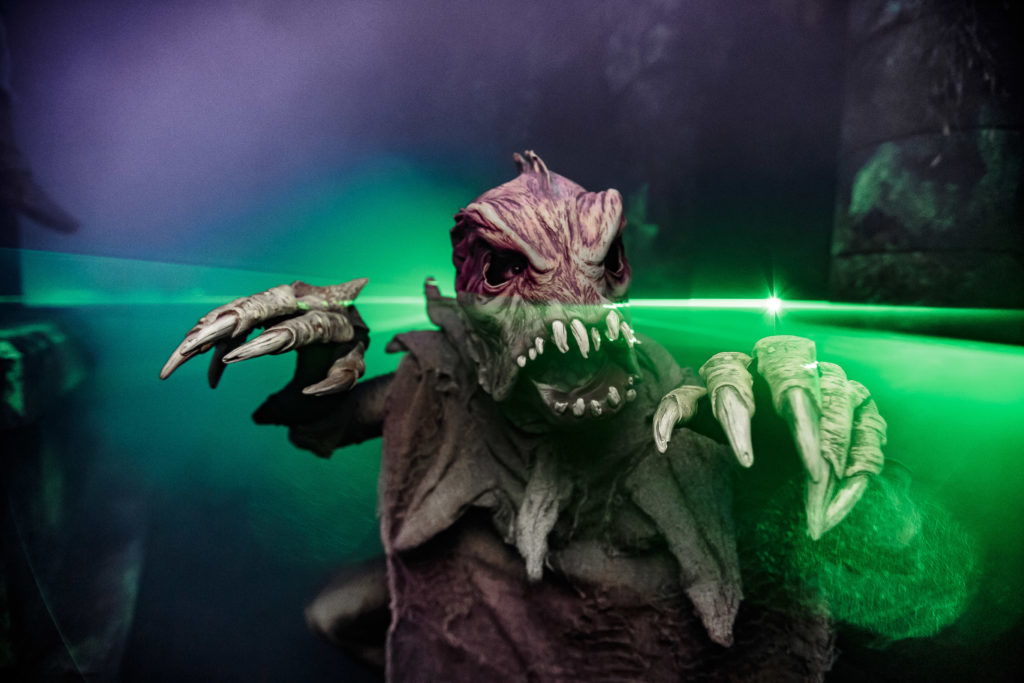 Dark Entities – Teleport beyond earth into a realm where the darkness is absolute. In the depths of space, a lone station faces terror beyond all imagination. An extraterrestrial mutation has invaded the station, and it's on the prowl for new hosts. The unearthly inhabitants' force increases as it feeds on its unwilling victims. Escape the dark entities before its deathly force eliminates all living form aboard the station. There's nowhere to escape when time is running out!
Halloween Hootenanny – The residents of the Timber Mountain Log Ride celebrate the Halloween Hootenanny which adds a seasonal twist to a park favorite. Mysterious creatures of Timber Mountain that live out in the woods and caverns join the citizens as they honor the season at the Halloween Hootenanny. The ride's interior features unexpected surprises as guests venture past the Calico Coffin Creeper band, the town's green witch and splash down Skull Mountain through a labyrinth of jack-o- lanterns.
Scare Zones:
Knott's Scary Farm is far more than a collection of haunted attractions. Every night monsters spill out onto the streets and turn theme park midways into murderous scare zones. From the world famous Ghost Town Streets to the Boardwalk area filled with evil clowns, there's nowhere to hide in Knott's Scary Farm.
Ghost Town Streets is the original and largest, most terrifying scare zone that started it all. Bands of half-human, half-animal monsters prowl the streets and inhabit the fog, and beware the notoriously startling sliders, who lunge from fog-filled corners of the land.
On the Boardwalk, deviant clowns crave your undying attention in the CARNEVIL scare zone.
The Hollow scare zone will terrorize guests as the Witches of the Hollow along with their armies of creatures have risen once again to battle with the Witch Hunter.
The Lake underneath Silver Bullet recedes to reveal the Forsaken Lake scare zone, where gothic creatures ravaged by the dark and murky waters wander from their crypts preying on unsuspecting visitors, looking for victims to drag back to their watery graves.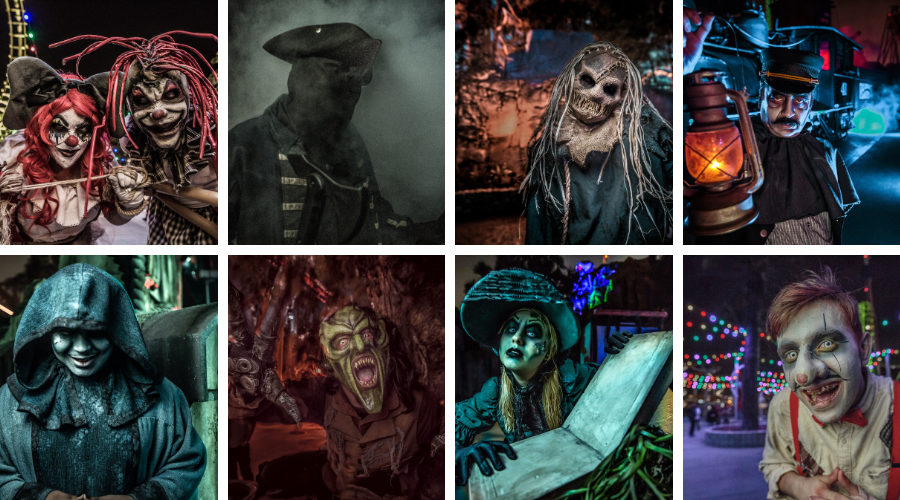 Shows:
The Hanging – The Citizens of Calico face their toughest foes yet, the censors, in this live stage show that looks back at the year's pop culture with some killer comedy. Notorious for its special effects and high- flying stunts, The Hanging is a no holds barred assault on pop culture's most infamous moments of the past year. A must see parody!
CONJURE– Magic and Mirth in the Birdcage Theatre – The Bird Cage Theatre will once again become the home of comedy and magic. Join award-winning magicians and Fox's Masters of Illusion regulars as they take the stage to amaze and amuse. Witness magicians front and center as they perform on select nights.
AWAKEN THE DEAD – A non-stop DJ dance party has taken over Fiesta Village, where guests can jam with candy skull go-go dancers and dance to music so popular it's sure to Awaken the Dead.
Art Installations at Bizarre Bazaar
Artists from across the country have been invited to create works of art celebrating Knott's Scary Farm.  You can find them in the Bizarre Bazaar (located across from the Charles Schulz Theater).
Scary Farm Ticket/Season Pass Info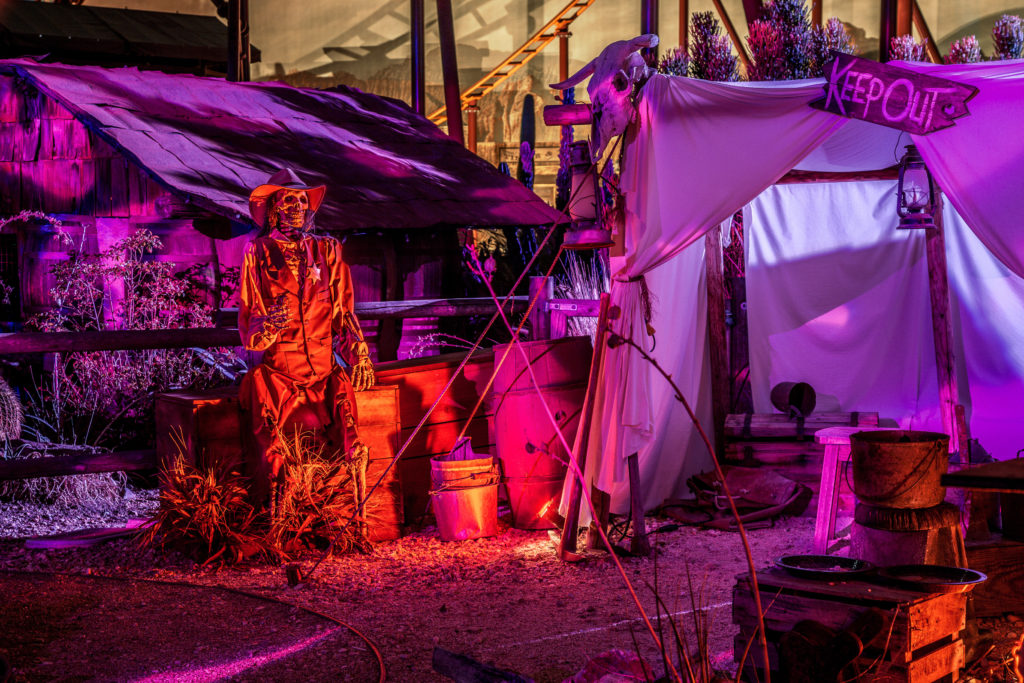 Grab a Knott's Scary Farm Pass to go to every night of Scary Farm! Hurry, only limited quantities are available. Knott's Berry Farm Season Passholders save $10 for a limited time. Offer ends Sept. 15.
Season pass -$100
One Day Ticket – $43
Season Passholders – $38
Scary Farm All Inclusive ticket – $157.99
Save up to $73 with the Scary Farm All Inclusive Ticket. Includes Scary Farm Admission, Parking, Fright & Fast Lane and a Knott's Scary Farm Boo-fet dinner. Knott's Season Passholders save up to an additional $5 off Scary Farm All Inclusive Tickets.
Boo-fet Dinner – $34.99
Munch with the monsters before you face your fears. Treat yourself to a Knott's Scary Farm Boo-fet dinner followed by early entrance to select areas of Knott's Scary Farm. Also includes one digital photo download with a monster at the Boo-fet location.
Fright & Fast Lane – $90
Receive unlimited priority access for all mazes plus priority boarding on all Fast Lane rides including HangTime, GhostRider, Voyage to the Iron Reef, and more. Ride and scream as many times as you want, all night long.
Parking – $22
Black Licorice Ice Scream
A black licorice Ice Cream will be served along side black cotton candy and sprinkled with  luster dust.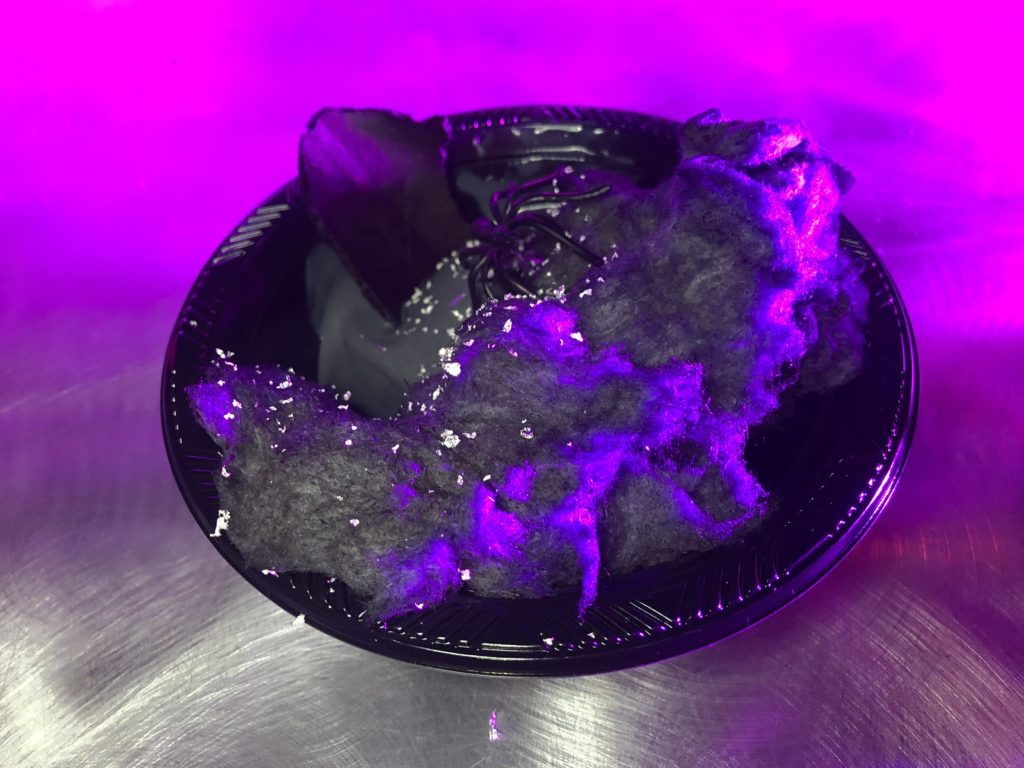 Knott's Scary Farm Hotel Packages
Scream and dream with a Knott's Scary Farm Hotel Package. Nightmares are guaranteed. Scry farm can easily run until 1am and rather than drive home after a long night consider staying at the hotel. Here are the prices for each package.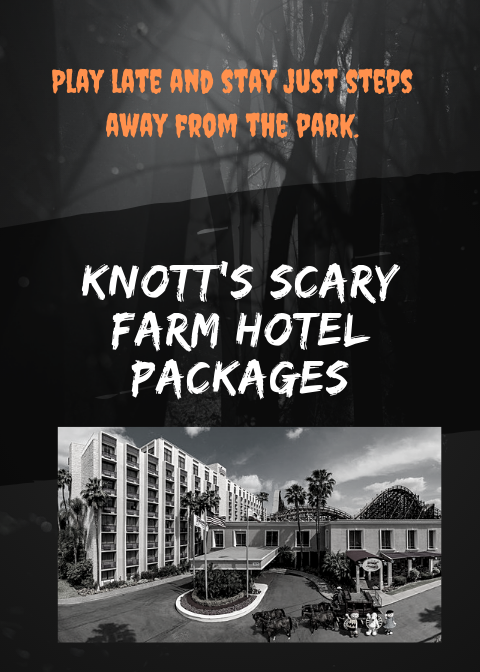 BARE BONES HOTEL PACKAGE
Includes Hotel + Knott's Scary Farm Admission
The Bare Bones Hotel Package includes a one-night stay, free parking, and admission to Knott's Scary Farm on the night of your arrival for each registered guest. As Low As$69Per person, per night, based on four people. Book
HAUNTED DREAMS HOTEL PACKAGE
Includes Hotel Stay + Knott's Scary Farm Admission + Breakfast/Dinner
The Haunted Dreams Hotel Package includes a one-night stay and free parking. Each registered guest also receives admission to Knott's Scary Farm on the night of arrival, an exclusive Knott's Scary Farm t-shirt, pre-scare dinner at the Knott's Hotel with early park entry, and a breakfast buffet voucher. As Low As $122 Per person, per night, based on four people. Book
GRUESOME GETAWAY HOTEL PACKAGE
Includes Hotel Stay + Knott's Scary Farm Admission + Fright & Fast Lane
The Gruesome Getaway Hotel Package includes a one-night stay and free parking. Each registered guest also receives admission to Knott's Scary Farm on the night of arrival, an exclusive Knott's Scary Farm t-shirt, Fright & Fast Lane for unlimited priority access to all mazes and select rides at the park, pre-scare dinner at the Knott's Hotel with early park entry, and a breakfast buffet voucher. As Low As $210 Per person, per night, based on four people. Book
For more information visit Knott's Scary Farm on Instagram and Facebook.