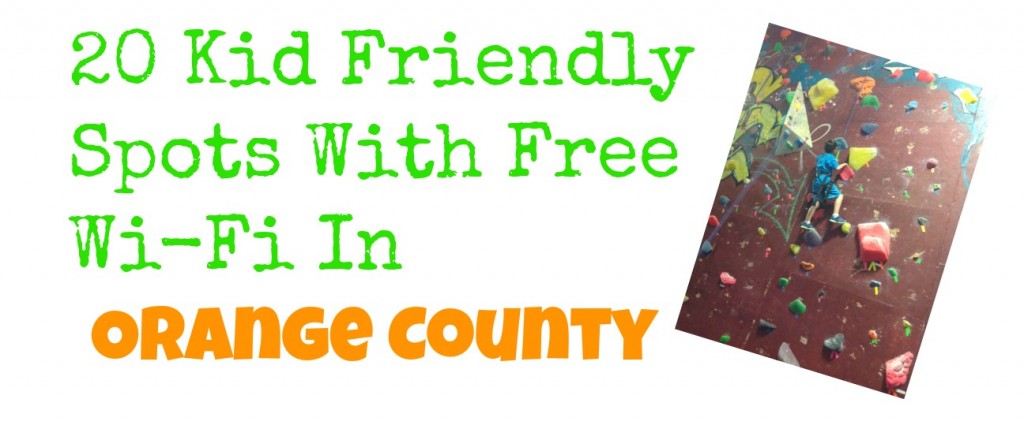 Summer is here which means no more schedules and lots of time with the kids. If you are wondering how you are going to keep these kids entertained for 3 full months on top of trying to get your own work done, look no further. I have compiled a list of kid friendly spots in Orange County that offer FREE Wi-Fi.  The following places have areas where you can sit and connect to the internet while your kids play. The majority of these indoor places charge for the entertainment even though the Wi-Fi is free but if you aren't going on a weekly basis it isn't too bad.
Please check back regularly as this list will be updated regularly!
Indoor Play Areas
Playland Cafe (Irvine)
Price: Toddler Admission (under 2) $7 Per Child / Adult Pair
Price: General Admission (ages 2 and up) $12 Per Child / Adult Pair
Price: Additional Adult Admission $5  (1 Free adult admitted with paid child)
Sea Scape Kids Fun (Anaheim)
Price: $8 per session/free children 2 and younger
Frogg's Bounce House (Fountain Valley)
Price: $3 adults/$10 children 4 and older/$6 children 3 and younger/$8 groups
Jump N Jammin (Mission Viejo)
Price: Regular Admission (2 and up) $12.95 (Regular child's admission includes one free adult and one sibling)
Price: Child's Admission (23 months and younger) $5.49
Price:Extra Adult Admission $3
Gift Cards and Passes also available
Sky High Sports (Irvine)
Price: Friday-Sunday $14 per hour
Price: Monday-Thursday $14 for the first hour
Price: Only $6 per additional hour
Big Air Trampoline (Laguna Hills)
Price: Monday-Thursday $12
Price: Friday thru Sunday $14
Toddler Time: Wednesday & Thursday
Aesthetic Climbing Gym – Rock Climbing (Lake Forest) Note: They do have Wi-Fi however it is secure and will only be given out if you ask for it.
Bonus: Circus Trix (Mission Viejo) Huge upstairs area with free wifi and flat screen TV's
Military Pricing (Active, Reserve, & Veteran)
$10 Day Pass
$40 for 1 month
$35 for 1 month recurring payments (EFT Program)
$100 for 3 month
$300 for 1 year
$80 Ten Visit Punch Card
Student, Teacher, EMT, Fireman & Police Pricing
$45 for 1 month
$35 for 1 month recurring payments (EFT Program)
$110 for 3 month
$350 for 1 year (EFT Applicable)
$100 for 10 Visit Punch Pass
Individual Membership
Day Pass- $15
Month to Month Pass- $50
$40 for 1 month recurring payments (EFT Program)
Three Month Pass- $125
Annual Pass- $400
10 Day Punch Card- $115
Rockreation – Rock Climbing (Costa Mesa)
Pricing: $12 for Kids Climb (Wednesday 4pm-6pm, Fridays 4pm-6pm, Saturday 1pm-3pm and Sunday 1pm-3pm   (ages 6 and older) . Must weigh 35 lbs.  ALL gear is included
 Hotels/Gyms
Rennaisance Club Sport (Aliso Viejo)
Hilton Homewood Suites (all)
If you are thinking about joining the Renaissance but want to check it out first, ask to speak with membership and they will give you a tour and then you can get a day pass. There is Wi-Fi throughout the building, even outside by the pool area. You can also arrange to put your kids in Kids World.
Stores (Various Locations through OC)
Apple Stores (Many stores have bench seating right in front of the stores with open wifi networks)
Barnes and Noble stores (Most have a kids area with seating where they can read books)
Restaurants (Various Locations throughout OC)
Libraries
All Orange County Public Libraries have free Wi-Fi
Indoor Arcades
Dave and Busters (all) Just ask server for the password.

Johns Incredible Pizza – (all)
If you know of any other free hot spots please comment below.