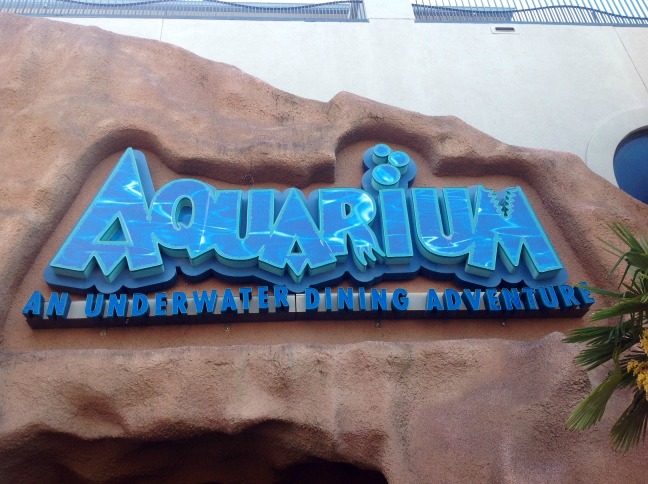 Have you ever wondered what it would be like to dine under the sea? Seafood restaurants come in all styles but its always a challenge to find a good one that is truly family friendly. Aquarium Restaurant in Kemah, Texas is the perfect combination of quality food and entertainment.
Recently my family took a vacation to Texas over spring break and we were invited to dine at this restaurant. I thought it might be a perfect time to introduce my two youngest children to seafood. We make seafood at home but I can never get them to eat it. I have been working with them recently on making healthier choices because my husband and son have gone gluten-free and I am buying less and less foods that are high in carbs or that have wheat in them. I had a peek at the kids menu at The Aquarium Restaurant before we arrived and I was really pleased with the selection they had to offer.
The Entrance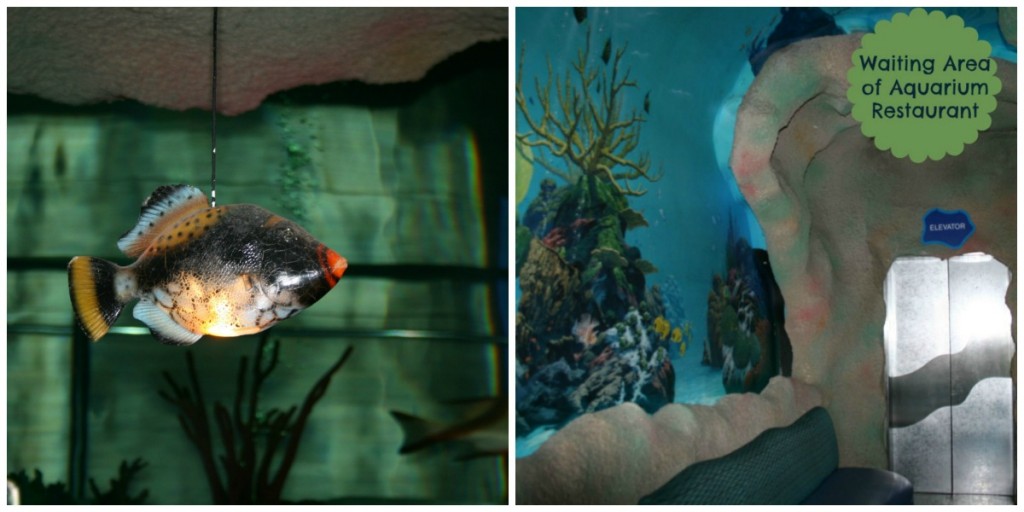 The entrance to this restaurant is really beautiful. There is Marine life everywhere! Even the walls are shaped like coral and there is a gorgeous mural on the wall in the waiting area.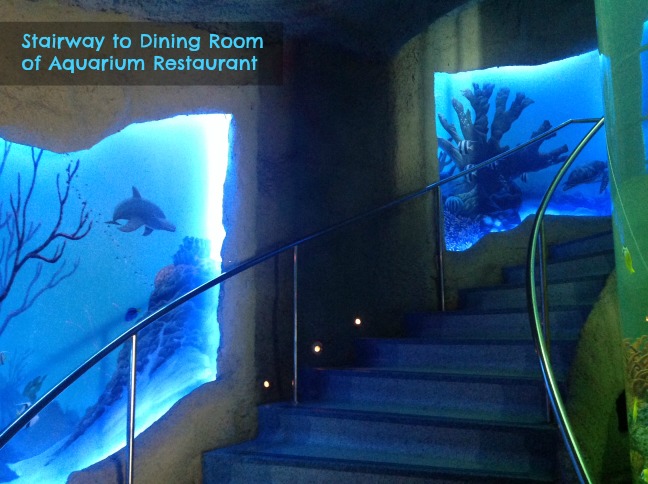 The Dining room itself is upstairs so you can either take the elevator or take the stairs. There is blue light all throughout the restaurant so it feels like you are underwater from the moment you walk in.
The Bar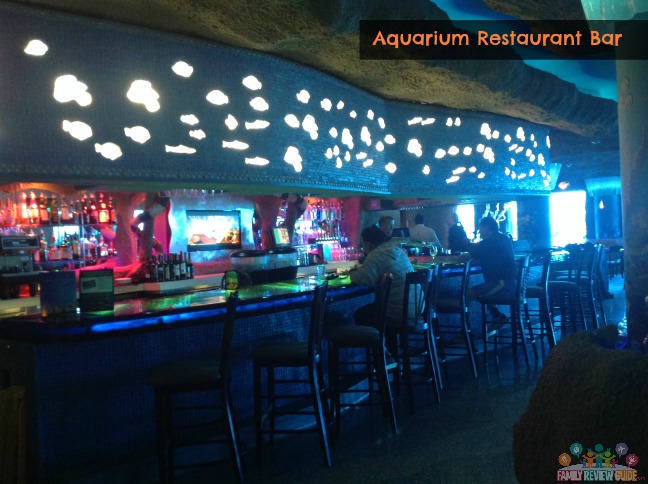 The Bar is really neat too. There are glowing fish all along the paneling above you. I had their specialty drink called "The Red Fish Margarita" It was awesome. It wasn't sugary or full of syrup like a lot of margaritas are.
Inside The Dining Room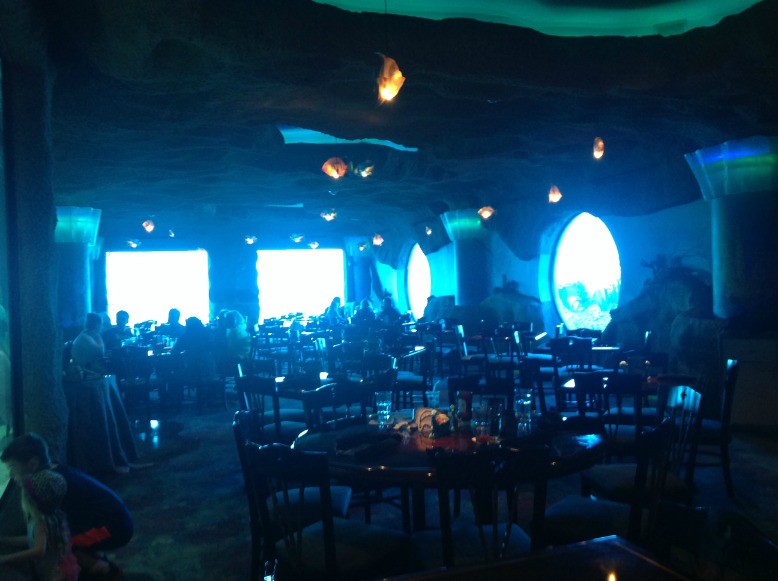 This is how the entire restaurant looks. Even at 5:00pm. The blue hue is everywhere and it is so much fun! Even the windows are blue! My kids loved staring at the fish in the tanks while we waited for our food.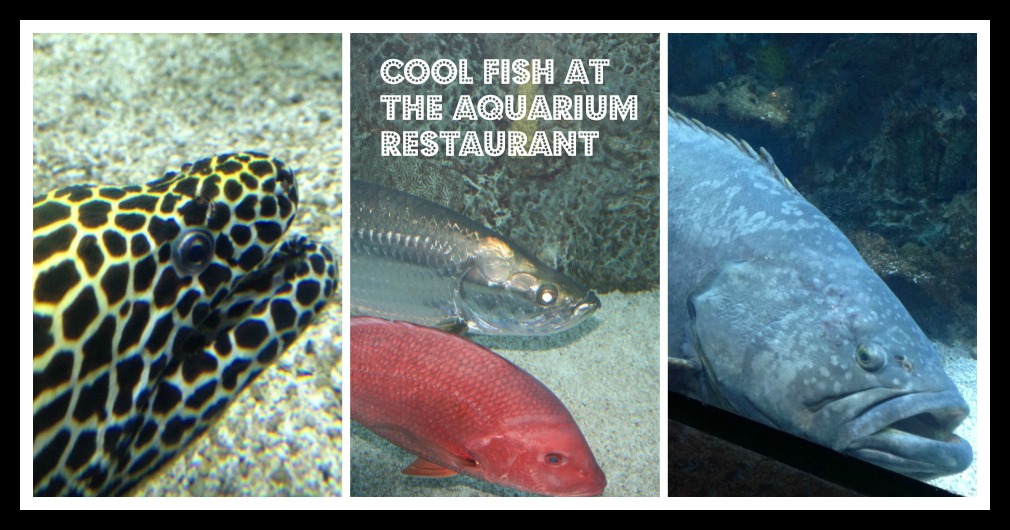 There are 50,000 gallons of water in the tanks surrounding the restaurant and about 10 different species of fish. All fish come from The Gulf Of Mexico. There is a Tarpin, a black tip coral reef shark, an Alligator Gar, a Zebra Shark Fish, a Green Moray eel, a Tessellated moray eel, a Jack Fish, a Pork Fish, a Red Belly Piranah and fresh water African Cichlids. Two of the fish are also from Australia.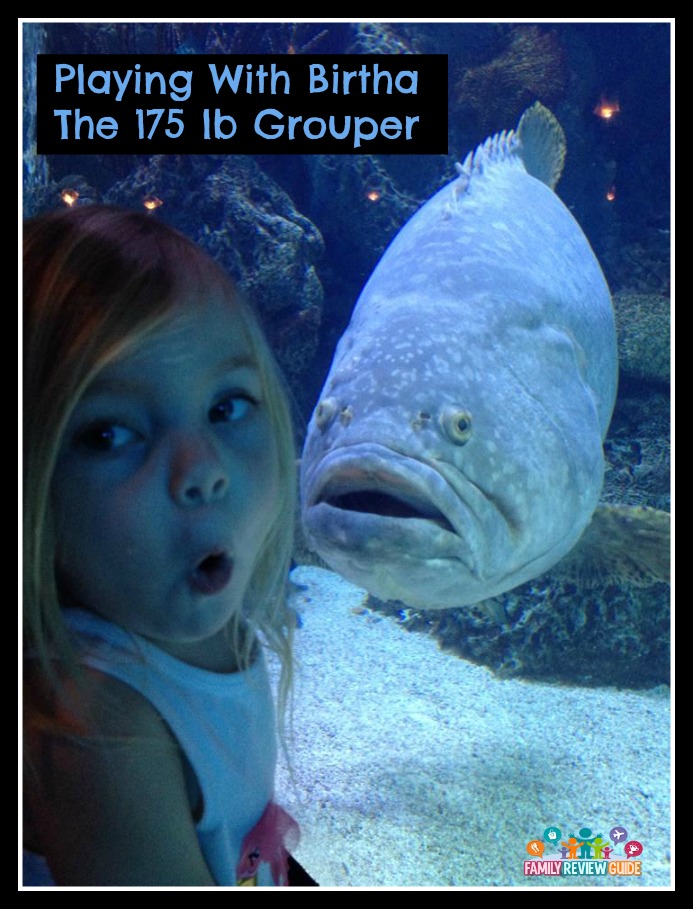 My daughter really hit it off with Bertha, the 175 pound grouper. They made faces at each other and everything!
The Food
Before we placed any orders our fabulous waitress informed the Chef that some of us eat Gluten-Free. The next thing I know Chef Michael Logan is at our table discussing all of the gluten-free options on the menu. How cool is that? He told us that The Aquarium Restaurant has two separate kitchens therefor there is no risk of cross contamination.He have us some great recommendations and told us that he personally cooks any entrée that is ordered Gluten-Free.
We started off our meals with some healthy appetizers (even though mommy really wanted fried calamari). We chose the chicken lettuce wraps and the shrimp cocktail. I wanted my boys to try shrimp because they are nutrient rich. They also contain about 25 grams of protein, and almost 2 mcg of vitamin B12. The shrimp cocktail came out in a very nice presentation dunked in a bed of cocktail sauce.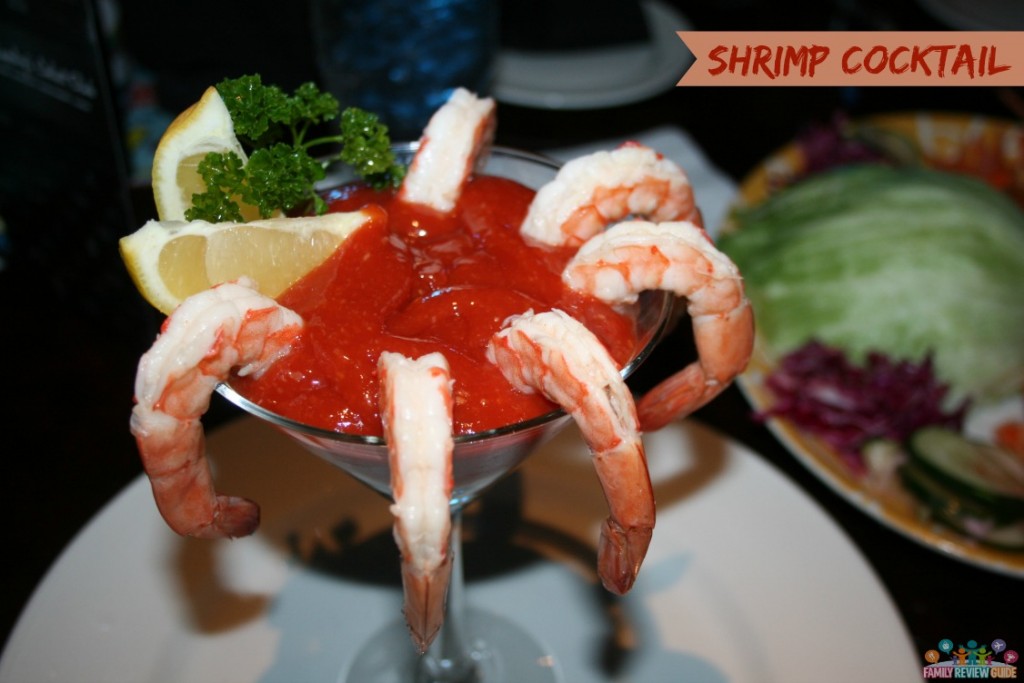 The Chicken Lettuce Wraps were served with big bowls of iceberg lettuce, seasoned chicken, cucumber, peanuts, cabbage and carrots. I also ordered the clam chowder soup and let the kids try some of that as well. None of them have ever turned down anything creamy.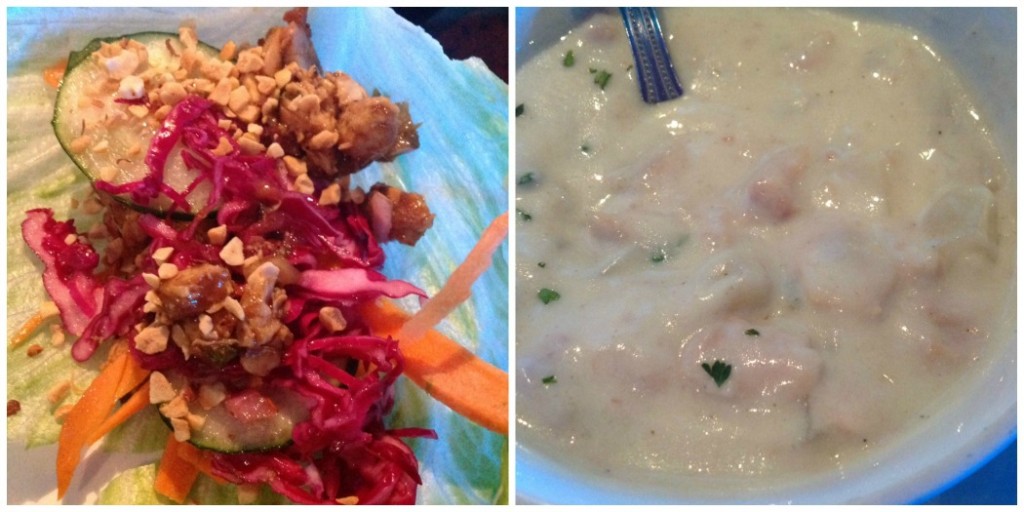 Success! He really enjoyed it! He even tried some of my soup.
Next up were our main Entrees. My oldest son who is 11 LOVES Lobster and since he is gluten-free The lobster Tower was the perfect dish for him. He devoured it but he hesitated at first because he said it looked to pretty to eat. I love how every ingredient is molded into the tower.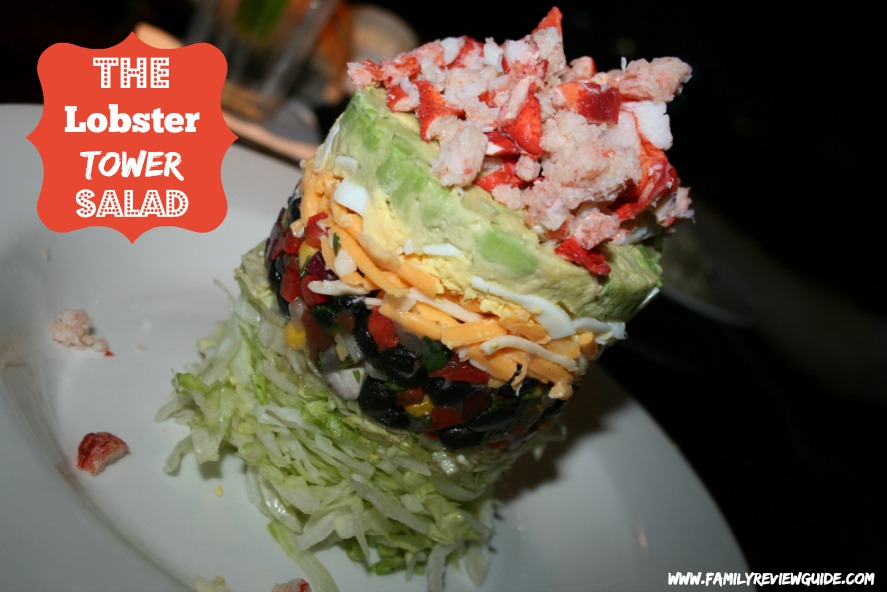 I had the top sirloin with lobster tail, grilled shrimp and jumbo lump crab meat on top. The potatoes were amazing. Slightly chunky and with skin in them and the green beans had just the right amount of crispness.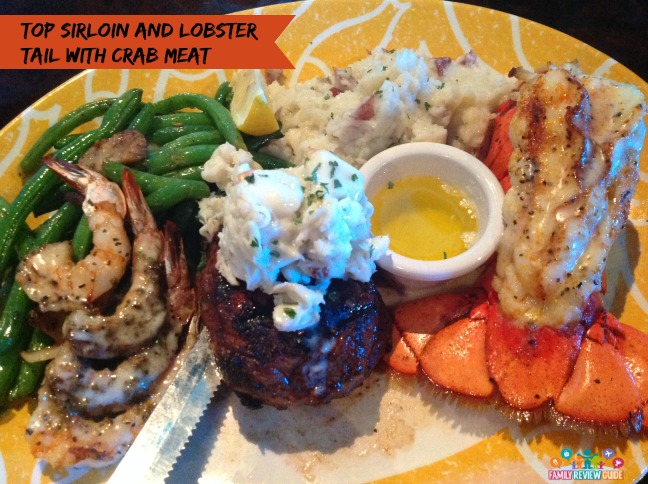 Chef Michael created this Salmon dish for my husband. It came with asparagus and sautéed mushrooms with capers on top. Gluten-Free and really flavorful.
Did I show you my Lobster tail yet =). Seriously, just look at it. The quality of the food at this restaurant is terrific.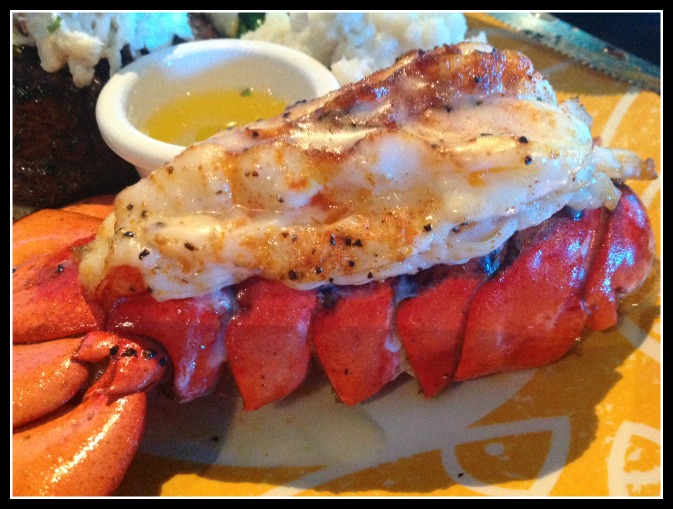 My daughter is only 3 so she is my pickiest eater. She doesn't eat a whole lot of meat or seafood so I thought it would be a good time to introduce her to fish sticks. Chef Michael told me they use Hoki, a flakey white fish and it turns out she enjoyed it. She actually ate the entire plate. I also chose to order her carrot sticks instead of french fries. And you know what? Once her food came she didn't even ask for french fries. Score! You also have the choice of apple sauce or seasoned corn as side dishes too.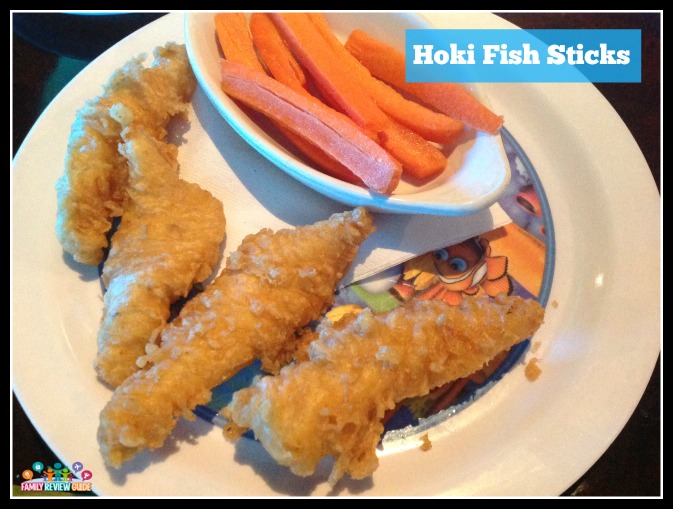 Being that my middle son tried a bunch of new things that evening I allowed him to order his favorite thing, a grilled cheese sandwich. You can see my daughter had no problems with the fish sticks. For a full view of the kids menu click here.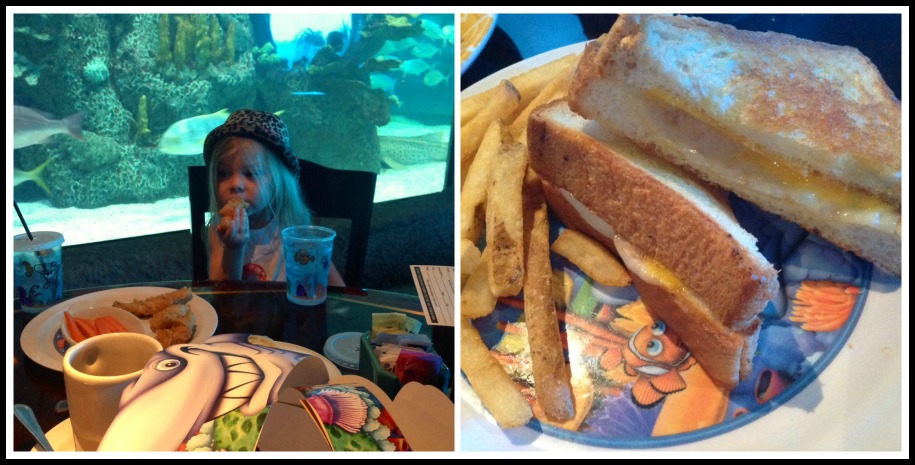 Finally it was time for dessert. There were too many options to list so I am just going to show you a photo of then all. Are you drooling yet?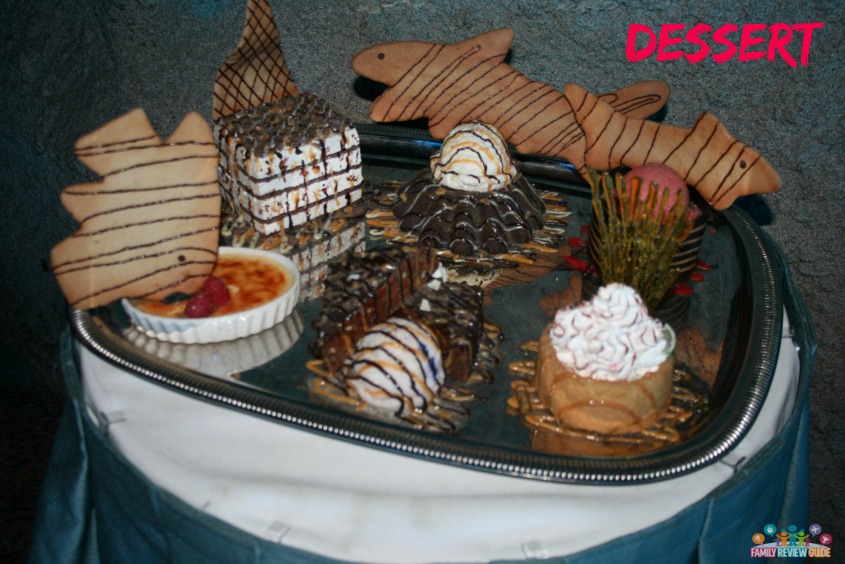 I can't say no to chocolate so of course I had to order one. I picked the Ice Cream Lasagna. It's Ice cream sandwiches layered with whipped cream and drizzled with chocolate and toffee pieces. It was sinful and I loved every bite of it.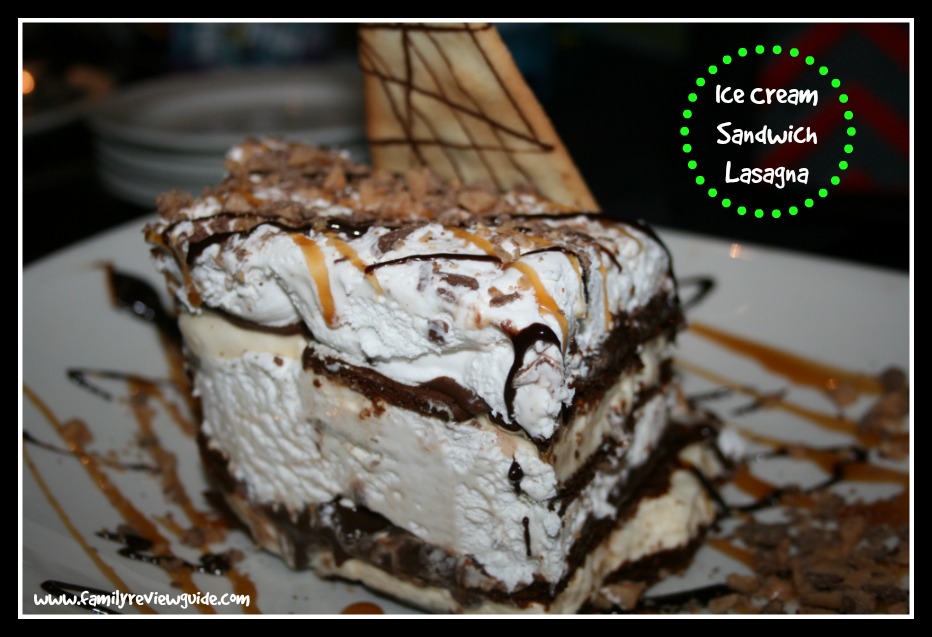 My husband and son ordered the Flour less chocolate cake. It was so good!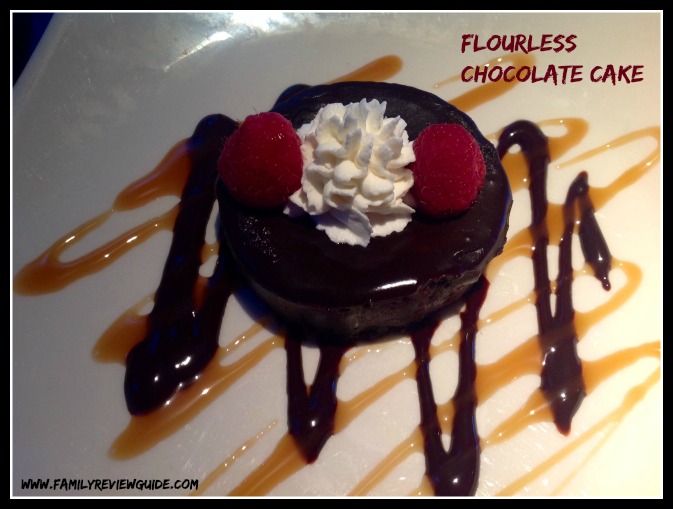 The whole family had a great experience and I highly recommend this restaurant to anyone visiting Texas. The kids were entertained the entire time and watched the fish while we ate, they tried seafood and new things they hadn't tried before and the food and service was really good. What more can you ask for? Downstairs in the restaurant there is a stingray reef where you can touch and feed live stingrays. Discover the deep-water dwellers up close and personal. Their one-of-a-kind touch tanks offer a hands-on experience you won't soon forget! Special thank you to Hayden and Hailey for a memorable experience.
Tips For Introducing your Child To Seafood
If you are looking to introduce your kids to seafood here are a few tips that have worked for me:
Make it fun! Crab legs and shrimp can be interactive by allowing your child to peel or crack. Even skewers are fun to disassemble. Just be sure that they don't poke themselves.
If your child is hesitant add the seafood to a dish they are familiar with. Try adding crab or lobster to their macaroni and cheese.
Limit the seasoning.
Start with mild flavored fishes like Tilapia, Cod or Hoki.
Try it in Jerkey form. We had the kids try Salmon Jerkey from Trader Joes.
Serve the Seafood in a tortilla. Call it a taco.
Try salmon in scrambled eggs. We often make scrambled eggs with Lox.
For more information on The Aquarium Restaurant in Kemah Texas please visit http://www.aquariumrestaurants.com/aquariumKemah/default.asp. Or click here for other Aquarium locations.