A New Season of LITTLE PEOPLE, BIG WORLD returns Tuesday, October 29 at 9 PM ET/PT on TLC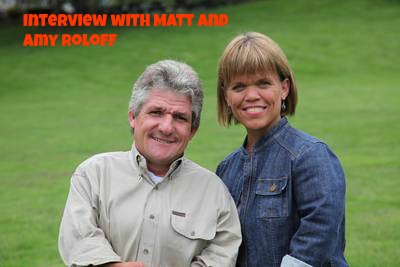 Last week we were privileged to have the chance to do a phone interview Matt and Amy Roloff from the hit TLC show, "Little People Big World". It was such a delight to talk with them as they were so friendly and down the earth. It was just like talking with good friends.
Family Review Guide: What is your advice for parenting children that are taller than you?
Matt Roloff: Teach them to have respect when they are younger and smaller than you so that when they get bigger and taller than you there is nothing physical about it. At that point it's all about respect and having them honor you. You gotta work hard in those years when they are smaller than you to establish that because it's way to late to bring it under control when they get taller than you.
Family Review Guide: What is a typical day when you have the cameras rolling in your house?:
Amy Roloff: The producers say they are gonna be here at a certain time and then we would get up, they might be in the kitchen waiting for us to come out, and then we would just roll into reality mode where we are just having conversations about what is gonna go on that day. They might say "oh you guys are gonna do this? We wanna follow you on that adventure." They would be here until 10:00 at night following us around.
Family Review Guide: Amy, do you make sure you look cute before they see you?
Amy Roloff: No, I don't like to do anything particular with the TV show. I mean sometimes when I see an episode I think to myself  "Oh my gosh I should have put make-up on" haha. But, no, I just like to keep it as real as possible. I like to look at it like this is a show about the family. We just do our thing. It's too hard to play out your real life one way on TV and be completely different off TV. We definitely don't show them EVERYTHING haha,
Family Review Guide: Have you ever asked the crew to stop filming?
Amy Roloff: Yeah, I've asked them to stop filming on several occasions, multiple occasions. I've always tried to tell myself that my number one roll is a mom. Regardless of the money, regardless of the TV. TV  will come and go, we've been doing it for 10 years and it's been great, a great opportunity. My daughter Molly is our only daughter and she is in an environment where most of the people are guys on the crew. In the 2nd year of filming I thought, "oh my gosh this girl is gonna need her space". So I pretty much told the crew that under no circumstances are they allowed in her bedroom unless they check with me.
Family Review Guide: What would both of you tell your newlywed selves?
Amy Roloff: Wow! I think where I'm at right now in our relationship, we've been married for 26 years, is to always keep engaged. Whether you like what the other person is doing or necessarily agree with them, just be engaged in each others world. Constantly remind yourself to be a part of each others life.
Matt Roloff: Just encourage one another. Be committed to the evolution of your spouse and committed to the changes that go on in life with each other.
Family Review Guide: Where do you see yourselves in 5-10 years?
Matt Roloff: In Maui. Just kidding, I definitely see ourselves with grand kids.
Amy Roloff: Still on the farm. This is our home base.  Hopefully traveling, speaking engagements just doing lots of stuff. Having the kids come back or going where they are at. Definitely doing a lot of family stuff.
Matt Roloff: I definitely see myself with little car seats strapped into my little run about rig on the farm here with lots of boxes of diapers in the back.
Family Review Guide: How is the farm doing?
Matt Roloff: The farm is doing incredible. We just had the best pumpkin weekend we've had since 2010. We don't really know why but it was just an outstanding pumpkin weekend. Everyone from the community comes and they bring their visiting relatives from out of town and we had many many thousands of people come through here. We got to take pictures with many people and show off the farm and all of our new projects. It's very tiring but very fun.
Amy Roloff: We had a couple come to the farm that came up to me to get their picture taken and the guy told me he just proposed to his girlfriend in the middle of our pumpkin patch. I really appreciate the amount of stories we get on our pumpkin farm.
Matt Roloff: I think our pumpkin patch keeps us grounded in a sense.
Family Review Guide: You guys had a fire on your farm is that correct? What happened?
Matt Roloff: Yes, you'll have to see the episode to find out. haha. Let's just say I was up to my shenanagins again and it wasn't good.
Family Review Guide: Well we think you guys are truly inspiring and were so happy that you took the time to share with us. Thank you!
Matt and Amy Roloff: Thank you and thanks for taking an interest in the show. We appreciate it.