I still remember when I attended my first "Holiday in The park" at Six Flags Magic Mountain. It was an experience like no other! I am still geeked out about several years later and can't wait for others to partake in all the excitement too. Sometimes I forget I am a grown adult because I still enjoy thrill coasters and Magic Mountain has transformed their park into a winter wonderland that will awaken you with the sounds, sights and smells of Christmas. I was also pleased to see a lot of Hanukkah decor as well.
New This Year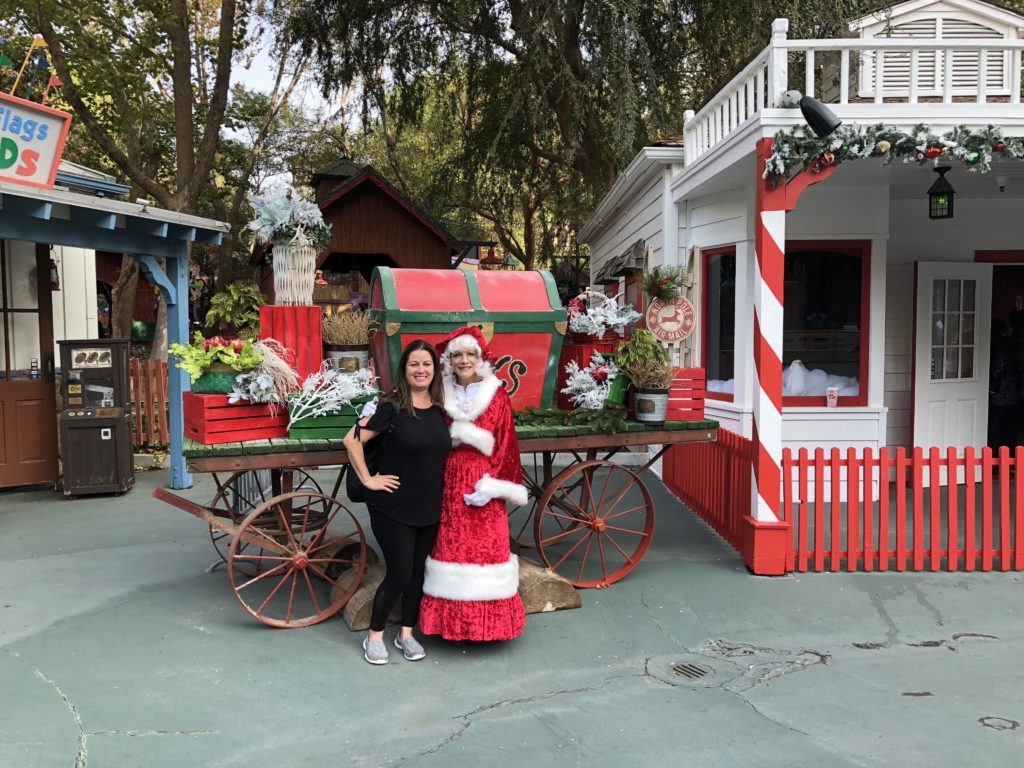 This year Magic Mountain's Holiday In The Park will  be taking place November 20-28, December 3-5, 10-12, 17-31, January 1-2. Holiday in the Park begins each day at 5 p.m., signaled by the first falling snow of the evening. The park will transform into a spectacularly-lit winter wonderland for guests to enjoy over the holiday season.
New this year: The NEW HollyRock!, located in The Underground, takes guests back in time through a lighted time-travel tunnel into the fabulous 1950's, for a rockabilly holiday extravaganza featuring thousands of lights, a dazzling 22-foot tree, classic cars, festive "oldies" music, jolly jugglers, an open fire pit to roast s'mores, and more;
Merry Lane
Located in METROPOLISTM featuring thousands of twinkling lights synchronized to holiday music and magnificent, larger-than-life 30-foot brilliantly lit walk through ornaments. Plus, guests can make their holiday wishes nearby at the Wishing Oak, a hundred-year-old oak tree illuminated with thousands of white lights.
Taste Of The Holidays
In addition to the new themed areas, Six Flags Magic Mountain is also welcoming back their holiday themed food festival, Taste of the Holidays/ Featuring holiday-inspired traditional culinary delights in mouth-watering, non-traditional ways. Guests will find a large variety of specialty holiday foods from delicious main courses to mouth-watering desserts. Try main courses like turkey poutine, cranberry pulled pork sandwiches, and brisket and mac 'n cheese egg rolls. If that's not enough, festive sweets and treats include freshly made peppermint bark, cinnamon apple funnel cakes, Rudolph's Thrill Shakes, and much more. Guests can also cozy up with loved ones and roast marshmallows over an open fire pit at one of several locations around the park.
Let's face it, part of the fun of going to an amusement park is eating!
Make S'mores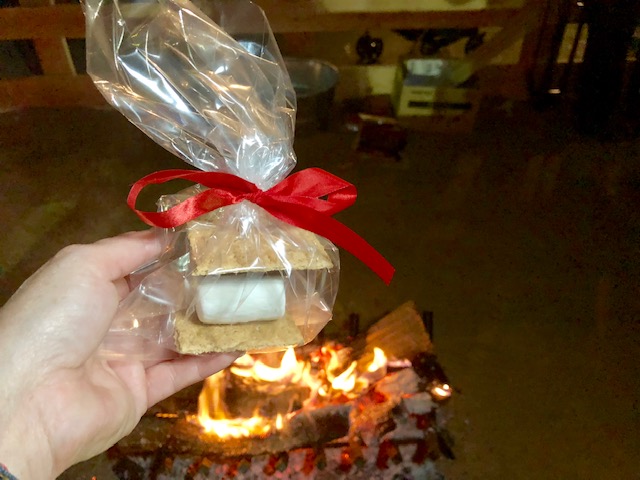 Families can roast marshmallows over a fire pit. They come pre-assembled in a plastic bag complete with marshmallows, chocolate and graham crackers. The pits are HUGE so you should have no problem finding a spot.
Visit Santa At Santa's Cottage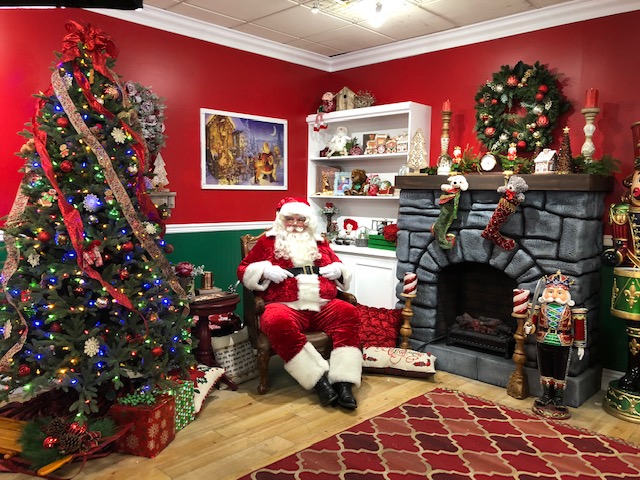 Santa has moved into brand new digs! Santa's Cottage is now home to the jolly man with the white beard and red suit, along with crafts with Mrs. Claus and her merry elves. Visit Santa in his Cottage or join Mrs. Claus for holiday stories and crafts. Located in the Golden Bear Plaza every Holiday in the Park operating day beginning at 1:00 pm until December 24.
Gleam Punk District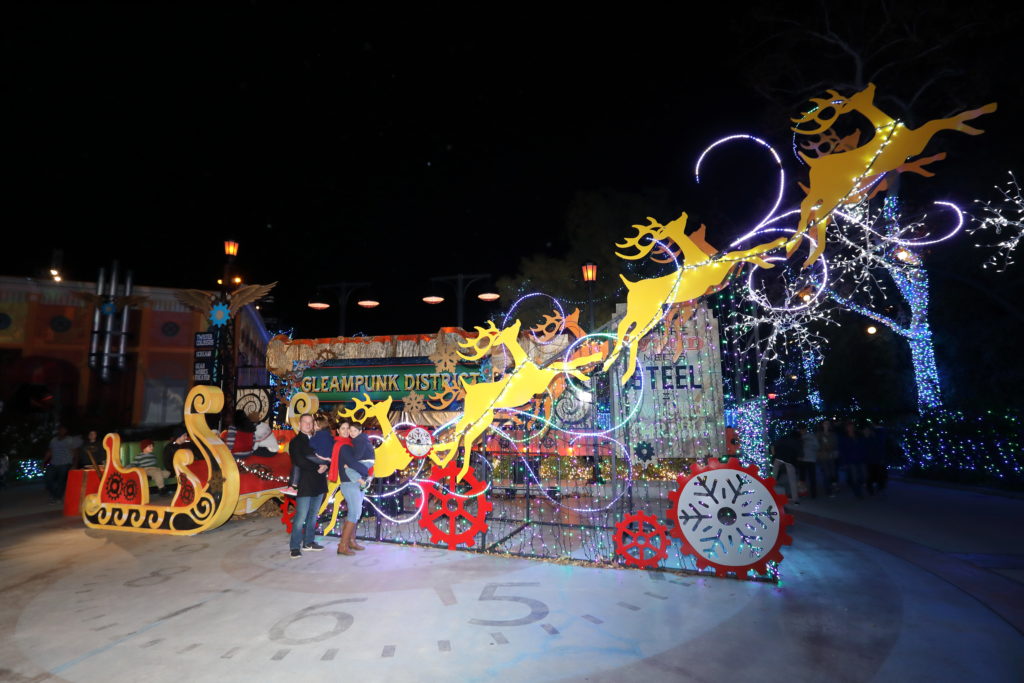 Gleampunk District is beautifully lit with thousands of lights along the tree-lined streets and planters, transporting guests into the 19th century with the sights and sounds of the Industrial Revolution. On the façade of Gearworks Theater, revelers will view a delightful video journey into the inner workings of the Steampunk Candy and Toy Factory.
Holiday Square
Holiday Square will dazzle guests with a kaleidoscope of hundreds of thousands of breath-taking colored lights on trees and buildings throughout the area, sprinkled with the wonder of falling snowflakes for everyone to enjoy.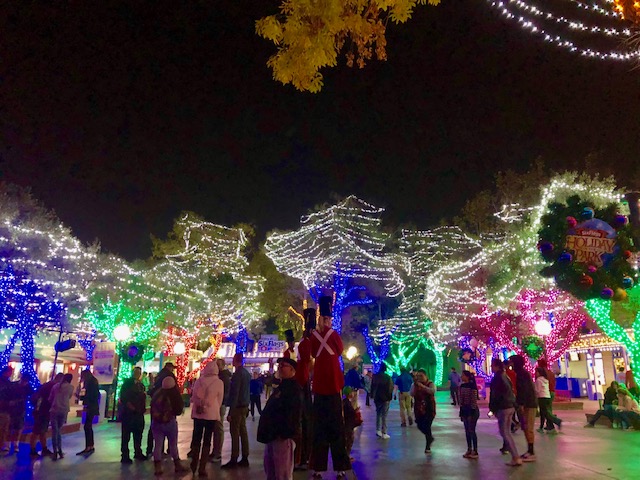 Snowy Nights
Make sure you packed your dancing shoes because Snowy Nights, the live holiday show, features contemporary music and themed dancers on the Full Throttle stage. It's super high energy and literally everyone is dancing and it's so contagious! The dancers are really into it and the whole show is choreographed really well.
Peppermint Fudge and Hot Chocolate
Holiday in the Park features thrilling memories for guests of all ages. From photos with Santa and Mrs. Claus, to delicious hot chocolate and peppermint fudge, and viewing an enhanced light show with specially made 3-D glasses, this is the must-do, must-see, must-experience event of the season.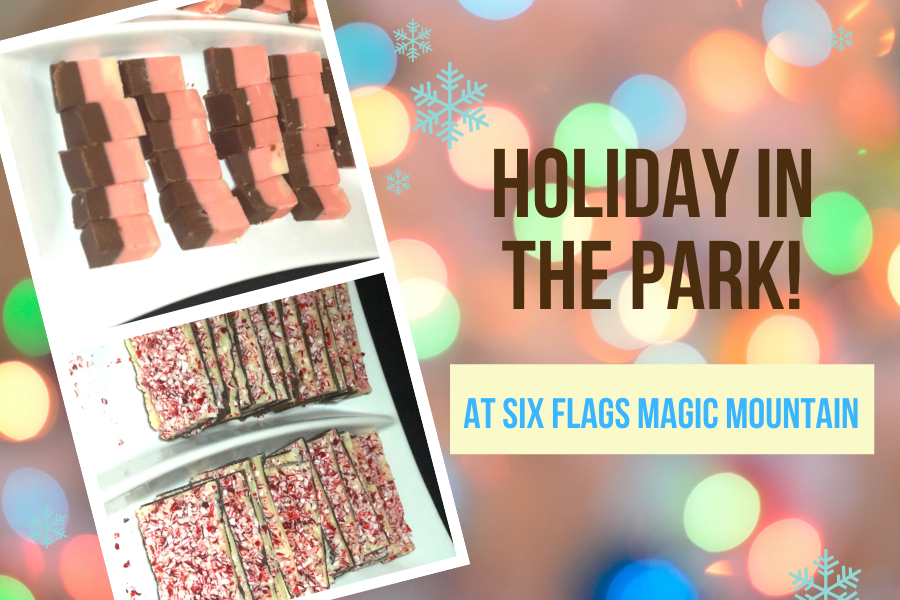 Peppermint Path
Be sure to stroll through Peppermint Path and take in all of the fun snow and snow sculptures. There is a photo opportunity at every turn! They also play music and you can hear the rumble of the roller coasters as you walk through.
We had the MOST AMAZING time at Holiday in the park and literally can't wait to go back again. I am so in love with this park, it's ride, it's decor, it's employees and everything in between. They did a stellar job bringing the holidays to my heart. Thank You magic Mountain!
Get a season Pass
For the ultimate holiday gift, buy a Six Flags Magic Mountain 2022 Season Pass or Membership and enjoy the new Six Flags Rewards program which includes offers for free food, souvenirs, tickets, and one-of-a-kind in-park experiences, plus park admission to Fright Fest® and Holiday in the Park®.
When Is Holiday In The Park
Holiday in the Park Operating Hours and Days: 10:30 a.m. to 9 p.m. – November 20–28, December 4, 5, 11, 12, 18–31, January 1, 2 10:30 a.m. to 8 p.m. – December 3, 10, 17
For more information on Six Flags Magic Mountain's Holiday in the Park, visit their website at www.sixflags.com/magicmountain