Knott's Berry Farm has always been front runner when it comes to creativity and giving its guests the best experience possible. I love how they combine the charm of the park with it's deep rooted history to tell a story in all of their seasons of fun events.  Everywhere you look is a reference to or a piece of the actual old west. Layered with creativity, attention to detail, and unspeakable charm, Knott's Ghost Town is what sets it apart from other parks.
Although this past year has been exceptionally challenging that did not stop the Knott's from paying homage to its famous fruit, The Boysenberry Festival. This year the theme park still remains closed (Although it was just announced they will re-open in May), but guests can still walk the park and taste over 80 boysenberry-infused food and drink items which are included on the event tasting card.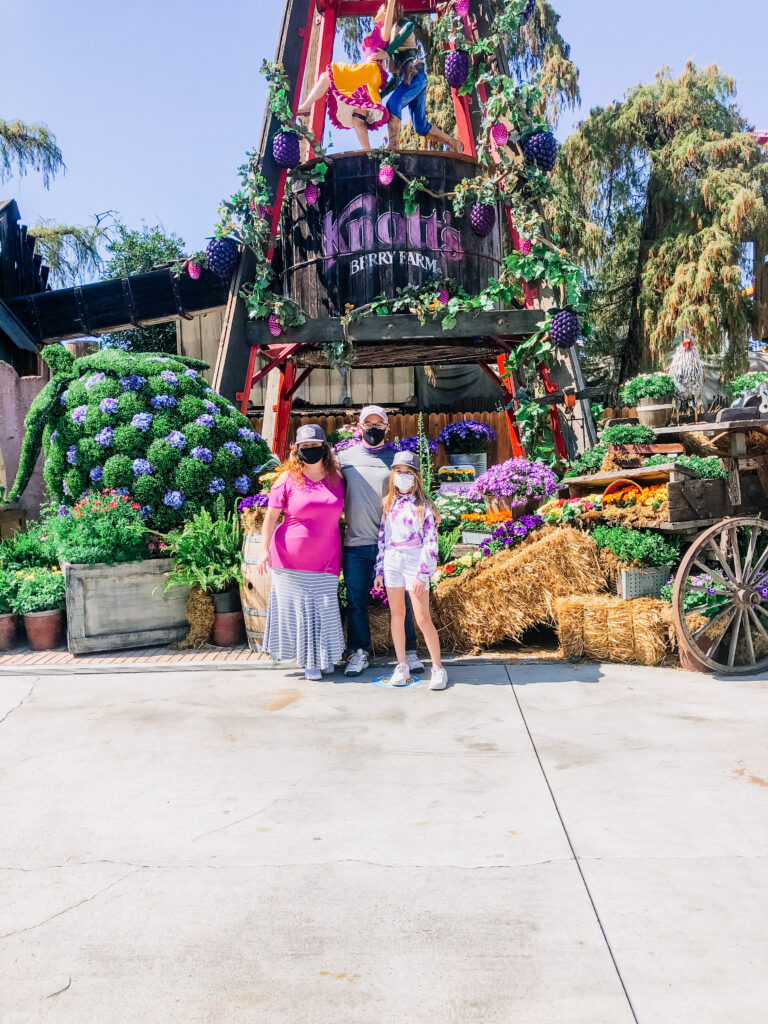 Guests can also shop from a wide variety of boysenberry-inspired merchandise including event apparel, kitchenware, and pre-packaged take-home sweets. In addition, you will find handmade and personalized gifts from over 20 artisan local crafters offering unique boysenberry items.
Knott's Taste of Boysenberry Festival will take place on select dates beginning March 5th through May 2nd. Event hours will be 12 pm to 9 pm select Mondays, Tuesdays, Wednesdays, Thursdays, Fridays, and Saturdays, and from 12 pm to 8 pm on Sundays. View our calendar to find event days and hours. All Knott's Taste of Boysenberry Festival activities and outdoor dining will be conducted at a safe and socially distant space for families to enjoy.
The only way to experience the limited-time food event, Knott's Taste of Boysenberry Festival, is with a tasting card purchased in advance (a tasting card is required for event entry).
What Are The Food Samplings?
Below is a list of all the items you can sample. Regular tasting cards (ages 12+) are priced at $45 (plus tax) and will include five food tastings and Junior tasting cards (ages 3-11) are $20 (plus tax) and include three tastings. Tasting cards are date specific and must be purchased online at knotts.com or through the Knott's Berry Farm mobile app prior to the date of visit. In order to manage proper physical distancing of guests, Knott's Taste of Boysenberry Festival tasting cards will be limited each day and may sell out.
Taste of Boysenberry Fest Menu

Tips For Arrival
Pack a water bottle with you. If you run out you can ask for cups of water at each station to fill up.
Arrive early as it can get hotter later in the day. Plus the booths get more crowded in the afternoon.
Bring a hat and some cooling towels.
Map everything out- Pick what you want to eat before you go so you have an idea of where is station is located in the park. You can find a park map here.
When you get into the park, head to Fiesta Village first instead of Ghost Town. Everyone flocks to the left so go to the right and you will be able to can several dishes with no wait. You can even divide and conquer and then meet back up at a table.
Use The Decor for Photos
There are so many bright and vibrant pieces of decor that can be used as a backdrop. There are tons of flowers around the park, giant eggs, and camp Snoopy is brimming with cute ideas!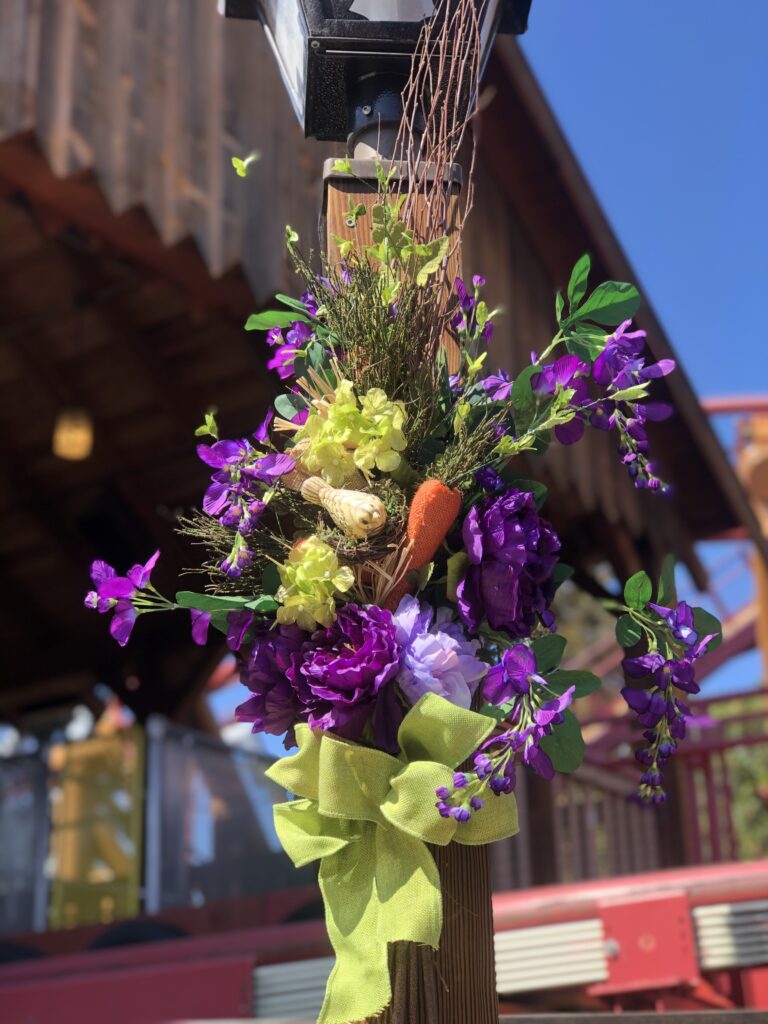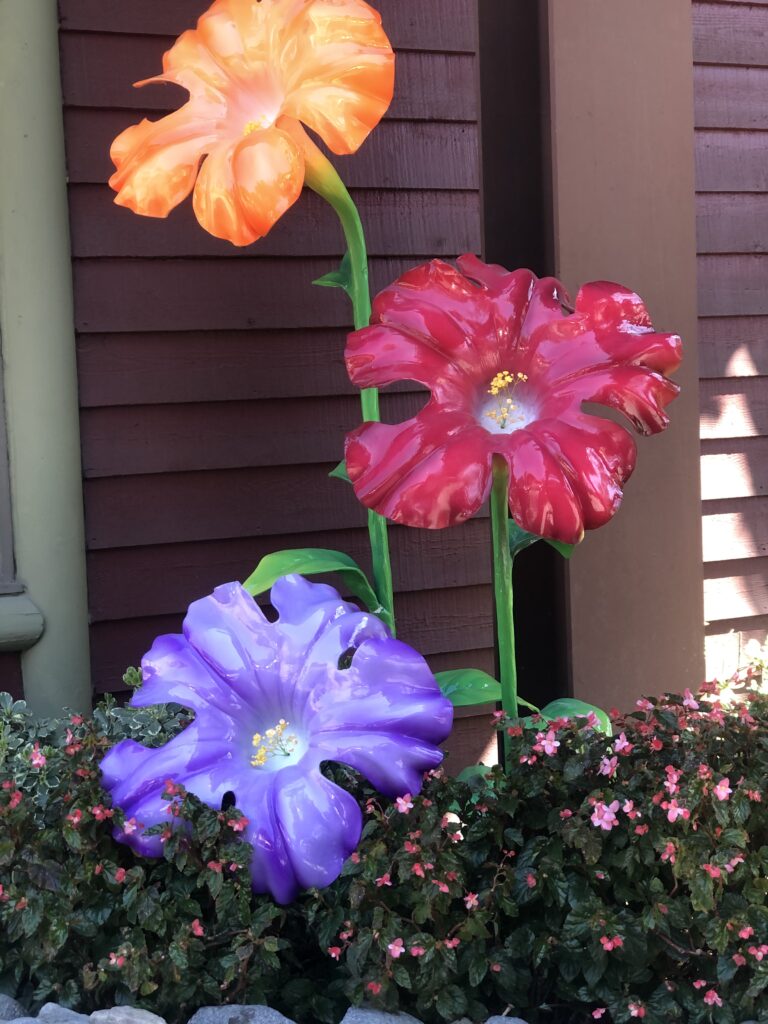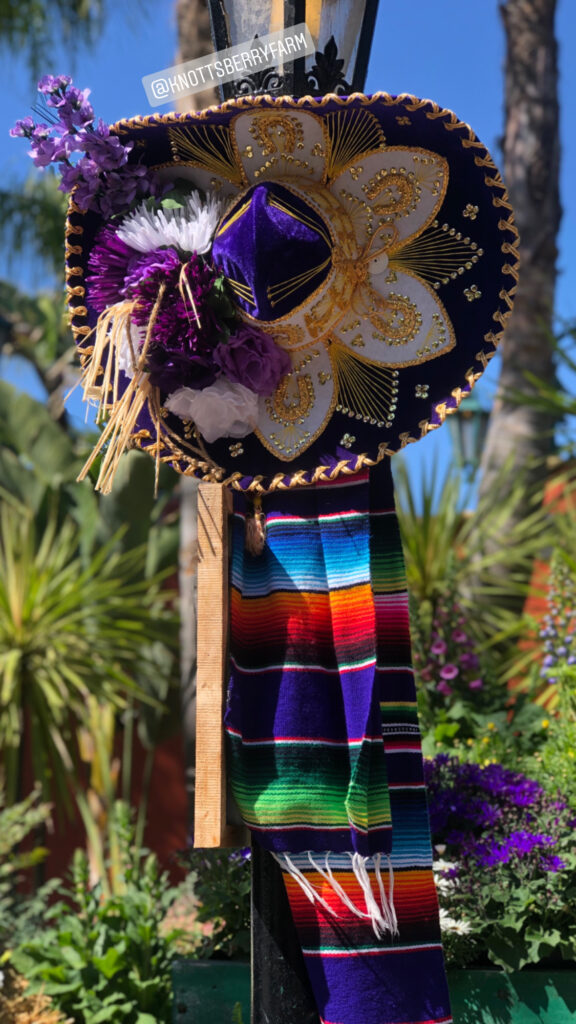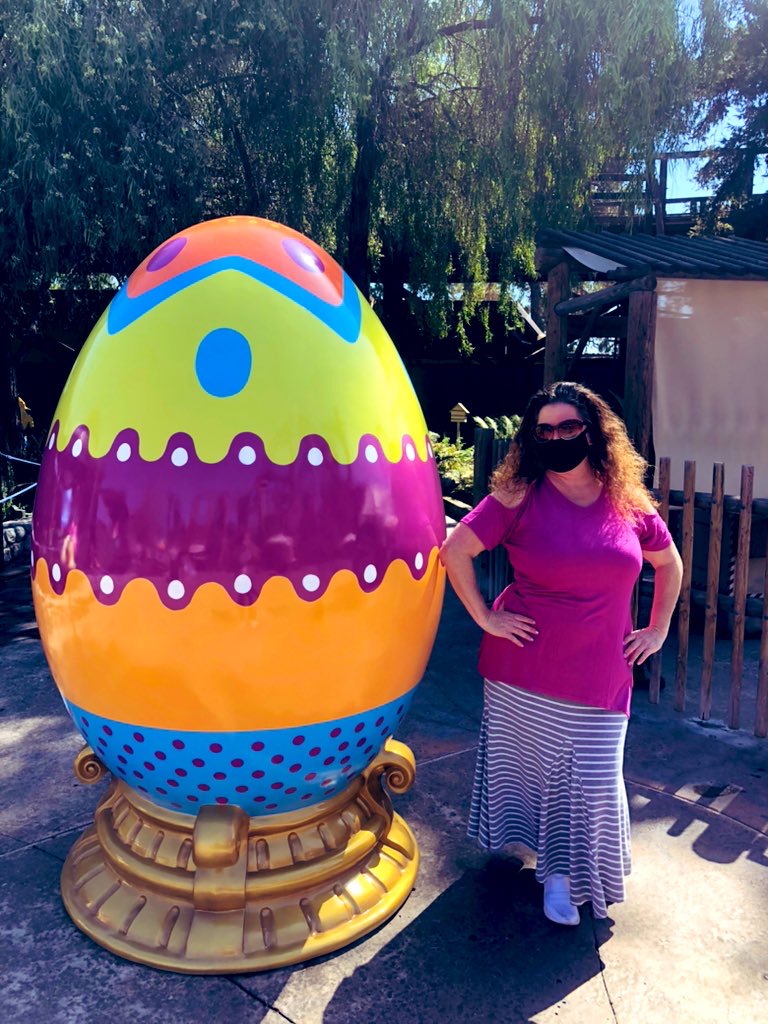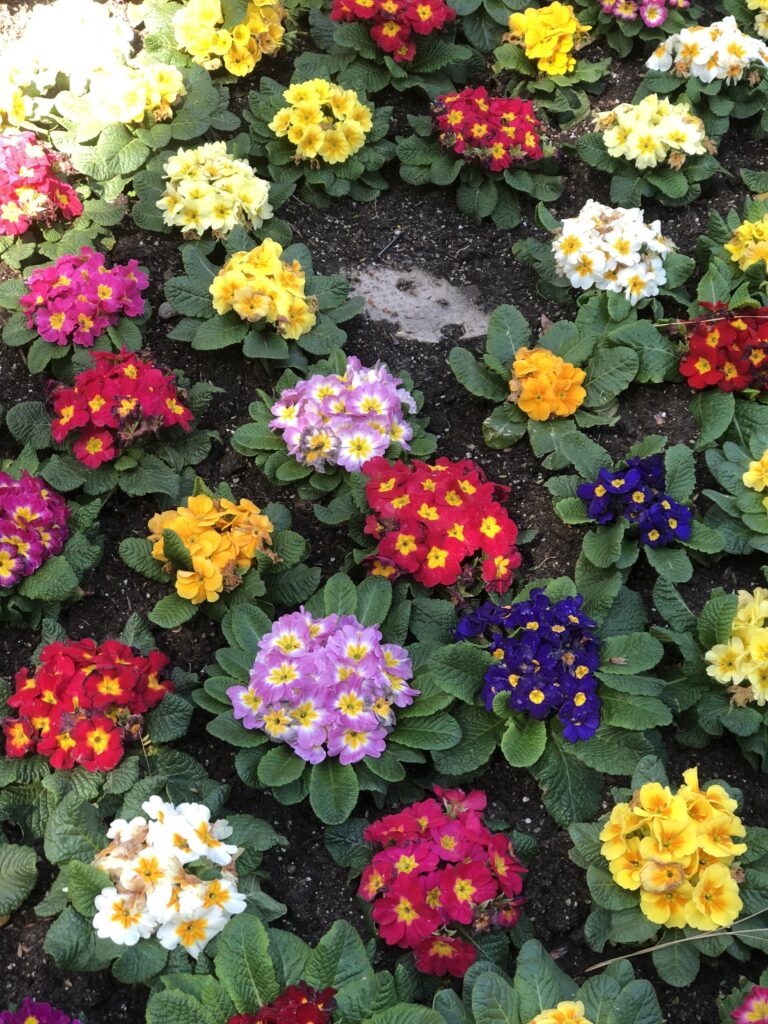 Food Photos
Here are photos of all the food we tried when we visited. We could have stayed until closing and we all shared each dish so it took a long time to get through them all
Boysenberry Philly Cheesesteak Fries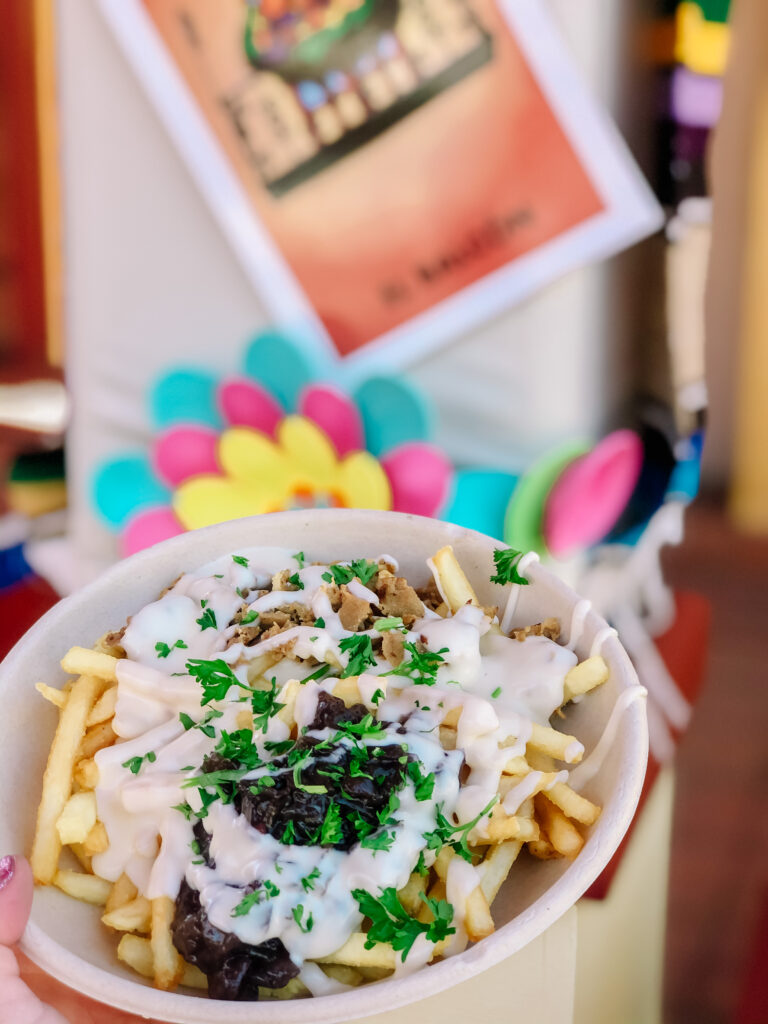 Boysenberry Ceviche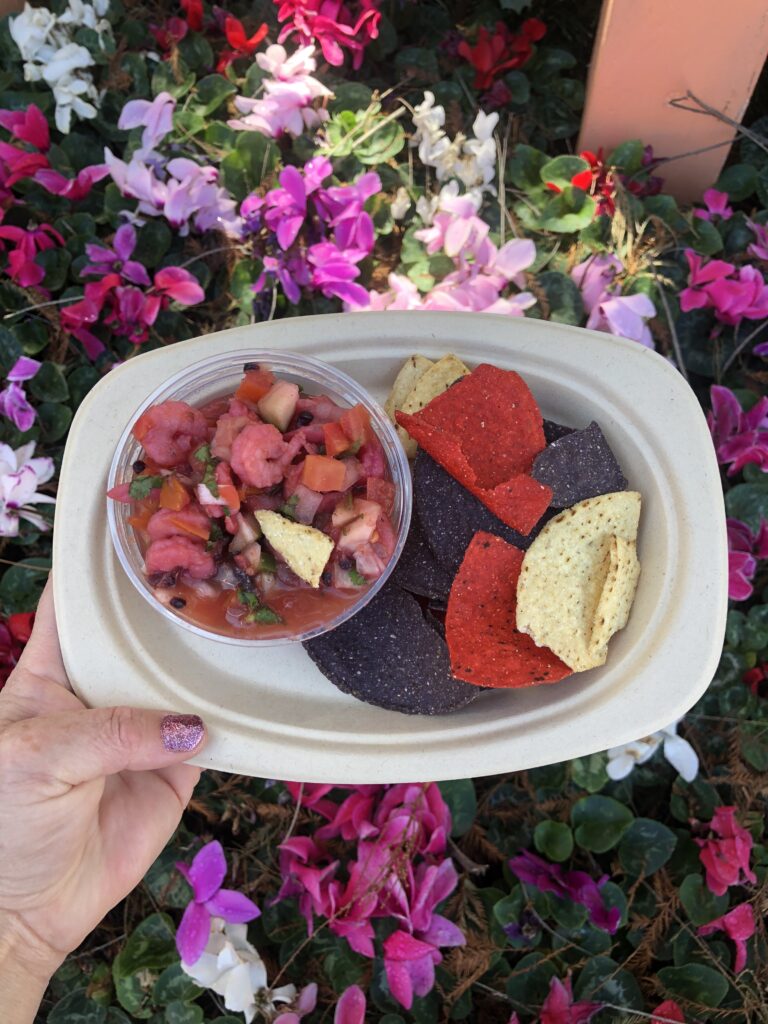 Boysenberry Dippin Dots

Boysenberry Chicken Wings


Boysenberry Meatloaf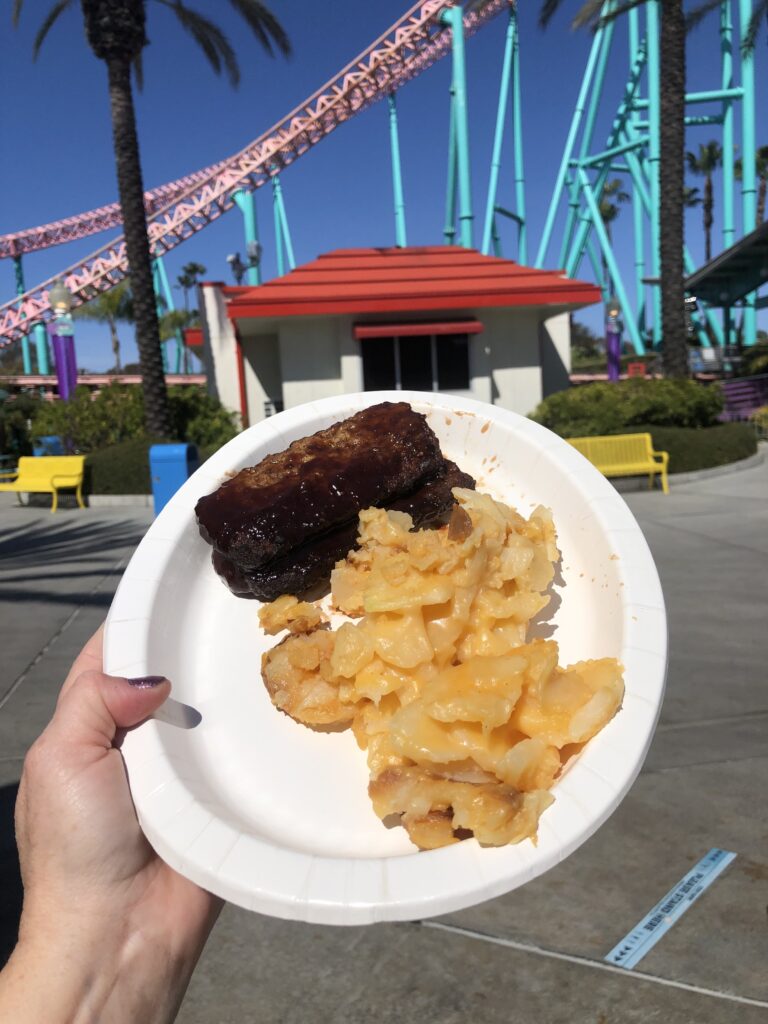 Boysenberry Bao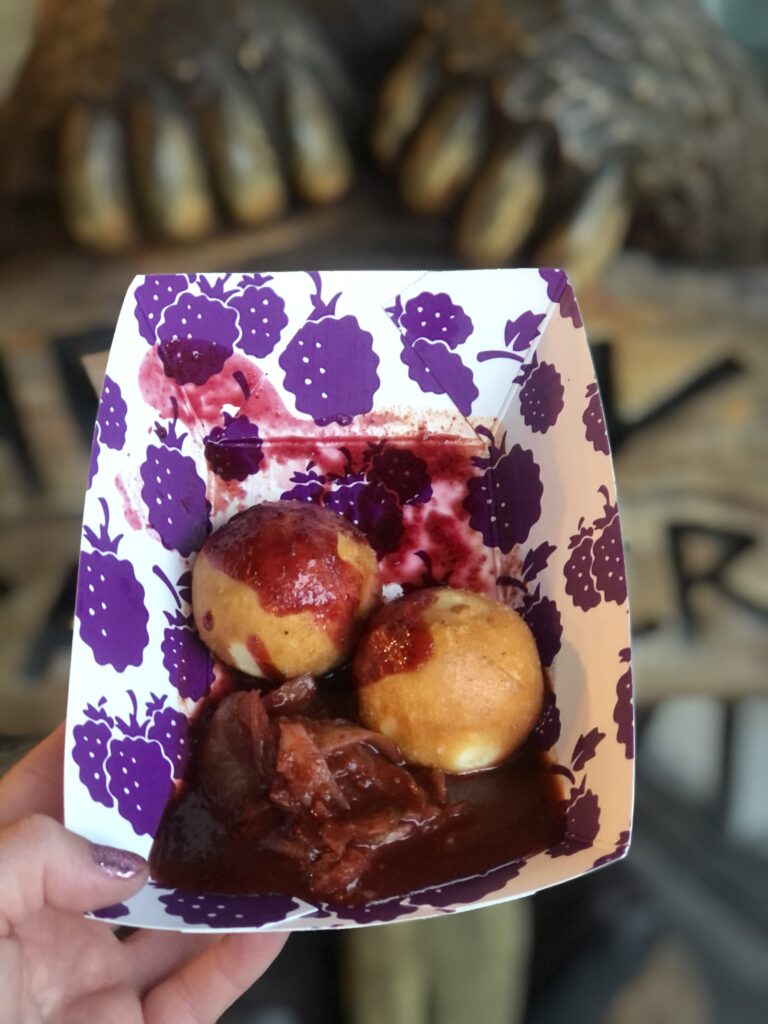 Mac and Cheese Bites Over Tater Tots with Boysenberry Ketchup

Brisket over Mac and Cheese (Extremely Oily)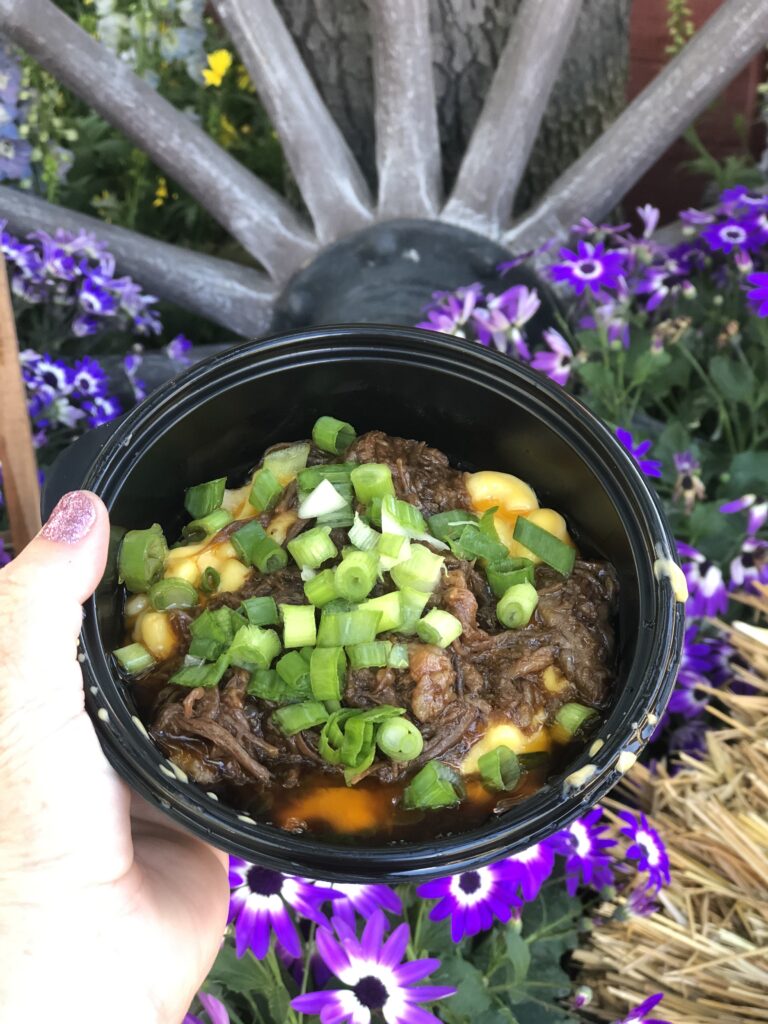 Sausage on a Boysenberry Bun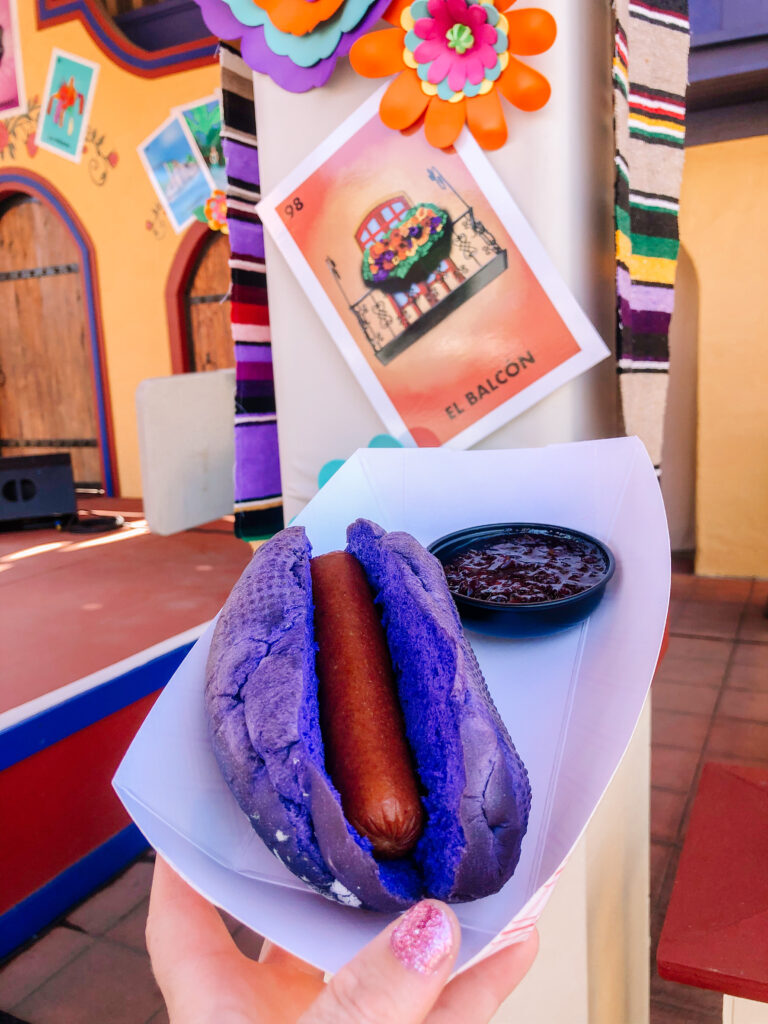 Boysenberry Icee With Soft Serve

Boysenberry Elote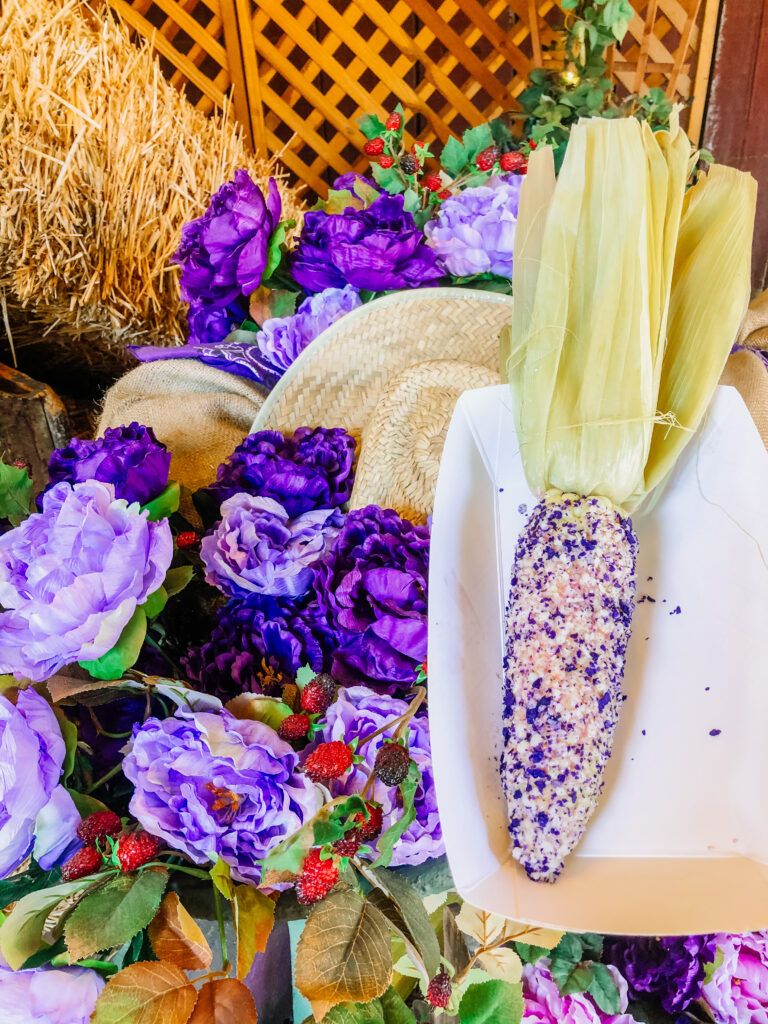 Funnel Cake Fries With Boysenberry and Chocolate

 Funnel Cake with Boysenberry Ice Cream and a Lemon Drizzle

Boysenberry Cheesecake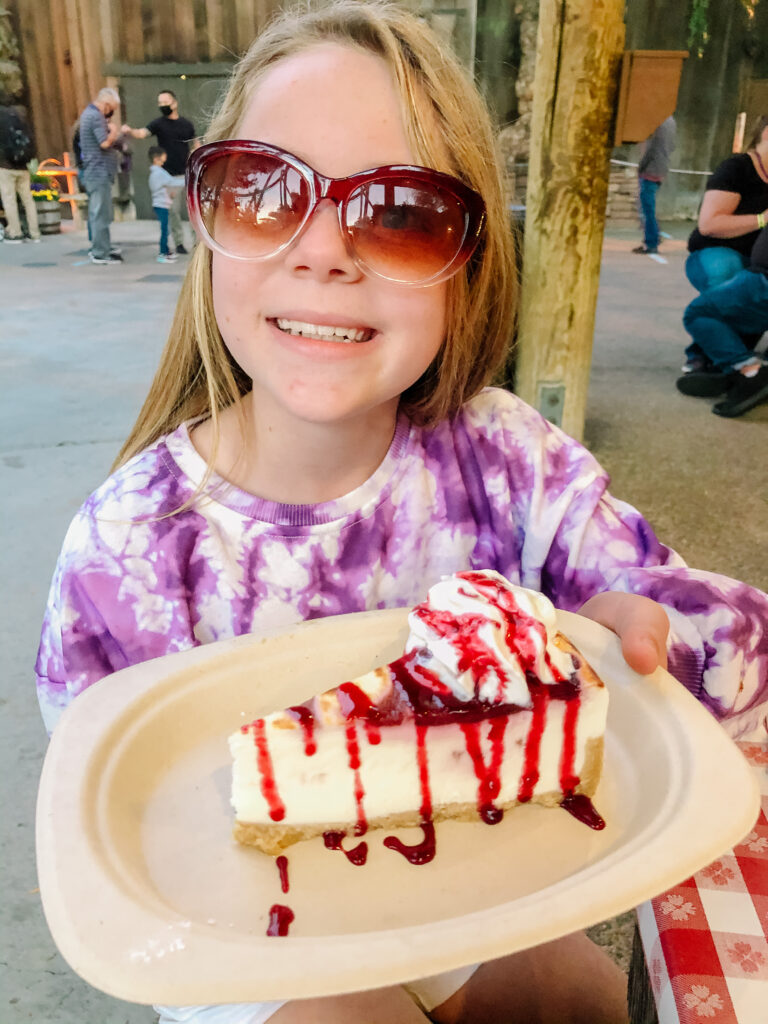 Boysenberry, Cucumber and Pineapple Agua Fresca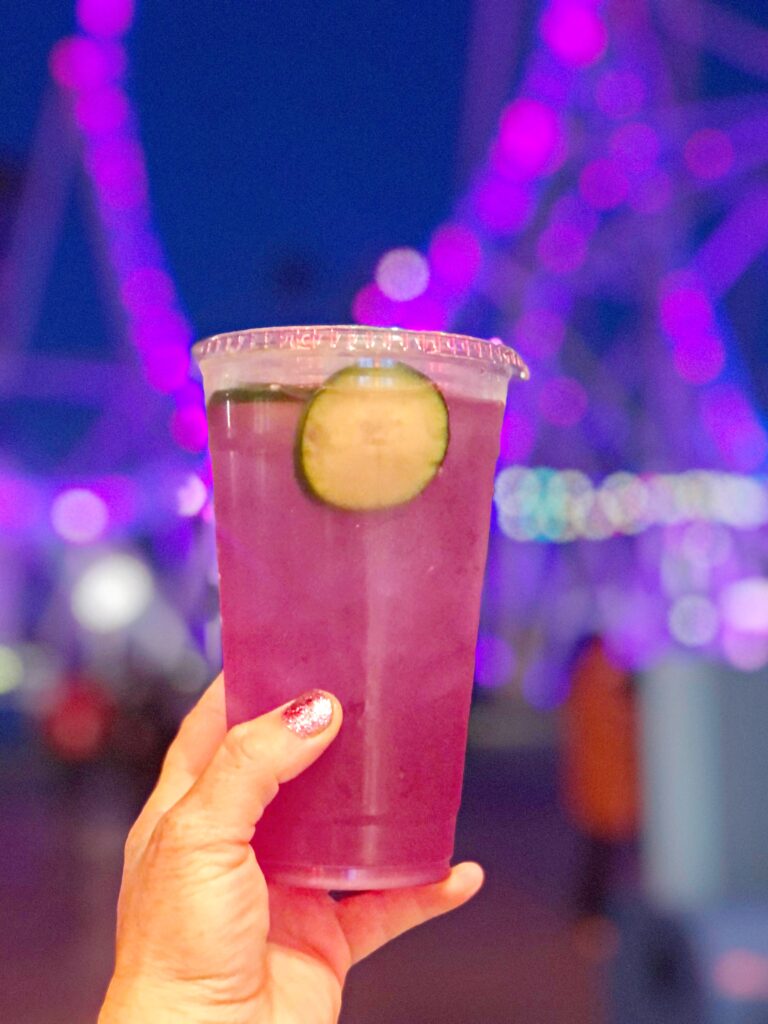 Boysenberry Shrimp & Grits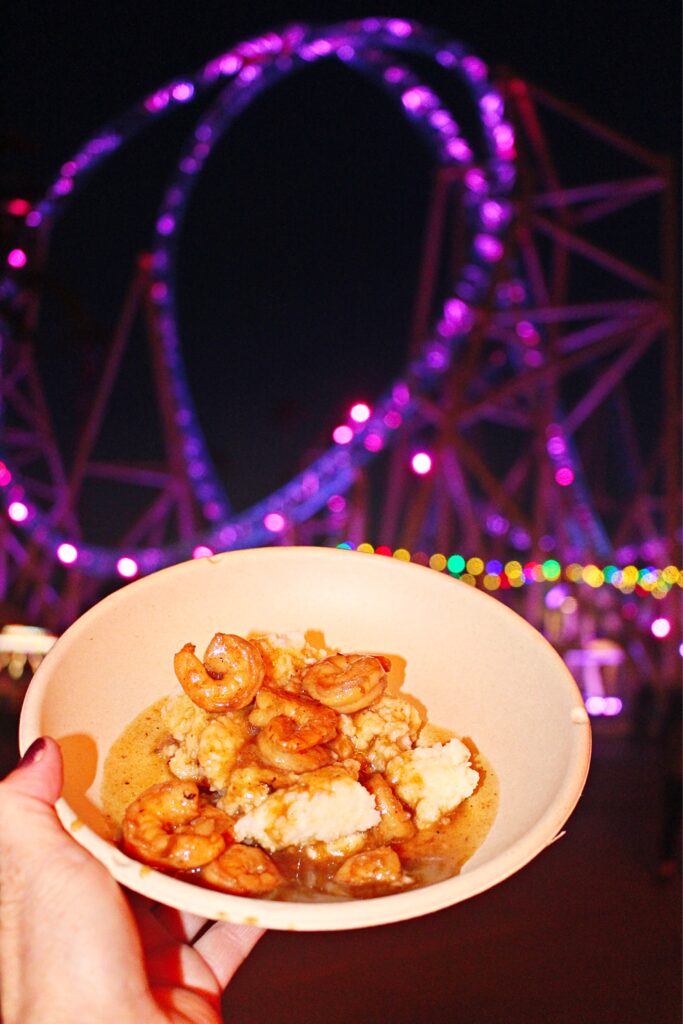 Entertainment Tips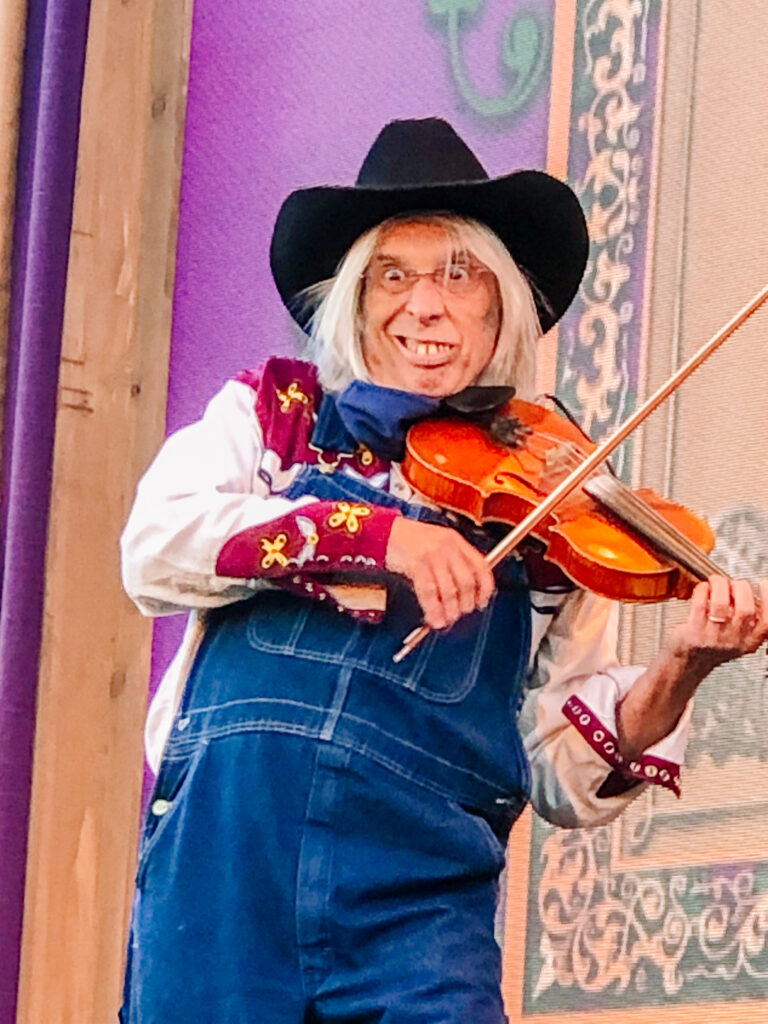 Krazy Kirk and The Hillbillies will be performing 4 times per day on the Calico Mine Stage. Here is a sample of what you will here. As always it's a toe-tapping good time!
Glass Blowing By Myles Feedman
K-Not Radio Broadcast (on the boardwalk)
The Easter Bunny Is Available For Pictures
Pie Lady Above The Glass Blower
Don't Miss The PEANUTS Gang at Camp Snoopy
Different characters are available for photos throughout the day!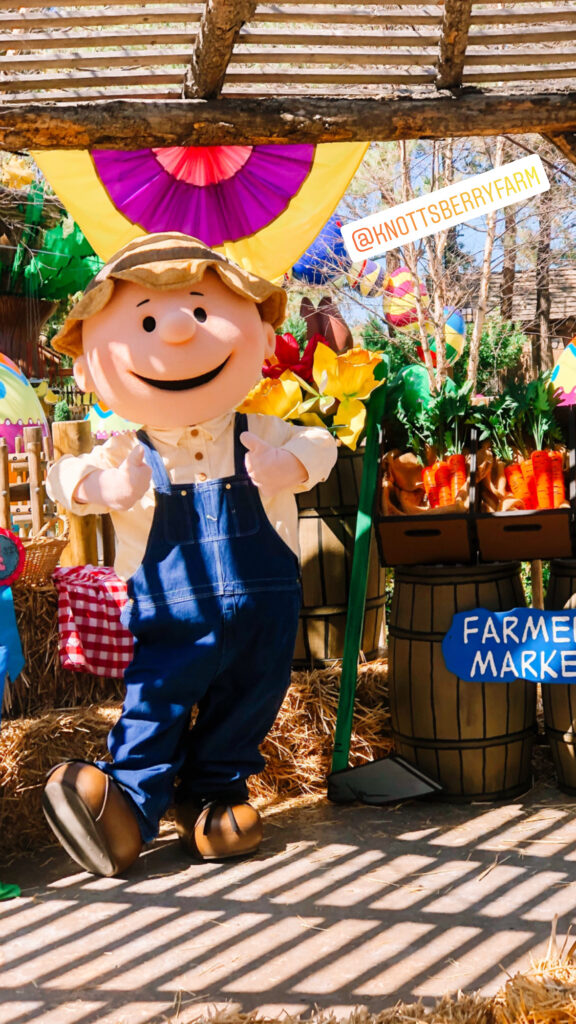 Knott's At Night
Be sure to walk around the boardwalk at night to catch all the twinkling lights. You can also catch the lady upstairs from the glass blower shop in Ghost Town trying to make a pie!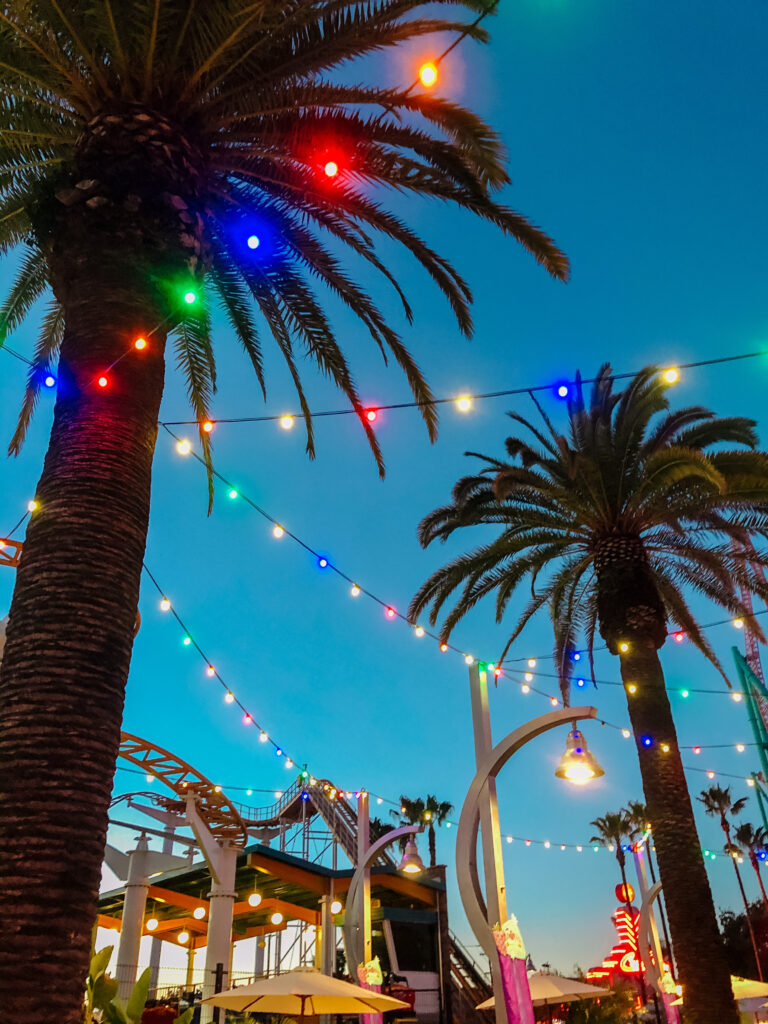 Available Merchandise
There are nearly 30 unique Boysenberry Merchandise items you can shop for including all the  products from the crafters that set up shop during the festival.
How Do I Buy My Tasting Card?
Click here for a calendar of available days and to see which days are sold out. You can also purchase  the Festival T-shirt and Pin as well as learn about their amazing hotel packages.
For more information about The festival visit Knott's on Facebook and Instagram