Nestled on a charming sandy beach with endless views of the pacific ocean and gorgeous scenery, lies a Joie de Vivre Boutique Hotel called Pacific Edge in Laguna Beach. This quaint, yet modern hotel fully embodies  the "beachy" old-school feel of the town. Recently Family Review Guide was asked to stay for an overnight in one of their connecting family suites and spend the day in one of their private oceanfront bungalows.
We live only about 15 minutes from the hotel so it didn't take very long to get here and we had a view of the ocean for part of the drive. When we first arrived we valet parked our car and walked right up to the lobby. We couldn't help but notice the cute wicker furniture set up outside. My husband and the kids sat here and played while I checked us in.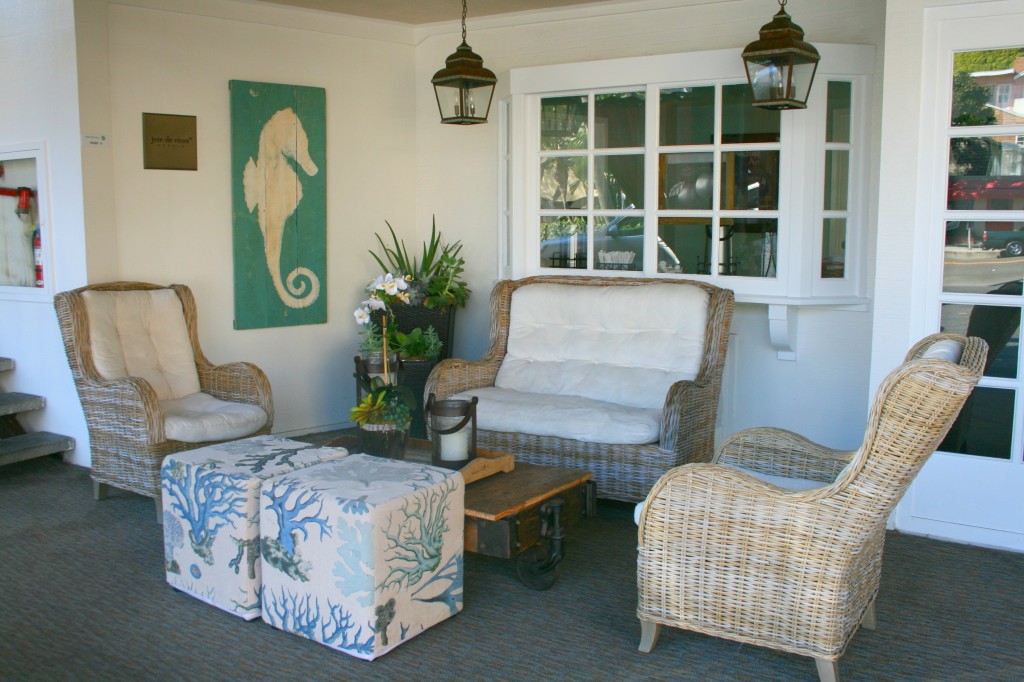 The decor in the lobby was just as adorable! Calm beachy colors with sea life accents like coral and seashells, sprawl though out the bright and airy lobby. I loved the "shabby chic" vibe they were going for. It made me feel so relaxed when I entered.
The photography on the wall was particularly eye capturing. It was one of the first things I noticed because the pictures were crisp, clear and breathtaking. They even had a full-size surf board mounted at the front desk! I couldn't wait to get on the sand after seeing this.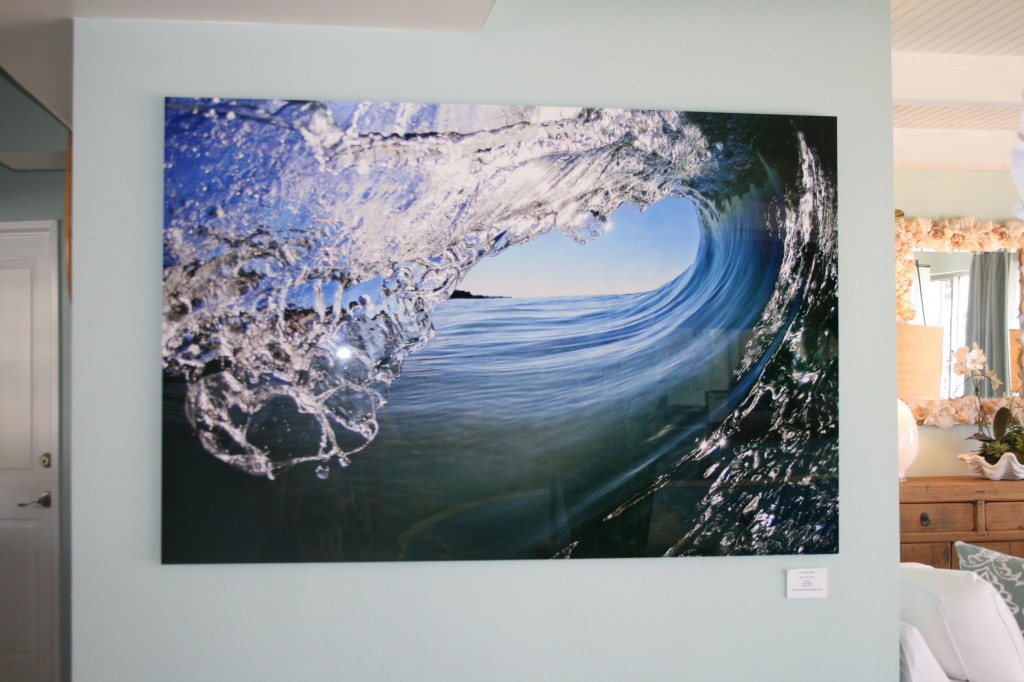 Attention to color is something The Pacific Edge Hotel put a lot of thought into. Several sections of the hotel were lined with bright, vibrant yellow Adirondack chairs including some of the hotel room balconies. There's just something that makes a person smile when they see yellow. Or maybe it's just me? But it certainly put me in a great mood.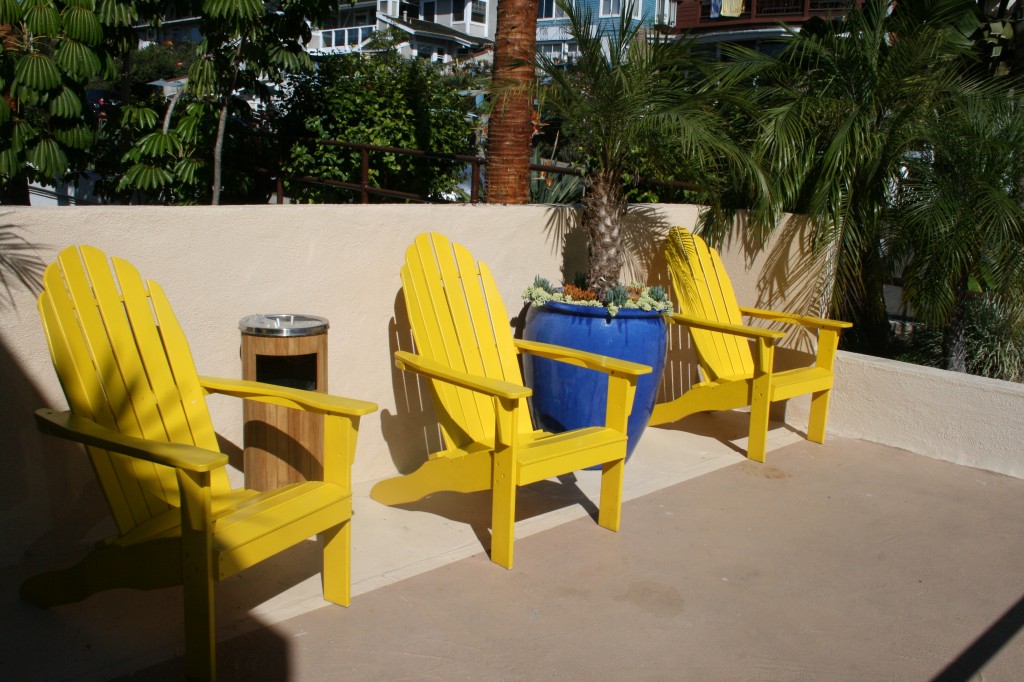 Rooms are not typically ready until 4 pm on check in day and since we arrived at 11:30 am we decided to head straight to our bungalow.  If you are wondering what a bungalow is, allow me to tell you.  A bungalow at The Pacific Edge Hotel is  a prime oceanfront hotel room that has been transformed into an indoor/outdoor, day-use luxurious  living space for your family. There are 5 of these awesome bungalows and each bungalow includes includes a comfortable living room that overlooks the ocean, a VIP Bungalow Host, a private bathroom with a shower, a bar area, valet parking, catered food and beverages, and a private oceanfront deck area.  The Bungalows have been designed by Billabong, Fox Head, Inc., The Sleepy Hollow Group, Hobie and Tuvalu, and gorjana & griffin.
We happened to have the Hobie Bungalow and fell in love immediately. If I was going to re-decorate my home this is exactly how I would do it. Funny enough there are actual price tags on all of the furniture since it is all locally sourced.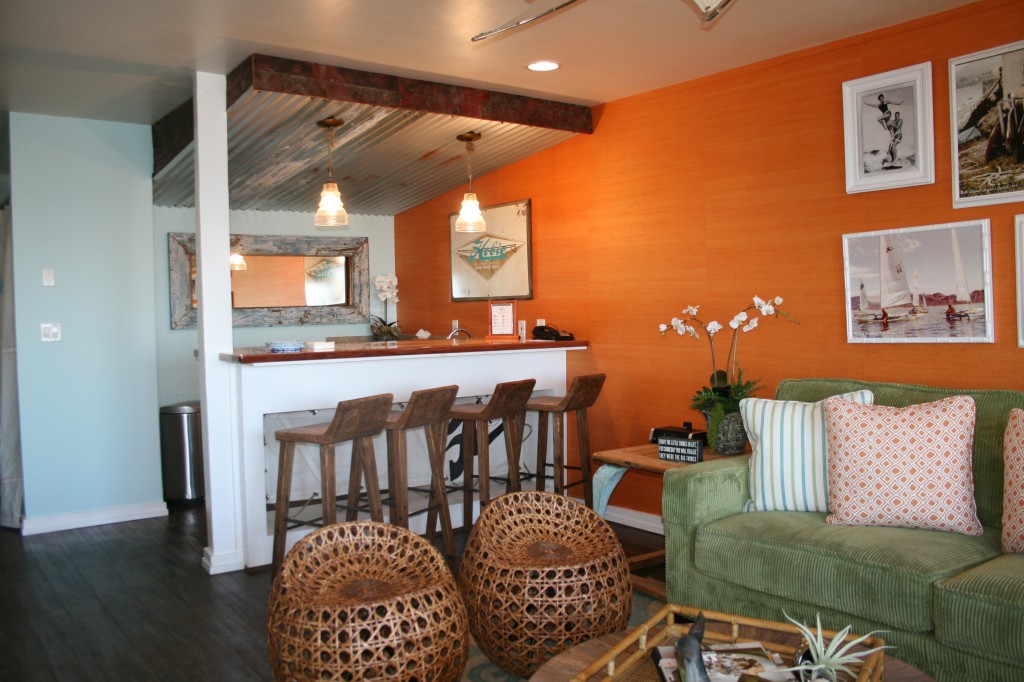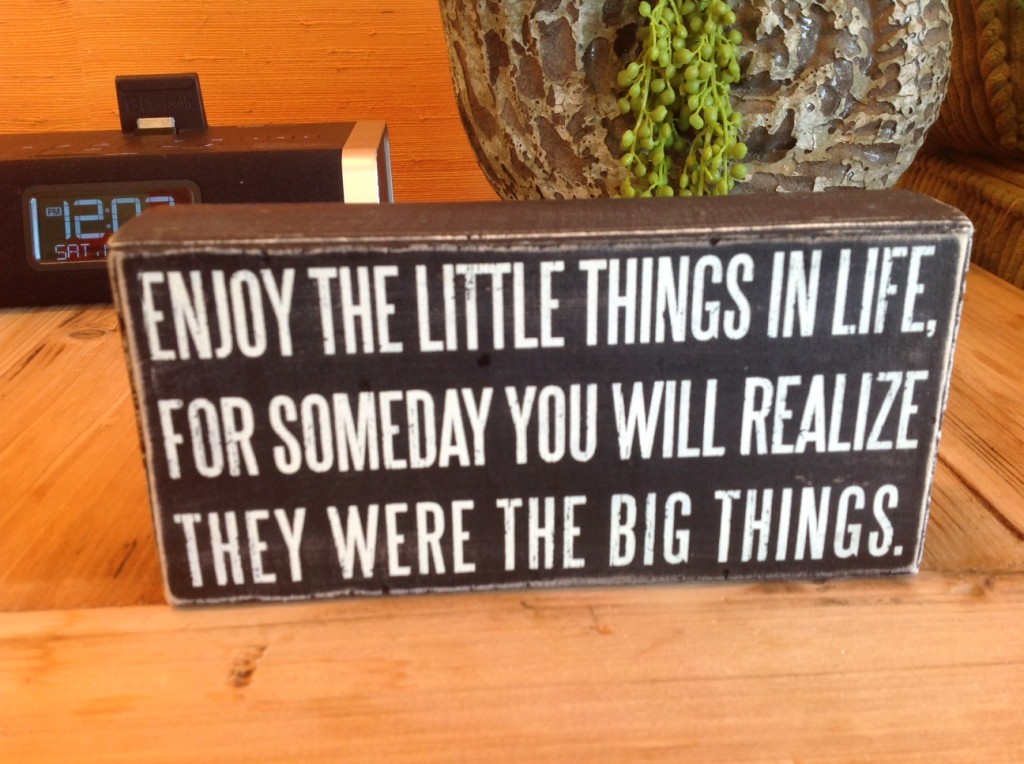 We were starving when we arrived and luckily enough there was a huge tray of mini sliders waiting for us from The Deck restaurant. These delightful little  appetizers sure had quite a kick to them too and our entire party devoured them in minutes.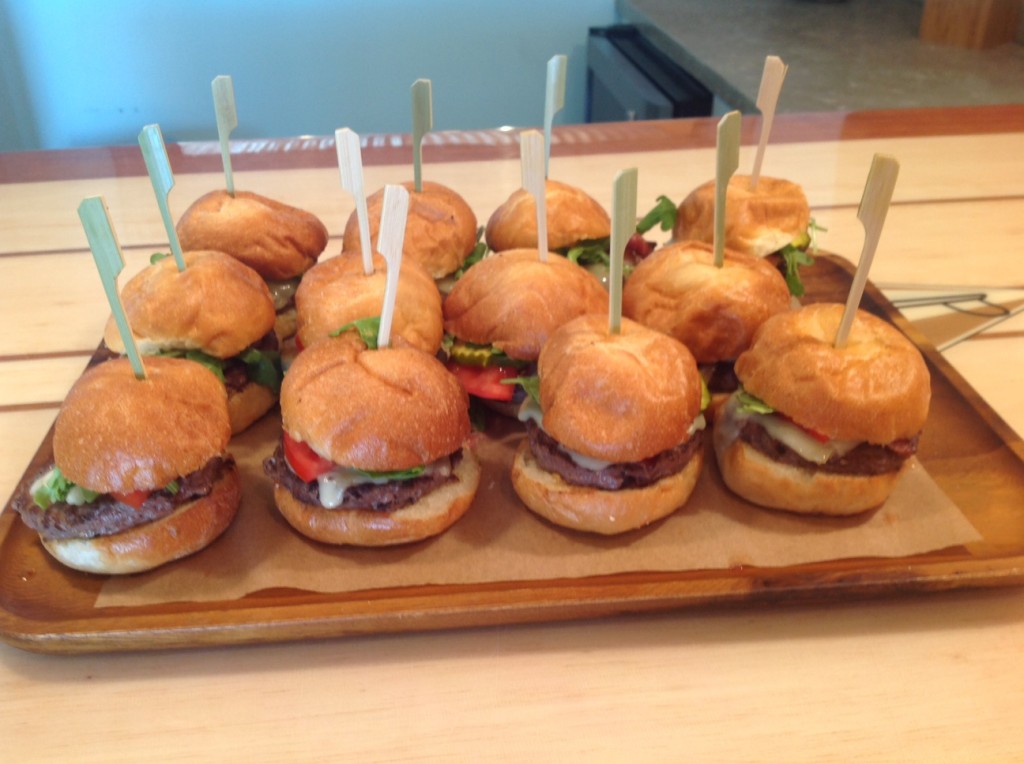 This was the view from the deck of our bungalow. Seriously? Does it get any better than this? 80 degrees in November and my boys could play in the sand and go in the ocean!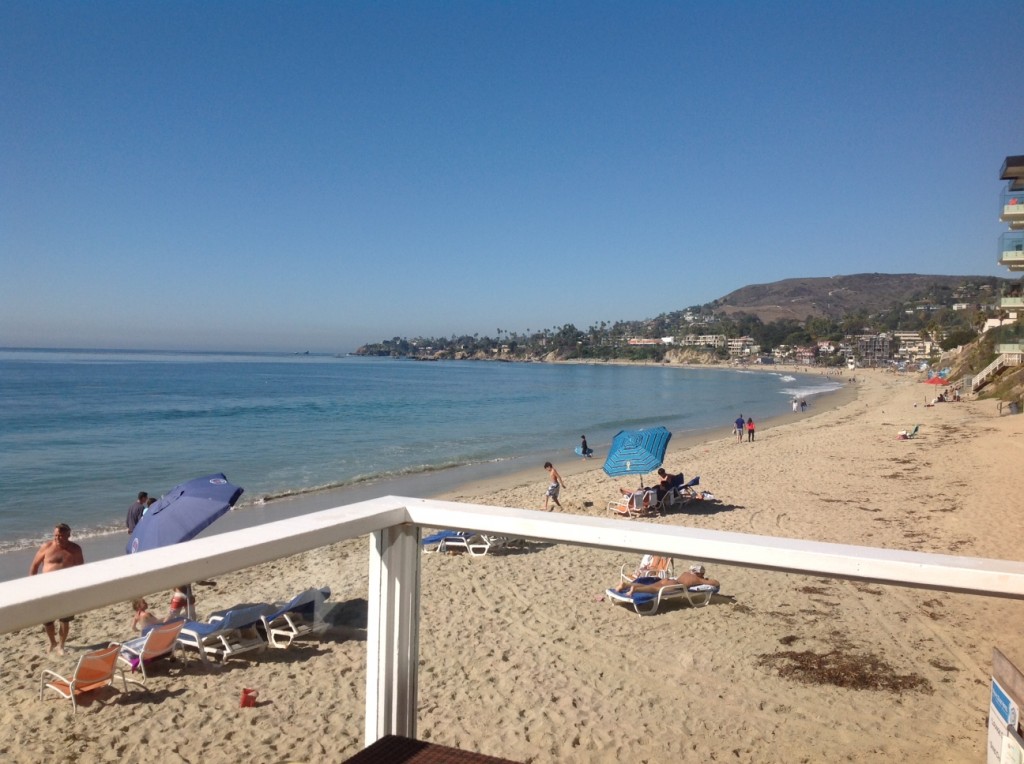 And this was the view of the front of the hotel. The staff on the beach were amazing. The guys set up all of our chairs and our umbrellas and constantly checked on us to make sure we were comfortable.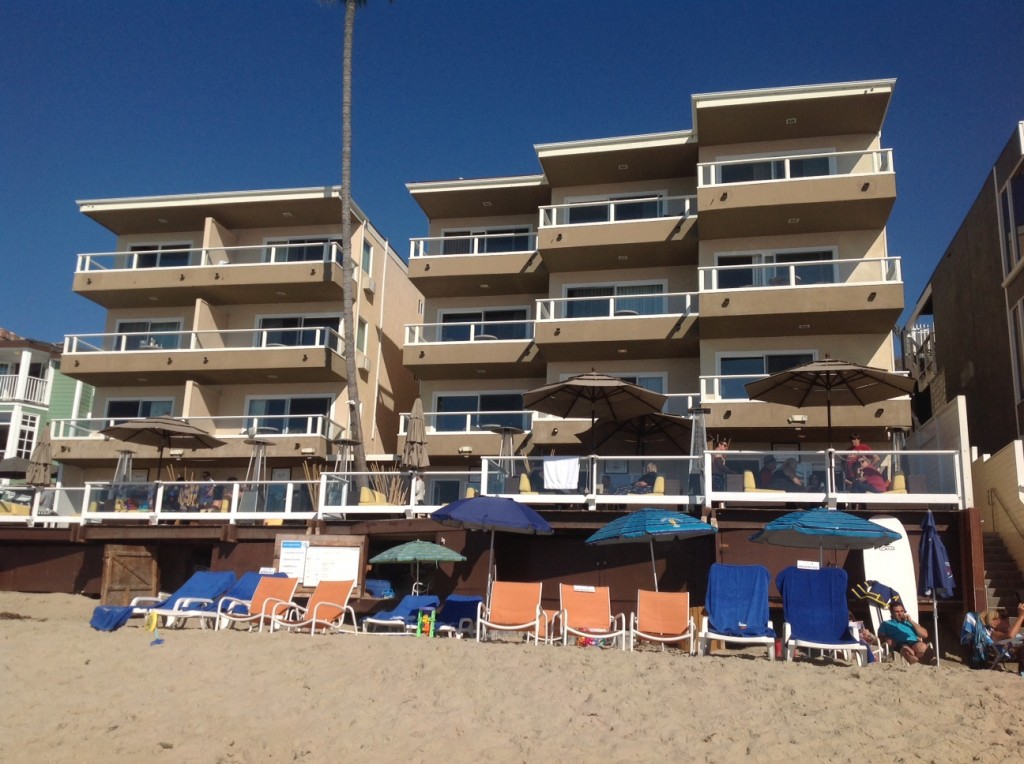 Eventually, it was time to eat so we decided to order lunch from "The Deck". The onsite restaurant of the Pacific Edge Hotel. You can find their menu here. This little but mighty menu serves some of the freshest food around. Our friends started with a Charcuterie platter and it was amazing. They also got the cheese board that came with domestic and imported cheese.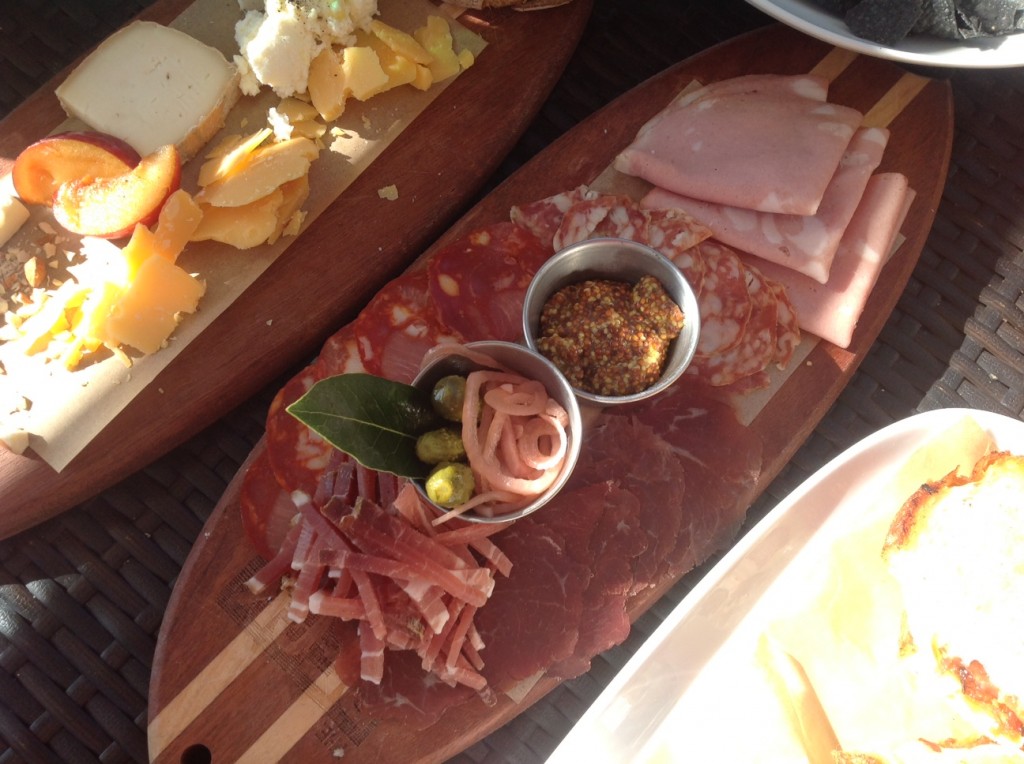 I had the guacamole which came with stone ground blue corn tortilla chips and queso fresco.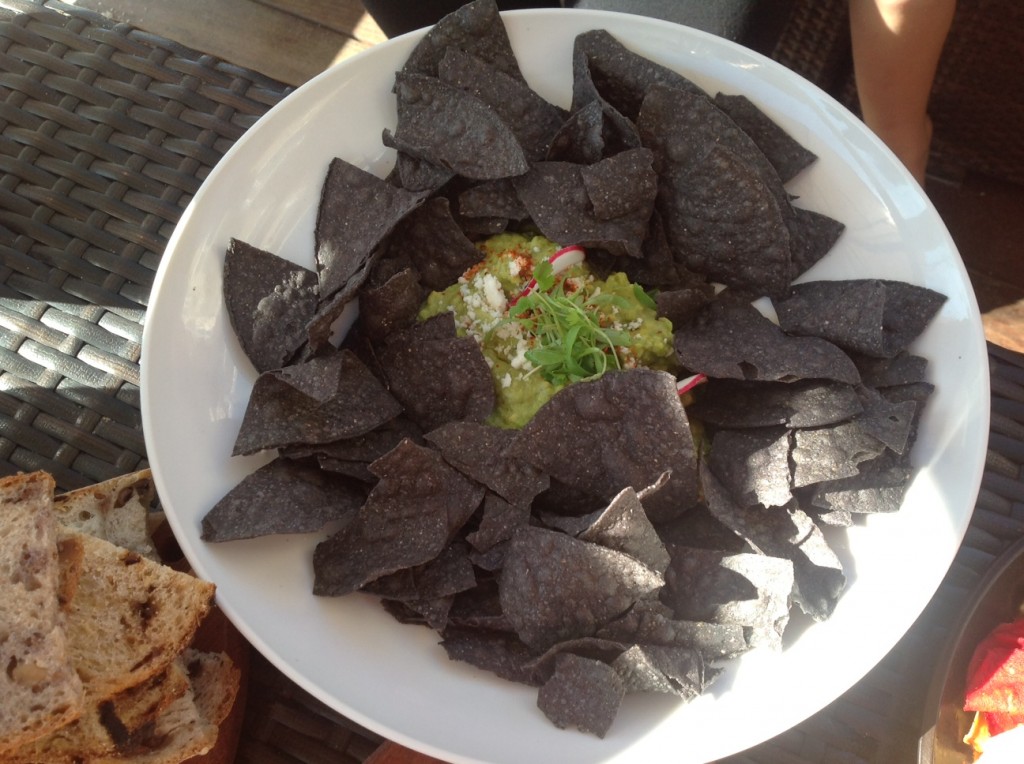 My husband had the Ahi Poke and it was really tasty. Even the presentation was appetizing. The daikon sprouts and crushed wasabi peas were a perfect addition to this plate.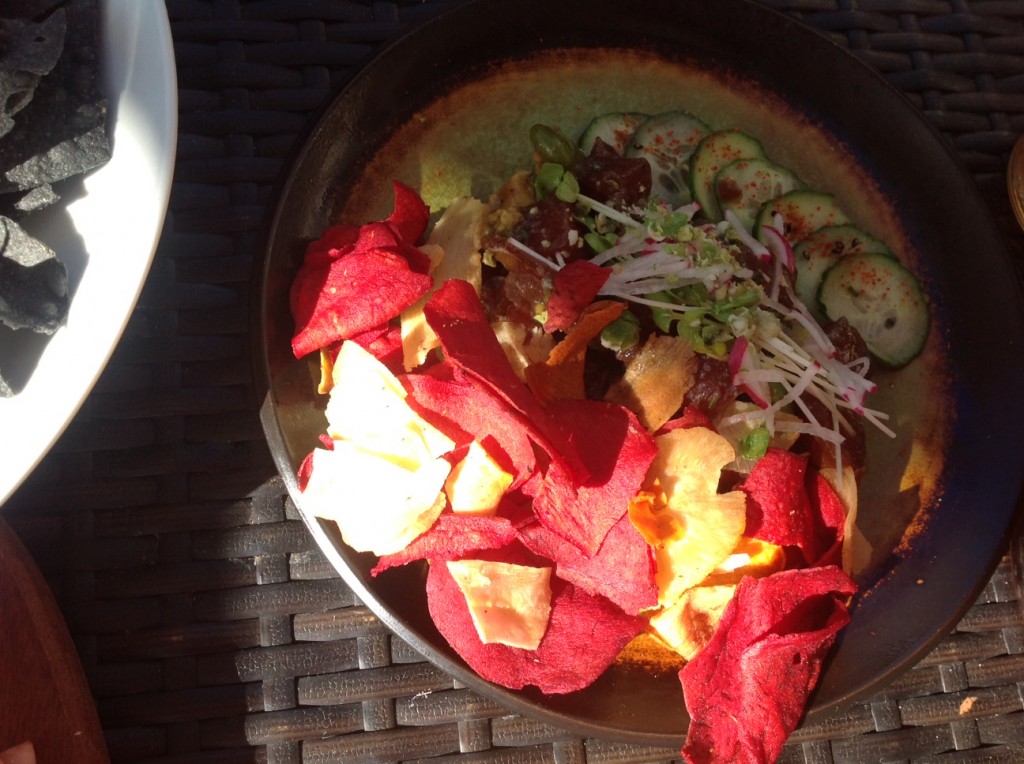 My kids all shared a grilled cheese sandwich. It was so good.  The bacon and the onion gave it so much flavor and the cheese made it ooey gooey which the kids loved!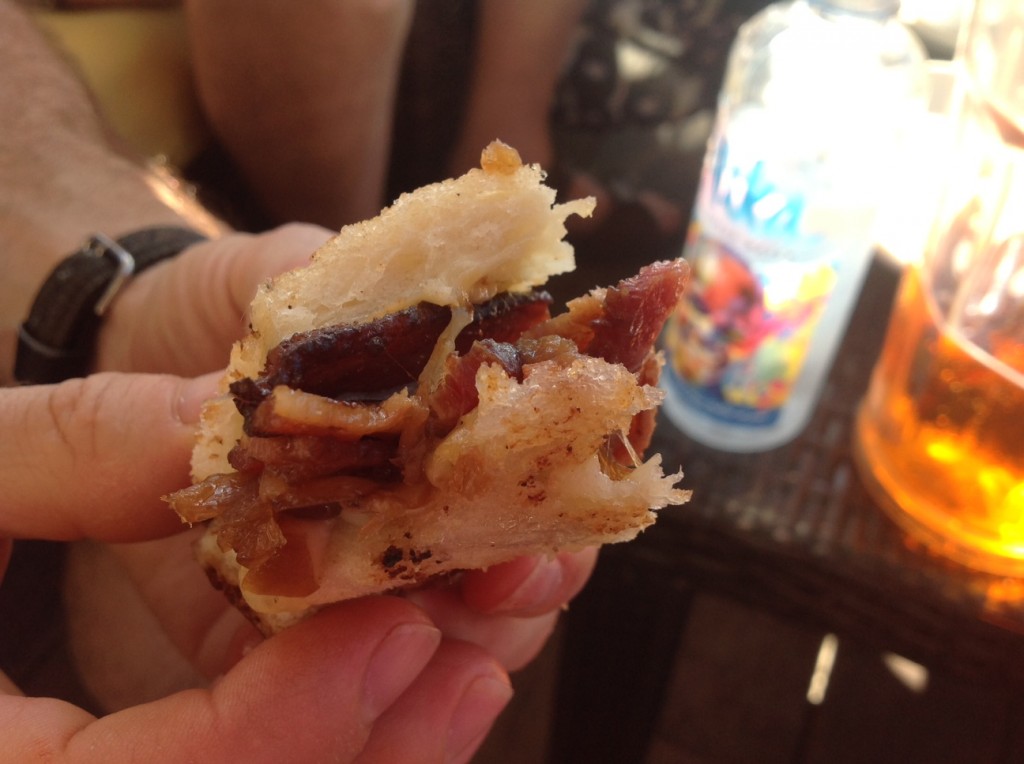 We also had several desserts including cheesecake and chocolate cake and we could barely move when we were finished. Everything was so delicious.
Finally, the sun started to set and we saw the most amazing colors on the horizon. The reflection of the sun of the water was incredible. If you look closely you can still see a swimmer or two in the water.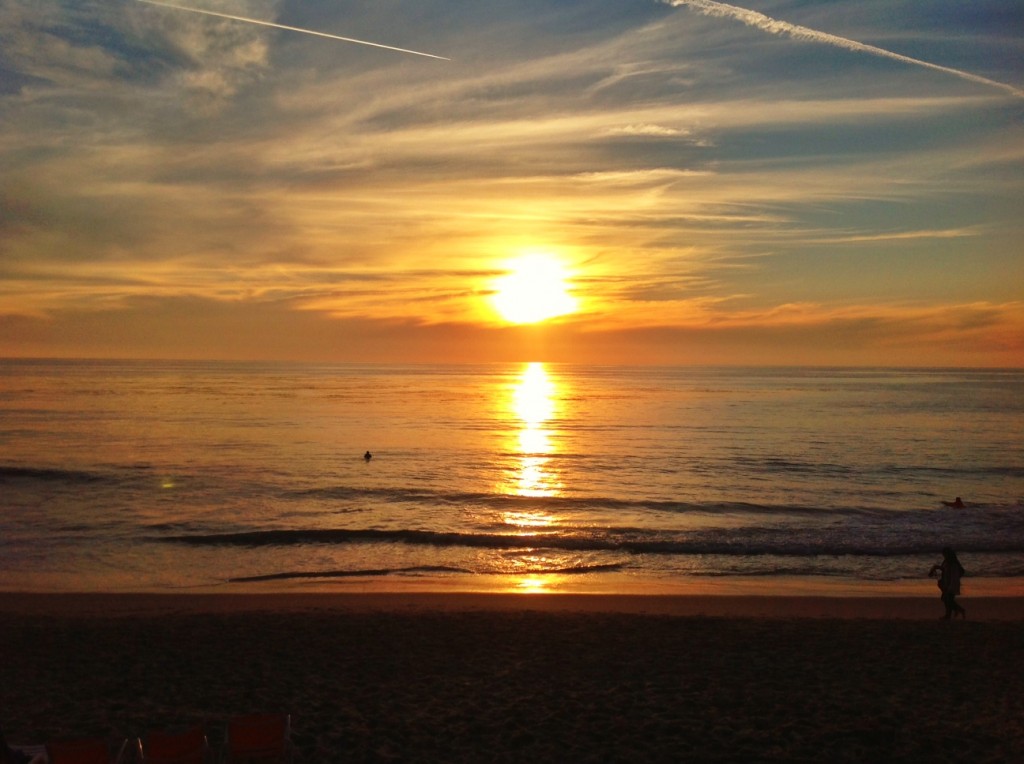 But perhaps the best part of the evening came when we saw a man propose to his girlfriend on the beach right below us.  It was so surreal watching this event play out right in front of us. With the help of the hotel, he smoothed out a huge section of sand and asked his girlfriend to marry him complete with rose petals and a camera crew. Nearly everyone on the deck with us was almost in tears because his fiance had no idea it was coming. She was so  shocked. What a great way to end the evening.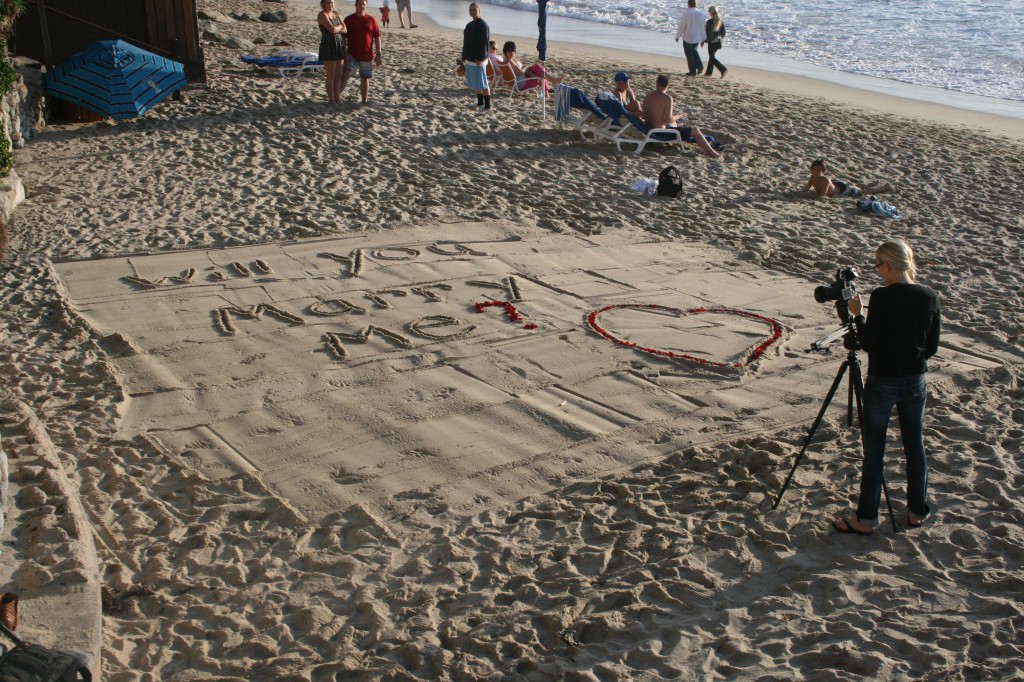 After our guests left it was time to head to our hotel room. It was right above our bungalow so we did not have to walk far. Upon entering, we were greeted with more of the eclectic modern decor I had come to love in the lobby. Our bed was spacious and comfortable and I just adore the headboard. The kids had their own adjoining room off the side of ours and it was so nice to have 2 bathrooms so we did not have to share.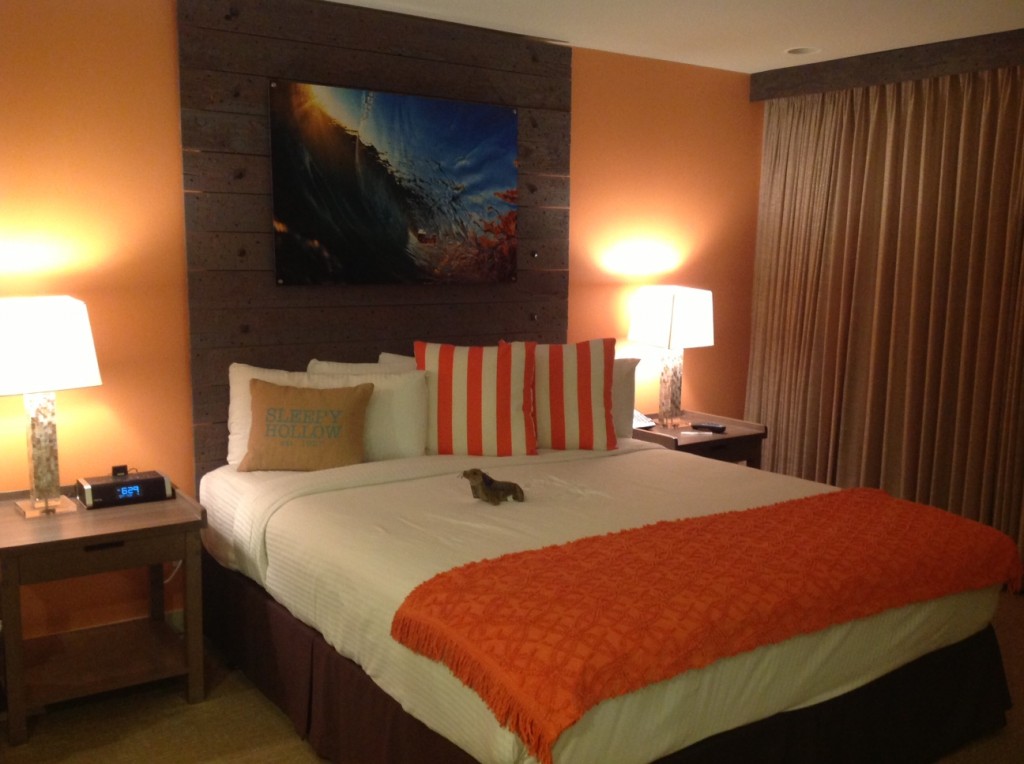 The showers were big and roomy with new tile and a window that we could open. We loved the cute touch that the housekeepers do to the toilet paper.  My boys were laughing saying they had a flower for toilet paper.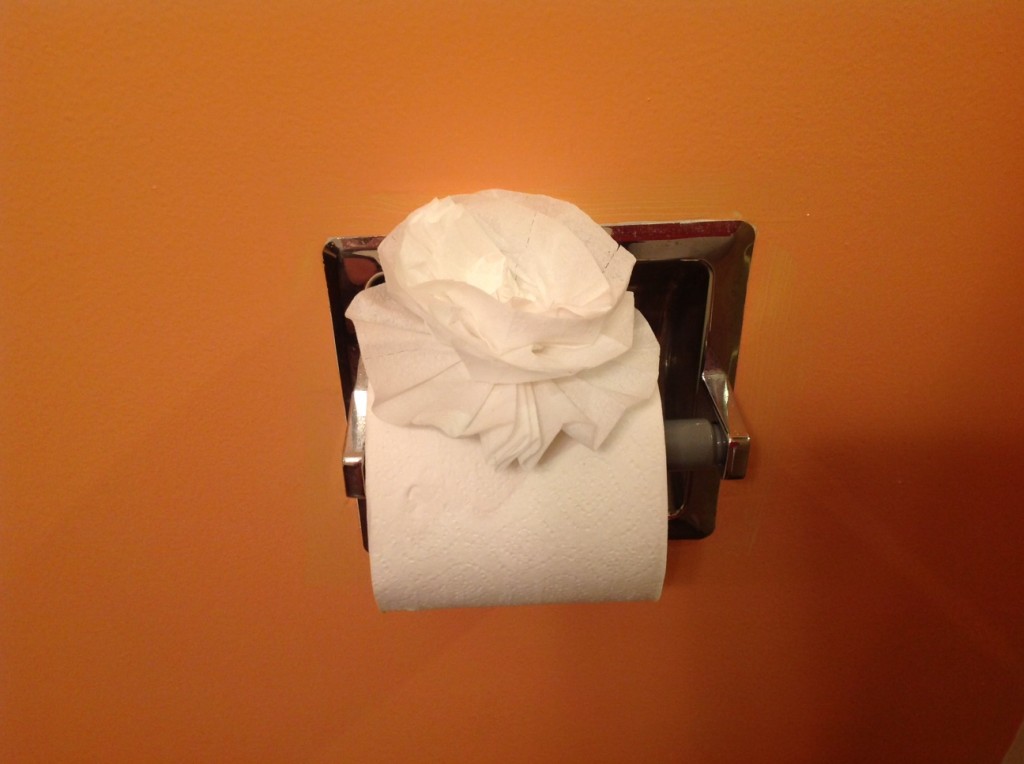 Here is another photo similar to the one in the lobby. My son pointed out if you look through the barrel of the wave you can see Laguna Beach.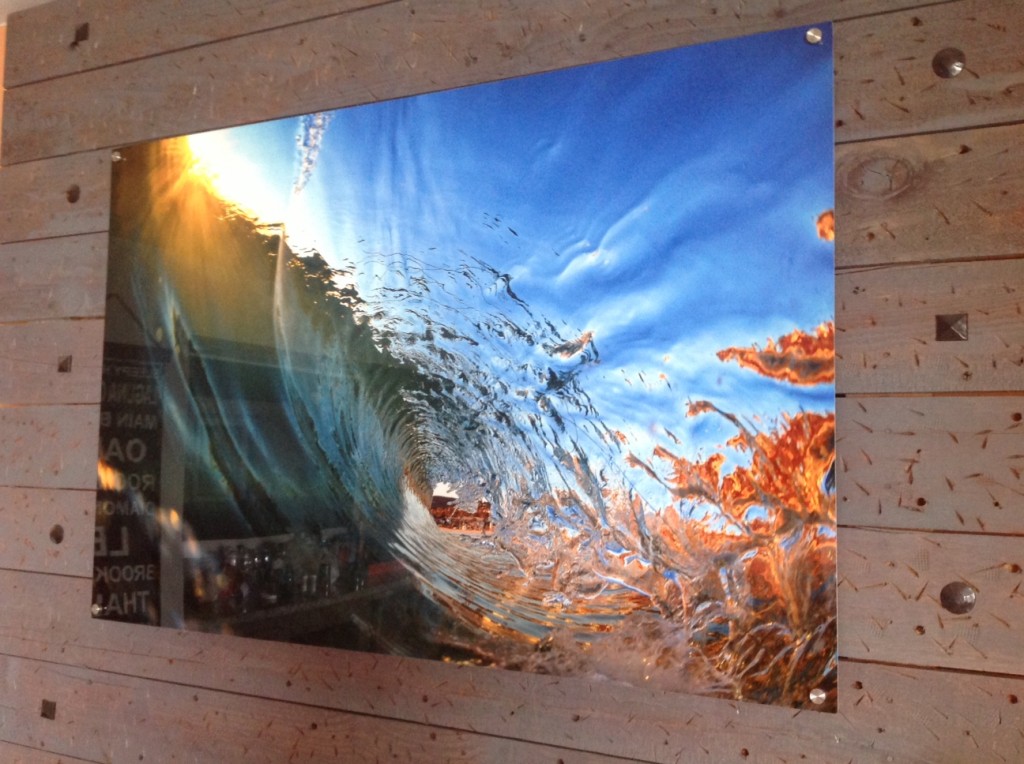 The furniture on our balcony seemed a little outdated, but we still enjoyed having dinner out there and listening to the waves crash while we inhaled the fresh salty air.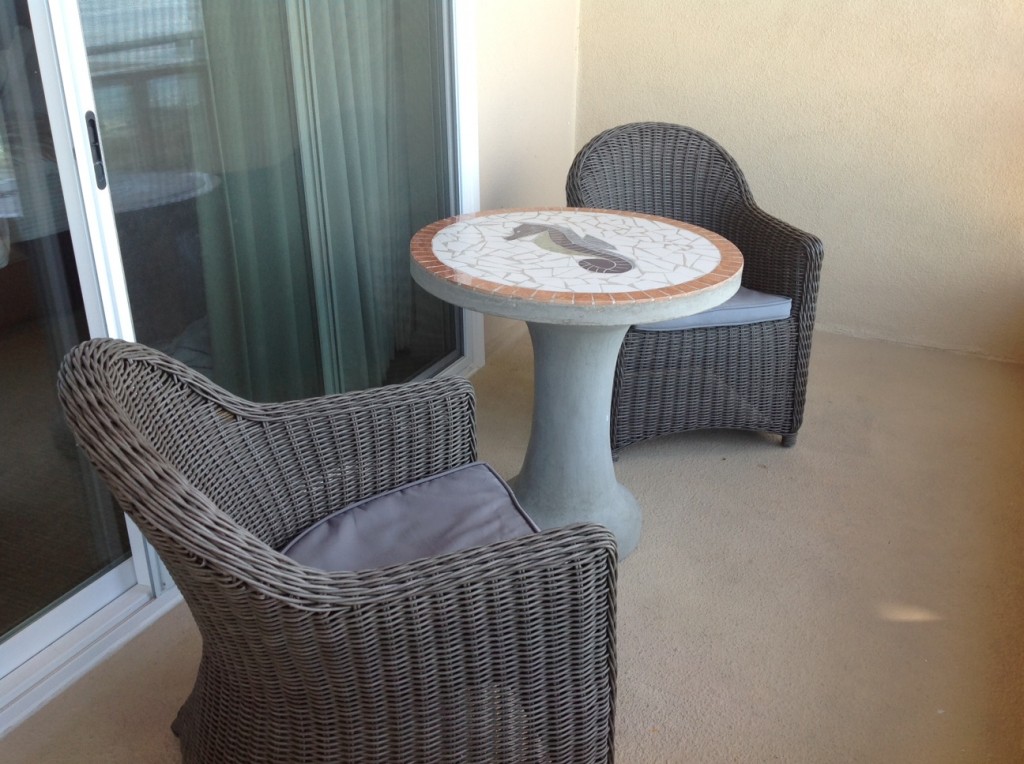 That evening I decided to take the kids down to the pool for a night swim and a dip in the jacuzzi. We were excited to find out that they also had a recreation room.  So the boys played ping pong while my husband and I and our daughter relaxed in the huge jacuzzi. No doubt I'd say 10-15 people could fit in it.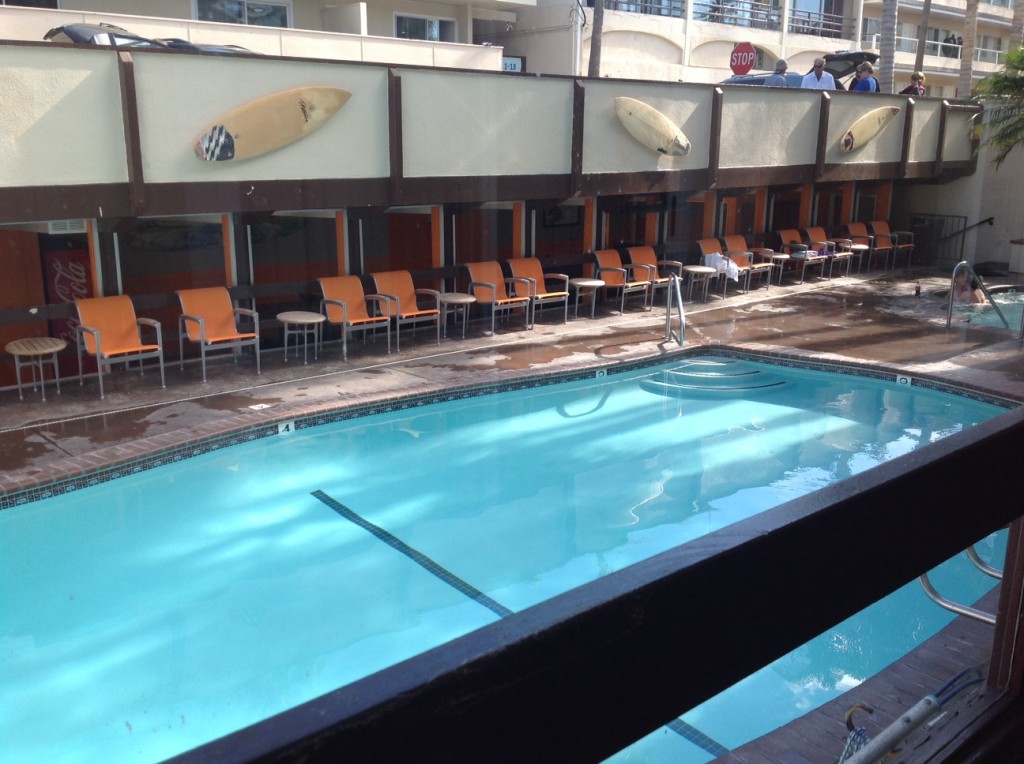 The next morning after a wonderful nights sleep we awoke to this beautiful sight. I cannot recommend this hotel enough. We all got along great because everyone was relaxed and I just felt so at peace while I was here. I am already planing our next party just so we can rent a private bungalow again. I'd love to share some tips about the hotel with you so I will list them below.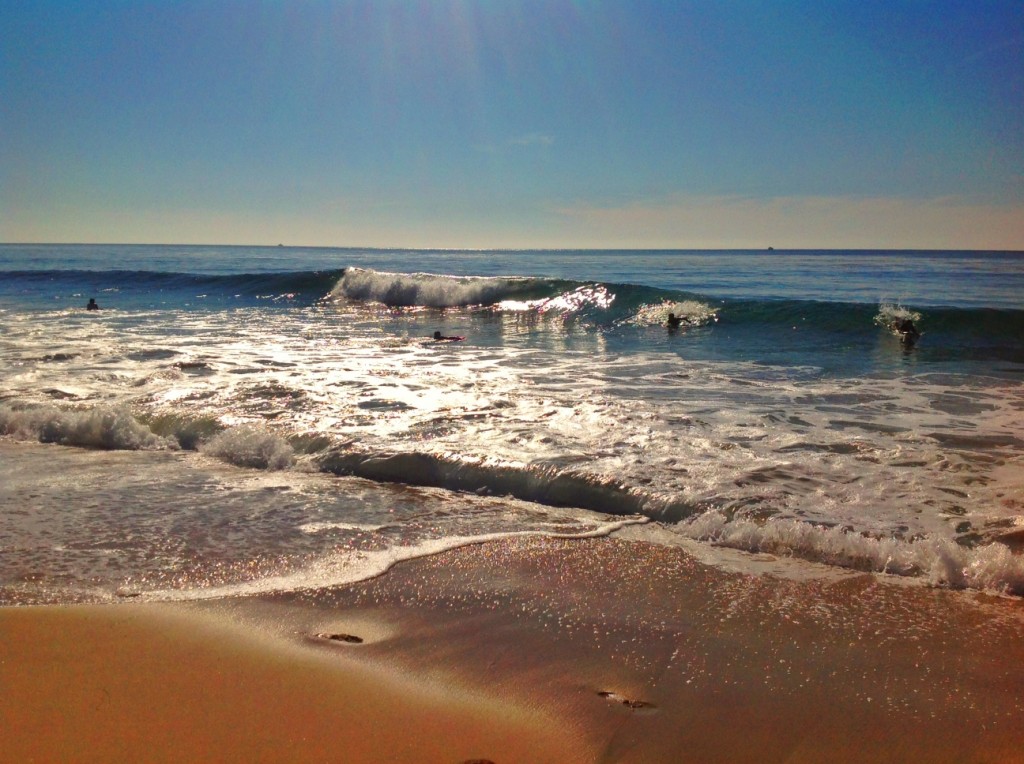 TIPS FOR STAYING AT THE PACIFIC EDGE HOTEL
Prepare to do a bit of walking. This hotel is large and spread out so the lobby isn't super close to the ocean front rooms.
If you want to venture out for food outside of the hotel there are plenty of options very close by. Some options for breakfast are The Orange Inn Cafe which serves amazing breakfast food. For dinner, there is a great Taco Stand called Taco Loco across from the Hotel.
There is a refrigerator in every room so if you need groceries there is a Ralph's grocery store across the street.
Valet Parking is the only parking available. Self-parking is not an option.  The cost for valet is $24 per day.
Rollaway beds are $20 extra.