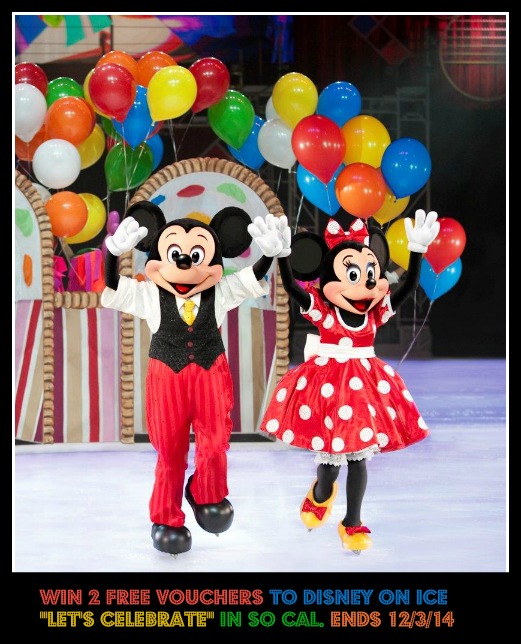 Disney on Ice "Let's Celebrate"
Last week I posted about Disney on Ice's newest show called "Let's Celebrate. You can read about it here. Today I am giving away 2 free vouchers for the show.
Vouchers are good for WEEKDAY shows (excluding Friday night) at Staples Center, Citizens Business Bank Arena, Honda Center and Long Beach Arena.
Vouchers MUST be exchanged for tickets in advance of the performance at the venue box office. The value of the vouchers is $28 each. If $28 section is sold out, tickets will be issued from the $22 section. Vouchers do NOT guarantee seats so please redeem early!!
For adjoining seats, additional tickets can be purchased when redeeming the vouchers.
Here is the schedule again for the performances:
Staples Center
Wed 12/10 @7:30pm
Thur 12/11 @7:30pm
Fri 12/12 @11:30am
Honda Center
Tues 12/16 @7:30pm
Wed 12/17 @7:30pm
Thur 12/18 @10:30am & 7:30pm
Fri 12/19 @1:30pm
Citizens Business Bank Arena
Thur 12/25 @6pm
Fri 12/26 @11am & 3pm
Long Beach Arena
Wed 12/31 @4:30pm
Thur 1/1/15 @6pm
Fri 1/2/15 @11:30am