Last week we were invited to a media event for the 2nd annual "Chill" event at The Queen Mary. It was such an enchanting evening with lots to see and do.  Chill is an interactive  event at the Queen Mary where they use two million pounds of sparkling ice to create larger than life, hand carved ice sculptures. The ice sculptures are housed in the queen Mary's Dome and feature scenes from The Nutcracker. It includes life sized reproductions of Clara, the evil Mouse King, the battle scene, sugar plum fairies and The Nutc racker himself, plus a walk-through castle, and three ice slides off a 30' high replica of The Queen Mary. Each ice exhibit is meticulously hand carved and created by an inte rnational team of ice sculpture experts from Harbin, China and enhanced with LED lighting to create a visually spectacular experience. The Ice Kingdom is kept at a frosty nine degrees Fahrenheit to preserve the ice.
When we first arrived the Queen Mary was all lit up. It was beautiful so see such a large ship twinkling in lights.

The entrance to Chill is right in the holiday village. There are all kinds of lights in the trees, and life size structures you can pose with for a picture. You immediately feel like you are at The North Pole when you enter.

 They even have snowflake projectors that make moving snowflakes on the ground. The kids loved jumping on these and I could hear them giggling.

 The Gingerbread bakery was all decked out in lights and candy and it made a perfect photo op.

 You can even write a note to Santa! There was also a ton of food there. And yummy food, like the kind you would find at a fair. Hamburgers, hot dogs, glazed almonds, gelato, fried twinkies, carmel apples, the list goes on and on. And the portions were HUGE! They also had a bar where you could get cocktails and tables with a fire pit to sit down and relax.

 For the little ones there is a giant inflatable snowman that the kids can bounce in.

 Or they can ride n a  GINORMOUS Rocking Horse.

The best part of the evening was tubing. My son has such a blast and went down a dozen times. I went down myself and couldn't believe how fast you go. What a blast!

If you brave enough they have a mechanical Reindeer. I did really good and didn't even fall off.

This is the entrance to the ice kingdom.

They keep it at a frosty 9 degrees so they give you parkas to wear with hoods. I suggest bringing gloves.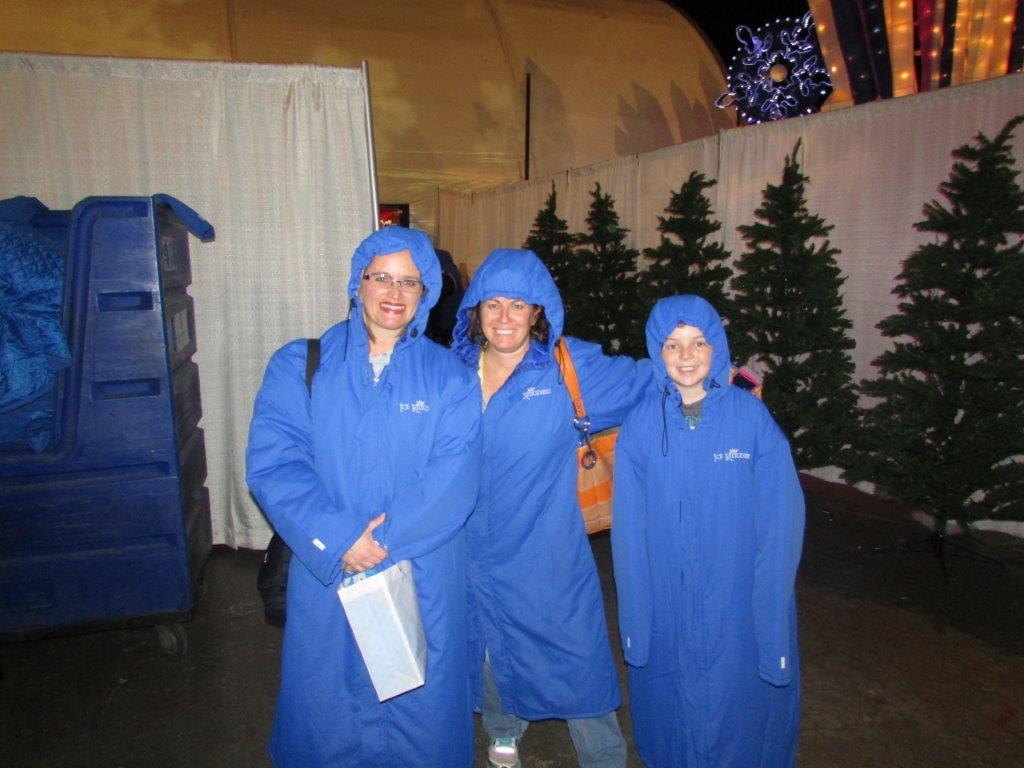 Ice Flower. They use blocks of colored ice and carve them out. It's simply amazing.

Look how realistic the Queen Mary Looks. That is pure Ice!

These ice slides were really fun too. Our parkas made it really slick and easy!

Below is a video of "Chill" It shows them building the sculptures and is really amazing to watch!
Pricing starts at $29.95 for adults and $14.95 for kids, and includes The Ice Kingdom and choice of Ice Skating or Ice Tubing. Additional tickets for either Ice Skating or Ice Tubing are available for purchase and start at $12.95. Ice Skating Season Pass is available for $29.95. Lodging packages are also available. CHILL will be open Tuesdays through Sundays beginning Nov. 22 through Jan. 5. For more information, including hours or to purchase tickets online, visit http://queenmary.com/chill/
TIPS FOR YOUR VISIT TO CHILL
Bring gloves. It is really cold while you are looking at the ice sculptures. They keep it at 9 degrees
Be prepared to pay extra for food and the many extras like the mechanical reindeer which is $5 a ride.
Don't forget your camera as there are tons of photo ops.
If you're bringing a camera or wearing your eyeglasses inside The Ice Kingdom, be sure to take your glasses off and cover your lens and put your camera away in a bag before you step outside of the ice kingdom. There is a drastic change in temperature and the high humidity outdoors will cause condensation on your camera and your glasses which will make them wet and foggy. My glasses on my face were so fogged up I couldn't see a thing.