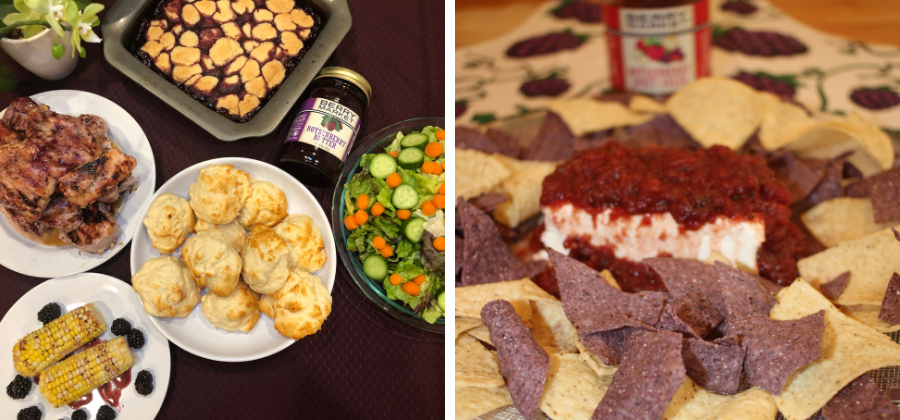 After enjoying so many unique tastes at the Knott's Berry Farm Boysenberries Festival we decided to bring home ingredients with this flavorful berry and create our own unique dishes for a family dinner. I found everything I needed at the Berry Market! Family dinners create memories and we thought this would be a wonderful way to make some of our own foodie memories at home. I put on my adorable Boysenberry Apron (9.99) and got to work!
Appetizer: Spicy Boysenberry Salsa and Cream Cheese Dip

This was so delicious! All you need is a block of cream cheese and the spicy Boysenberry salsa. Pour 1/3 to 1/2 of the jar over the brick of cream cheese, add in some tortilla chips and you have yourself a creamy appetizer with just a little kick of spiciness. I like to use a mix of blue and white corn tortilla chips. This won't last long and it is great for a crowd.
Knott's Berry Farm Biscuits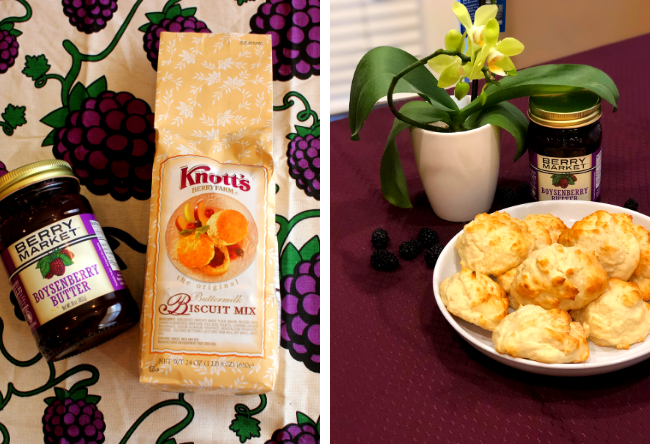 I don't know what makes these biscuits so addicting but wow,  I could eat these for breakfast lunch and dinner. These fluffy golden stacks of goodness go great with Boysenberry Butter. Incorporate them into your meal or use them for biscuits and gravy. I even read that you can make chicken and dumplings with them.
Boysenberry Chipotle Chicken and Pork Chops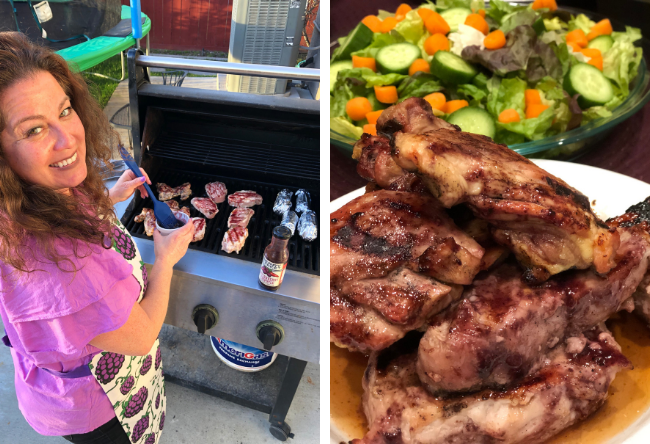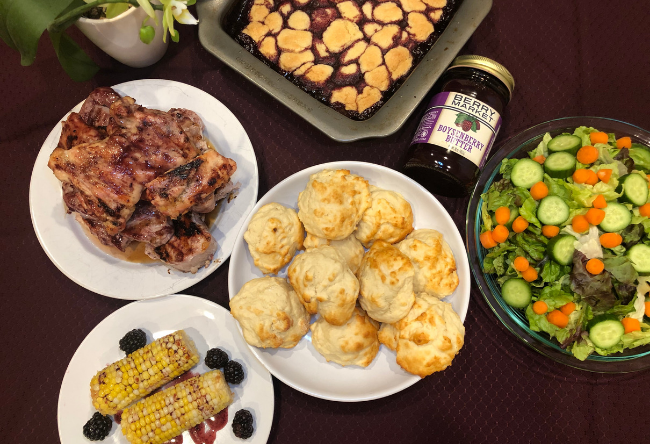 Truth is, I love to grill. There is something about standing in front of a hot grill and continuously turning meat that I find enjoyable.  So I grill often and on this night I made Boysenberry Chipotle chicken and Boysenberry Chipotle pork chops. The Berry Market sells the sauce and I also used it on corn cobs for a change from butter. It was unique and tasty!
Boysenberry Cobbler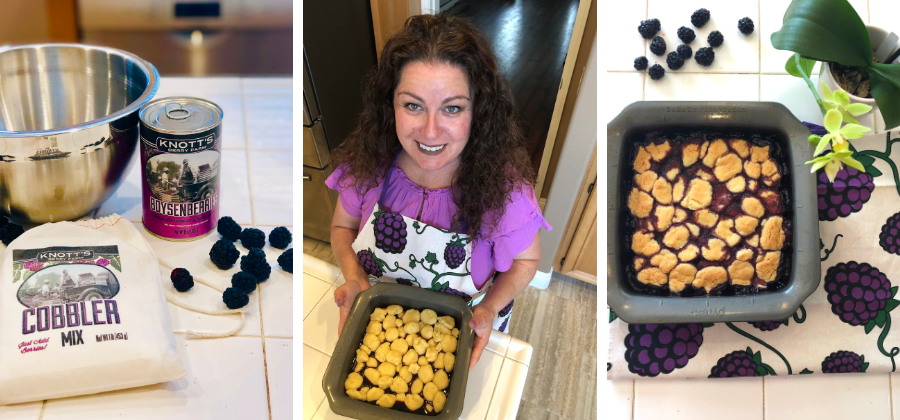 All good meals end with desert and the Boysenberry Cobbler was the perfect finishing touch to this berrylicious dinner. It was super easy to make and my family polished off the entire pan. Even my son who eats a gluten-free diet by choice couldn't resist this. Just pour the can of berries in the pan, make the  flour mix and drops little balls on the of the  berries. My daughter had a lot of fun helping me make this.
List Of Ingredients
Boysenberry Spicy Salsa – $4.99
Block of Cream Cheese
Tortilla chips
Biscuit Mix – $4.99
Boysenberry Butter
Meat
Boysenberry Chipotle Sauce – $7.99
Corn On The Cob
Green Salad
Cobbler Mix and Can Of Boysenberries $9.99 (together)
Other Awesome Boysenberry Recipes
Boysenberry Chocolate Dipped Cookies – Simple Sojourns
Boysenberry Broccoli Salad – Cleverly Catheryn
Lemon Ricotta Poppy Seed Pancakes with Boysenberry Sauce – Simple Sojourns
Boysenberry Cocktail – Living Mi Vida Loca
Boysenberry Coffee Shake – Single Dad's Guide To Life
Boysenberry Milkshake Recipe – Sandy Toes and Popsicles
Mini Boysenberry Sour Cream Cheesecakes– Rockin Mama
Boysenberry Ice Cream Recipe – Clementine County