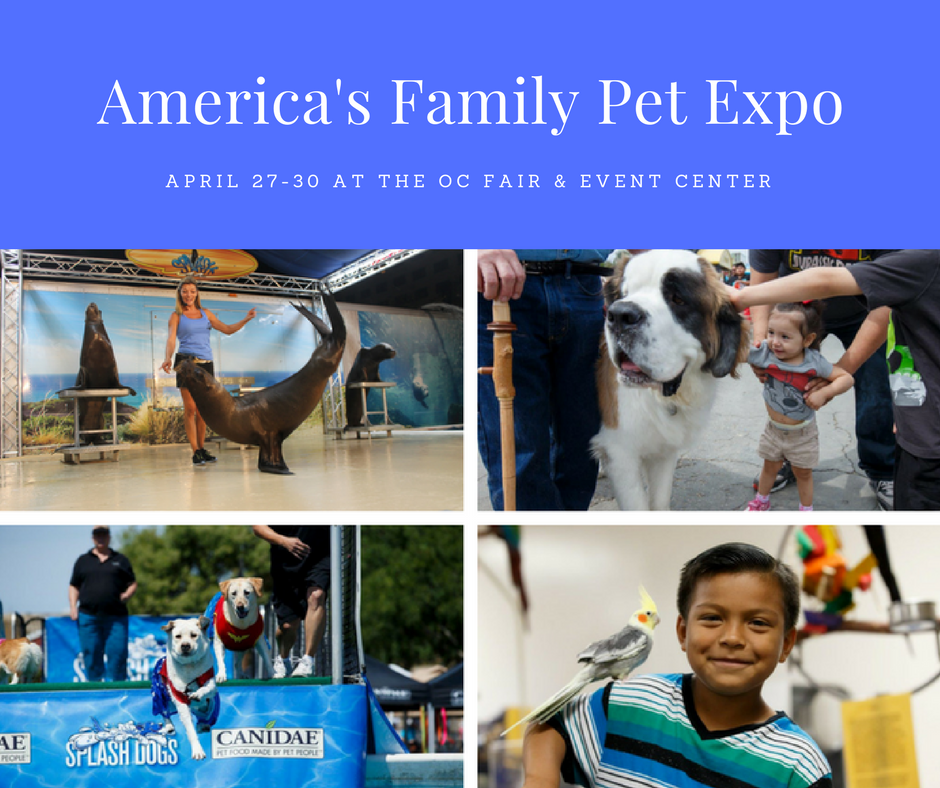 If you love Pets you are in for a real treat! Every year, America's Family Pet Expo returns to the OC Fair & Event Center in Costa Mesa (88 Fair Drive, Costa Mesa 92626) and this year it will take place on Friday, April 27 – Sunday, April 29, 2018.  The annual family-friendly event features all creatures cute and cuddly, furry, feathered and scaled of all sizes, shapes and colors.
We go every year and have a blast! This year we are particularly excited because we are looking into getting a new dog and it will be interesting to see different breeds and ask a bunch of questions. There are all kinds of other animals too like snakes, lizards and other reptiles.
Cat lover will also be impressed with the large variety of cats on display. They also have fair food and vendors selling novelty food like beef Jerky!
Blogger Tip: Purchase your tickets in advance! By purchasing your tickets online at petexpoOC.org, you don't have to buy tickets at the door and can save time by skipping the lines!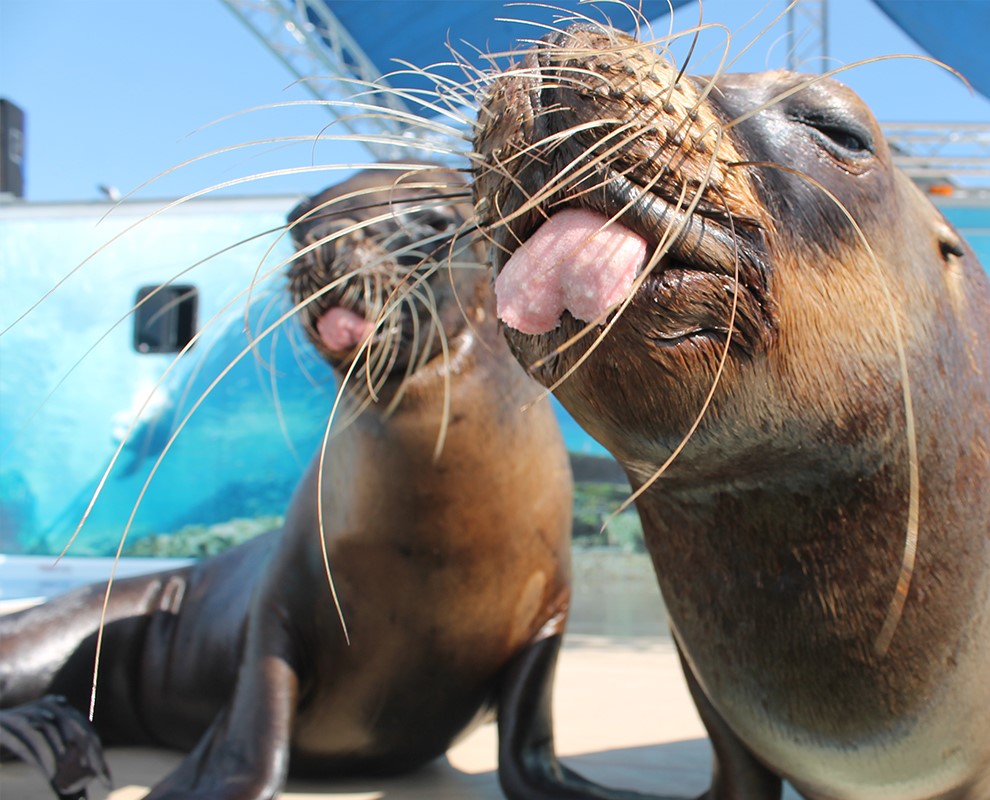 What will I see At The Pet Expo?
New to America's Family Pet Expo for 2018 is the Sea Lion Splash Show; a unique mobile aquatic experience combining both marine fun and environmental education.  Sea Lion Splash Show features rescued sea lions from both California and South America.  Ready to thrill and excite an audience of all ages, the sea lions balance balls, shoot hoops, dance, shake their flippers, and even do a handstand or two. 
Returning to the 2018 America's Family Pet Expo will be The Catit Playground. This popular interactive activity brings a close-up view for guests to watch charming adoptable cats and kittens to see how they interact with different toys and people.  This is a great atmosphere for guests to learn all about cats and to gain a little insight into "Catitude."
America's Family Pet Expo will include on-site cooking demonstrations. Hosted by JustFoodForDogs, the "Find Out What's Cooking" talks will feature lessons on how to create homemade meals to promote optimal health, longevity and well-being for dogs.
Returning favorites to America's Family Pet Expo include Repticon, reptile show and sale, offering hundreds of common and rare species of reptiles such as lizards, snakes, and spiders.  Plus, the ever-popular Splash Dogs and The Great American Petting Zoo, family fun the whole family will enjoy.
In advance of America's Family Pet Expo, kids can design and create a 10-gallon aquarium in the Kid's Aquarium Contest.  The aquariums will be on display throughout America's Family Pet Expo and are judged according to age group and two categories – Natural and Creative.  Also, for the aquatic enthusiast is the Aquascaping Contest, where contestants will compete to make the most beautiful, and natural underwater environment in a small aquarium.
Pet Adoptions will be handled onsite for those looking for that perfect animal addition to the family.  There will be hundreds of animals hoping to find their "furever home" from local community partner organizations at the Pet Expo.
Dog Breeds At The Expo
Standout Breeds and Breed-Specific Rescues On-Site Include:
Alaskan Malamute

Belgian Malinois

Bichon Frise

Spaniel Breeds including Cavalier King Charles Spaniel, Sussex Spaniel, and Cocker Spaniel

Dalmatian

German Shepherd

Great Pyrenees

Irish Wolfhound

Italian Greyhound

Leonberger

Pembroke Welsh Corgi

Portuguese Water Dog

Terrier Breeds including Biewer Terrier, Rat Terrier, and Russell Terrier

Shetland Sheep Dog

Shiba Inu
General Admission, $15.00; seniors 60 and over, $13.00. Children 6-12, $10.00. 5 yrs and under, free. Active and retired military free with ID. Show hours:  Friday 10am-6pm; Saturday 10am-7pm; Sunday 10am-6pm.
OC Fair & Event Center, 88 Fair Drive, Costa Mesa 92626. Facility charges $8.00 parking. Kindly leave all pets at home.
One Family Review Guide Reader will win a family 4-pack of tickets


US Residents Only. No purchase necessary to enter. All readers have an equal chance to win, however, you must enter to win. A winner will be randomly selected via RaffleCopter and notified via email. I will attempt to contact the winner for 3 days. If the winner cannot be reached by email, a new winner will be selected the same way. There are several different ways to earn entries. One prize per household. The winner will receive, free of charge, the prize mentioned above. This prize has no cash value and is not available for exchanges. Prizes are not transferable or refundable and must be accepted as awarded. The winner is responsible for any and all other costs and expenses not listed above. Not liable for unclaimed prizes or fulfillment.