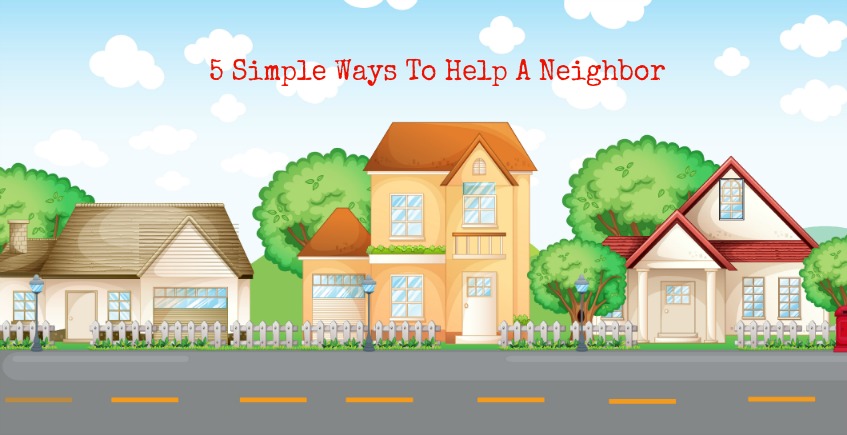 I feel very blessed to live on a street where I consider my neighbors some of my best friends.  I have lived on my street for 11 years and it has only been in the past 5-6 years that I have felt this way. It feels so good to wake up in the morning knowing that I am surrounded by people who brighten my day, because as a mom to 3 kids and a husband with a busy work schedule, my life is very hectic and stressful. Thankfully I am lucky to have neighbors who can help me out in a pinch when the going gets tough. Over the years I have come to love a few simple things that my neighbors have done for me and I would love to share them with you
1. Offer to carpool.  Even if it is only one way or one time. You have no idea how much that means to a mom. Between school drop off and pick up, sports, temple, church, boy scouts, girl scouts, and more, moms jump at the chance of not having to drive. One of my neighbors takes my boys to school every Wednesday morning so I don't have to drag my sleeping daughter out of bed. It is the most invaluable thing to me and helps my day run so much smoother. It seems like such a small gesture since she is already going to the school but she has no idea how much it means to me. (well maybe after she reads this she will).
2. Take in their trash cans. We used to have the most amazing neighbors from England. I still miss them to this day. But every now and then I would come home to find that my neighbors husband had dragged in our trash cans to our side yard. And it was always when my husband was traveling. I remember pulling up to the house and having a big smile on my face because I knew it was one less thing for me to have to do.
3. Before you leave for the grocery store, call up your neighbor and ask if they need anything. There have been so many times I have been cooking or even getting ready for a party and I realize I am short an ingredient or two.  Fabulous neighbors will call you that morning and ask if you need anything at the grocery store. I can't tell you how many times a neighbor has saved me the stress of going to the store.
4. Cook and extra meal and bring it over. Let's face it, we all have days where we don't want to cook. We also all go through times where we have illnesses, new babies, surgeries, family emergencies, deaths and more. Bringing over a simple meal can mean everything to a person in need of help. The whole family will appreciate it and you will feel so good that you helped. Even if you order it from a restaurant and put it in a dish and said you cooked it yourself =)
5. Read their cues and listen. This is quite easy. Let me give you some examples: One time I posted on Facebook that I was craving a diet coke. The next thing I know my doorbell rings and it was my neighbor  and they had a diet coke in their hand. It was like I had rubbed a genie lamp or something. Another time recently I posted that I had a migraine and I was looking for remedies. All of a sudden my neighbor is knocking on my door and she has 3 Tylenol for me. She didn't have to come over, she did it because she cared.  Another time I was talking to a different neighbor outside and she offered to take my daughter for a playdate so I could get some work done. For me it's the tiny little things that make the biggest impression. Even a hug without any words can go a long way.
So do something nice for your neighbor today. What are some awesome thing things YOUR neighbors have done for YOU!