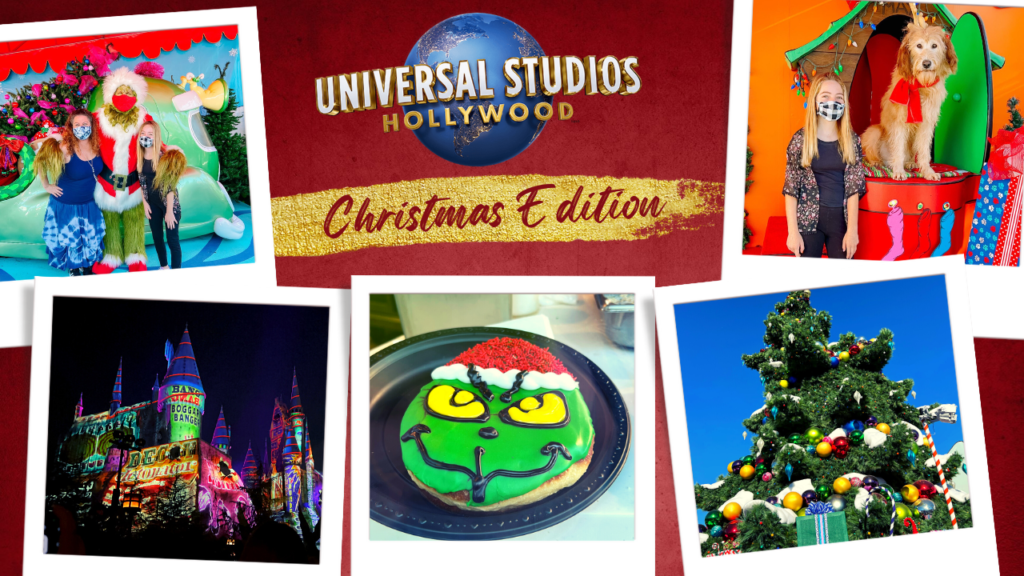 Christmas time is in full effect at Universal Studios Hollywood! The entire park is decked out in holiday decor, festive lights, music and so much more!! We had a chance to check out Holidays in the park over the weekend and it was the first time we experienced "Grinchmas". Oh my goodness I felt like I was living in the actual grinch movie. It was so much fun and the characters and costumes are magnificent! The entire park is completely decked out with happy holiday cheer, especially Whoville!
Grinchmas Activities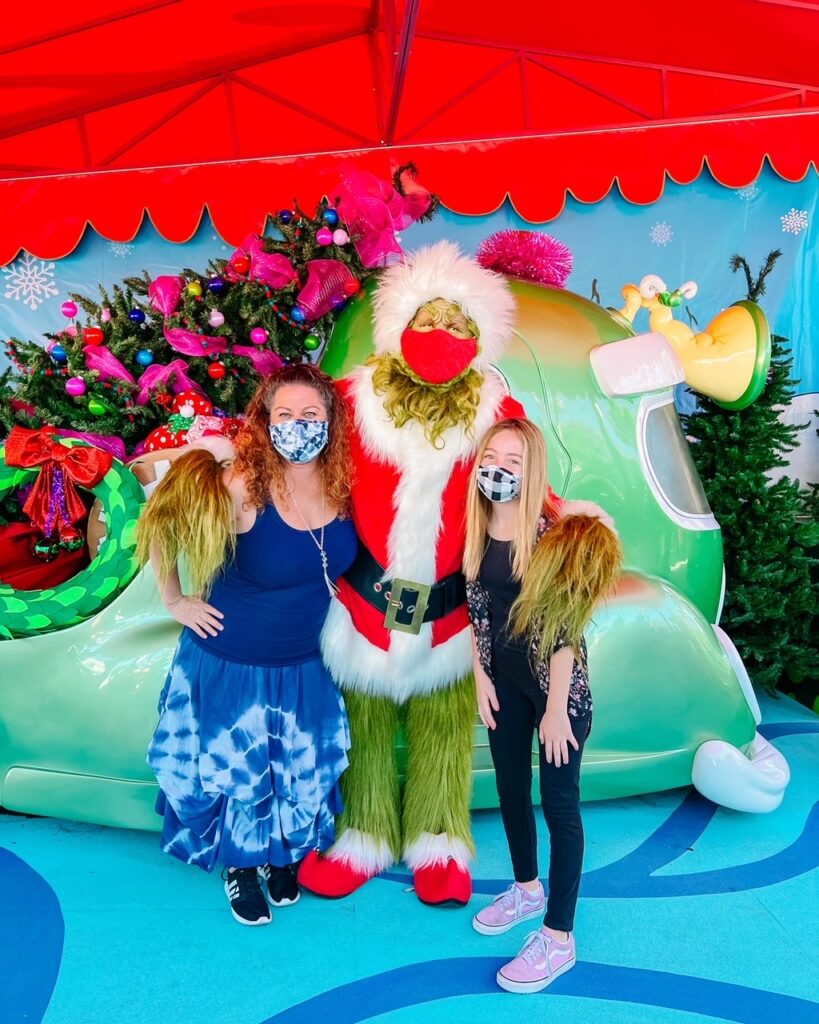 Guest can take their picture with The Grinch himself! He's actually quite friendly, contrary to popular beliefs. There will be professionally taking photos for you and they will allow your group to take photos with 1 PHONE ONLY. They are very specific and it is totally understandable as too many phones cause the line to get held up.
Tip: Get your pictures with the grinch early in the day as the line get long super fast. We got there early and still waited 30 mins.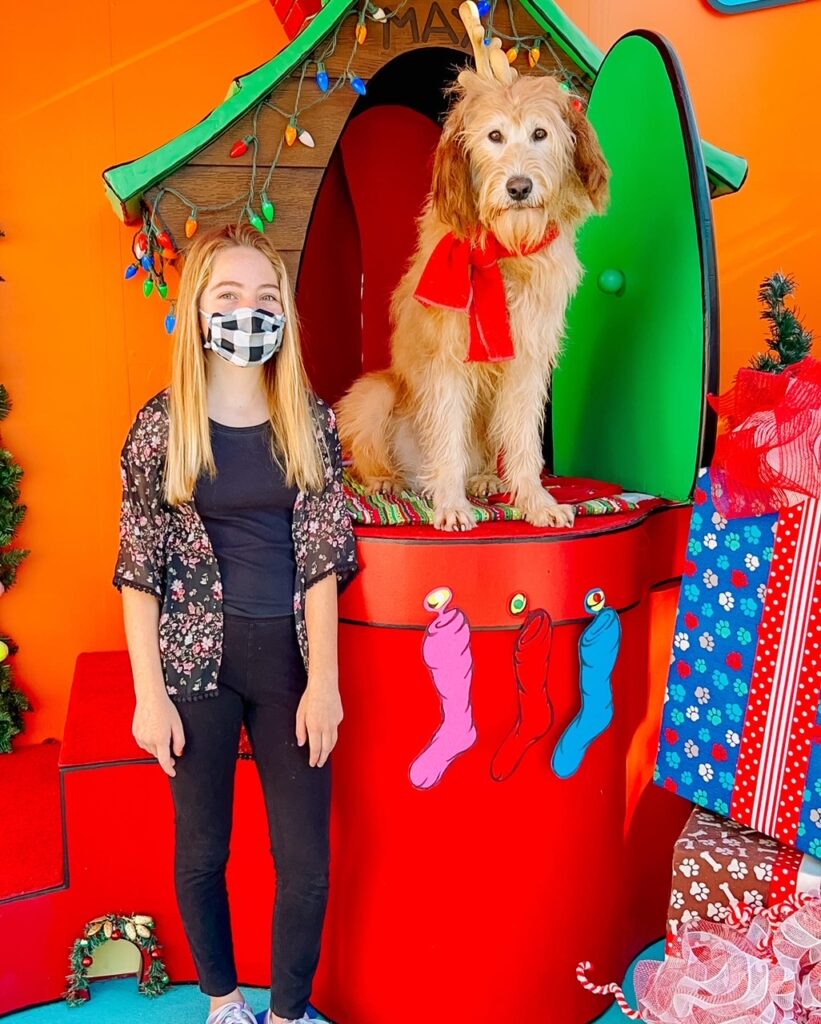 You can also take your picture with the Grinch's faithful dog Max. Max is actually a real dog and has the cutest personality. He might sniff you and give you a kiss. My daughter loves animals so this was a highlight for her to be up close to him.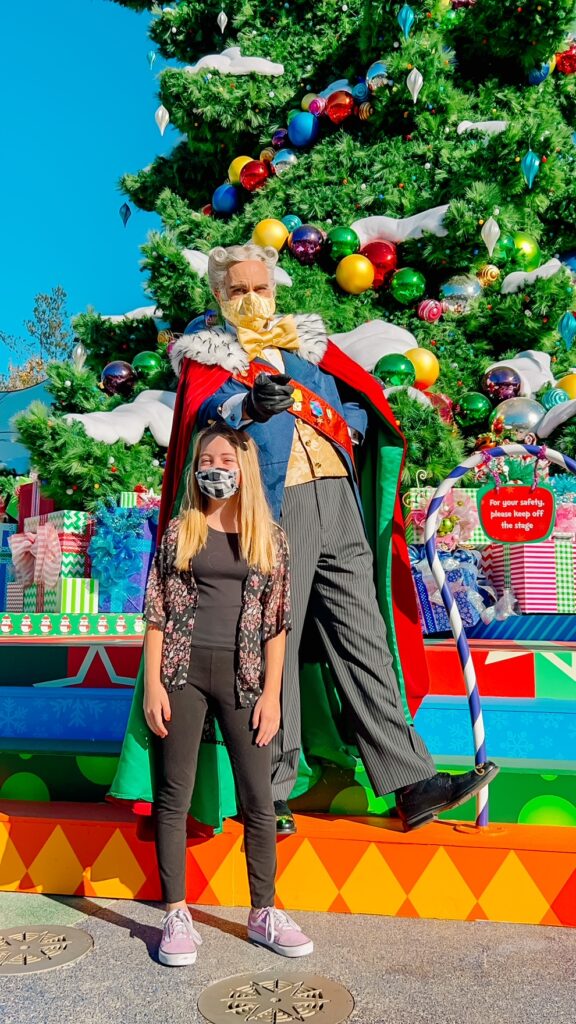 Meet the Mayor of Whoville. The mayor has a Q& A session and will answer any of your questions. No question is too silly! He has the perfect answer for everything.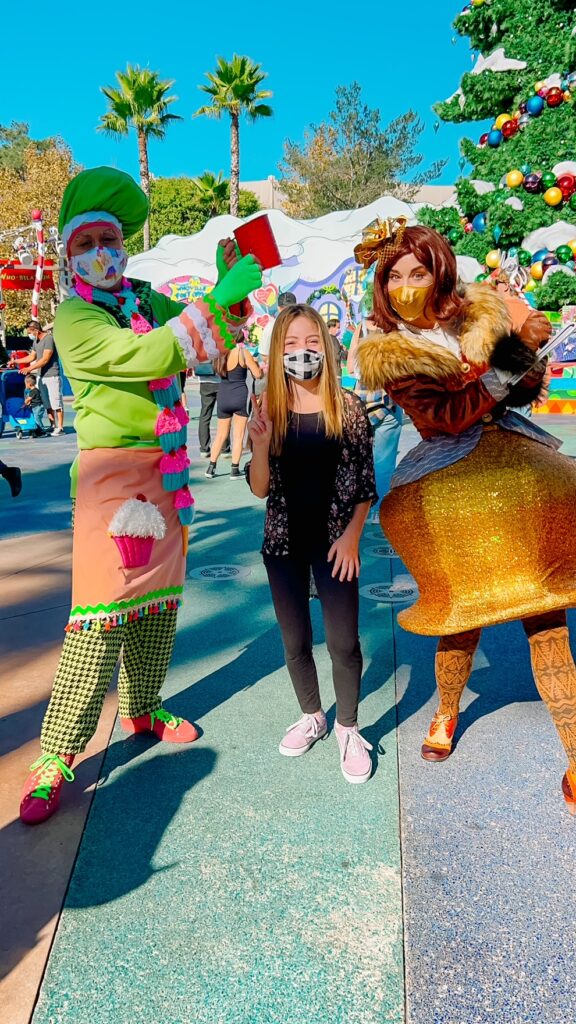 If you don't want to stand in line just mingle around the courtyard in Whoville! There is an array of characters that are straight from the big screen. They are all whimsical and quirky and fun! I thought it was so cute that all of their masks have the signature pointed nose.
Bonus Tip: Kids can visit the Who-vile Post Office to write and send a postcard to The Grinch. For every postcard mailed, Universal Studios Hollywood's Discover a Star Foundation will make a donation to School on Wheels which benefits homeless youth in Southern California.
Tree Lighting
You will not want to miss this exciting event! Once the sun goes down, the 65-foot curvy Wholiday tree lights up every half hour with a snow flurry and music. It does get extremely crowded but the good thing is you can see the tree lighting from anywhere in Whoville! There is a short recorded audio from The Grinch and Max and then they light the tree! Kids will be mesmerized as the snow falls from everywhere!!! There really is no bad spot.
Fun Facts about the Grinchmas Tree
The tree is 65 feet tall
It is adorned with hundreds of ornaments and thousands of LED lights
A brand new tree was created for the Grinchmas event in 2019
Themed Holiday Food
Universal always offers some fantastic treats during the holiday season. Especially donuts! Whether you eat a giant lard-lad donut or a giant green grinch donut you will find something delicious for everyone in your family.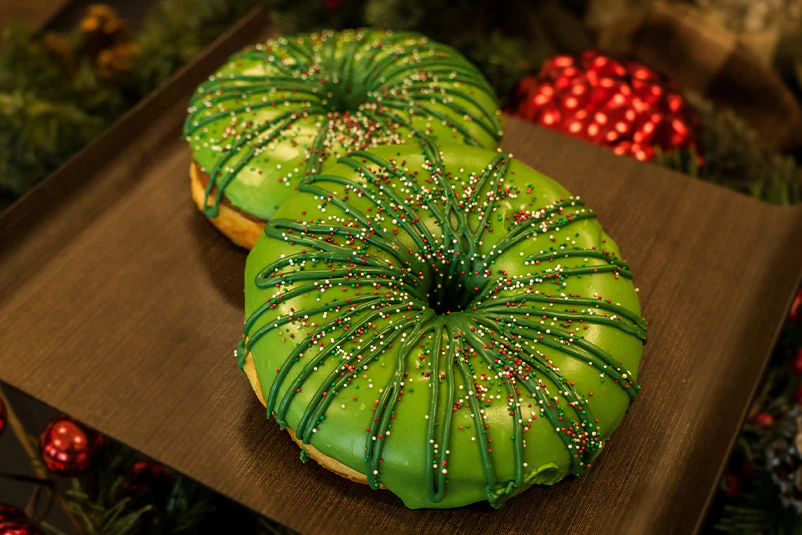 Also, no trip to Universal Studios is complete without Butterbeer! Try hot Butterbeer, the way Harry Potter and his friends enjoy it. Seasonal foods may include the English Holiday Dinner with juicy turkey, gravy, sourdough stuffing, carrots, Brussels sprouts, bacon-wrapped sausage and cranberry sauce at the Three Broomsticks. It's quite tasty! The Three Broomsticks also offers a "Cheese Toasty with Chicken" sandwich (think fancy grilled cheese with chicken, bacon mustard sauce and sliced tomato) served with salad or potato wedges.
Or if your in the mood for a fancy cocktail, USH has you covered! These spruced-up Holiday beverages will give you all the feels!
View this post on Instagram
Grinch Merchandise
View this post on Instagram
Universal Studios Hollywood is the perfect destination for creating new holiday traditions with the whole family. Enjoy Christmas in The Wizarding World of Harry Potter™ where you can see Hogsmeade™ transformed with enchanting spirit, festive décor and holiday-themed food, beverages and entertainment. And experience The Magic of Christmas at Hogwarts™ Castle, a holiday spectacle of dazzling lights and music.
The Magic Of Christmas at Hogwarts Castle
The Magic of Christmas at Hogwarts Castle is a spectacular show. It's a really nice way to end a perfect day.  The show is performed with projections, music and dazzling lights. The perfect space to view it is in front of the stage where the holiday frog choir performed but technically you can see it anywhere in Harry Potter World.
Holiday Frog Choir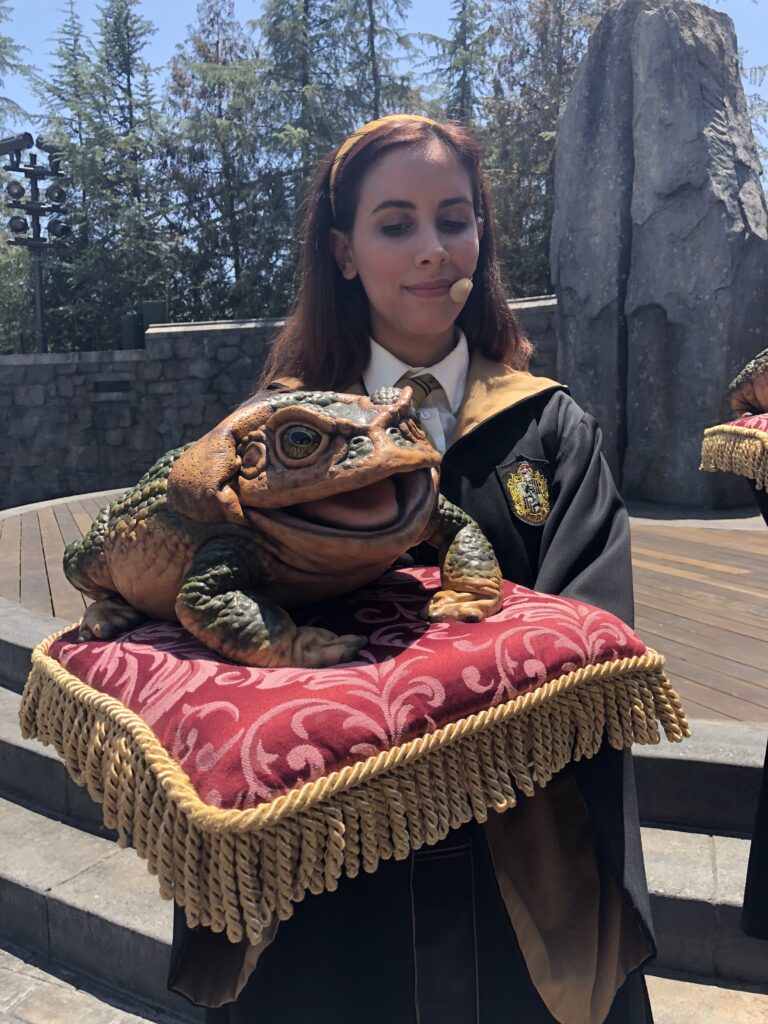 Ring in the holiday season with holiday songs sung by a choir of Hogwarts students and their croaking frogs. It is such a cute show!
Triwizard Spirit Rally At Universal Studios
This show is really eventful!  Cheer on the colourful procession of students from the legendary wizarding schools of Hogwarts™, Beauxbatons, and Durmstrang as they lead the excitement for the Triwizard Tournament.
Holiday Decor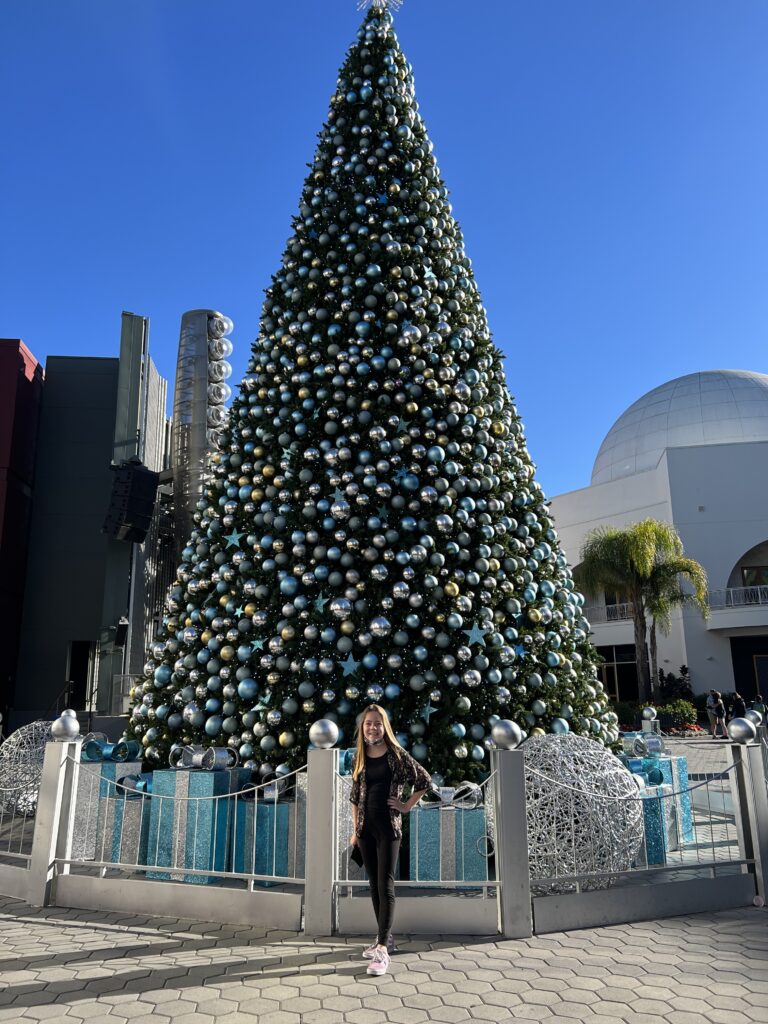 Spirited holiday décor and festive whimsy will permeate throughout the theme park including "Despicable Me Minion Mayhem" and the adjoining "Super Silly Fun Land" as a crew of very merry and mischievous Minions gleefully spread Christmas cheer to visitors of all ages.
On Universal CityWalk a spectacular 40-foot tall Christmas tree will glisten with 200,000 LED icicles choreographed to the lights and sounds of the season in the 5 Towers plaza. Santa Claus will make daily appearances and offer special photo opportunities at 5 Towers.
The iconic, dancing water fountain situated at the heart of CityWalk will also make a splash this holiday season. This visually dynamic fountain, displaying over 230 individual power jets, will project streams of choreographed water into the air complemented by red and green LED lights and an array of holiday-themed music.
Free concert performances at "5 Towers" and an eclectic ensemble of talented street performers will make CityWalk the ultimate L.A. holiday destination.
The spirit of the season continues with a wintertime transformation of Universal CityWalk, beginning the day after Thanksgiving.
The holidays at Universal Studios Hollywood is included in the price of theme park admission.  More information is available at www.UniversalStudiosHollywood.com. Like Universal Studios Hollywood on Facebook and follow @UniStudios on Instagram and Twitter.
Admission to Universal CityWalk is free. More information available at www.CityWalkHollywood.com